Are you looking for the best short walks in Tasmania?
My wife and I have clocked up plenty of kilometres exploring Tasmania, and in this article I show you 20 of my favourite hiking trails from all around the island. The best thing? They all take 2 hours or less!
---
This page contains affiliate links. If you book or buy something through one of these links, we may earn a small commission (at no extra cost to you!). Read our full disclosure policy here.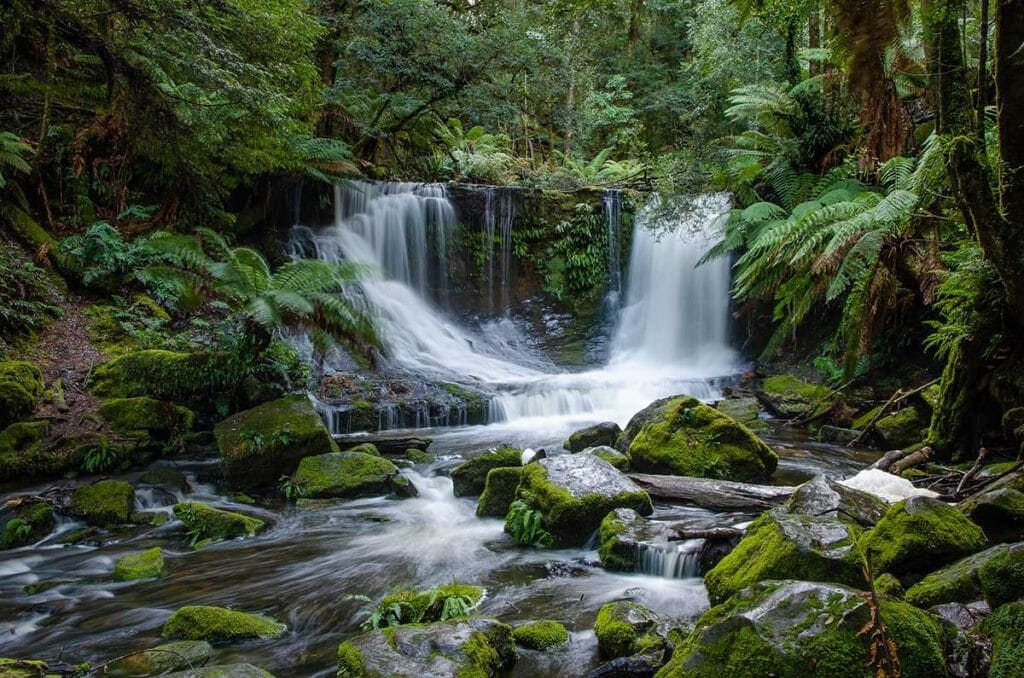 I'm sure you don't need me to convince you, but Tasmania would have to be one of the world's best destinations for exploring the great outdoors.
Not only are its ancient rainforests, snow-dusted alpine ranges and dreamy golden beaches capable of inspiring some serious wanderlust, but everything is so close together that it rarely takes more than a couple of hours to find yourself immersed in pristine wilderness!
Hiking in Tasmania can be a serious business, with plenty of multi-day treks to challenge even the most intrepid explorer. But what a lot of travellers don't realise is that there are literally dozens of short walks scattered from coast to coast that can easily be tackled by even the biggest couch potato (and we are all guilty of that at times after a few too many Tassie cheeses 😂).
So many of these short walks in Tasmania fly under the radar, and in this article I hope to shine a light on some of my favourites so that you too can experience them for yourself and your family.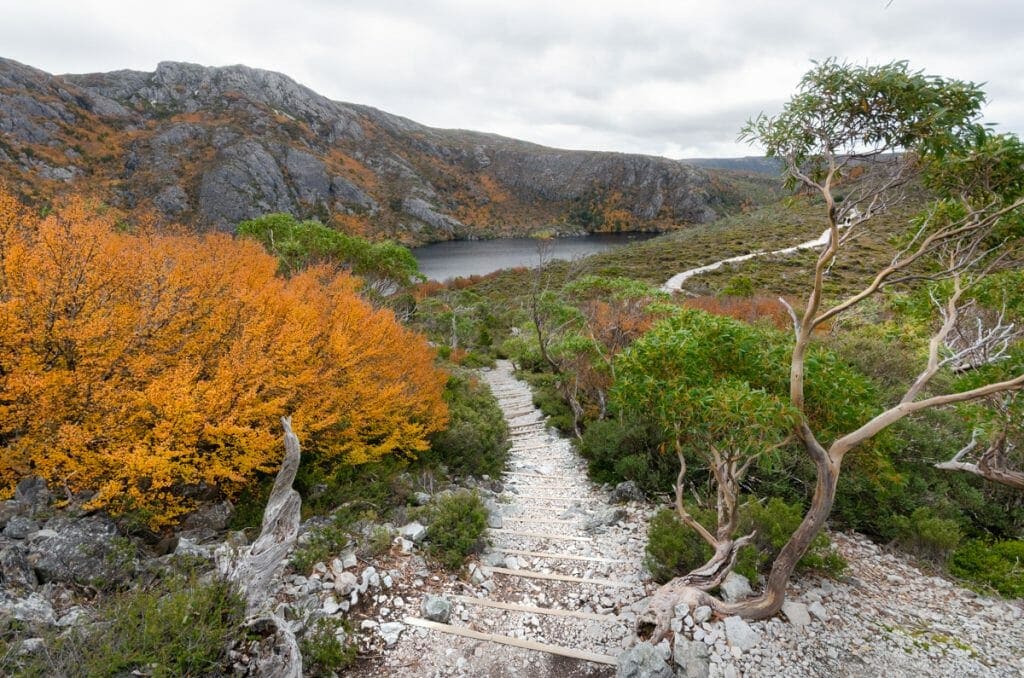 I also want to make things easy for everyone, so every single trail that I show you here is shorter than 2 hours. In fact, in many cases you'll be done and dusted in 30 minutes or less. But of course, that's ignoring the gazillion photos you're going to want to take!
Fitness levels aren't a concern either, with most being rated as 'Easy', and if you use a wheelchair (or are pushing a pram) you'll be pleasantly surprised to find that seven of the walks are wheelchair friendly – so you can experience Tassie's wilderness for yourself, and not have to rely on secondhand stories from your friends or family.
I've deliberately structured this article to present the walks in a clockwise direction as you drive your Lap of Tasmania, starting in the south. So if one or more of these short hikes in Tasmania take your fancy you can easily add them to your itinerary.
Here is a summary of all the walks, but please keep reading for all the details, plus some incredible photos that will get you very excited for your Tassie holiday!
| Walk | Region | Difficulty | Duration | Wheelchair? |
| --- | --- | --- | --- | --- |
| Sphinx Rock | South | Easy | 1.5 hrs | |
| Tahune Airwalk | South | Very Easy | 1 hr | Yes |
| Russell Falls + Horseshoe | Derwent Valley | Very Easy | 1 hr | Yes |
| Lake St Clair Circuit | Derwent Valley | Medium | 1.5 hrs | |
| Franklin Nature Trail | West Coast | Very Easy | 30 mins | Yes |
| Hogarth Falls | West Coast | Easy | 1 hr | Mostly |
| Pencil Pine and Knyvert Falls | Cradle Mountain | Easy | 1 hr | |
| Crater Lake | Cradle Mountain | Medium | 2 hrs | |
| Pine Lake | Central Highlands | Very Easy | 30 mins | Yes |
| The Nut | Cradle Coast | Easy/Hard | 1 hr | |
| Liffey Falls | Cradle Coast | Easy | 1 hr | |
| Leven Canyon Lookout | Cradle Coast | Medium | 45 mins | |
| Banksia Grove Circuit | Cradle Coast | Easy | 1 hr | |
| Cataract Gorge | North | Easy | 1.5 hrs | |
| Tamar Island Wetlands | North | Very Easy | 1.5 hrs | Yes |
| St Columba Falls | North East | Easy | 30 mins | |
| Wineglass Bay Lookout | East Coast | Medium | 1.5 hrs | |
| Cape Tourville Lighthouse | East Coast | Very Easy | 20 mins | Yes |
| Painted Cliffs | Maria Island | Medium | 2 hrs | |
| Waterfall Bay | Tasman Peninsula | Medium | 1.5 hrs | |
---
20 best short walks in Tasmania (2 hours or less)
1. Sphinx Rock
Easy | 1.5 hrs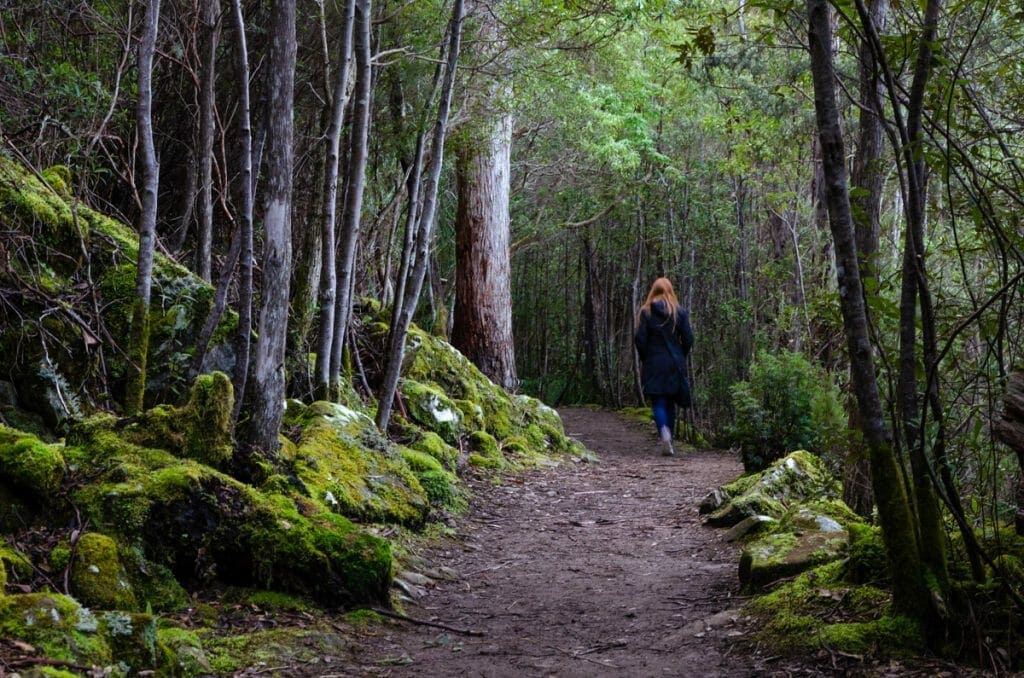 Wellington Park is right on Hobart's doorstep, and there are dozens of trails criss-crossing their way around and up the mountain (map).
One of my favourites is the short walk to Sphinx Rock, and I often recommend it to visiting family or friends who are short on time but still want to experience the gorgeous forests for which Tassie is famous, together with some fantastic views of Hobart.
It's a really satisfying little walk, with plenty of moss and lichen-covered rocks, rainforest ferns, birds calling, and excellent views through the trees all along the trail. The trail can be a little bit damp (not muddy) in patches, but is mostly really well made and very easy to follow. There is also barely any slope to mention, making it easy for anyone.
20-30 minutes each way is all you need, and the views from Sphinx Rock across Hobart are amazing. Write this one down as one of the best day walks in Tasmania!
The only note of caution for this walk is that the lookout at Sphinx Rock is not safe for young children, as it has a sheer drop to the forest below (the trail to get there is fine though). There is a child-proof security gate preventing accidental access.
Parking / Facilities: Park your car at The Springs, halfway up Mt Wellington (kunanyi). about a 25 min drive from central Hobart. The trail disappears into the lush forest behind the toilet block. Most days you will also find Lost Freight at The Springs brewing up some of Hobart's best coffees – just look for the cafe in a container!
Where to Stay: MACq01 (couples) – OR – The Old Woolstore (families)
---
2. Tahune Airwalk
Very Easy | 1 hr | Wheelchair Friendly | Excellent for children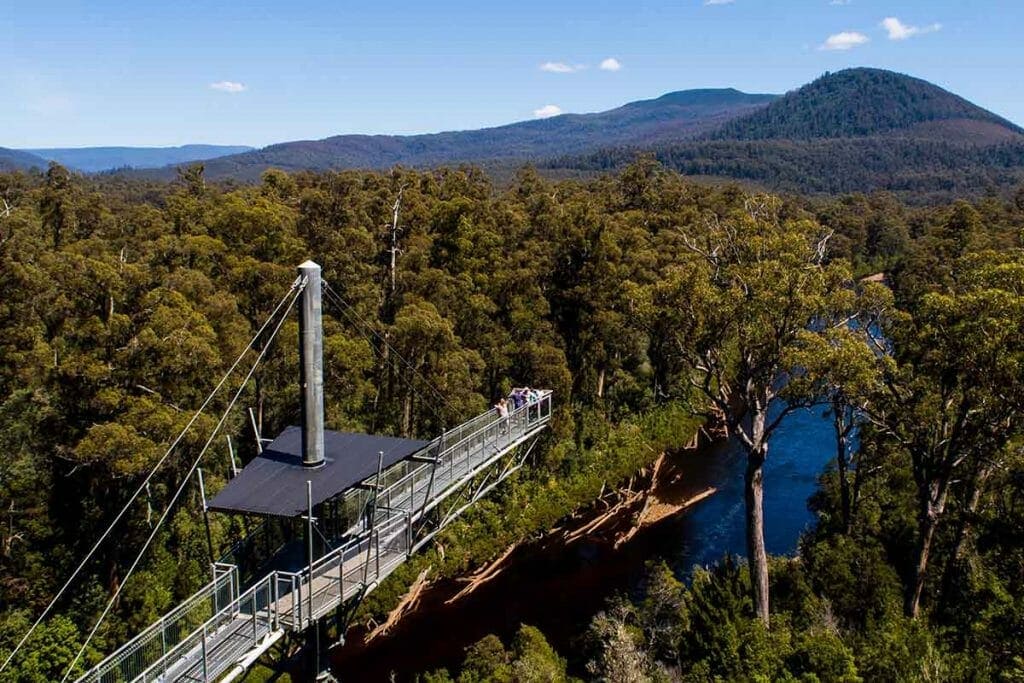 You need to see the Tahune Airwalk to believe it. Like a steel finger, jutting out from the surrounding forest nearly 50m above the cold, rushing waters of the Huon River, this is one of the most spectacular views you will find of the Tassie landscape.
Getting there is very easy, involving a short climb up around 100 steps through the bush on a well made trail. If you have mobility issues just let the staff know and they will arrange for you to be driven to the top of the trail where you can then experience the final breathtaking section under your own steam (wheelchairs are totally fine).
The Airwalk is the big attraction, but Tahune also has plenty of other walking trails along the river and through the forest that you, and even your pooch can enjoy. Adrenaline junkies will love the thrill of cable-gliding through the tree-tops and across the river, and there is also the option of a rafting adventure on the nearby Picton River!
Parking / Facilities: Tahune Adventures is a 90 minute drive south of Hobart – just get yourself to Geeveston and follow the signs from there. The on-site Visitor Centre has a cafe catering for lunches and light meals, and you'll be pleased to know they are licenced as well. Opening hours for Tahune Adventures are from 10am to 4pm daily, with ticket sales available until 3pm.
Cost: Adults – $29 | Children – $14.50 | Family – $72.50
Day Tour Option: Don't want the stress of driving down yourself? Book a day tour that takes you to not just Tahune Airwalk but to the spectacular Hastings Caves as well!
Where to Stay: Kymmik Cottage
---
3. Russell Falls
Very Easy | 1 hr | Wheelchair Friendly | Excellent for children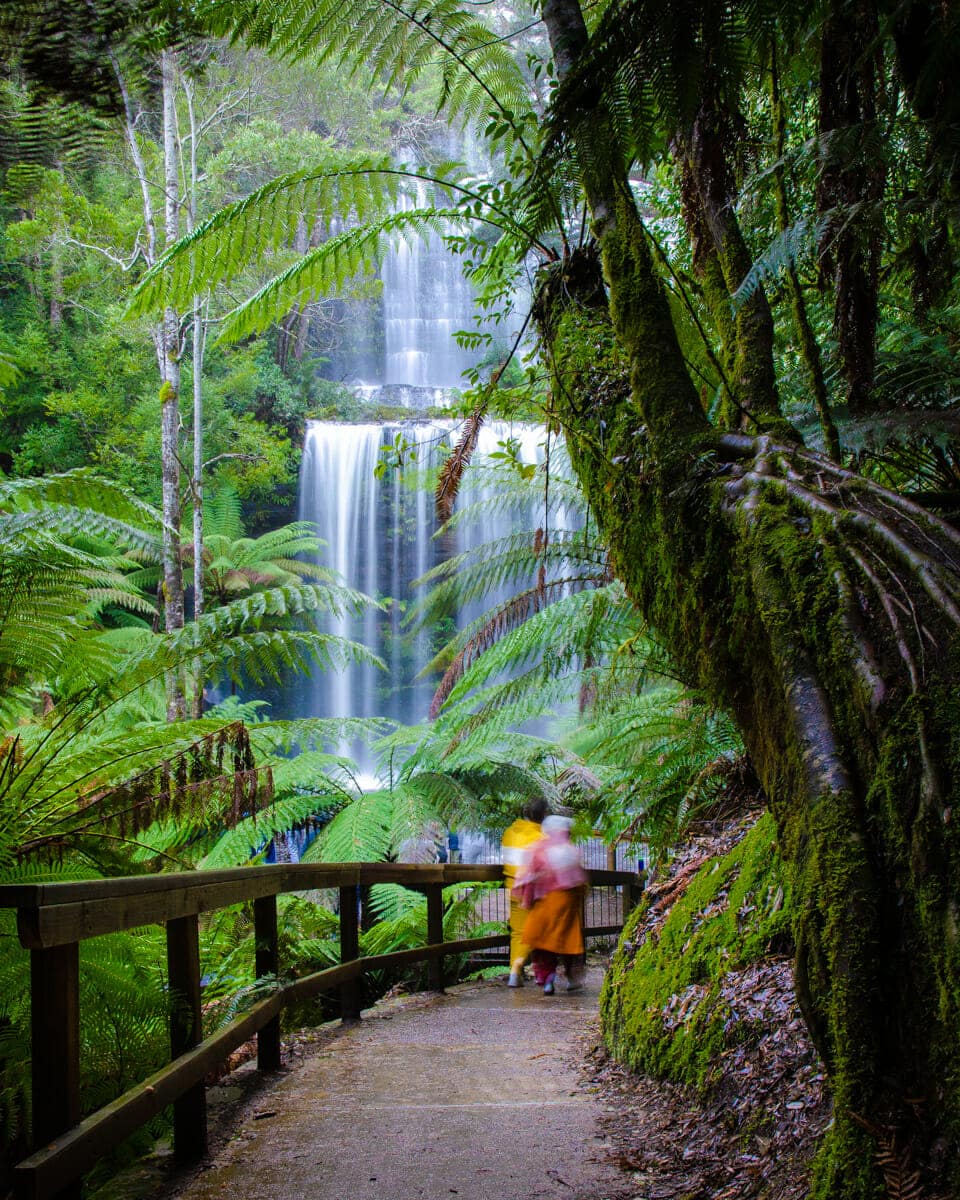 If there is one short walk in Tasmania I consider a 'must', it is the stunning Russell Falls.
This walking trail ticks so many boxes – it is short, it's flat, it is wheelchair accessible, and most importantly it transports you to a different world!
I've walked this trail many times over the years and it still manages to take my breath away. The glittering tannin-stained waters bubbling by your feet, the colourful mushrooms of red, blue and yellow poking their heads through the damp soil in autumn, and the dripping mosses and lichens of every shade of green under the sun – forget Tasmania, it would have to be one of the world's best short walks.
And I haven't even mentioned Russell Falls yet!
Cascading down the rugged mountainside and laced with swaying rainforest ferns, this curtain of shimmering water is a photographer's dream, especially if you can get there after it has rained. The symmetry, scale and sheer presence of this waterfall will stay with you forever. It is easily one of the great short walks in Tasmania.
👍 National Parks Pass

If you would like to visit Tasmania's National Parks then you must have a Tasmania Parks & Wildlife Service 'Parks Pass'.

Where? You can buy them online here, on the Spirit of Tasmania ferry, Service Tasmania outlets, and from some of the large National Parks.

How much? Prices vary depending on the type of pass you purchase. Day passes are available, but the best value option is the 8-week 'Holiday Pass' for $80 per vehicle (covering up to 8 people). This page describes the different options and latest prices.
If you have another 30 minutes available I strongly recommend continuing up the trail to Horseshoe Falls. The trail is steep but well made and fairly short, but the views are well worth the extra effort.
Lock it in – Russell Falls can not be missed!
A 'Parks Pass' is needed to experience this walk, and you can pick one up from the visitor centre.
Parking / Facilities: There is plenty of parking at the Russell Falls Visitor Centre – a 1.5 hour drive from Hobart – where you can also browse their fantastic array of souvenirs or grab a delicious meal.
Where to Stay: Platypus Playground Riverside Cottage
---
4. Lake St. Clair Circuit
Medium | 1.5 hrs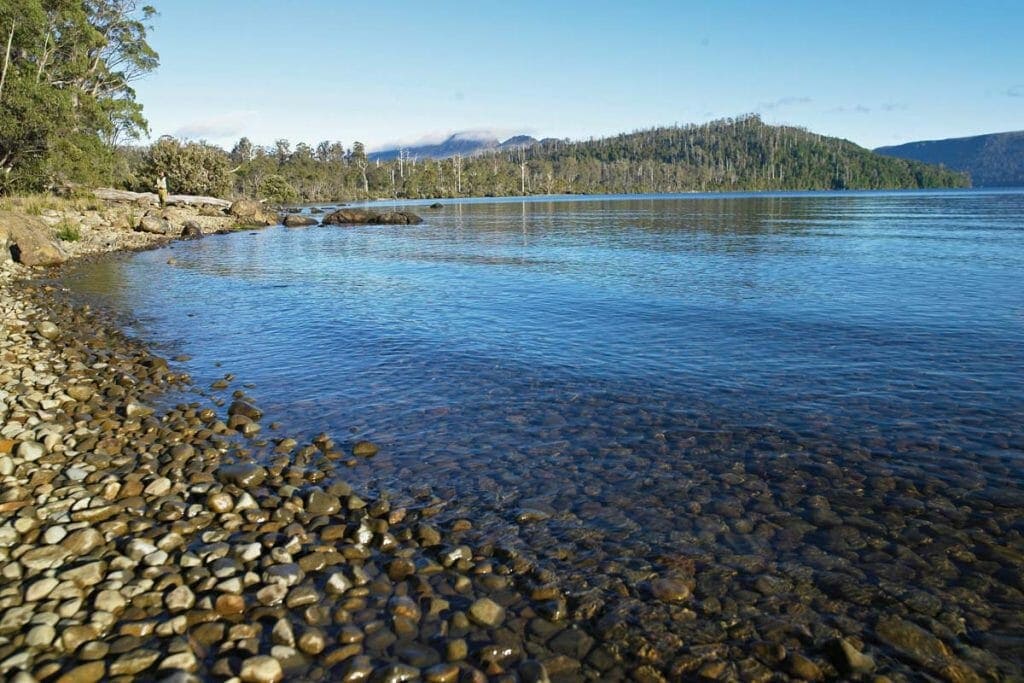 For a taste of Australia's deepest lake you will really enjoy this figure-of-eight trail combining three short walks by the southern shores of Lake St Clair.
From the Lake St Clair Visitor Centre I recommend starting with the extremely broad and easy Watersmeet Trail. This old logging road gives you a good taste of the Tassie bush, with occasional views of the lake as well.
The trail ends at the convergence of the Hugel and Cuvier River (explaining its name). This is a great spot to fill up your water bottle with some of the cleanest, freshest water in Australia.
From here, continue across the river to follow the Platypus Bay circuit for some awesome views of the lake and Pumphouse Point. It is rare, but at sunrise and sunset I hear that you may indeed spot a platypus in the water!
After completing the circuit you can choose to return back along the Watersmeet Trail, but I recommend turning right and taking the Larmairremener tabelti walk instead. This trail cuts inland through the buttongrass, banksias and rainforest ferns and is a highlight of the area, using interpretive panels to show you how the local larmairremener people lived on the land.
A 'Parks Pass' is needed to experience this walk – you can pick one up from the visitor centre.
Parking / Facilities: There is plenty of parking at the Lake St Clair Visitor Centre, just a 5 minute drive from Derwent Bridge and the Lyell Highway. A cafe and restaurant are available for meals, but I recommend checking their website for opening hours as they are limited during winter.
Where to Stay: Derwent Bridge Chalets and Studios
---
5. Franklin Nature Trail
Very Easy | 30 mins | Wheelchair Friendly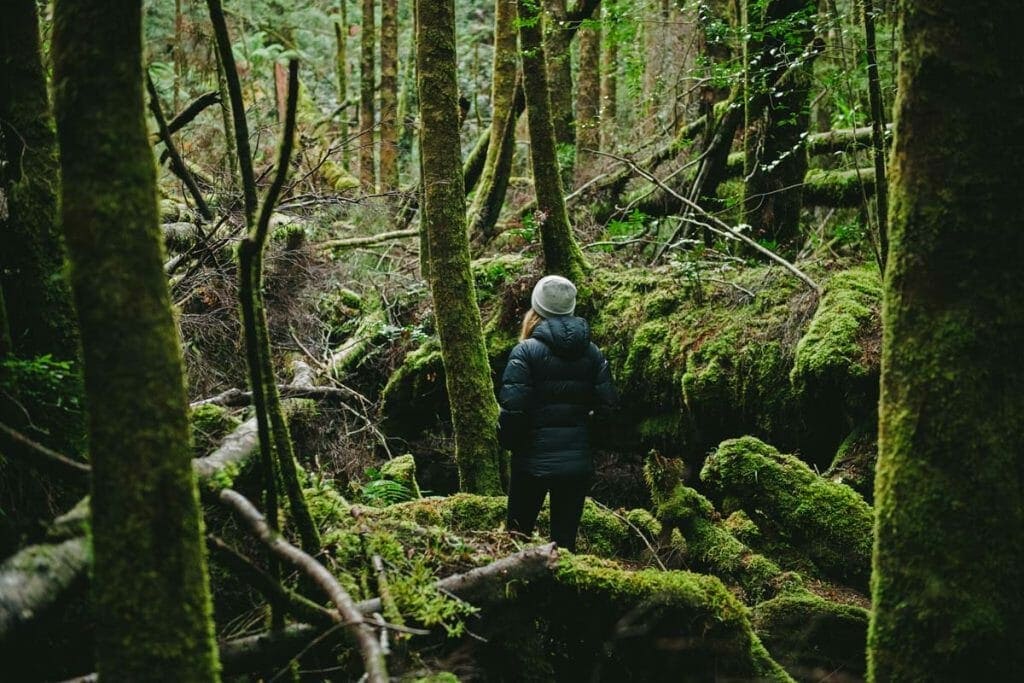 If you are driving the '99 Bends' between Derwent Bridge and Queenstown in the West Coast Wilds, then the Franklin Nature Trail is the ideal place to pull over and stretch your legs.
This is some of Tasmania's most dense and impenetrable rainforest, but the trail has been so well made that even wheelchair users will be able to experience this beautiful corner of the island.
With the famous Franklin River on one side, and the charmingly named Surprise River on the other, this trail gets you up close to the leatherwood, myrtle and sassafras trees for which the West Coast Wilds are renowned (not to mention heaps of man-ferns and mosses).
A quick and easy escape – don't miss the Franklin Nature Trail!
A Parks Pass is needed to experience this short walk. You can buy one online, or purchase one at either Lake St Clair Visitor Centre (near Derwent Bridge), at the Visitor Information Centre in Strahan, or Service Tasmania in Queenstown.
Parking / Facilities: A parking area is available by the side of the Lyell Highway (suitable for caravans and motorhomes also). BBQ and toilet facilities are also available, making this a really good lunch spot.
Where to Stay: Penghana Bed and Breakfast
---
6. Hogarth Falls
Very Easy | 1 hour | Wheelchair Friendly (mostly)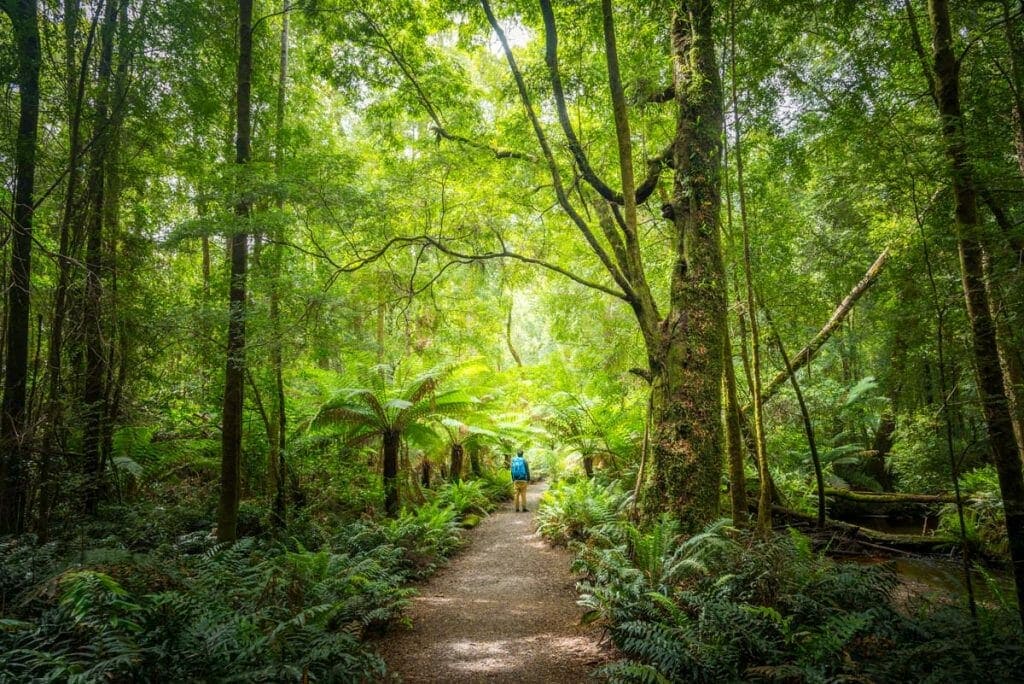 A cruise on Macquarie Harbour and up the Gordon River with World Heritage Cruises is the big attraction for Strahan – use my LAPOFTAS for 10% OFF – but if you have a couple of hours free then you won't be disappointed by the short walk to Hogarth Falls.
Starting at People's Park, this easy walk follows the banks of Botanical Creek beneath stands of towering eucalypts and through verdant temperate rainforest. Keep your eyes peeled in the morning and evening and you might even spot a platypus frolicking in the creek!
Hogarth Falls aren't large, but they are still very beautiful – cascading down the sheer, mossy rock face to the log-strewn waters below.
BBQ and toilet facilities are located at People's Park, making this a fantastic option for the whole family. Wheelchair and pram access is possible for nearly the entire trail – it's just the last bit that gets a bit steeper and has a few tree roots in the way.
Parking / Facilities: Parking is available at People's Park, just a couple of minutes' drive or a short walk from central Strahan.
Where to Stay: Wheelhouse Apartments (couples) – OR – Strahan Village (families)
---
7. Pencil Pine Falls and Knyvert Falls
Easy | 1 hr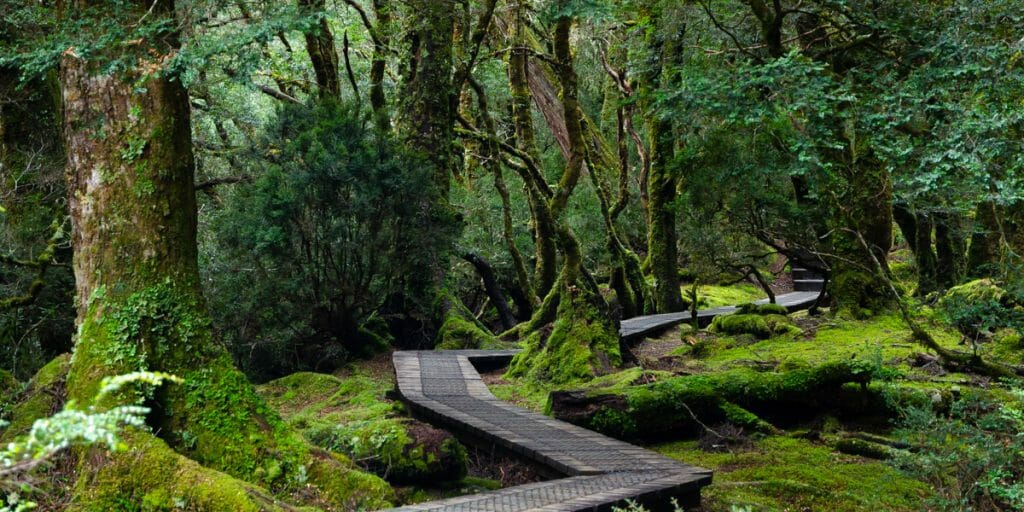 Just about everyone who visits Cradle Mountain opts to do the Dove Lake Circuit. It's a good decision, but if you have an hour spare or you prefer a much more leisurely stroll then I strongly recommend exploring the trail to Pencil Pine Falls and Knyvert Falls.
Waterfalls are always a great reward for effort, but I found the bits in between both these waterfalls to be even better!
The trail is boardwalk all the way, so there is no need to worry about getting muddy feet (do keep an eye out for wombat poo though!). Within 10 minutes and a right-hand turn you'll find yourself at Pencil Pine Falls. This gorgeous waterfall is about 10m high creating a beautiful curtain all the way across.
But the best bit is when you turn left and follow the trail along the tannin-stained waters of Pencil Pine Creek. To say I was gob-smacked is an understatement! The myrtle rainforest was bursting with life and it felt like we had stepped back to prehistoric times. Autumn is the best time to visit, with mushrooms of all sorts of colours, shapes and sizes poking their way up through the soil.
An hour is more than enough for this return walk, but if you have the time I hear the full 3-hr loop via Dove Canyon is a real stunner.
I see quite a few websites incorrectly stating that you don't need a Parks Pass to experience this walk – but you do!
Parking / Facilities: Parking is plentiful at either Cradle Mountain Lodge, or on the other side of the creek at the Ranger Station. Toilets can also be found at the Ranger Station.
Where to Stay: Cradle Mountain Wilderness Village (couples) – OR – Cradle Mountain Hotel (families)
---
8. Crater Lake Loop
Medium | 2 hrs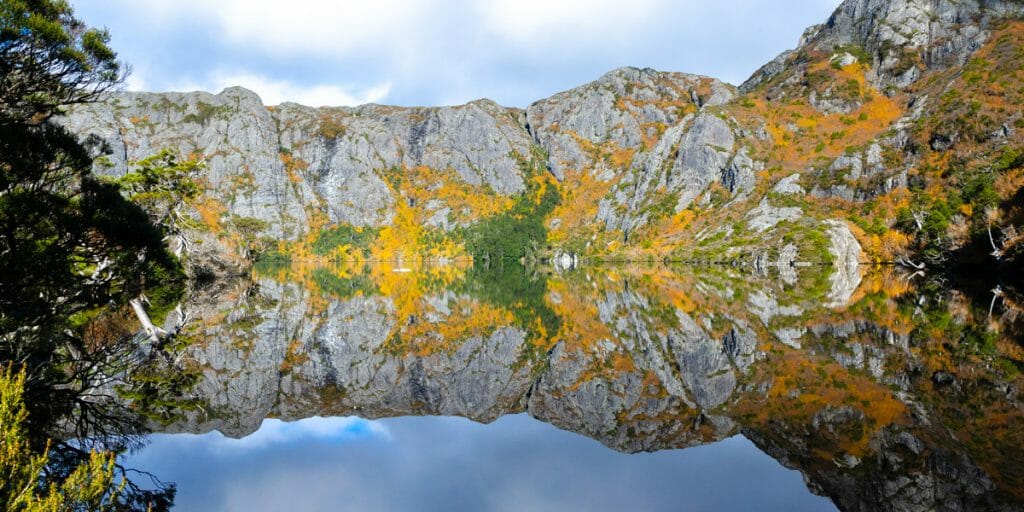 Dove Lake gets all the attention at Cradle Mountain, but if you ask me I think the Crater Lake Loop is even better – especially in autumn!
I recommend taking the shuttle bus in to Dove Lake and starting this walk from Ronny Creek. You could easily do it in reverse by starting from Dove Lake, but the ascent to Crater Lake is a lot more spectacular in my opinion if you start from Ronny Creek (it is also a bit easier on the legs).
The first section of this walk crosses the buttongrass plains near Ronny Creek, and it is actually the start of the famous Overland Track. Keep a look out for wombats, because they absolutely love grazing on the grass in this area.
After crossing the bridge over Ronny Creek the trail starts to ascend to Crater Lake. It is mostly an easy climb, but about half way you'll find a moderately steep section. Thankfully it is right next to a bubbling creek with heaps of waterfalls, so you'll be more worried abut taking photos.
From there it flattens out just before Crater Lake, and if you visit in autumn (late April/early May) you'll be greeted by a spectacular wall of orange, yellow and red fagus! Pushing through the trees brings you to Crater Lake itself and its cute and highly photogenic boathouse. This is a great place to stop for a break among the sheltering trees, before continuing up the trail to the plateau below Marion's Lookout.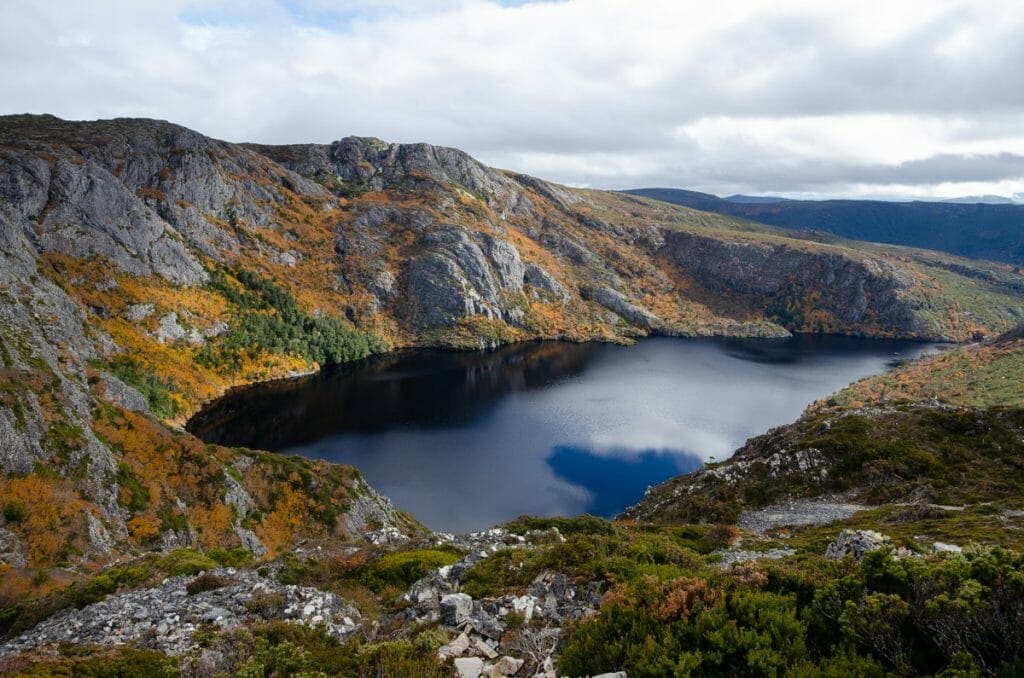 Optional Extension (1hr extra) – Getting to Marion's Lookout will add up to an hour to your walk, but it is well worth it. Be warned though, this section is short but difficult, with chain handrails to help you scramble up/down the steepest section. The views at the top are some of the best in Tasmania though, bringing you face-to-face with the jagged and iconic profile of Cradle Mountain. Return the way you came.
After returning from Marion's Lookout, follow the signs to Dove Lake via the Wombat Pools. Views of Cradle Mountain begin to open up the further you go, making for some great photos closer to Dove Lake.
The new Dove Lake Visitor Centre was under construction when we last visited (May 2021), but once built it will be the ideal place to grab a hot drink or bite to eat. Make your way to the bus stop and take the next shuttle back to Cradle Mountain Village (they run every 20 minutes).
Don't forget to pack for all conditions on this walk – warm, waterproof and base layers. The weather is extremely changeable, even in the middle of summer.
Parking / Facilities: Park at the Cradle Mountain Visitor Centre and present your Parks Pass to get a free shuttle ticket. The shuttle bus leaves from out the front of the Visitor Centre and will take around 20 minutes to get to Ronny Creek.
Where to Stay: Cradle Mountain Wilderness Village (couples) – OR – Cradle Mountain Hotel (families)
---
9. Pine Lake
Very Easy | 30 mins | Wheelchair Friendly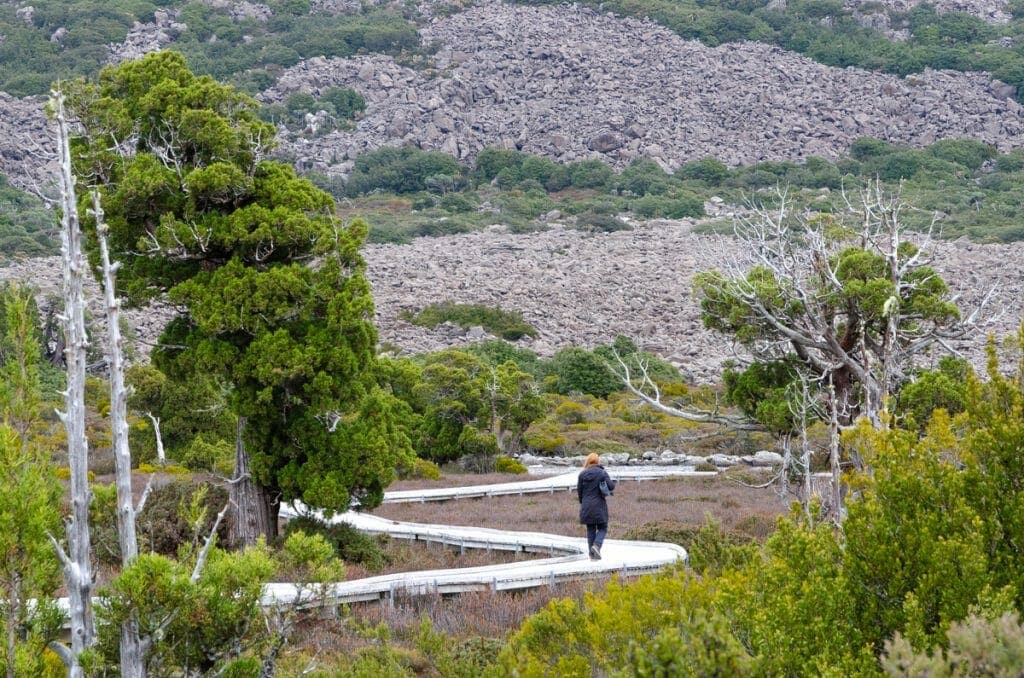 Pine Lake Nature Trail is right by the roadside as you take the Highland Lakes Road (A5) between Hobart and Deloraine.
One of Tassie's '60 Great Short Walks', this is a super easy stroll with huge reward for effort (no hiking boots needed).
The central highlands are simply gorgeous, and this boardwalk trail brings you face to face with one of Tasmania's rarest trees – the Pencil Pine!
It doesn't matter how fit you are (or aren't 😂), this trail is flat all the way and is even accessible by wheelchair or pram. The other good thing is that it is only 800m long in total, meaning you only need to allow 30 minutes or so to see everything it has to offer.
At 1,200m altitude there is a good chance it's going to be nippy, or a change of weather could happen at any time (including snow in winter), so make sure you dress warmly – but other than that it's a piece of cake with spectacular views.
Parking / Facilities: There is a gravel car park by the side of Highland Lakes Road that can accommodate up to a dozen vehicles.
---
10. The 'Nut' Circuit
Easy or Hard | 1 hr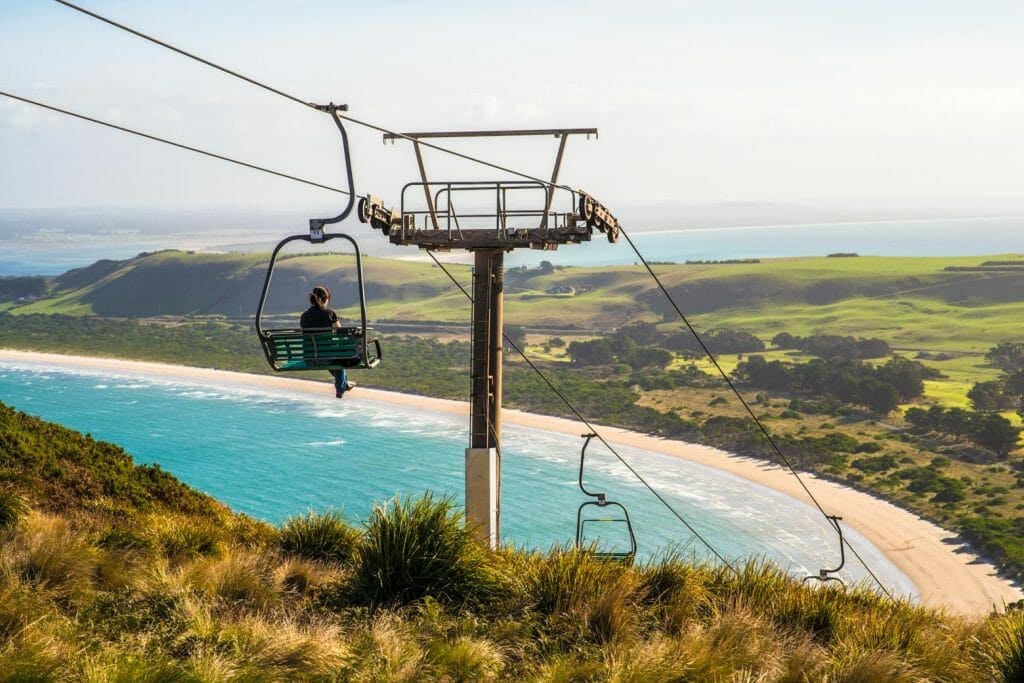 If you visit north-west Tassie on your Lap of Tasmania then there is no chance you will miss 'The Nut' at Stanley.
Soaring into the air by the shores of Bass Strait, this cliff-edged and ancient volcanic plug is like a magnet for your eyes, and for some of the best views of the northern coastline a walk up on top of The Nut is a must!
There are two ways to get to the top. If you're feeling fit you can tackle the very steep path by foot. Or if you'd rather take it easy (and don't mind heights) then a ride up in the chairlift is a memorable experience.
Once on top the walk is very easy, following a well-made trail that circles the 'plug' and providing excellent views from numerous lookouts. Short-tailed shearwaters – also known as mutton birds – love the secluded nature of the plateau and thousands have made their home here at ground level. These incredible birds fly as far as the Arctic every year, before returning to The Nut to breed.
It can get blowy up on top, so don't forget to bring a warm, wind-proof jacket.
Parking / Facilities: Park at the end of Browns Road, at the foot of The Nut. From here there is clear signage pointing you to either the chairlift or the start of the walking trail. Tickets for the chairlift start at $11 one-way for adults, with children's and family prices also available (September-May only).
Where to Stay: The Ark Stanley (couples) – OR – Stanley Cabin and Tourist Park (families)
---
11. Liffey Falls
Easy | 1 hr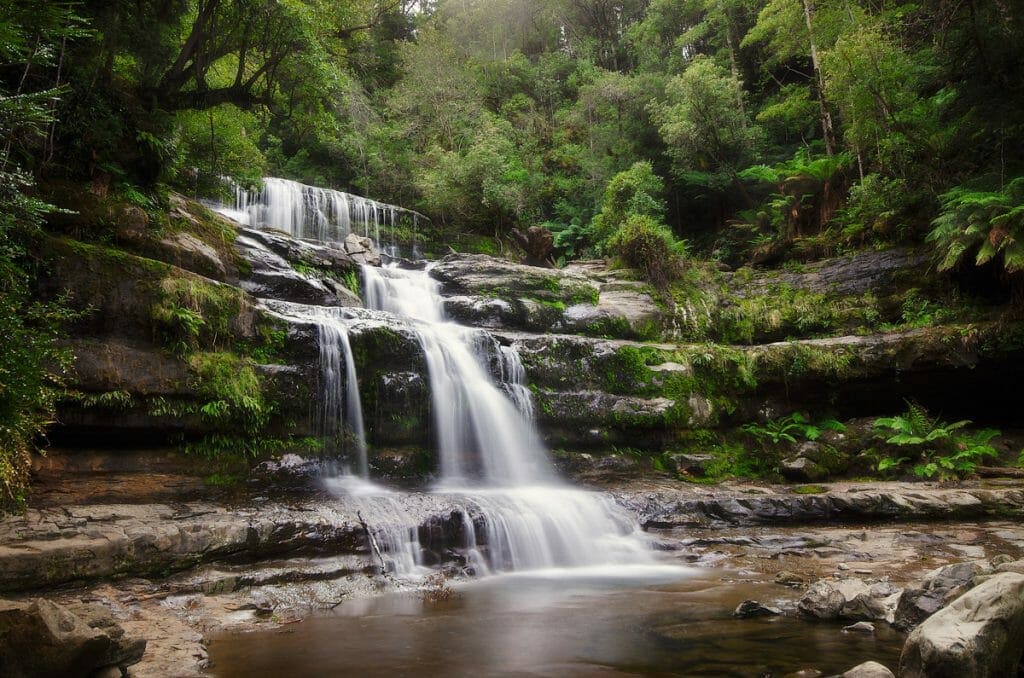 Tasmania is famous for its many waterfalls, but in my opinion Liffey Falls would have to be near the top of the list for not only quality, but quantity as well.
You see, instead of just one waterfall, Liffey Falls consists of four pretty cascades that step their way down the gorge – Alexandra Falls, Hopetoun Falls, Albert Falls and Victoria Falls!
All of them are fantastic, but my favourite is Victoria Falls at the bottom, because you can walk across the river and get as close as you like to the veil of water leaping down the mudstone steps.
Parking / Facilities: The walking trail to these falls can be accessed from either the top side (1hr return) or the bottom side (2hrs return). If you have a large motorhome or caravan then you will need to start from the bottom side, but for all other travellers the top side is best, as there are better facilities and the rainforest that you walk through at the top is simply stunning.
Keep in mind that access to both car parks is gravel, so you may need to check with your rental car company if you are allowed to drive on unsealed roads.
Where to Stay: Naivasha Cottage
---
12. Leven Canyon Lookout
Medium | 45 mins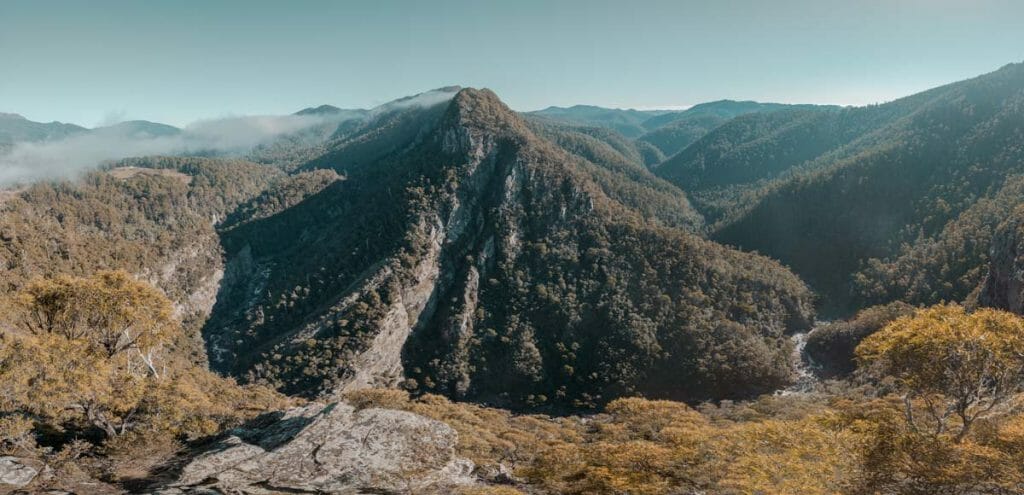 The short walk to the Leven Canyon Lookout is one of the few walks in this list that I haven't yet had the pleasure of experiencing for myself – but judging by traveller reviews (and photos) I really need to get up there quick smart!
There are two lookouts to reward you on this trail – Cruickshanks and Edge – and the views are pretty amazing considering how little the walk takes.
Over thousands of years the Leven River has carved its way down through the limestone, nearly 300 metres to the canyon floor. The sides of this impressive canyon are near-vertical in places, making for some spectacular photos.
The walk is also reward in itself, with lots of fungi, ferns and wildlife to greet you. Both lookouts can be joined in a loop walk, but if you don't want to tackle any climbing in the middle section) then you could easily walk out and back to each lookout separately.
One of the best things about this walk is that it is off the tourist trail, so chances are you'll have it all to yourself!
Parking / Facilities: Parking and picnic facilities are available at the end of Leven Canyon Road.
Where to Stay: Buttons Cottage
---
13. Banksia Grove Circuit
Easy | 1 hr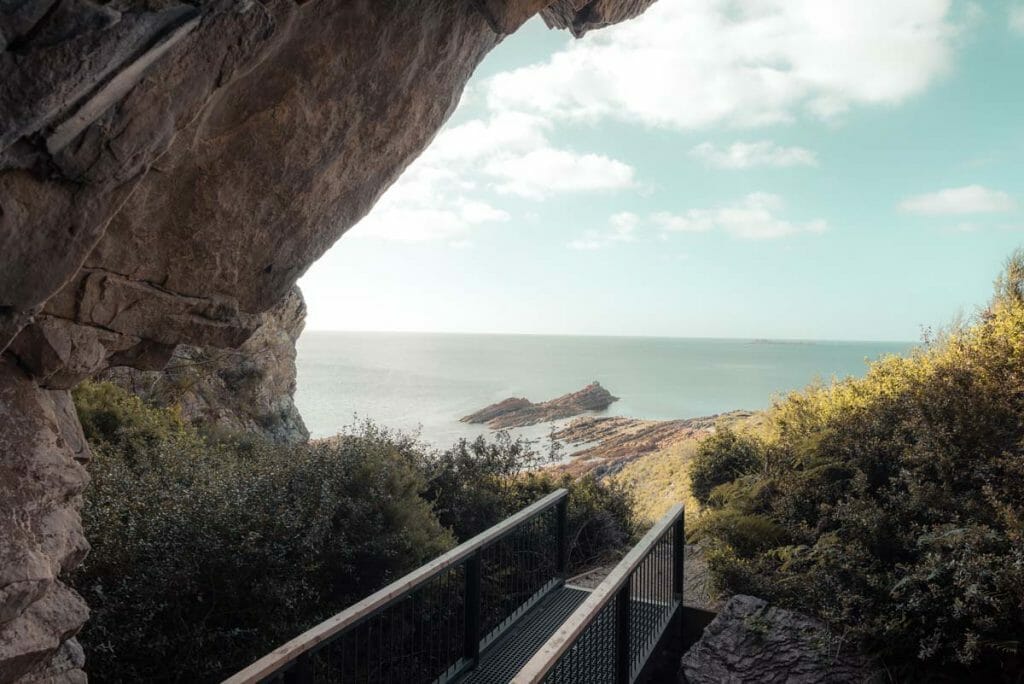 This fantastic little loop starts right next to the Sisters Beach Boat Ramp, in one of Tasmania's most beautiful seaside towns. It is mostly easy, connecting Wet Cave, Lee Archer Cave, and the Banksia Grove, with other options to extend the walk deeper into Rocky Cape National Park if you have more time.
Wet Cave is small, dark and 'close', but you may find a pool of water at the back of the cave and the rainforest surrounding the cave is really refreshing.
A little bit further on is Lee Archer Cave. This site has significant aboriginal historical value. Access isn't allowed, but there is an excellent interpretive panel at the front of the cave. The short walk to get to Lee Archer cave is brilliant, as it hugs the headland and provides great views up and down the coast.
Returning the way you came, turn right and head up the hill to the Banksia Grove. These are 'Saw Banksias' and this region is the only place you will find them in Tasmania. From here, keep following the path until it meets the Anniversary Bay trail, where you turn left before returning back down the hill to Sister's Beach.
Pro Tip – If you are very short on time you could easily just walk to the Wet Cave (10 minutes) or Lee Archer Cave (30 minutes) and not bother with the full circuit.
Parking / Facilities: Parking, toilet, picnic and other facilities are plentiful in Sisters Beach.
Where to Stay: Shakespeare's Wilderness Chalet (couples) – OR – Sisters Beach Paradise (families)
---
14. Cataract Gorge
Easy | 1.5 hr | Excellent for children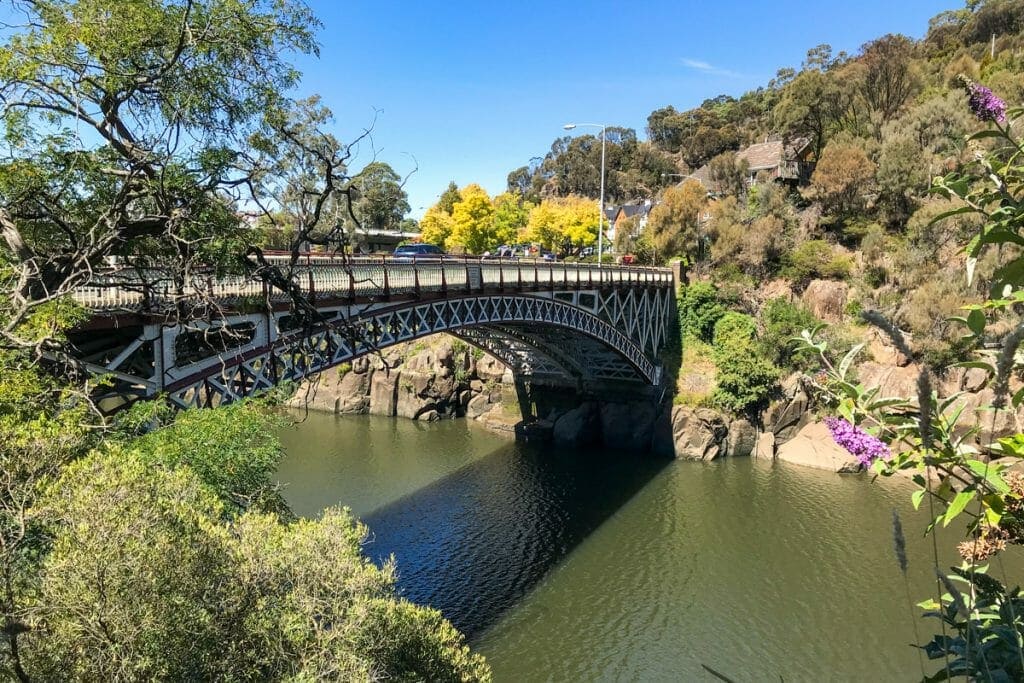 Launceston is Tasmania's second largest city, so it would be easy to assume there aren't any decent bushwalks nearby. That is definitely not the case though, because the beautiful Cataract Gorge is just a few minutes' drive, or 20-30mins by foot from the centre of town.
Walking trails criss-cross the reserve, so you are bound to find at least one that suits your preference, level of fitness, and the amount of time available to you. One of my favourites is the combination of the First Basin Loop, and the Cataract Walk.
The First Basin Loop starts near the main entrance to Cataract Gorge and takes you around the swimming pool along the edge of the gorge to Alexandra Bridge, suspended high above the roiling waters and jagged rocks of the South Esk river far below.
For a very quick walk you can loop back to First Basin (or take the chairlift), but I recommend continuing past the rotunda and restaurant and following the northern bank of the river all the way to Kings Bridge.
There is a lot of colonial history here, which you can learn about from the many interpretive panels stationed along the path. If you visit on a hot day you might even catch some of the locals diving off the rocks into the river below!
Return the way you came, or if you are feeling adventurous you can tackle the more difficult Zig Zag track on the southern side of the gorge.
Parking / Facilities: There is plenty of paid parking at the end of Basin Road. But if you'd like to save your pennies then there is a good chance you'll find a free park in the surrounding streets. Delicious lunches are available from either the Gorge Restaurant, or the Visitor Centre.
Where to Stay: Change Overnight (couples) – OR – Leisure Inn Penny Royal Apartments (families)
---
15. Tamar Island Wetlands
Very Easy | 1.5 hrs | Wheelchair Friendly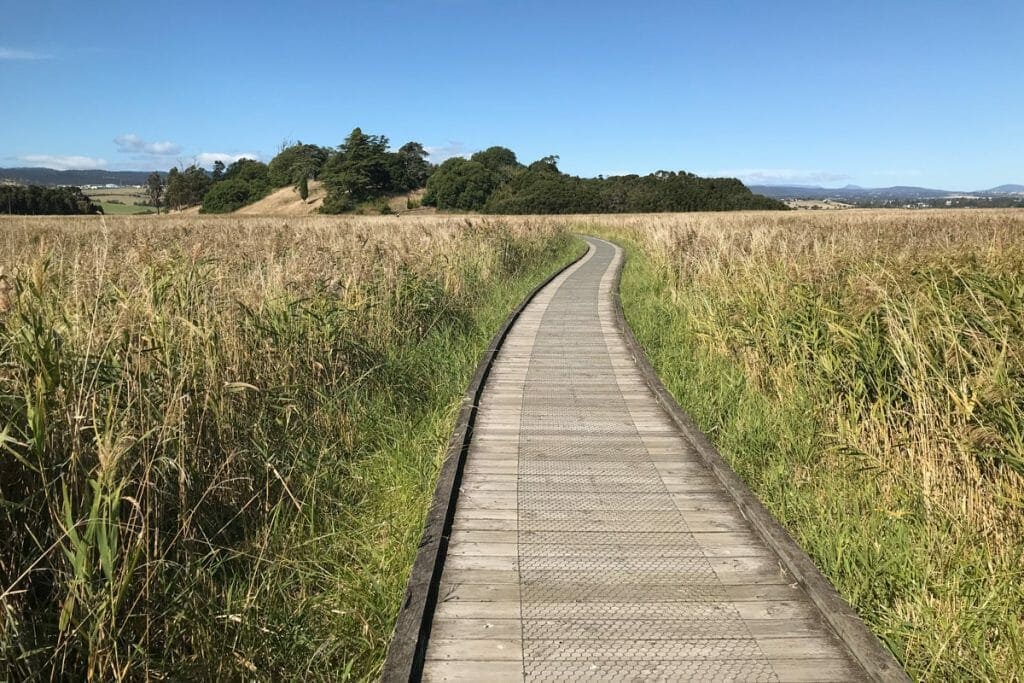 Another really interesting option near Launceston is the walk through the Tamar Island Wetlands.
To be honest, I didn't have high hopes when we first visited – but I was proven very, very wrong!
This walk is absolutely fascinating, and even more so if you are a keen bird watcher (sunrise or sunset would be spectacular!). Vast lagoons teeming with wildlife, mudflats gouged by tidal rivulets, head-high swathes of native grasses, and tiny pockets of gnarled forest on the little islands that dot the landscape.
There isn't a lot of shelter from the sun, so if you are visiting on a sunny day don't forget to bring a hat and sunscreen!
Parking / Facilities: Parking is available out front, just off the side of the West Tamar Highway. Entry is by donation at the Visitor centre near the entrance, and is very worthwhile in my opinion.
Where to Stay: Change Overnight (couples) – OR – Leisure Inn Penny Royal Apartments (families)
---
16. St Columba Falls
Easy | 30 mins | Excellent for children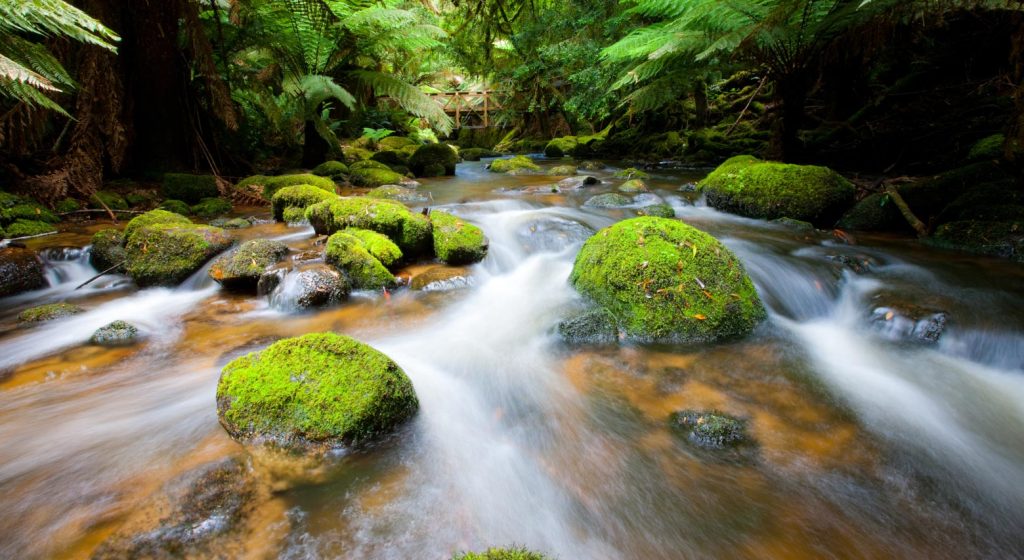 It doesn't matter who I ask, everyone who has visited St Columba Falls says exactly the same thing…
"The waterfall is great, but the walk getting there is even better!"
Surrounded by green ferns and soft moss, with the sound of water dancing over the rocks it is like walking back into prehistoric times. It is only short – 20-30 minutes return – but utterly enchanting every step of the way. This classic Tassie walking track is in great condition and is accessible for all ages.
At around 90m St Columba Falls is one of Tasmania's highest, with streams of water leaping down the cliff-side in fits and starts. It is a true force of nature after heavy rain!
Parking / Facilities: Getting to St Columba Falls is easy. Just keep following the road past Pyengana Dairy Company for another 15 minutes until you reach the well-signposted parking area.
Where to Stay: Bay of Fires Apartments
---
17. Wineglass Bay Lookout
Medium | 1.5 hrs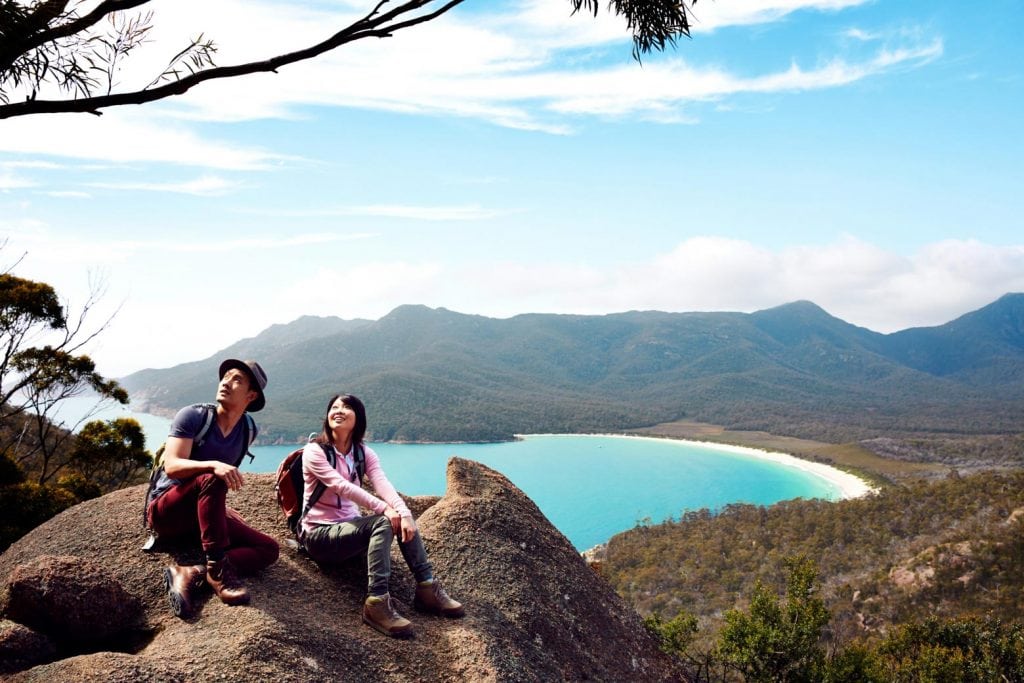 One of Tasmania's most acclaimed and popular walks, this short walk to Wineglass Bay Lookout is an absolute must for every visitor to Tasmania!
The trail is broad and extremely well made with rest stops liberally scattered along its length, meaning even those with limited fitness will still be able to enjoy the views.
And what views they are! Sweeping across the white-gold arc of sand of Wineglass Beach where the azure waters of Wineglass Bay gently surge and swell, maybe a dolphin or whale sighting if you are lucky, and beyond to the pink-hued granite slopes of The Hazards.
Your only concern on this walk is making sure you bring enough memory cards for your camera!
A Parks Pass is needed for this walk, and you can pick one up from the onsite Visitor centre.
Parking / Facilities: There is plenty of parking at the Wineglass Bay Visitor Centre, just inside the main entrance. Water is scarce in this part of Tasmania, so make the most of the opportunity to top up your water bottles from their free filtered water station.
Where to Stay: Freycinet Lodge
---
18. Cape Tourville
Very Easy | 20 mins | Wheelchair Friendly

Just a 10 minute drive from Coles Bay is this wonderful wheelchair-friendly short walk to Tourville Lighthouse.
Perched high above the Tasman Sea this is one of Tasmania's best locations for a stunning sunrise, lighting up the Hazards and the off-shore rocks known as The Nuggets.
The trail is very broad and suitable for the whole family. Railings are present, but do keep an eye on the kids as some parts of the walk are close to the cliff.
Parking / Facilities: A small car park is available near the lighthouse. No toilets though.
Where to Stay: Freycinet Lodge
---
19. Painted Cliffs
Medium | 2 hrs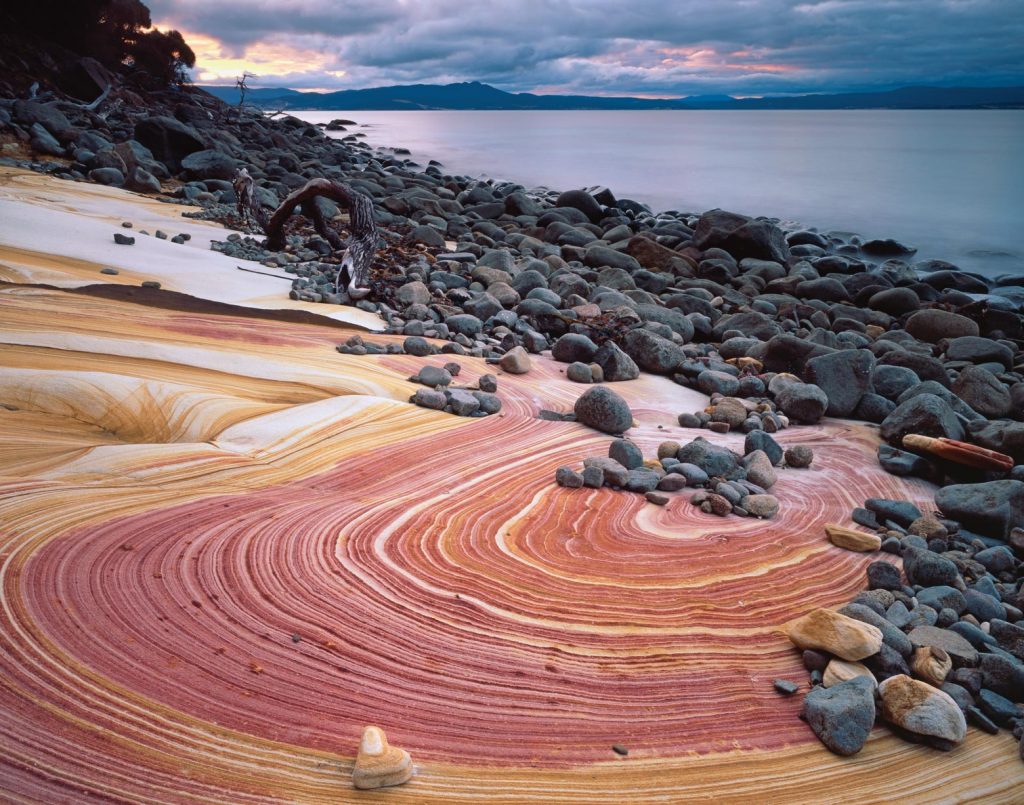 Maria Island is one of my favourite places in Tasmania. It is a nature-lover's paradise, with wombats everywhere, crazy cliffs, exciting bushwalks and some of Australia's most beautiful beaches.
It used to fly under the radar, but word is quickly getting out about how amazing and relaxing this island is – so don't leave it too long!
There are many great walks available to visitors, but one of the best and easiest is the walk to the Painted Cliffs.
This sandstone escarpment has some of the most interesting and bizarre patterns you are ever likely to see in nature. Swirls and spirals, pock-marks and ledges, and one of Tassie's best sunset photo opportunities.
The cliffs are right by the water's edge, so safety is critical – especially for young children. Access to the base of the cliffs is only possible during low tide, so make sure you check for the ideal visiting time before you go.
Getting there is very easy – just follow the main trail south from Darlington Penal Area and follow the signs once you get to Hopground Beach (a great place for a picnic). If you can, hire yourself a bike as it will speed things up immensely, making even more time to see plenty of the other sights on the island,
Getting There / Parking / Facilities: The easiest way to visit Maria Island is by booking a day tour with Maria Island Cruises (you can use my LAPOFTAS code for 10% OFF all tours – click here to check prices).
Alternatively, for a DIY experience you will need to park your vehicle at the jetty at Triabunna and take the ferry across to Maria Island (vehicles are not allowed). Don't forget to take your Parks Pass! Camping is possible at Darlington and other locations across the island, however you will need to take everything with you, as there aren't any shops at all.
Where to Stay: Freycinet Waters
---
20. Waterfall Bay
Medium | 1.5 hrs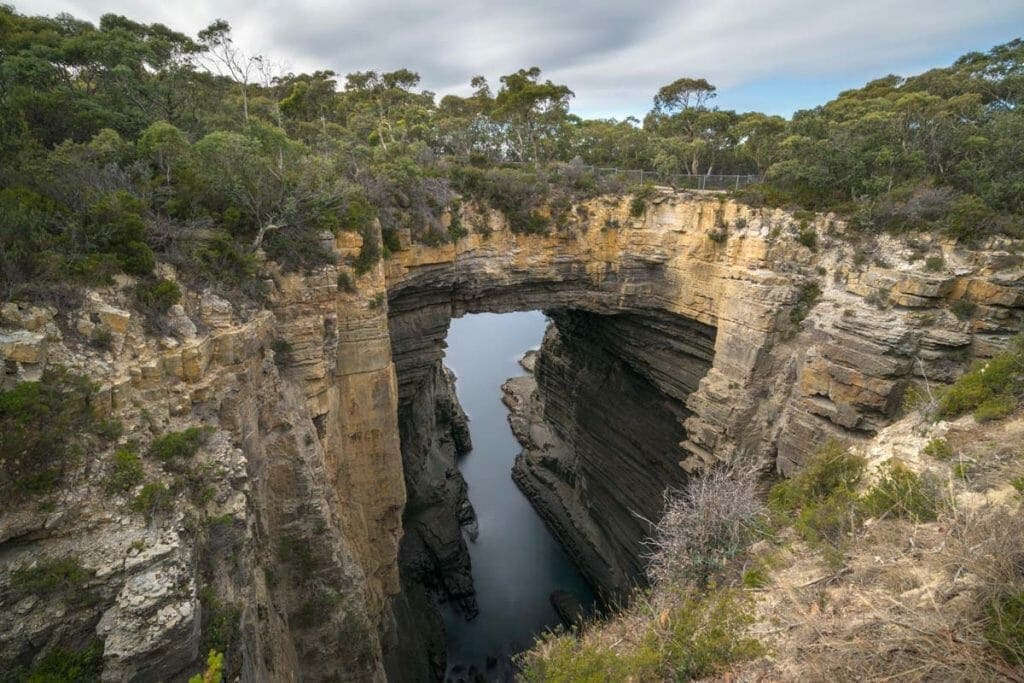 Some of my favourite walks in Tasmania are found on the Tasman Peninsula. But unfortunately most – like the walks to Cape Hauy and Cape Raoul – are half-day treks and not the sort of thing you can explore on a whim.
Luckily, there is a real gem of a walk near Eaglehawk Neck called the Waterfall Bay trail!
This walking trails kicks off with a real bang, with the aptly named Tasmans Arch being the first attraction. This weird ledge of rock sits high above the treacherous waters of the Tasman Sea and makes for some really interesting photos.
The Devil's Kitchen is next – a deep chasm in the cliffs with huge waves crashing against the rocks below.
Following the cliff edge for much of the way, you'll be stunned by the many notches and coves that have been carved out of the rock over the millenia.
At the end of the walk is Waterfall Bay itself, and you'll be in for a real treat if you can time your visit for after heavy rains. The waterfall that shoots over the cliff edge and into the sea far below is a real sight!
Parking / Facilities: Parking is available at Tasmans Arch, or at Devil's Kitchen car park.
Where to Stay: Stewart's Bay Lodge
---
Final thoughts on the best walks in Tasmania
I hope you've found this article helpful in discovering the best short walks in Tasmania, and including them in your Tasmania road trip itinerary!
To be honest though, this list is only scratching the surface of what Tasmania has to offer. If you'd like even more suggestions, please come and visit our Lap of Tasmania Facebook group – we'd love to say g'day and help you with your planning!
We also have plenty more articles on things to see and do, and to help with your planning. Here are some of our most popular ones:
Happy travels!
Andrew.
---
Travel planning resources
Tasmania's remote location means there are internet 'black spots' across the island.
A paper travel guide or map is the perfect backup, and we love the range from Lonely Planet.