Choosing the perfect campervan or motorhome opens up a world of road trip freedom. We know the options can be confusing – that's why we reviewed all the options to create this easy-to-read Tasmanian campervan hire comparison guide!
This page contains affiliate links. If you book or buy something through one of these links, we may earn a small commission (at no extra cost to you!). Read our full disclosure policy here.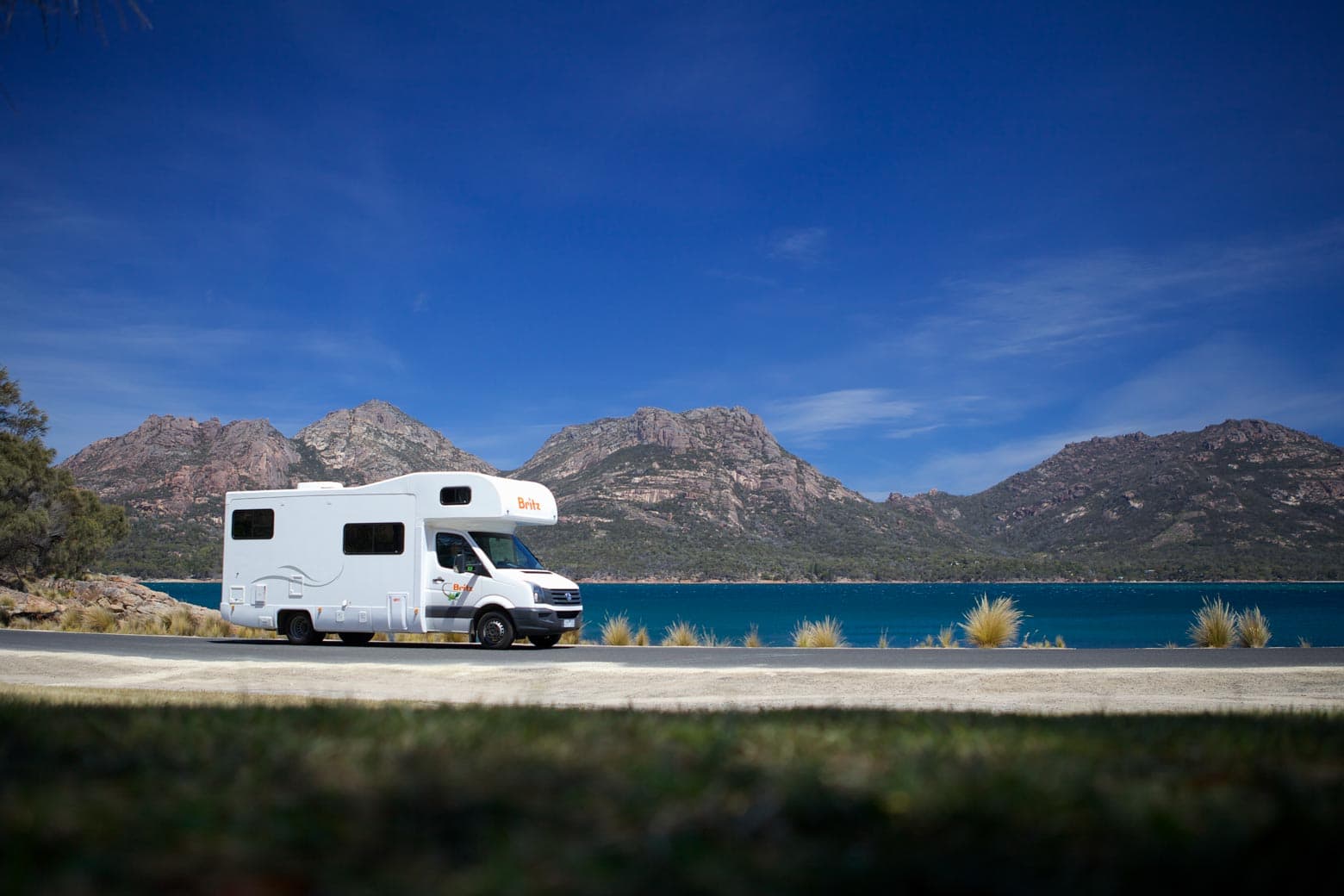 Tasmania really is the best place in Australia for a road trip. It's a small island, but you'll find it jam-packed full of incredible scenery, wonderful wildlife, and fascinating history.
There are so many different ways to explore Tasmania, but we think hiring a campervan for your road trip is one of the best ways to explore its hidden secrets.
Why?
Packing and unpacking – Put your hand up if you love unpacking and then repacking your bag every day… No takers? With a campervan you only need to do it once at the start and once at the end – perfect!
Location, location , location – With a campervan you can get up close and personal with Mother Nature in some of Tasmania's best National Parks.
Freedom – You can free-camp anywhere in Tasmania, so long as there isn't signage to the contrary. And you can forget about those pesky early hotel check-outs!
Save $$$ – Self-catering is a fantastic option when you hire a campervan, and it's guaranteed to save you money compared to eating out at hotels or restaurants.
In this guide we reveal the best campervan companies in Tasmania – including an exclusive discount for Lap of Tasmania readers – how to book online, and how to get your Lap of Tasmania road trip off to the perfect start!
Do you want our recommendation for the best all-round Tasmanian campervan hire?
 Receive 5% discount with LeisureRent
We've reviewed them all, and LeisureRent is by far the best Tasmanian campervan hire company.
You will receive a 5% discount on any bookings when you use our exclusive LAPOFTAS promo code.
Tasmania Campervan Hire - How to do it!
When it comes to Tasmanian campervan hire you've got a few options:
Book direct online
Book through an online aggregator
Book in person
Booking direct online is an excellent option when you've done your research and know which company you'd like to book with (such as LeisureRent).
If you're still in the early stages of finding the right campervan and want to compare prices and features, then it is a good idea to use an online aggregator like Discovery Campervans. 
Discovery Campervans presents a range of campervans from many different companies, so you can compare and find a company that suits your road trip needs.
You might be tempted to simply turn up and book your campervan in person on the day, but we don't recommend this approach. Tasmania is an island and, resulting in a limited supply of campervans and increasing the risk that there will be nothing available at the last minute. 
You might be ok trying this in winter, but in the peak period (December to April) it's far too risky.
Whichever option you choose, make sure you allow 1.5hrs to pick up your campervan.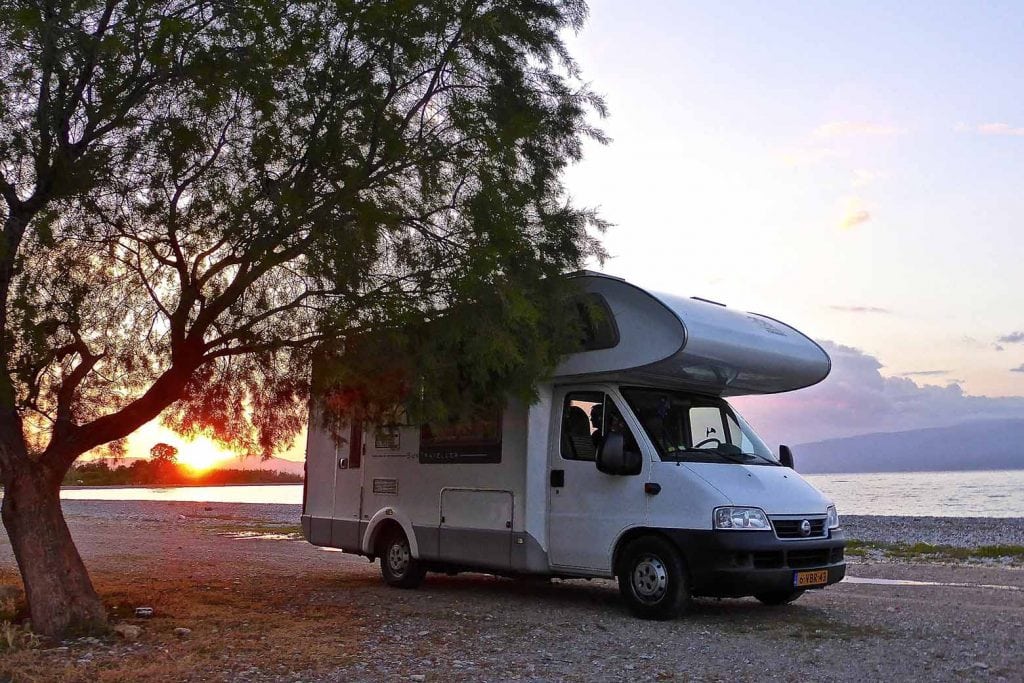 Tasmanian campervan hire company comparison
It's only when you start researching Tasmanian campervan hire companies and doing a comparison that you realise how many there are!
Many of the global names in the campervan world are represented in Tasmania – Maui, Britz, Apollo etc. – but there are also many smaller companies worth considering.
Similarly, you'll find that some companies service all three major centres of Hobart, Launceston and Devonport – while others only service Hobart.
Hobart has the largest range of campervan hire companies and most are located in, or close to Hobart Airport. These are your options:
Campervan hire in Launceston and Devonport
Launceston has a limited range of campervan hire companies and most are located in, or close to Launceston Airport. 
If you're catching the Spirit of Tasmania ferry to Tasmania and you've left your car at home, then you'll be wanting to pick up your campervan on arrival in Devonport.
The same campervan companies service both Launceston and Devonport, and these are your options:
LeisureRent – Tasmanian owned with sensational customer feedback. A very young fleet of 4-berth vans and the pickup/drop off process is the most flexible of all companies. They are also the only company that doesn't require a bond. Use our exclusive LAPOFTAS

promo code for a 5% discount!
>> Check Prices at LeisureRent <<
AutoRent Hertz – Tasmanian owned with a solid history of service and support. Offering both campervans and motorhomes from 2-4 berths. Bicycle hire is also a welcome option (website)
Bargain Car Rentals – A mid-sized company offering a good range of campervans from 2 to 6 berths (website)
Energi Motorhomes – This company offers campervans with 2-4 berths at good prices. We found their website a little bit lacking in information, but customer reviews are reasonable (website)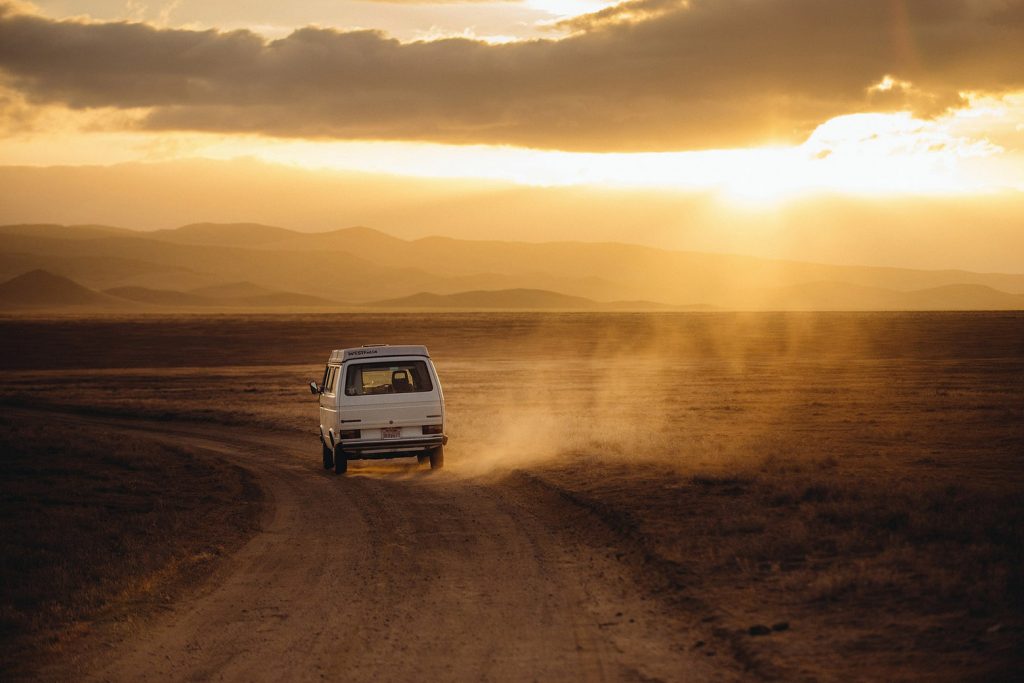 Choosing your campervan or motorhome
It doesn't take long to realise how easy it is to join the thriving sub-culture of grey nomads, families and other adventurers who love the freedom and independence of a campervan.
There are many different styles of campervan travel, and there are a few things to look for to ensure you choose the perfect campervan for your Tasmanian road trip.
Campervan vs Motorhome
You'll see the words 'campervan' and 'motorhome' everywhere – but what's the difference?
Motorhomes are generally larger, more luxurious, and with more comprehensive facilities.
Campervans provide the essentials for a comfortable road trip and often at a cheaper rate than a motorhome. However you may find a campervan to be less spacious and lacking some of the little things that make life on the road more comfortable.
Automative vs manual transmission
Most campervans and motorhomes are automatic transmission. With an automatic you can keep both hands on the wheel at all times, and the technology is so good these days that they make hills an absolute breeze.
Understandably, you might be familiar with a manual transmission and prefer to stick with what you know. If that sounds like you then check before booking, to make sure a manual transmission campervan or motorhome is an option.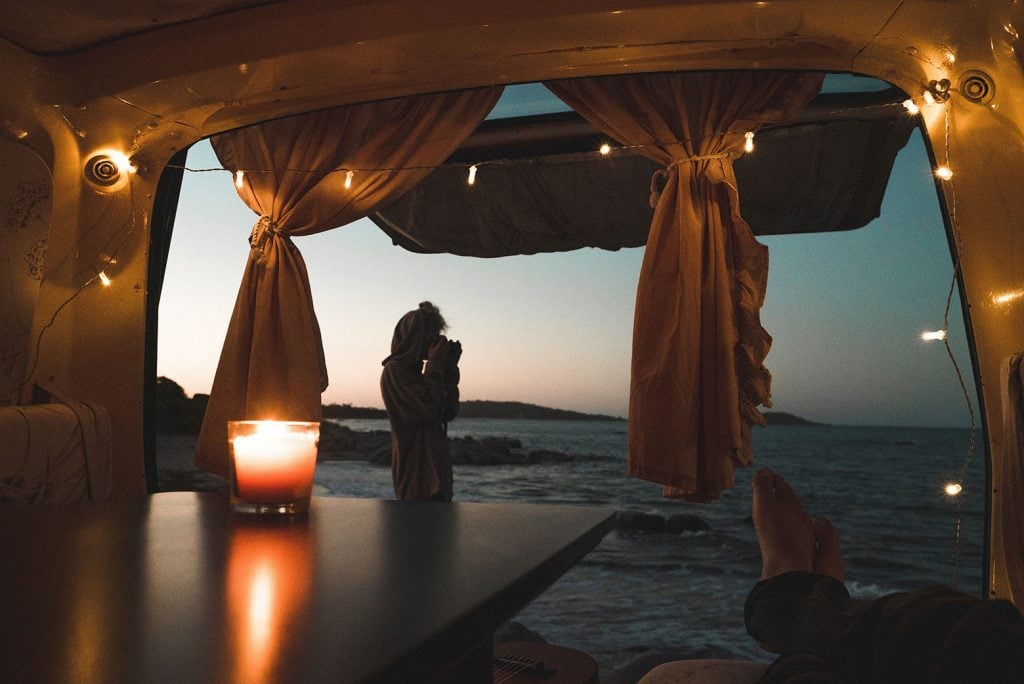 Number of  'berths'
You'll see many companies talking about offering 2-berth or 6-berth campervans and motorhomes. No, they're not talking about boats…a 'berth' is just a fancy word for a bed. 
Generally, campervans are perfect for up to 3 berths, while a motorhome is better for families of 4 or more. 
If you're 6-foot or taller, make sure you check the length of the berth before booking.
Campervan or motorhome size
When choosing your campervan there is always a trade-off between comfort and practicality.
A large campervan means you will have more room to move around, you won't feel claustrophobic if you need to spend a lot of time in the van during poor weather, and there is a good chance it will come with some luxuries that simply won't fit in a small campervan.
But at the same time a large campervan is going to be more expensive, will consume more fuel, may be tricky to park, and may be affected by strong winds. 
Kitchen and sleeping facilities
One of the most important considerations when choosing a campervan or motorhome is the design of the kitchen and sleeping facilities.
To save on space the smallest campervans often utilise a pull-out kitchen at the rear of the campervan. They also normally use a removable or foldable dining table 'dinette' that makes way for the double bed. These designs are brilliant at making the most of your space, keeping the campervan small and saving you money.
But at the same time, if you're going to be on the road for weeks or months you need to consider whether you will be happy living in a compact space and having to put up and take down your dinette every day.
A large campervan or motorhome will cost you more, but at the upper end will come with a separate bed and an internal, fully equipped kitchen.
And of course there are mid-range models that combine a little bit of both – and this is where you'll often find the best value (like the vans from LeisureRent).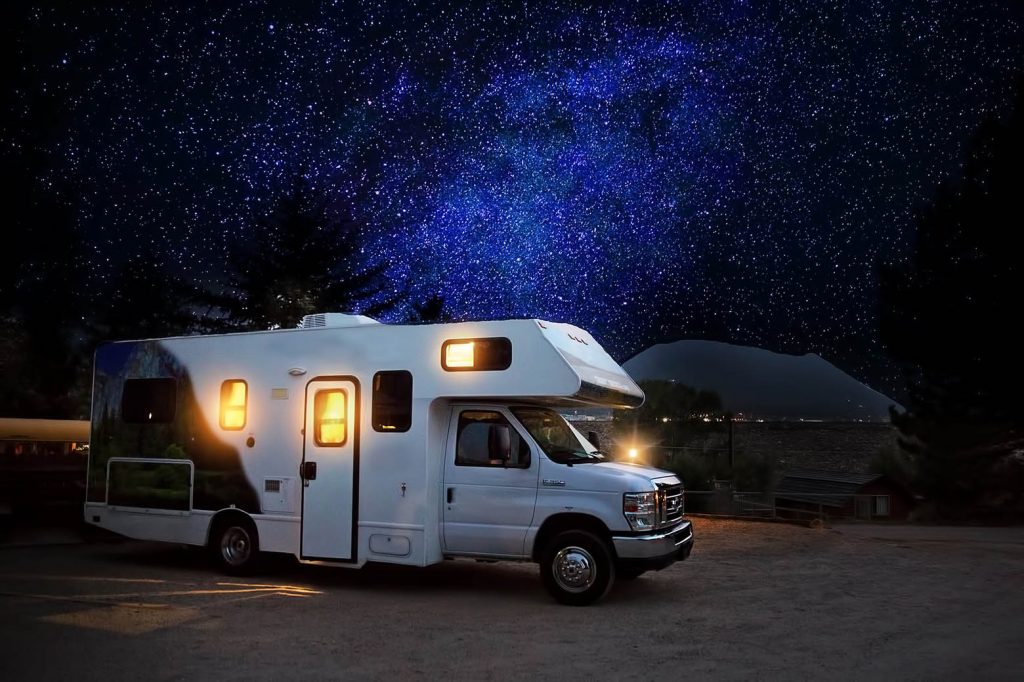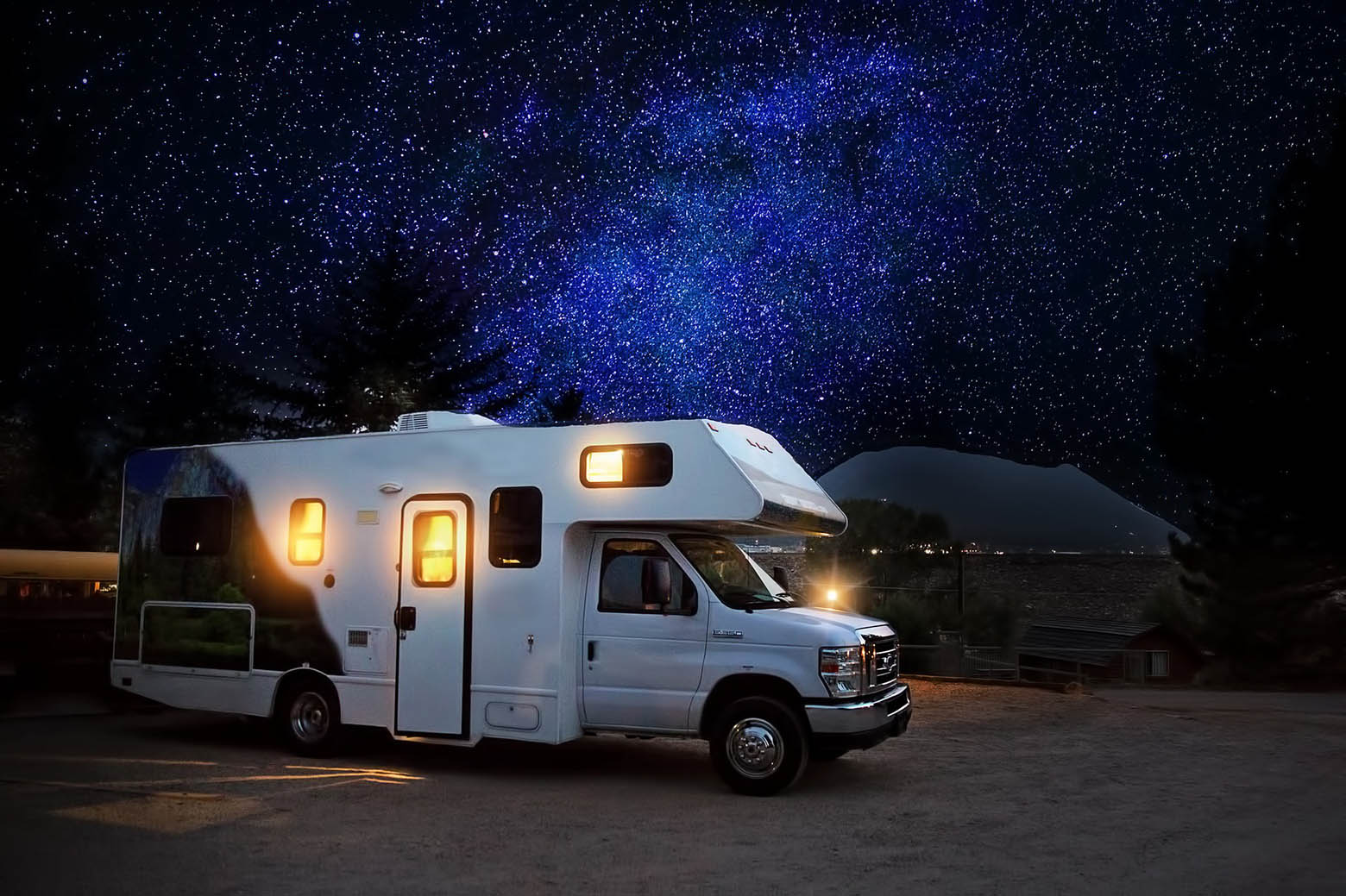 Bathroom facilities
Another important consideration is the design of the bathroom facilities.
The smallest campervans save on size by not including a shower or toilet. This can be a great option if you know you're going to be staying at a caravan park every night.
But part of the fun of doing a road trip in a campervan is free-camping as much as possible, finding a parking spot with a great view and pulling over to spend the night. If that sounds like your style of travel then it's worth spending that little bit extra to get on-board shower and toilet facilities.
Heating and Cooling
Airconditioning in your campervan isn't essential in Tasmania, but heating is important. Even during summer the night time temperatures can drop to freezing, and of course southerly storms occasionally sweep across the island.
To save on cost some campervans only provide heating in the driver's cabin, with no option for 240V mains heating. This means that you'll be relying on your clothing to keep yourself warm during the day in the living area of the campervan, and on blankets at night, regardless of whether you're free-camping or in a caravan park.
Considering Tasmania's cool climate we recommend that you choose a campervan or motorhome that includes heating for the living area, as this means you will be toasty warm no matter how cold it is outside.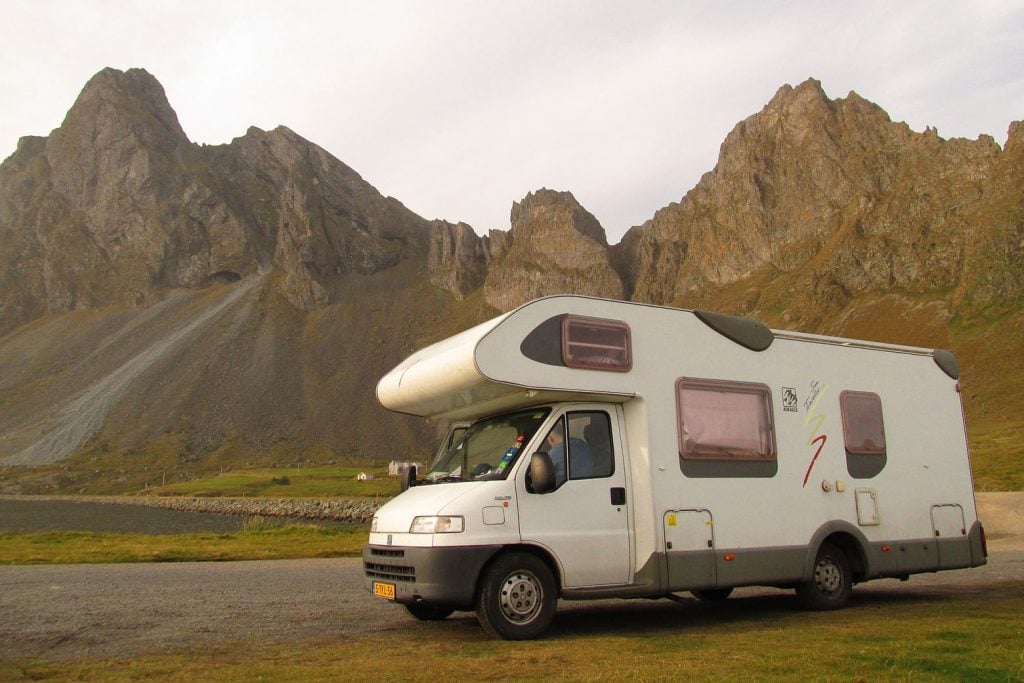 Campervan inclusions and optional extras
Campervan companies will normally provide a range of standard items for free. This does vary from company to company, but typically includes things like:
Kitchen utensils – Plates, bowls, cups, cutlery, cooking utensils, kettle, tea towels etc.
Cleaning items – Toilet chemicals (if applicable), dustpan and brush
Miscellaneous – Matches, coat hangers, road maps or travel guides
Safety – Fire extinguisher, fire blanket, First Aid Kit (charges will normally apply if it is opened).
There is always a range of optional extras offered by campervan companies for a fee, and these are some of the most common:
Linen – Normally includes a bed sheet, pillows, pillow cases, blanket and/or doona, tea towels, bath towels and soap
Outdoor furniture and accessories – Chairs, table, awnings,
Electrical and electronic Devices – Fan heater, GPS, EPIRB, satellite phone
Baby seat
Baby stroller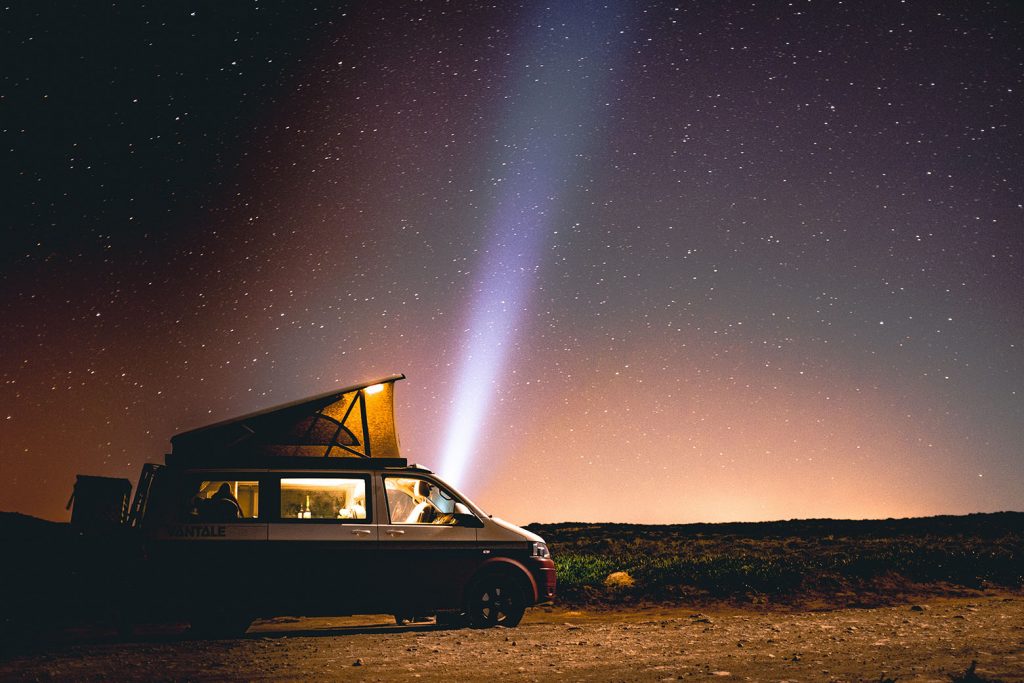 Cost of hiring a campervan or motorhome
There are so many different companies, vehicles, and upgrade options that a direct comparison is extremely difficult.
What we can do is point out the different components that will make up your total cost, so you can assess what matters most to you and use that to find the best fit for your needs and budget.
As you'll see below, booking with our preferred campervan provider – LeisureRent – will save you $ (and their customer service is incredible!).
Hire Costs
Vehicle Bond – An amount debited from your credit card prior to taking collection of the vehicle, and normally equal to the value of your insurance excess (see below). This is refunded after the vehicle is returned in good condition, but you will often get hit with credit card fees in the interim. Very few companies don't require a bond, but if you find one – like LeisureRent – you can save yourself a lot of money!
Daily Rate – This is the campervan or motorhome hire charge per day, and it typically increases during peak periods.
Excess Reduction Rate – Insurance is provided by the campervan hire company, and a standard excess will always apply in the event of an accident. This excess is typically $5,000 or more, however you can normally reduce this – often to $0 – by paying an additional daily rate of $30/day or more.
Optional Extras – See our previous section for a list of typical optional extras.
Transfer Fee – It is common for companies to include an airport/ferry transfer fee for transporting you between their office and the airport/ferry terminal. If they don't charge this fee then it's possible you'll need to catch a taxi at your own cost.
One-way Fee – Most companies will charge you a fee for picking up your campervan in one city and then dropping off in a different city (eg. pick up in Hobart and drop off in Launceston).
Mileage fees – Some companies limit the average number of kilometres you can drive per day. Check this before making a booking, as it is easy to get caught out. Some companies – like LeisureRent – allow unlimited kilometres, saving you $!
Other Costs
Fuel

– When choosing your campervan it is important to allow a budget for fuel costs. A large campervan or motorhome is going to cost you more in fuel than a small campervan.

Accommodation – Free-camping won't cost a cent, but staying at a caravan park is often necessary every 2-3 nights to allow you to charge your battery, and to make use of the shower facilities. Fees will vary depending on the park, and the time of year – expect to pay around $30-$50 per night.
The best Tasmanian campervan hire company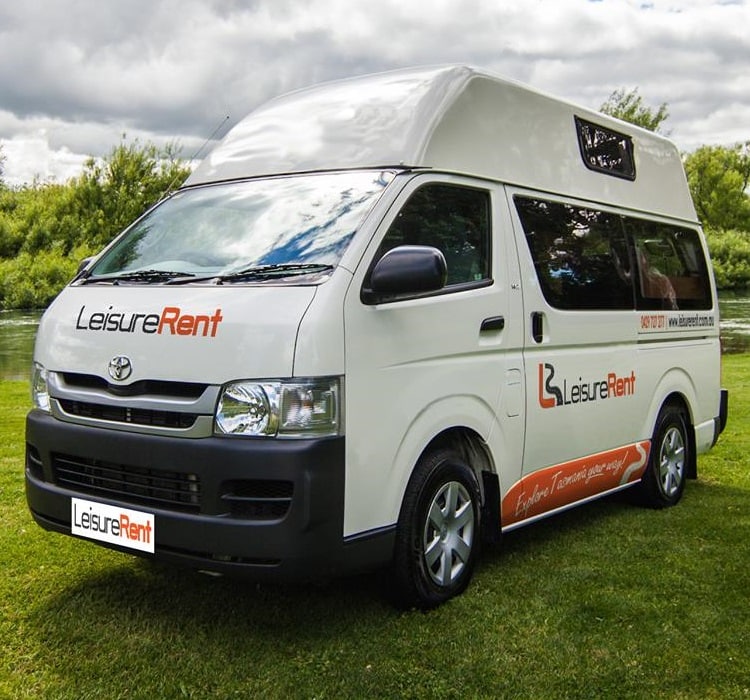 There are three things we considered in choosing the best Tasmanian campervan hire company:
Customer experience
Great value for you
Tasmanian owned
After speaking with fellow travellers and scouring TripAdvisor, Facebook and other online forums for customer reviews, there were two companies that stood head and shoulders above the rest – LeisureRent and Tassie Motor Shacks.
Both get great customer reviews. Both are very competitive on price. And both are Tassie owned and operated.
But if you're looking for an all-round campervan that sleeps up to four people, then LeisureRent is easily the best.
They don't take thousands of $$ from you for a bond
They allow unlimited kilometres
Ken, the owner, is super friendly and has more than 30 years experience in the industry
All the paperwork is completed before you arrive in Tasmania – simply pick up the keys and get your road trip started!
After we contacted LeisureRent and explained how eager we were to work with them, Ken is offering Lap of Tasmania readers a 5% discount on all campervan bookings!
To claim your discount, enter the promo code LAPOFTAS when you make your booking using the link below
 Receive 5% discount with LeisureRent
LeisureRent is the best all-round Tasmanian campervan hire company.
Lap of Tasmania readers will receive a 5% discount on any bookings when you use our exclusive LAPOFTAS promo code.
The best online campervan comparison and booking site
We understand you might want to look at other campervan companies in Tasmania.
Perhaps you need a campervan or motorhome that sleeps 5 or more people? 
Maybe a luxury motorhome is more your style of travel? 
Or perhaps you prefer a different interior layout?
If that sounds like you then we recommend visiting Discovery Campervans to compare the options and prices across dozens of different campervan companies and models.
The website is easy to use, and lets you see all the differences side-by-side so you can choose the perfect campervan or motorhome. 
Their insurance options are also clearly explained and it is easy to select the best one for your needs. 
It's the perfect one-stop online campervan shop!
Compare and book with Discovery Campervans
Discovery Campervans is the best online comparison site for campervans and motorhomes. 
Comparing options and making a booking has never been so easy – see for yourself and get your road trip started!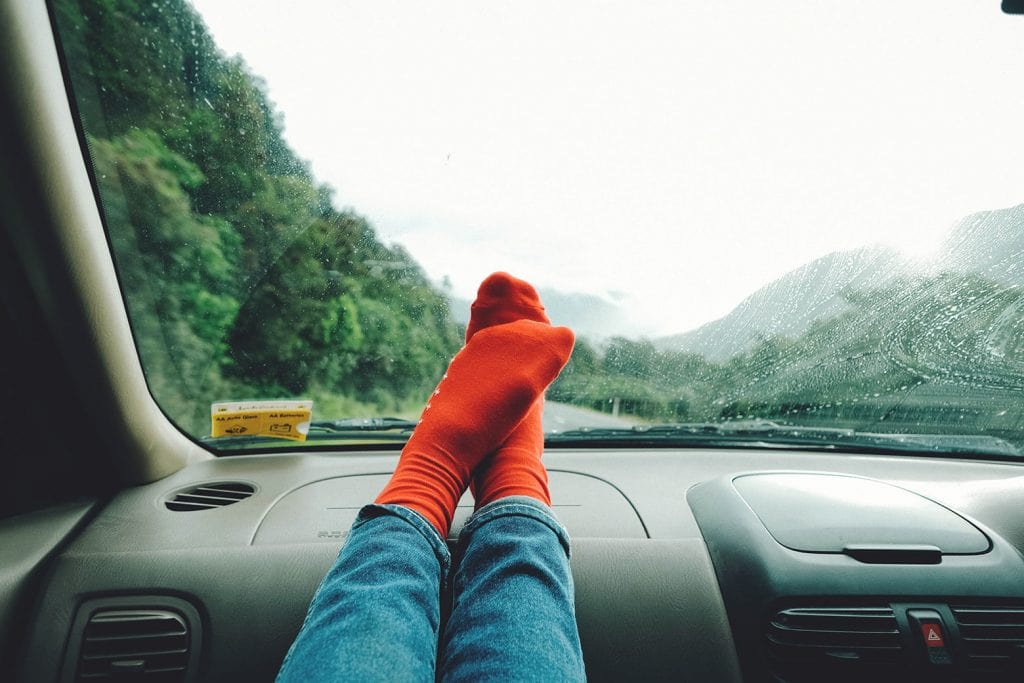 Licence, age and experience needed to hire a campervan
The minimum requirements for hiring a campervan in Tasmania are similar to those around Australia. These will vary between companies, so make sure you ask, or check their FAQs online.
Age: Most require the driver to be at least 21 years of age.
Licence: A full licence is normally mandatory. There is no special licence required to drive a campervan or motorhome.
Experience: Some agencies require a minimum of 3 years full-licence driving experience.
Overseas Drivers: An International Drivers Licence or an English language licence from a foreign country is normally sufficient. If you have a non-English language licence then you may also need an International Driver Licence and/or a translation of your licence.
Pro tip
Take note of the height of your campervan or motorhome.
Car parks and bridges can be very low, and the last thing you want is an accident because you forgot you were driving a taller vehicle than normal.
11 tips and tricks for no-hassle campervan hire
Hiring a campervan is easy and it is rare that there are ever any problems.
We recommend taking these 11 simple steps to help minimise the chance of something going wrong, while also covering yourself in the unlikely event that something unexpected happens.
Always read the Terms and Conditions before booking.
Inspect your vehicle and take photos on your mobile phone from all sides before driving away – even if you see nothing wrong. If anything at all looks scratched, dented or damaged then let the agent know. This evidence could prove crucial in showing you weren't responsible.
Confirm the rules for driving on unsealed roads and in alpine regions.
Ask about their preferred process in the unlikely event that you have a breakdown, lock your keys in the campervan, or are involved in an accident.
Write down any emergency contact numbers, but don't leave them in the car – we suggest your purse or wallet.
Ensure your phone has mobile coverage in Tasmania.
Ask what type of fuel your campervan takes and get the agent to show you how to open the fuel flap
Check whether you need to return the campervan with a full tank of petrol and put a reminder in your phone for your last day, so you don't forget.
Allow time to drop off your vehicle before checking in for your plane, especially if you need a transfer from the rental office to the airport.
Try to be there when the agent does the final inspection of the campervan, so that you can answer any questions on the spot.
In most cases there won't be any problems at all, and in that case we suggest asking for written confirmation from the rental company – this can save you a lot of trouble in the even of any confusion after you've returned home.
Pro tip
Before booking, ask your campervan company if you are permitted to drive:
On unsealed roads?
On Bruny Island?
On the Western Explorer road?
You'll be pleased to know that LeisureRent allows all three!
Petrol stations near Hobart and Launceston airports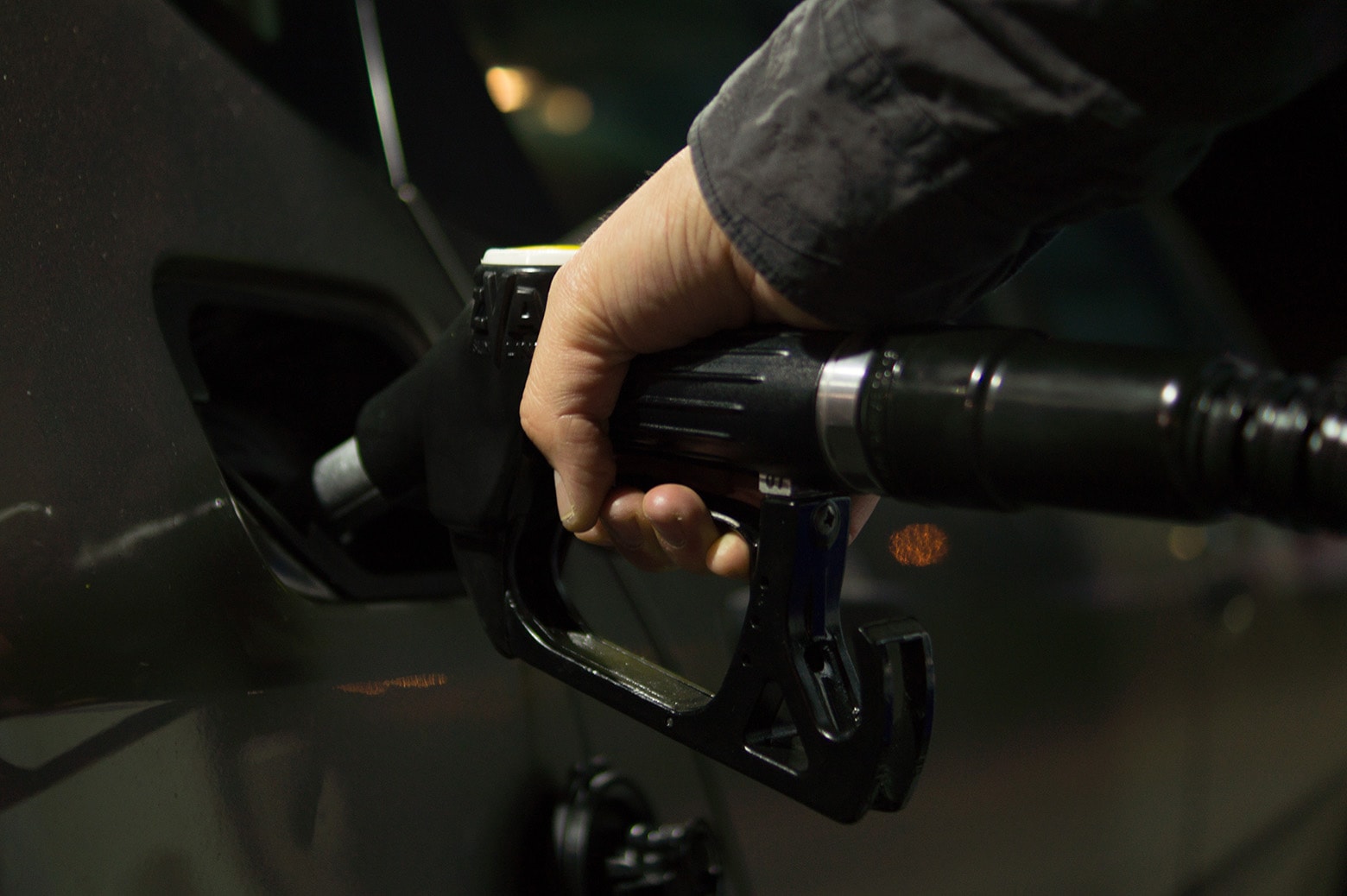 Most rental agreements ask you to return the vehicle with a full tank of fuel, so it's best to fill up as close as possible to the drop off location. 
Hobart and Launceston airports both have a petrol station that is only minutes away. 
This is the closest petrol station to Hobart Airport:
Name: BP Hobart Airport
Company: BP
Hours: 7 days, 24 hours
Fuels: Unleaded, Unleaded 95, BP Ultimate, BP Ultimate Diesel
Address: 3 Holyman Avenue, Cambridge, TAS, 7170 [here]
This is the closest petrol station to Launceston Airport:
Name: United Breadalbane
Company: United Petroleum
Hours: 7 days, from 6am – 10pm
Fuels: Diesel, LPG, Unleaded E10, Premium 98, Unleaded 91
Address: 1 Translink Ave, Western Junction TAS 7212 [here]
Here are some excellent resources that may help with your road trip planning:
Plan your Lap of Tasmania road trip