Are you trying to work out the most cost-effective way of planning your Tasmania holiday?
Fly or ferry, car or campervan – my FREE cost calculator will help you come to the right answer!
---
This page contains affiliate links. If you book or buy something through one of these links, we may earn a small commission (at no extra cost to you!). Read our full disclosure policy here.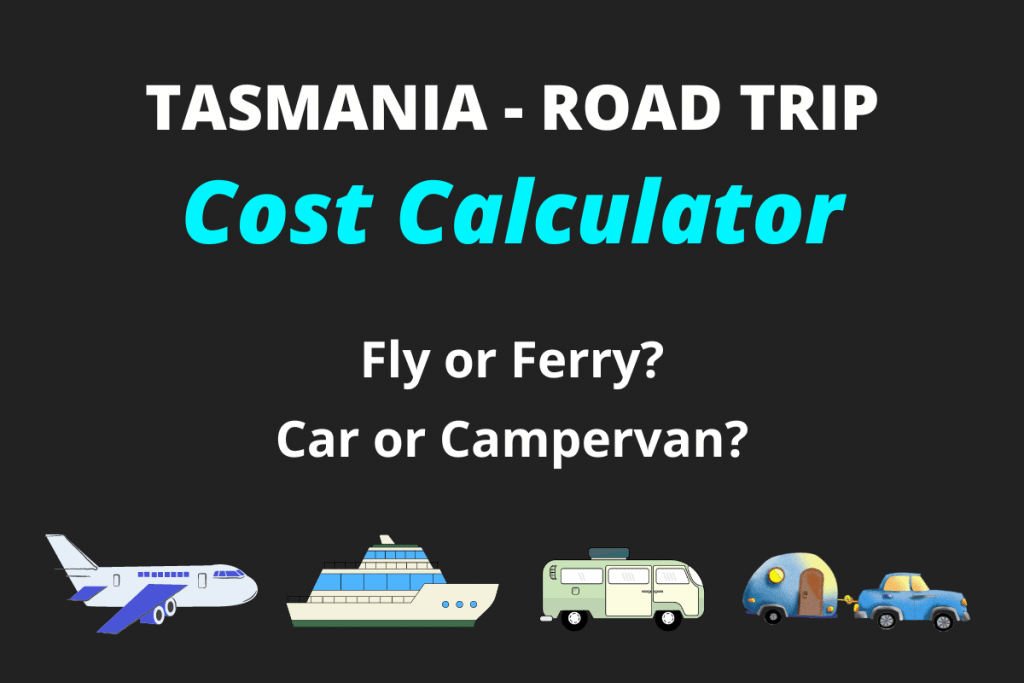 Tasmania Holiday Cost Calculator – Fly or ferry? Car or campervan?
One of the best things about a holiday in Tasmania is the number of ways in which you can experience this beautiful island.
But at the same time, choosing the best transport combination can be confusing.
Drive to Geelong and catch the ferry to Devonport? Or keep it simple and fly straight to Hobart or Launceston?
And once you get here, do you rent a regular car or SUV to get around and stay in B&Bs, apartments and hotels? Or are you better off with a combination of caravan parks and free-camping?
eeek…!! Too many choices 🥺
The first thing I want to say to you is, don't stress!
These are really common questions that I get all the time over in my Lap of Tasmania Facebook Group, and I haven't been able to answer with a whole lot of confidence…until now.
You'd think it would be easy, but it is only when you start digging into all the variables that you realise just how many combinations there are – ranging from the time of year you want to visit, to the length of your holiday, to the size and type of vehicle you would like to drive around in (or spend the night).
It has given me more than a couple of headaches, but I think I've cracked it – and as I suspected there is no 'one size fits all' answer.
Don't worry, you won't need a degree in nuclear physics to get my Tasmania holiday cost calculator to work as I have made sure the spreadsheet is super simple to use. All you need to do is to fill in the green cells and it will do the rest for you – easy peasy!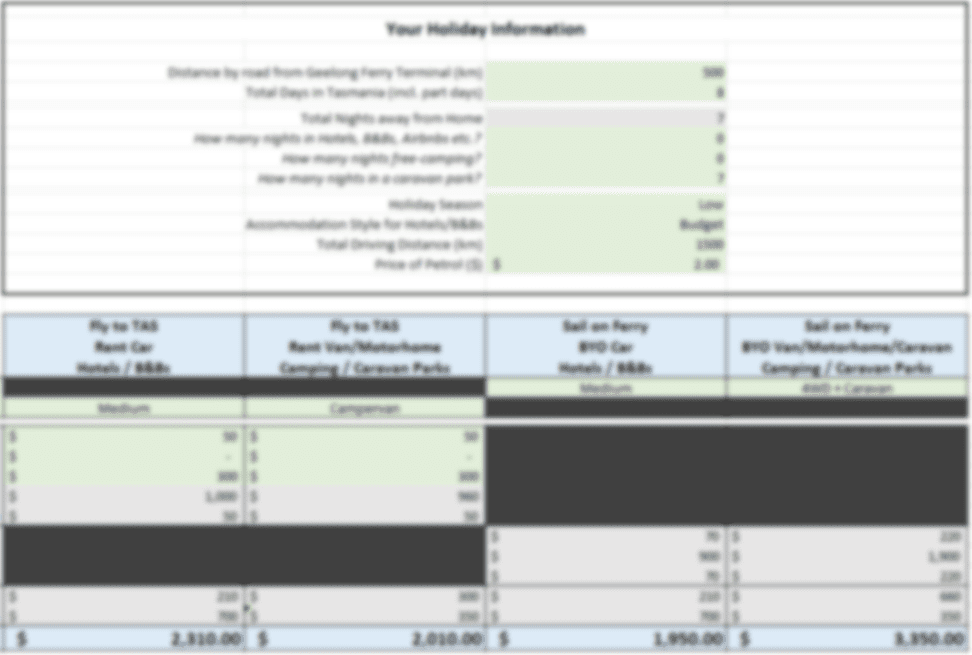 ---
The short answer?
Don't hold me to this, because everyone will have different preferences, but I suspect that most visitors will find the following scenarios to hold true when looking at cost, timing, and comfort:
| | | | |
| --- | --- | --- | --- |
| Style of Travel | < 1 Week | 1-2 Weeks | 3+ Weeks |
| Fly + Car + B&Bs/Hotels | ✔️ | ✔️ | ❔ |
| Fly + Campervan/Motorhome | ✔️ | ✔️ | ✔️ |
| Ferry + Car + B&Bs/Hotels | ❌ | ❔ | ❔ |
| Ferry + Campervan/Motorhome | ❌ | ❔ | ✔️ |
✔️ = Good value, with enough time enjoy yourself
❔ = Doable, but you will compromise on either time or cost
❌ = Not enough time to make the most of it
---
IMPORTANT – Please keep in mind that this is not a comprehensive cost calculator for your holiday in Tasmania. There are many costs I haven't included here – not because they aren't important to your budget, but because they don't affect the calculations for working out the most cost effective way of getting to, and travelling around Tasmania. If you need advice, please don't hesitate to ask us over at the Lap of Tasmania Facebook Group, or you can also find all the info – plus heaps of other travel planning tips – in my eBook and Holiday Planner.
---
My assumptions – Have I got it right?
Considering all the different options available to travellers, I have had to make some assumptions in building this calculator.
I thought it would be good to share them with you, so you know how it is working 'under the hood'.
If you have any feedback at all please don't hesitate to send it through to my email address here. It is only by hearing back from travellers like you that I can ensure the numbers are as accurate as possible.
Number of People
For simplicity, the calculator assumes that two adults are travelling together. Despite this, I suspect that even if I factored the extra cost for children into the calculator, it wouldn't change how the four options compare against each other.
Total Driving Distance
I have pre-populated this field with the approximate length of the official 'Lap of Tasmania' route (1,500km) but you can adjust this up or down depending on your route and how you plan to explore Tasmania.
Meal Costs
I have assumed that you spend the same amount on food, regardless of whether you decide to camp or to stay in B&Bs and apartments.
Spirit of Tasmania Ferry
In all ferry ticket combinations I have included the cheapest room type, which is a '4-Bed Inside Private Cabin'. You can save money by not including this, or you could spend more on a fancier room if you wanted.
These are the rates I have used for ferry tickets (two adults, return) in the calculator:
| | | |
| --- | --- | --- |
| Vehicle | Low Season | High Season |
| Car | $900 | $1,000 |
| Campervan | $900 | $1,000 |
| Motorhome | $1,000 | $1,100 |
| 4WD + Caravan | $1,900 | $2,000 |
I have assumed the following details for the different vehicles that are taken on the ferry:
Car – Toyota Camry
4WD – Toyota Landcruiser
All vehicles are less than 2.1m high
Campervans are 6m long
Motorhomes are 8m long
4WD + Caravan combination is 12m long
Once you go over 2.1m, or have a very long caravan combo, you are going to find prices increasing significantly compared to those used above – so please check this doing a test booking on the Spirit of Tasmania website.
I have also assumed you are booking your ferry tickets 6 months or more ahead.
Vehicle Rental – Car / Campervan / Motorhome
Rental prices vary significantly between companies, the time of year, the type of vehicle, and how far in advance you are booking. The prices I have used are an average – but I feel that they are close enough for the purposes of comparing options.
You will be able to find cheaper prices – especially when you use my LAPOFTAS code for a 5% discount on your car, campervan or motorhome rental at LeisureRent – but you will also find some rentals to be more expensive than the value I have used.
These are the daily rental rates, and fuel consumption figures per vehicle, that I have used in the calculator:
| | | | |
| --- | --- | --- | --- |
| Vehicle Type | Low Season | High Season | Fuel Consumption (L/100km) |
| Car – Small | $125 | $180 | 6 |
| Car – Medium | $125 | $180 | 7 |
| Car – Large | $125 | $180 | 8 |
| Campervan (2-berth) | $120 | $240 | 10 |
| Motorhome (4-berth) | $200 | $350 | 15 |
| 4WD + Caravan | – | – | 22 |
You will notice that I have used the same rental rate for all car sizes. This isn't as accurate as it could be, but due to the significant variation in rates between companies and between different types of cars I decided to keep things simple.
I have not included any costs for liability/excess reduction.
The campervan does not include shower/toilet, however the motorhome does.
These rates also assume that you are booking at least 6 months before arrival.
Getting to Geelong
I have not allowed for any accommodation costs needed to get yourself to the Spirit of Tasmania ferry terminal in Geelong (fuel is covered though).
Flights to Tasmania
You will need to plug in your own estimate for this, as ticket prices (return) vary a lot. If it was me, I would allow around $150 per person ie. $300 total for two adults.
Accommodation
These are the nightly rates I have used:
| | | |
| --- | --- | --- |
| Accommodation Type | Low Season | High Season |
| Hotel/B&B – Budget | $140 | $140 |
| Hotel/B&B – Average | $200 | $200 |
| Hotel/B&B – Expensive | $300 | $300 |
| Free Camp | $- | $- |
| Caravan Park (powered site) | $50 | $70 |
You will notice I have used the same rates for hotels/B&Bs for high and low season. What I have found is that they don't vary enough for me to try and model it in my spreadsheet.
However…if you are planning on visiting at Christmas, New Years, other public holidays or during major festivals, then there will be a sharp spike in accommodation costs – often twice as much or even more.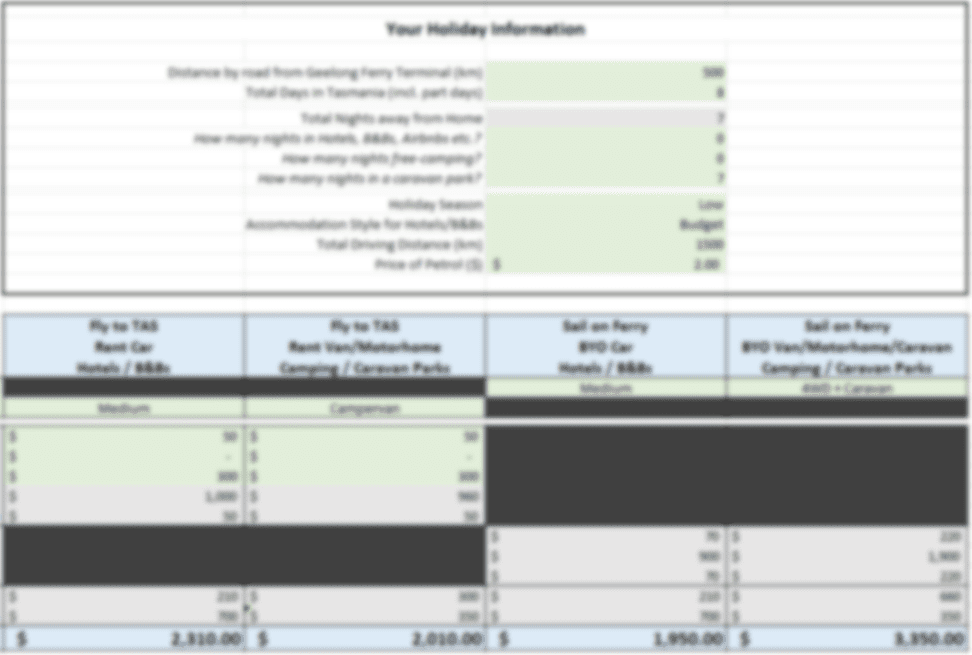 ---
Weighing up your options
The calculator is going to give you a feel for the cheapest option for your itinerary and style of travel.
However, cost isn't everything!
There are pros and cons to each of the combinations that aren't related to dollars – so I thought I'd also give you a quick overview so you can weigh them all up and make the best choice for your holiday.
'Spirit of Tasmania' Ferry
Catching the ferry with your own car is expensive up front, but it only takes three or four days in Tasmania for the price of a car rental to catch up.
However, unless you live near Geelong, by taking the ferry you are going to lose at least half a day getting to the ferry terminal (if not a day or more if you're driving from interstate), and if you do a 'day sail' you will lose another day on the ferry itself. Repeat this for your return journey and you can see that you can lose two or three days simply managing ferry logistics – not a problem if you have weeks available for your road trip, but a big issue if you have less than a week.
Another good thing about catching the ferry with your own car is that you don't have any baggage limitations – unlike a flight.
One down side of the ferry is that it can book out a long time in advance – especially for the return journey in autumn when a lot of 'grey nomads' return to the mainland to escape the cold. I am not joking when I say that some travellers have been caught for weeks waiting for a vacancy to get back home, so I recommend trying to book the ferry at least 6 months ahead.
Oh… and seasickness anyone? Bass Strait is notorious for its rough waters, so this can be a big consideration if you are susceptible to motion sickness.
---
Flying to Tasmania
There are a couple of big benefits of flying to Tasmania.
First of all, it's a lot cheaper up front.
Second, it is so much quicker to get here by plane, meaning you can squeeze in as much time as possible exploring Tasmania. For those of us with limited annual leave, this is a really important, if not the most important factor of all.
The downside though is that you will need a rental vehicle to get around, which will increase your costs very quickly.
---
Bring Your Own Car
Here is a summary of the pros and cons of bringing your own car on the ferry:
✔️ Cheaper than a rental
✔️ Safer – assuming your car is in good condition – because you will be driving a vehicle you are familiar with
✔️ More convenient when managing things like securing booster seats or packing your luggage as efficiently as possible
❌ Wear and tear on your vehicle
❌ Your older vehicle is likely less fuel efficient than a new rental
❌ If something goes wrong, like a broken windshield, it will be more time-consuming to get it back on the road
---
Car Rental
Here is a summary of the pros and cons of renting a car on arrival.
For more information about the options, see my Car Rental Guide.
✔️ Chance to upgrade from your everyday car (more fun, luxury, features, more space/storage, power, comfort, 4WD etc.)
✔️ Easier to deal with something going wrong (eg. breakdown or vandalism) and no need to worry about organising repairs
✔️ No wear and tear on your own car
❌ Higher cost (bond/rental rate/insurance)
❌ You may need to look after it better than your own vehicle (cleanliness and heightened awareness while driving)
❌ Unfamiliarity with strange vehicle
❌ Need to allow time to pick-up and drop-off car
---
Campervan or Motorhome Rental
Here is a summary of the pros and cons of renting a campervan or motorhome on arrival in Tasmania.
For more information about the options, see my Campervan/Motorhome Rental Guide.
✔️ Fun, fun, fun!
✔️ Freedom to choose where to stay the night, whether that's by the beach or in a caravan park
✔️ Less backtracking because you don't need to get back to your accommodation
✔️ More space to store your baggage while on the move
✔️ More opportunities to self-cater (healthier and cheaper)
✔️ Chance to meet with like-minded travellers at caravan parks and campgrounds
✔️ Cheaper nightly rates, or even free when free-camping
✔️ No early hotel checkouts
✔️ You can have a campfire!
❌ More expensive rental rate, especially for 4 or more adults
❌ Higher fuel consumption
❌ Lack of familiarity and therefore less safe
❌ Need to allow time to pick-up and drop-off car
❌ Slower than a car, especially on Tasmania's hilly, winding roads
❌ Larger, and harder to drive around in Hobart and Launceston city centres – especially parking
❌ Colder at night compared to a heated hotel or apartment room
❌ Pressure of holding up traffic
❌ More things to learn/do (eg. waste dumping, grey water disposal, electricity, configuring the van for sleeping of an evening etc.)
❌ More complex than a car – more likely for something to break or need maintenance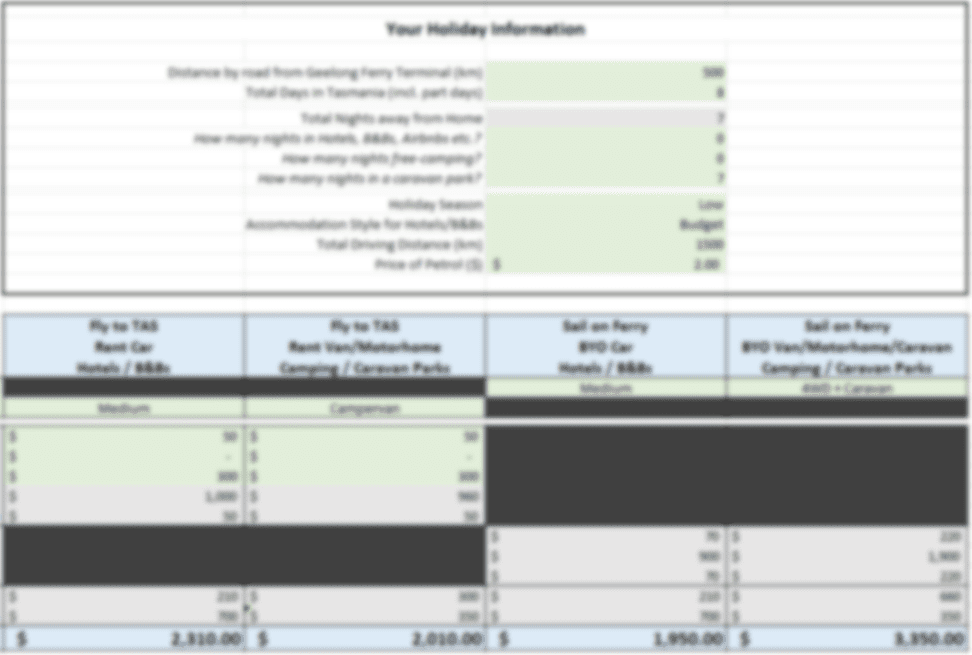 ---
Final thoughts
I hope my calculator, and the accompanying pros and cons for each option, have been useful in helping you decide how to enjoy your time in Tasmania.
As I'm sure you already realise, there are a lot of considerations at play and I can only hope that this information has simplified things for you – even if it's only a little bit.
If you still have questions, or would like to provide any feedback at all, please don't hesitate to let me know over in the Lap of Tasmania Facebook group, or you can email me here.
Thanks for reading, and happy travels!
Andrew.