Are you thinking about including a Huon Valley road trip on your Lap of Tasmania?
This easy-to-follow itinerary shows you how to plan every step of the way, including accommodation, things to see and do, and where to grab a bite to eat!
---
This page contains affiliate links. If you book or buy something through one of these links, we may earn a small commission (at no extra cost to you!). Read our full disclosure policy here.
Huon Valley Road Trip Itinerary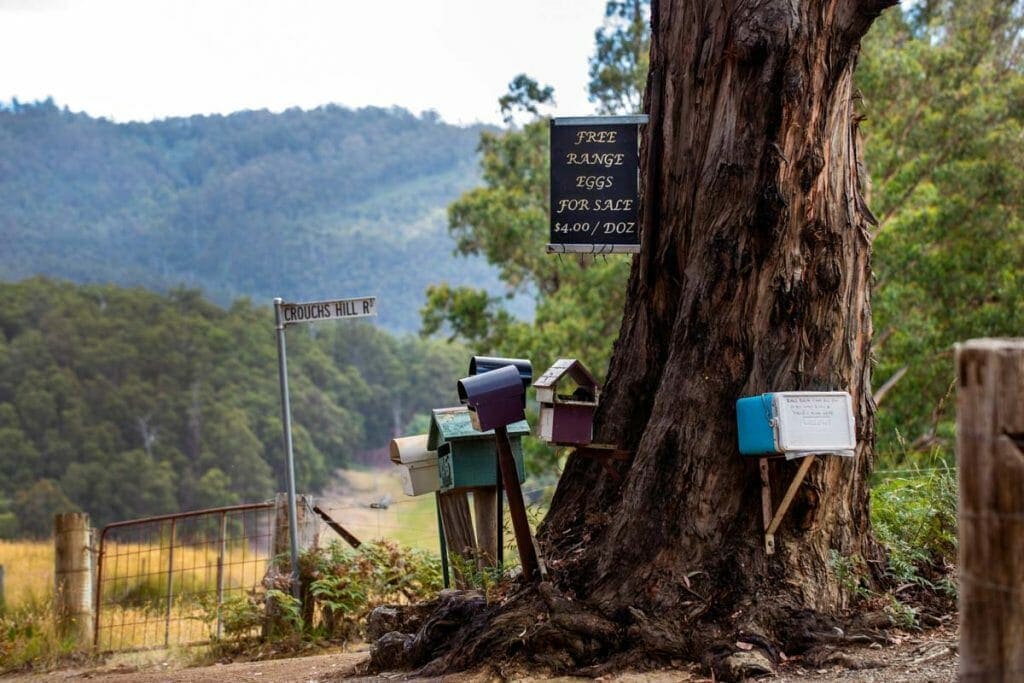 Table of Contents (click to expand)
Tasmania is known affectionately by many as 'The Apple Isle', and nowhere is this more evident than in the Huon Valley, just 30 minutes from Hobart. Cider breweries, cherry orchards, and award-winning wineries dot the landscape waiting for you to pull in and have a taste 😋
Keep driving south through the channel towns of Geeveston, Dover and Ida Bay where you can enjoy the waterfalls and alpine peaks of Hartz Mountains National Park, glow worms and thermal springs at Hastings Caves, or the sandy coves of Tasmania's most southerly settlement at Cockle Creek.
And if that wasn't enough, with an extra day on your hands you can drive the d'Entrecasteaux Channel to Kettering and catch the ferry to Bruny Island, for a day full of Tasmania's best cheese, oysters and beer!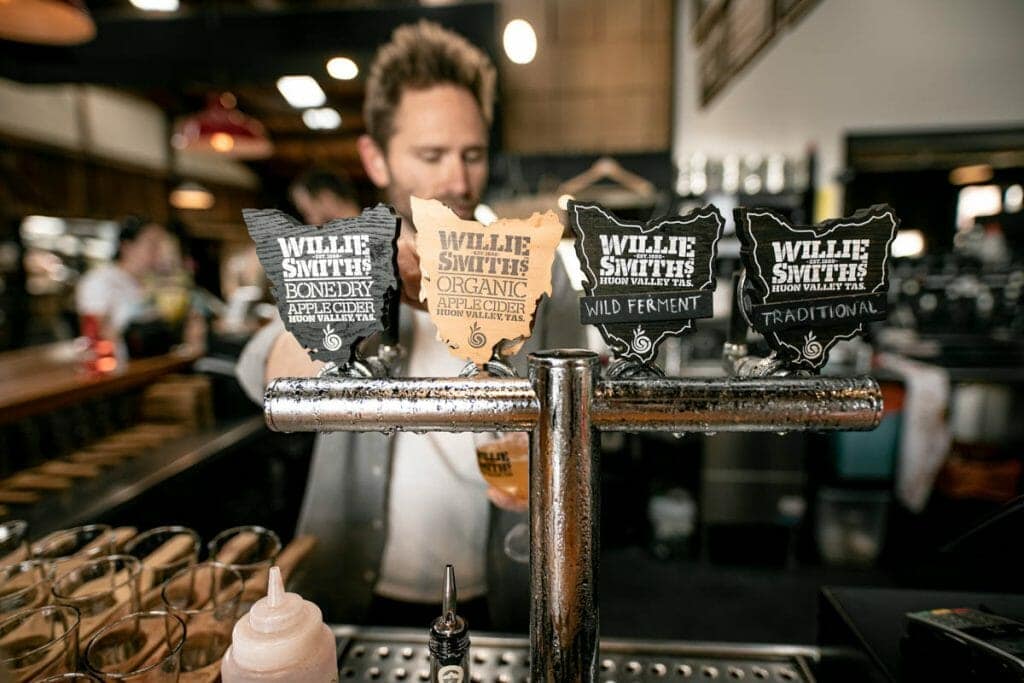 You could easily spend days, if not weeks exploring the delights of the Huon Valley and Far South Tasmania.
It is a wonderfully serene location, and you'll find a lot of local Tasmanians making it their ideal place to escape and recharge the batteries before heading back to the rat race.
Are you excited? I sure hope so, because it is one of my most favourite parts of Tasmania!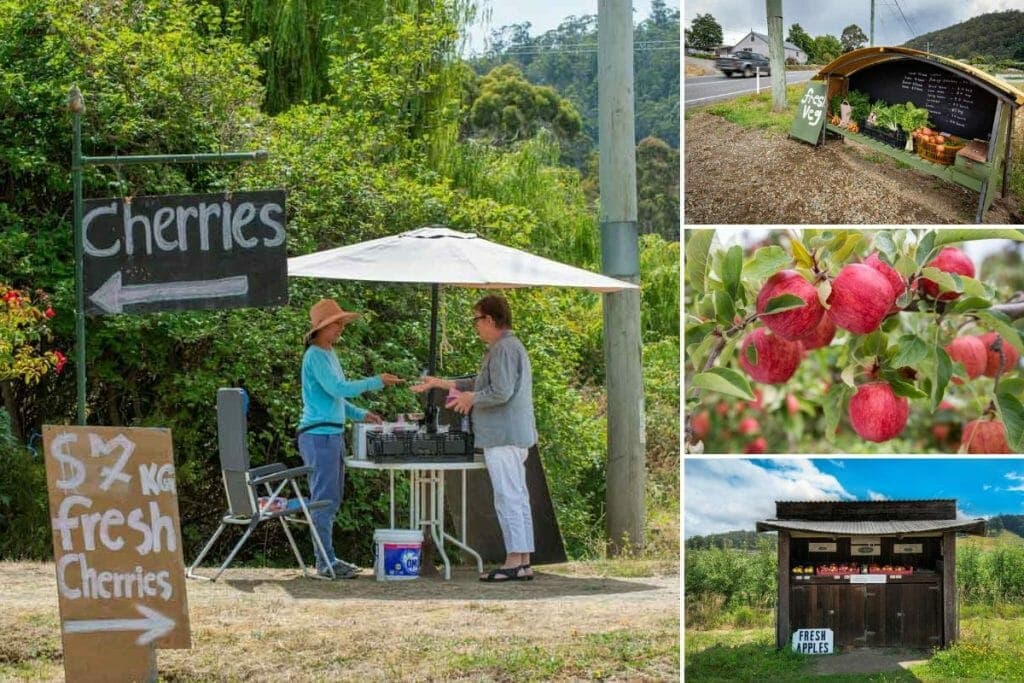 Planning your itinerary is very easy. For an absolutely no-stress approach you can follow my recommendations exactly, or you can easily use my itinerary to get ideas and plan your own Southern Edge road trip.
This itinerary is designed for 4 days in the Huon Valley, but I also show you how you can stretch it out an extra day or two – including an optional day trip to Bruny Island – or you can easily remove a day if you don't have quite that long.
The itinerary is a bit further down, but before we get into the details I thought I might give you a quick overview of where to stay and where to grab a tasty meal in the Huon!
---
Where to stay for your Huon Valley road trip
Normally I would recommend that you base yourself in a few centrally located towns, but the good thing about the Huon Valley and Far South of Tasmania is how close everything is.
It doesn't make sense to deal with the hassle of packing up and moving to a new location every night. Instead, pick your accommodation, settle in, and spend more time exploring!
If you are travelling the Huon Valley in a car, then there are two fantastic accommodation options that should be at the top of your list.
Ashdowns of Dover B&B – Perfect for couples
Dover is the perfect coastal town from which to explore the Huon Valley and Far South Tasmania, and the multi-award winning Ashdowns of Dover Boutique B&B is easily the best hosted accommodation in the region.
Lorraine and Gary have created a cosy oasis of light and warmth that I know you are going to love. Full cooked English breakfasts are their specialty, and they go out of their way to make every guest feel right at home in their beautiful B&B.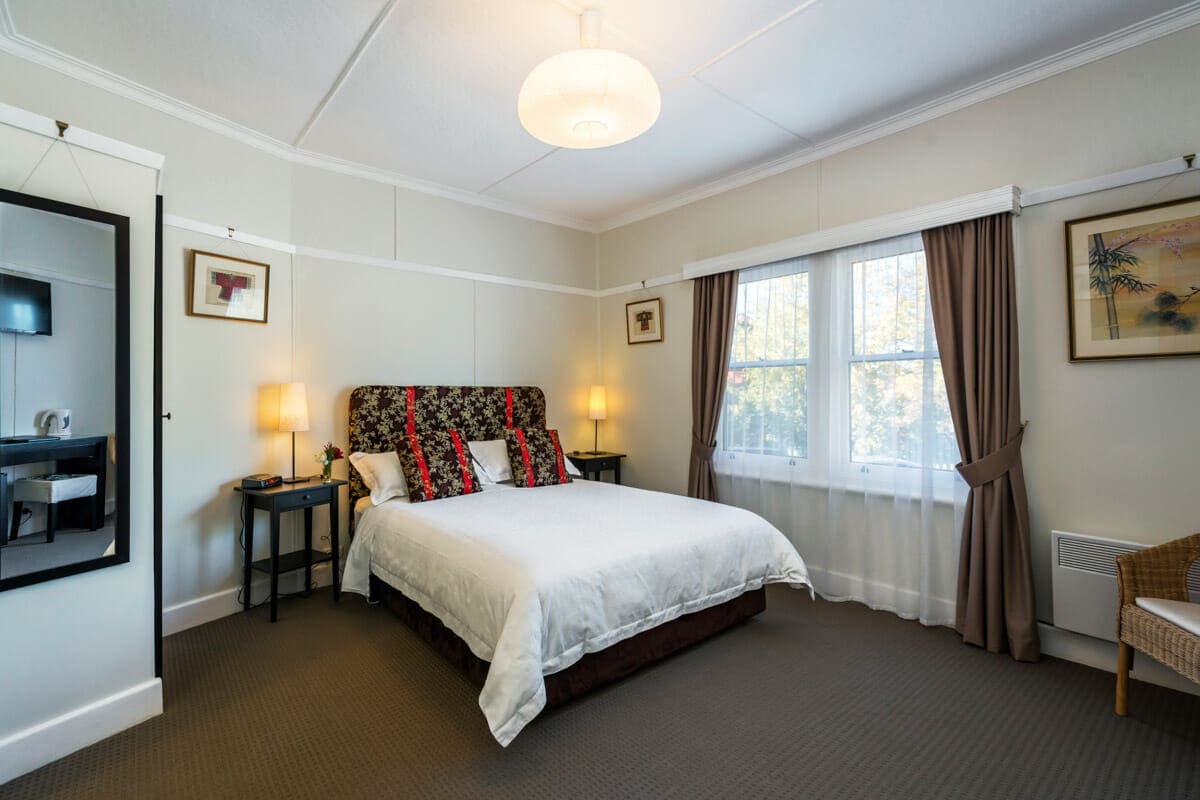 On a personal note, I couldn't be more grateful for the incredible support and encouragement they provided me when I participated in the Tasmanian Tourism Awards. Not only are they a wonderful couple, but they have been big supporters of the Lap of Tasmania for a long time now, and I can't recommend them highly enough!
To say 'thank you' for your support, Lorraine and Gary are offering members of the Lap of Tasmania community a complimentary bottle of wine – perfect for glass or two under a canopy of stars and with a crackling wood fire at your back!
Essentially Tas – Perfect for families and couples
Some of Tasmania's best accommodation options in the Huon Valley and Far South are scattered along its sparkling shores, lush valleys and pristine forests. To help you discover the ideal cottage, cabin or studio for you and your family you should have a chat with the wonderful folks at Essentially Tas.
Their friendly and knowledgeable team are all locals, and they have curated the perfect portfolio of amazing self-cater accommodation options to suit all styles of travel, and budgets. Whether you are looking for a family adventure, a romantic escape, or seaside solitude… I guarantee they'll have the perfect accommodation with your name on it!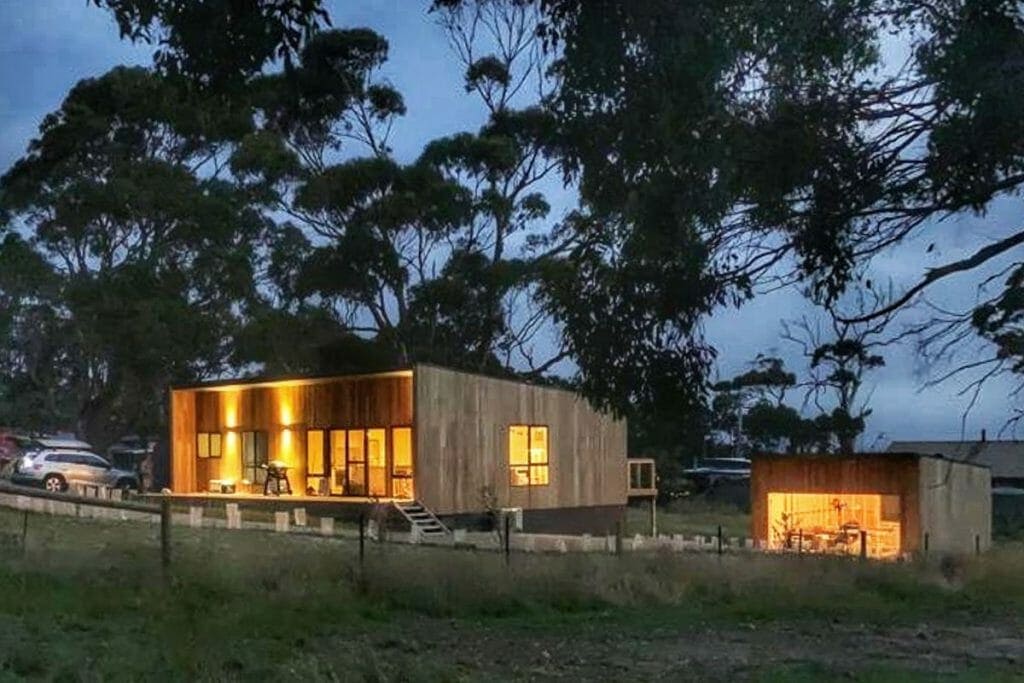 I value their support so much, and to give back to the Lap of Tasmania community they are offering you a complimentary bottle of Tassie wine – all you need to do is mention the Lap of Tasmania when making your booking!
Camping Options
If you are visiting with your campervan or caravan, check out these excellent camping options – many are right next to the water:
Rivers Edge Wilderness Camping (Lonnavale)
Valley Campground (Crabtree)
Huon Valley Caravan Park (Huonville)
Franklin Foreshore Camping Ground (Franklin)
CMCA RV Park Geeveston (Geeveston)
Southport Caravan Park (Southport)
Dover Beachside Tourist Park (Dover)
---
Where to eat and drink in the Huon Valley and Far South Tasmania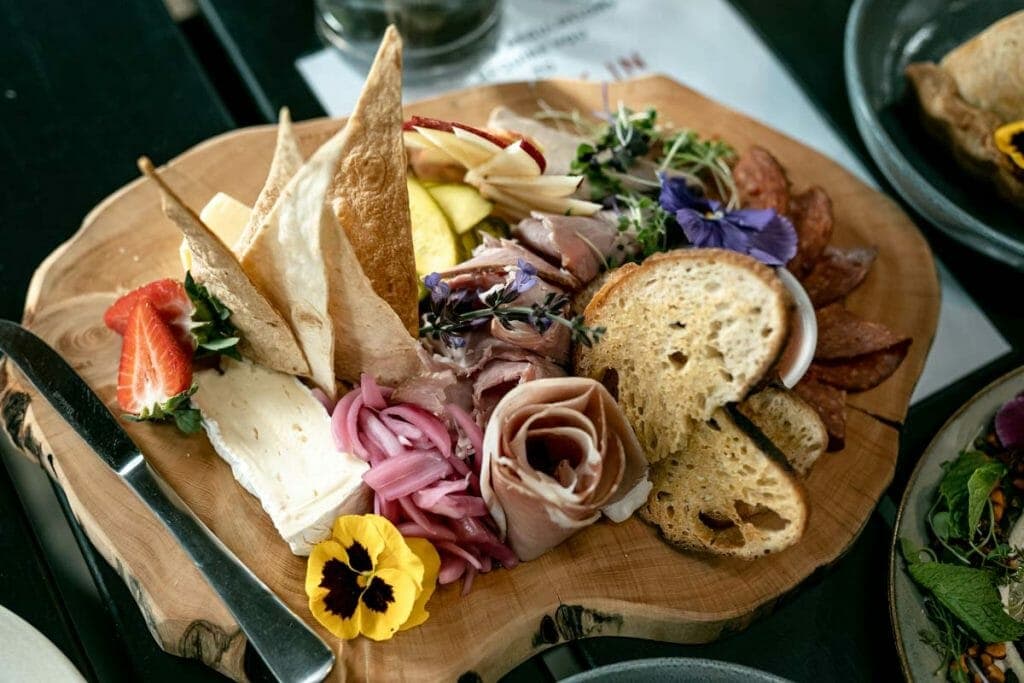 The Huon Valley is renowned for being the source of some of Tassie's highest quality and most coveted fresh produce. With such a pantry on their doorstep, it is no wonder that you will find some great cafes and restaurants where you can relax with a delicious meal and your drink of choice.
Recommending places to eat can be hard, as everyone has different preferences and budgets. I'm a huge foodie and I love spending hours enjoying a degustation, whereas I know a lot of people would prefer to spend more of their time and money on other activities.
For that reason I have provided a list of dining options that I feel reflect the best value in each town, with most covering lunch and/or dinner. Further down in the actual itinerary you will notice that I have provided my favourite lunch recommendations that are located near the attractions you will be visiting on those days, but by using the list below you can easily adjust it to your preference.
Breakfast as you leave Hobart
Machine Laundry Cafe (Salamanca)
Bear With Me (South Hobart)
Huonville / Ranelagh
Willie Smiths Apple Shed
Home Hill Winery
Ranelagh General Store
Franklin
Osteria @ Petty Sessions
Cinnamon and Cherry
Frank's Cider House and Cafe
Geeveston
The Old Bank of Geeveston
Masaaki's Sushi (opening days/hours vary)
Tahune
Dover
River Run Tavern (Wed/Fri/Sat – check times)
Post Office 6895
Dover RSL
Little Dover Bar & Bistro (Fri/Sat/Sun)
Southport
Southport Hotel (lunch/dinner)
Rocket @ the End of the Road
Cygnet
Red Velvet Lounge
Port Cygnet Cannery
The Port Hole Cafe
Cygnet Conservatory Cafe
Woodbridge
Please also keep in mind that this region of Tasmania doesn't have a large population, and this means that breakfast options aren't as widespread as those for lunch/dinner.
My suggestion for breakfast?
I would either stay at a B&B like Ashdowns of Dover where they can prepare a delicious continental or full cooked breakfast for you every morning, or I would stop at one of the local IGAs, or larger supermarkets in Hobart (before travelling south), and pick up breakfast provisions to self-cater at one of the awesome accommodation options offered by Essentially Tas.
---
Huon Valley Road Trip Itinerary
I feel like that's enough background info, don't you?
Let's get you planning your Huon Valley road trip!
Day 1: Hobart to the Huon Valley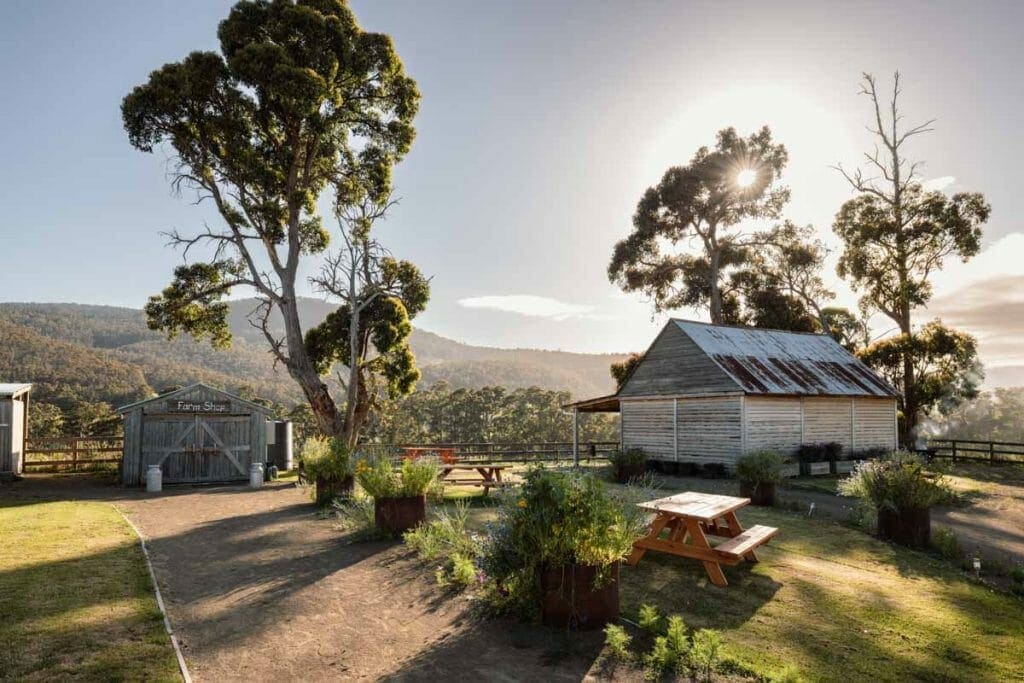 With a lot of sightseeing options between Hobart and Huonville, there are a few ways you can plan your day.
Whichever option you choose, if you can wake yourself at silly-o-clock then a drive to the summit of Mt Wellington/kunanyi to watch the sunrise over Hobart is an absolute must!
After that, there are two popular routes available to you.
The 'Day 1' itinerary I have provided below will take you along the slower and less-busy coastal road, through the suburbs of Taroona, Kingston, and Tinderbox, before cutting back inland to the Huon Highway (A6).
I feel like this is a great way to spend your first day, but another popular option is to go straight from Fern Tree (at the foot of Mt Wellington) through to Lower Longley and the Huon Highway. The benefit of this alternative route is that it will get you to Huonville a lot quicker and will free up time for more activities in in the area (listed under 'alternative options' below).
🚘 Morning
Taroona Shot Tower Historic Site (Taroona)
See/Walk Kingston Beach
Drive the Tinderbox Road loop and enjoy coastal views across to Bruny Island
Bush Bakery – Taste one of Tassie's best scallop pies (Leslie Vale)
Take a photo of 'Sleeping Beauty' from the roadside lookout (here)
Willie Smiths Apple Shed – Cider tasting, Apple Museum, live music, restaurant, Saturday markets (Ranelagh)
Alternative Options

Highland Cattle Farm Tour (Ranelagh)
Kate Hill Wines – Wine tasting (Ranelagh)
🍴 Lunch
🚘 Afternoon
Huon Jet Boat – An exhilarating ride up the stunning Huon River (Huonville)
Home Hill Winery – Wine tasting (Ranelagh)
Wooden Boat Centre – Guided tour (Franklin)
Franklin Boardwalk – Easy and short walking trail (Franklin)
Franklin 'lockup' (Franklin)
The Wall of Lollies (Geeveston)
Geeveston Platypus Walk – See platypus in the morning or evening (Geeveston)
Alternative Options

Frank's Cider House and Cafe – Tastings and meals (Franklin)
🏡 Where to stay
---
Day 2: Cockle Creek and Far South Tasmania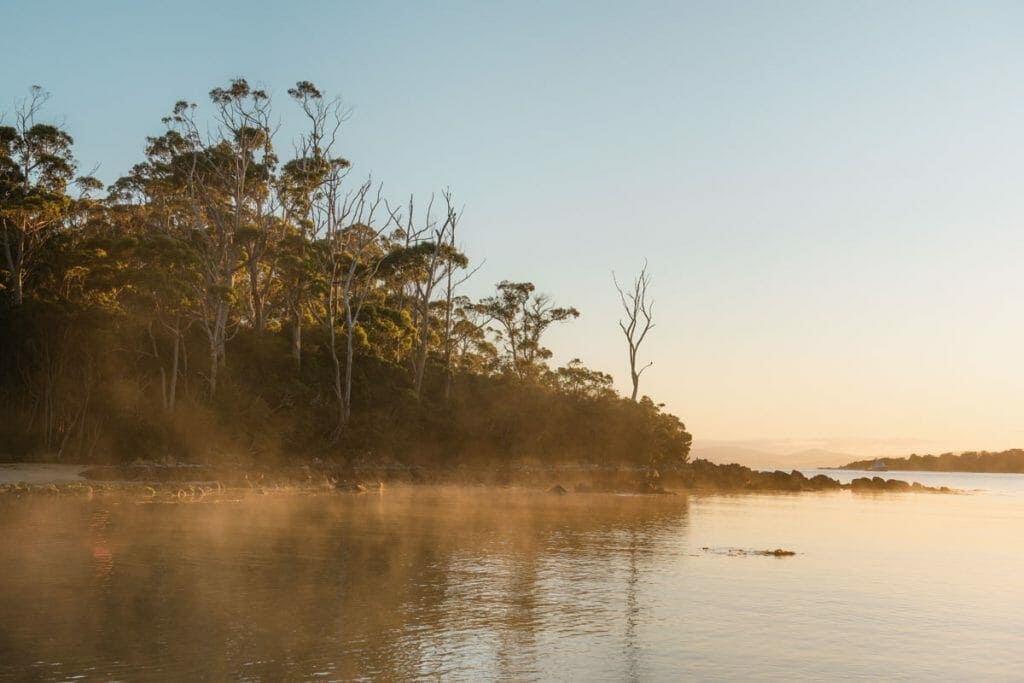 It's your first full day in the Huon Valley and I always recommend that travellers make their way down to the most southerly point in Australia that is accessible by road – Cockle Creek.
One thing to keep in mind is that the last 20km is on an unsealed road (as is the 5km section to the start of the Mystery Creek walking trail). Most car hire companies are ok with this because both roads are 'gazetted', but I recommend checking just to be sure.
For more information on choosing the best rental car (including some handy discounts) you will find my Tasmania Car Hire Comparison helpful as well.
If you have extra time, the 'Day 2' itinerary I show you below could easily be stretched across one or two extra days by doing some of the fantastic walks and tours available in the area.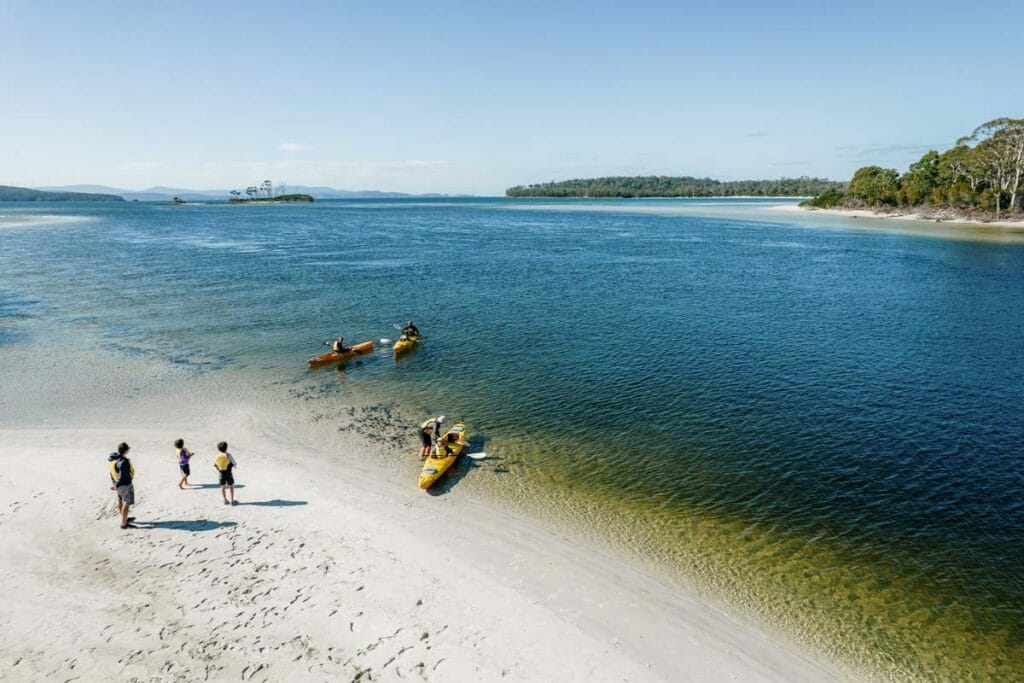 Hastings Caves is really interesting, and if you occasionally suffer from claustrophobia you will be pleased to hear that there are no tight spaces to crawl through or anything scary like that. The caves are spacious, well-lit, and absolutely gorgeous! Bookings are essential (phone the Hastings Visitor Centre – email bookings will not be accepted)​, but they can only be made within 14 days of your planned visit.
🚘 Morning
Drive to Cockle Creek (1 hr each way from Dover)
Take a photo next to the 'End of the Road' sign
Walk to the Whale Sculpture (5 mins)
Cockle Creek historic cemetery (5 mins)
Walk to Fishers Point (easy, 2 hrs)
Alternative Options

Half-day bushwalk from Cockle Creek to South Cape Bay (moderate, 4-5hrs)
Kayaking tour with Esperance Adventures (click here to see their tours)
🍴 Lunch
🚘 Afternoon
Walk to Mystery Creek Cave (park here – easy, allow 2 hrs)
See glow worms and explore Mystery Creek Cave (0.5 hr – don't enter the cave if it is raining or if rain is forecast)
See the majestic Hastings Caves (1.5-2 hrs)
Watch the sunset at Roaring Beach lookout (0.5 hr)
Alternative Options

Enjoy a soak at Hastings Thermal Springs (1 hr)
Short walks at Hastings Thermal Springs (easy, 10 mins / 30 mins)
Walk the Ida Railway track to Elliott Beach (easy, 3 hrs return), Southport Lagoon (moderate, 4-5 hrs return), or Southport Bluff (moderate and very long, 6-7 hrs return)
Go gem fossicking at Lune River (1 hr – click here for more info)
🏡 Where to stay
---
Day 3: Tahune AirWalk and Hartz Mountains NP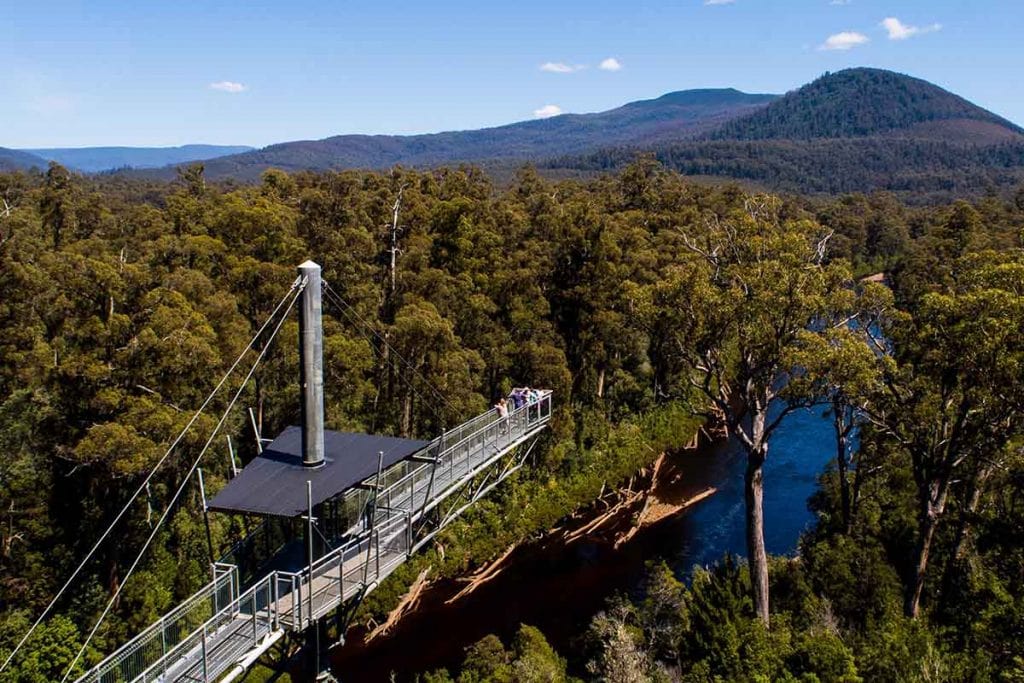 'Day 3' of your Huon Valley road trip is all about getting close to nature, but if that's not your jive then you could easily head north to visit some of the wineries, cider houses or other foodie-favourites in Franklin, Ranelagh and along the valley.
Tahune Adventures is awesome for families, couples and solos. It has a couple of great walking trails that aren't difficult, but take you through some beautiful forests, and both the Huon and Picton rivers. What a lot of people don't realise is that because it is located on state forest you are also allowed to take your dog with you on-lead.
And if you thought Tahune was good, just wait until you see the beautiful scenery that will greet you in the Hartz Mountains National Park!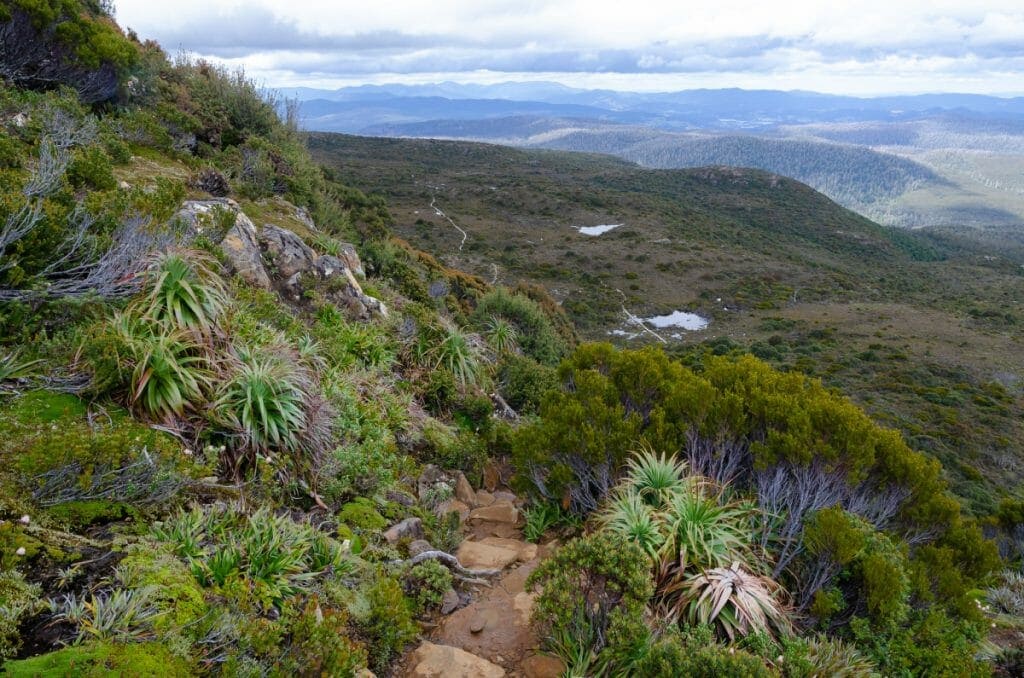 There are plenty of trails of varying difficulty. Keep an eye on the weather, as snow is common in the cooler months. The last 20km drive to the Hartz Mountains Visitor centre is on an unsealed road – as with the road to Cockle Creek I recommend checking that your car rental company allows this – most do.
🚘 Morning
Spend a half-day at Tahune Adventures (entry fee required)

Breath-taking views from the Tahune Airwalk
Short walks through the forest and along the river's edge (dogs on lead are welcome!)
Fly across the Huon River on your cable-controlled Eagle Hang Glider

Alternative options

Tahune – Twin Rivers Kayak Adventure (3.5 hrs)
🍴 Lunch
Tahune Cafe (Tahune Adventures)
🚘 Afternoon
Immerse yourself in the beauty of Hartz Mountains NP (a Parks Pass is essential – click here)

Stop at Waratah Lookout (5 min)
Arve Falls walking trail (easy, 0.5 hr)
Lake Osborne walking trail (easy, 1 hr)
Lake Esperance walking trail (easy, 2 hrs)
Alternative Options

Hartz Pass walking trail (moderate, except for the last section that is difficult, 3-4 hrs)
Hartz Peak walking trail (moderate, except for the last section that is difficult, 4-5 hrs)
🏡 Where to stay
---
Day 4: Return to Hobart via Cygnet and Woodbridge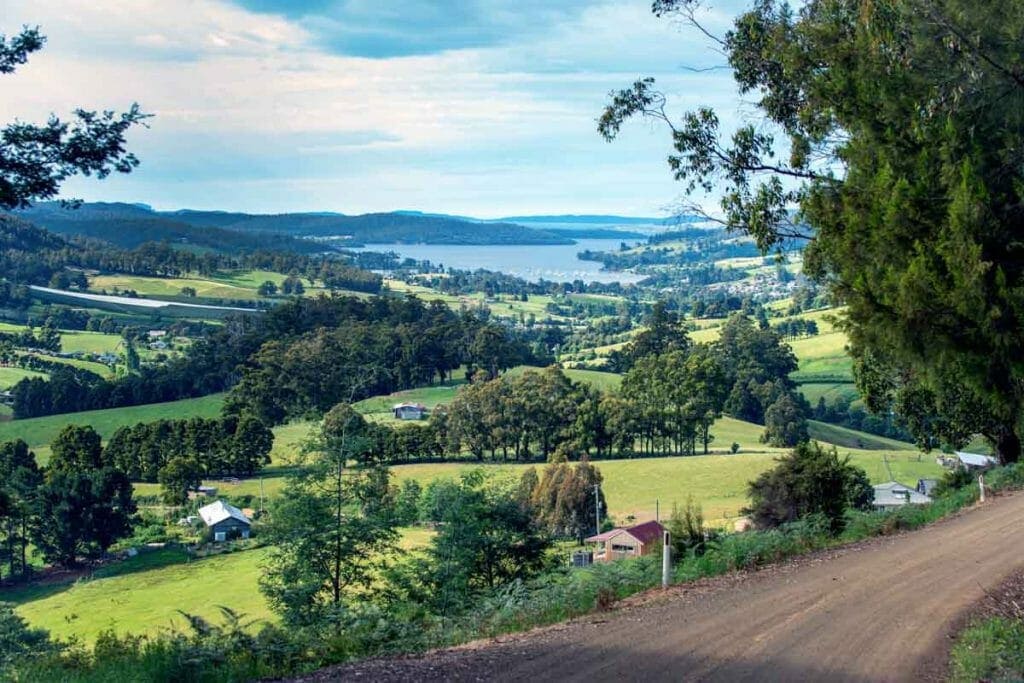 This last day of your Huon Valley road trip is a lazy day of mostly food-oriented activities, with a lot of amazing natural beauty along the way.
If you need to be back in Hobart in the mid-afternoon then it would be easy to skip the second half of the 'Day 4' itinerary and focus on the first half instead.
🚘 Morning
Explore Cygnet and Cygnet Foreshore walk (1-2 hrs)
Fat Pig Farm (0.5-1 hr)
Enjoy coastal drive via Eggs and Bacon Bay to Birchs Bay (1 hr)
Grandvewe Cheese (0.5-1 hr)
Hartshorn Distillery (0.5-1 hr)
Alternative Options

Bakehouse Bakery and Distillery (0.5 hr)
Pagan Cider (0.5-1 hr)
Art Farm Birchs Bay (0.5-1 hr)
Cygnet Market (1st and 3rd Sunday of the month)
🍴 Lunch
Peppermint Bay (Woodbridge)
🚘 Afternoon
Hartzview Vineyard (1hr)
Nutpatch Chocolates (0.5 hr)
Snug Falls (easy down, moderate return – 2 hrs)
Margate Train (0.5-1 hr)
Alternative Options

Villa Howden High Tea (Sundays, 2 hrs – bookings essential)
Pelverata Falls bushwalk (2-3 hrs)
🏡 Where to stay
---
Bonus Day: Bruny Island Day Trip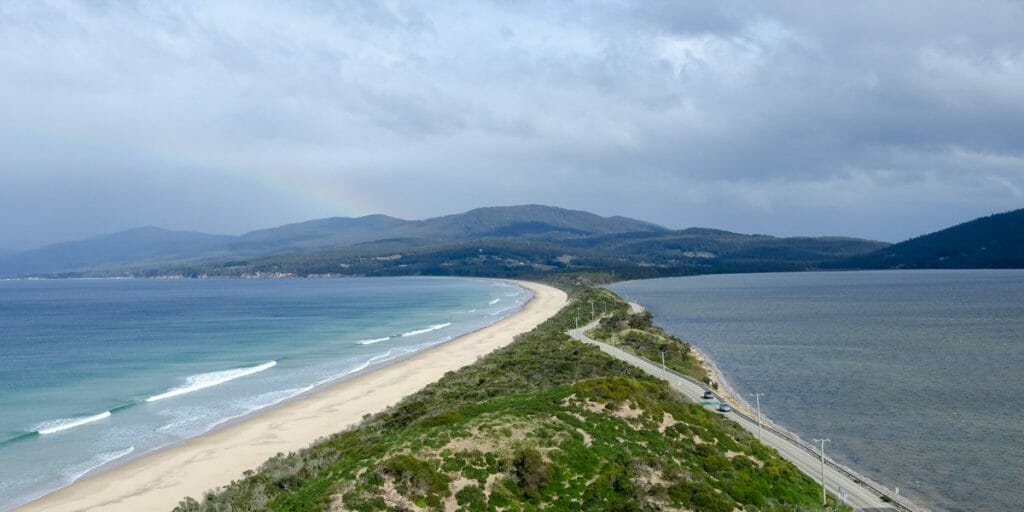 One of the most popular itinerary extensions for visitors in the Huon Valley is to do a day trip to the ever-popular Bruny Island, famous for its gourmet delights, stunning natural wonders, and rich history.
There are a couple of ways you can explore the island.
If you only have a single day available then I would either:
Book a 'Food, Sightseeing and Lighthouse' tour with Bruny Island Safaris – They know the island inside out and will ensure your day is chock-full of the best things to see and do, without a minute wasted. No designated driver needed either!

Bruny Island Safaris are a proud partner of the Lap of Tasmania, meaning you will receive a generous 10% discount when you use my LAPOFTAS code. Click here to check prices and make your booking.
OR
Do a self-drive road trip – This can be heaps of fun as well, as you can plan your own day and do as much, or as little as you like. My itinerary below provides some ideas on things to see and do, but as you will notice, there is easily enough there for two full days.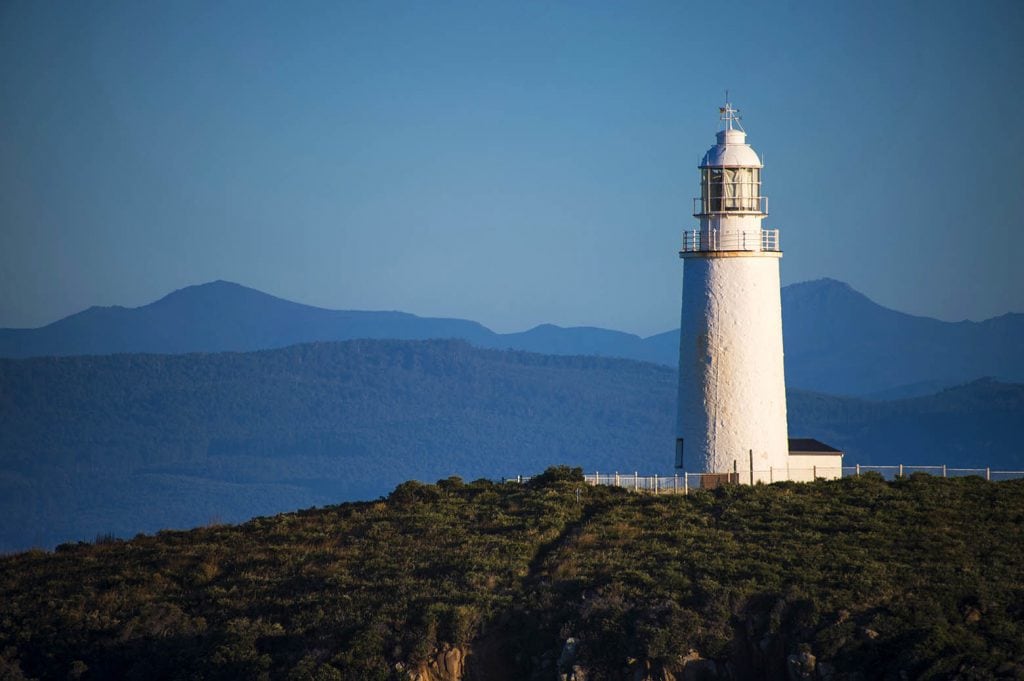 The ferry from Kettering to Bruny Island runs regularly from roughly 7am to 7pm every day in both directions (click here for the timetable), making it very quick and easy to get there.
🚘 Morning
Drive to Dennes Point and enjoy the morning light while strolling Nebraska Beach (1 hr)
Taste the freshest oysters from Get Shucked (0.5-1 hr)
Graze on a delicious cheese platter and sip on a cleansing ale from Bruny Island Cheese and Beer Co. (1 hr)
Pull over at 'The Neck' to experience one of Australia's most iconic views (0.5 hr)
See where the Fairy Penguins make their homes in the dunes at Neck Beach (0.5 hr)
Alternative options:

Bruny Island Honey (0.5 hr)
Walk to 'The Arch' at Cape Queen Elizabeth (easy, 3 hrs)
Bird watchers will love Inala Reserve and Jurassic Garden, where they have plenty of bird hides and the possibility of sighting a rare 40-Spotted pardalote (1-2 hrs)
🍴 Lunch
Bruny Island Premium Wines
🚘 Afternoon
Paid Options

Experience of one of the world's best salt-water cruises with Pennicott Wilderness Journeys Bruny Island Cruise (half-day)
See Bruny Island from the skies with Island Scenic Flights
Learn about the history of Bruny Island on a Cape Bruny Lighthouse Tour
Sprokkelwood Art Garden (by appointment)

Free Options

Wine Tastings at Bruny Island Premium Wines (0.5-1 hr)

Coastal walk to Grass Point

(easy, 1.5-2 hrs return), or keep going to Fluted Cape for a longer walk (moderate, 2.5-3 hrs)

Bruny Island Chocolate Factory

(0.5 hr)
Spot rare white wallabies near Adventure Bay
Labillardiere Peninsula bushwalk (easy, short loop 1-2 hr or full loop 6-7 hrs)
Bruny Island House of Whiskey (0.5-1 hr)
---
Final thoughts on a Huon Valley road trip
I hope you have found my Huon Valley road trip itinerary useful in planning your holiday!
To put your Tassie holiday together just takes 5 simple steps…
Learn more about Tasmania, including:
Plan your road trip itinerary – right here!
Decide how to get to Tasmania
Choose your vehicle (and save money):
Book your accommodation
It's that easy!
We would love to see you over in our Lap of Tasmania Facebook Group as well. It would have to be one of Tasmania's friendliest groups, and whether you are a first-timer to Tassie or a repeat visitor you are guaranteed to get some fantastic tips to help with your travel planning.
Happy travels,
Andrew.
ps. If this is your first time visiting Tasmania, or you are a bit nervous about planning your road trip, then you will love my eBook – "How to Plan Your Tasmania Road Trip". It takes you through the whole process in easy-to-follow steps and also includes a free Holiday Planner that you can use for Tasmania and any other holiday you take in the future!
---
Travel planning resources
Tasmania's remote location means there are internet 'black spots' across the island.
A paper travel guide or map is the perfect backup, and we love the range from Lonely Planet.