Finding it hard to decide which Gordon River cruise is best?
Keep reading for a side-by-side comparison, and tips for choosing the best option for your Tasmania road trip – including a very handy Gordon River cruise discount!
---
This page contains affiliate links. If you book or buy something through one of these links, we may earn a small commission (at no extra cost to you!). Read our full disclosure policy here.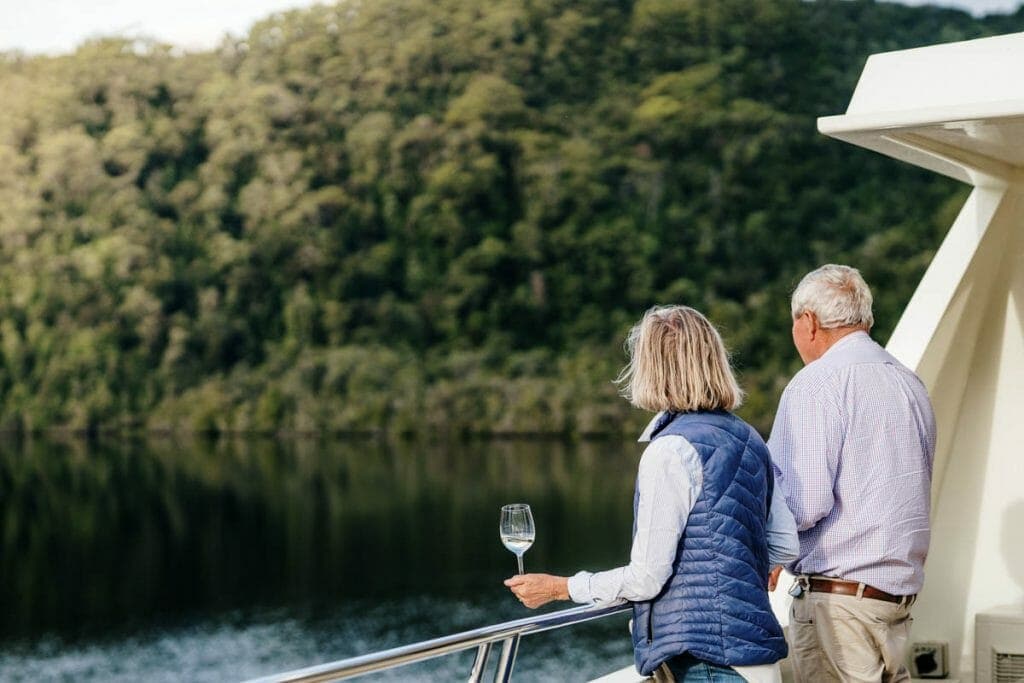 Table of Contents (click to expand)
When I think about the most common questions we get in our Facebook Group, this would have to be near the top…
"Which Gordon River cruise is best – the red boat or the grey boat?"
In fact, I've seen it so many times that I felt inspired to create the meme below 🤣
It is a serious question though, and considering the impact on your budget it can make a huge difference to your holiday in Tasmania – especially for families who could easily fork out a lot of money on features that will honestly make very little difference to their experience.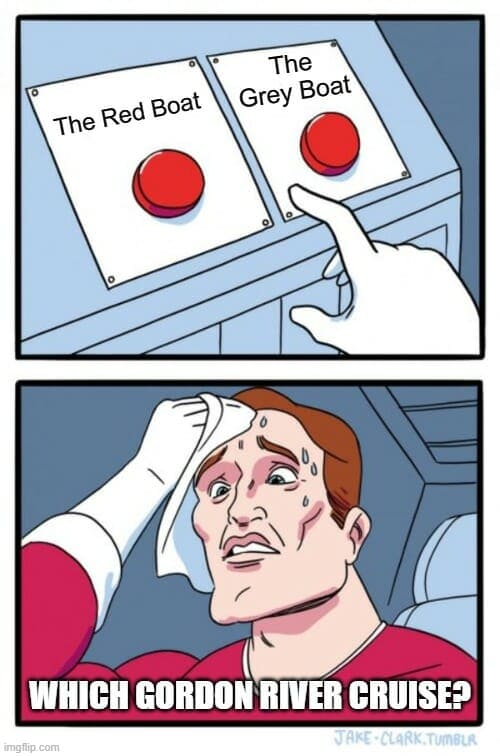 As you might expect, the answer isn't clear cut.
Everyone has different preferences for how they like to travel – your budget, the number of people you will be travelling with, whether you are a family with children, and many other factors.
And this is exactly why I hear this question so often – it isn't easy for travellers to do a side-by-side comparison and choose the best of these Strahan cruises for your specific needs and preferences.
Until now!
I've reviewed both of the options in comprehensive detail, helping you to simplify the decision making process and to get you on the water exploring what would have to be one of Tasmania's premier natural attractions in no time at all.
What things are exactly the same?
How are they different?
And regardless of which company you choose, why a cruise on the Gordon River and Macquarie Harbour is an absolute must!
Don't have time to read the full guide?
This graphic shows you how they compare…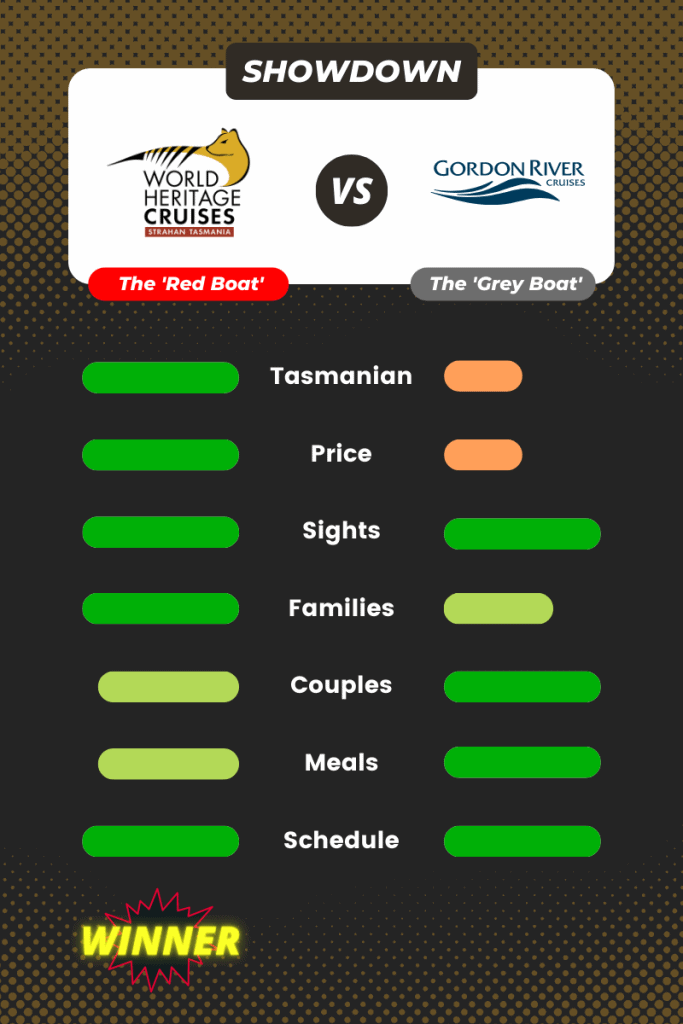 If you want to explore the differences in more detail, keep reading, because in the next few sections I take you through each of these categories in heaps of detail, providing you with all the information you need to choose the best option for your Tassie holiday.
---
What is the Gordon River and why is it so special?
As someone who grew up in the hot, dry oven we know as Adelaide, it was the lush rainforests and tangled spiderweb of creeks, rivulets and rivers of Tasmania that made a huge impact on my early memories of this island I now call home.
But you know what?
It wasn't until I visited the West Coast and experienced a Gordon River cruise in Tasmania that I realised just how unique this region is.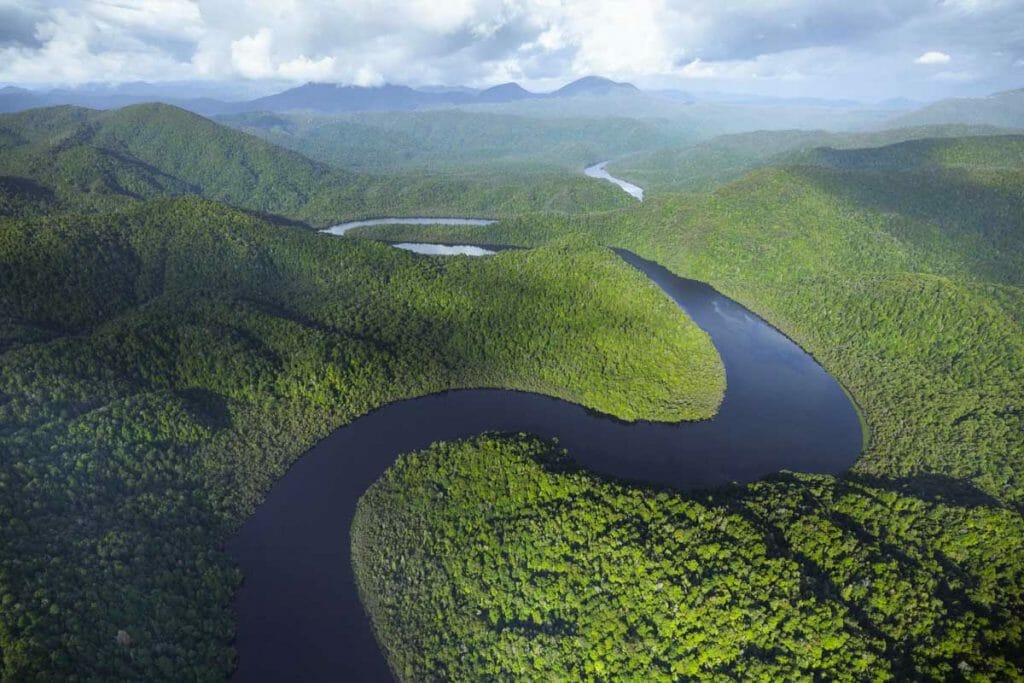 Icy, tannin-stained waters running silent and deep, lined with ancient Huon Pines older than the Roman Empire.
Primordial rainforests – a tapestry of emerald man-ferns, colourful funghi, and moss-draped branches dripping with life.
Dark, brooding silences, tall timber creaking in the wind, and vivid rainbows springing to life over dancing waterfalls.
The urgent and unforgettable call of a solitary currawong, scratching in the undergrowth. Black cockatoos surging overhead with a cheeky screech, heralding rain to come.
For many years archaeologists believed this remote, rugged corner of the world to be so inhospitable that it was simply incapable of supporting human settlement – but that was until the discovery of the remarkable kutikina cave, less than 50 years ago.
This limestone cavern on the banks of the Franklin River – a short distance upstream of the Gordon – surprised everyone when it was found to have been 'home' for the world's most southerly humans during the last Ice Age, more than 20,000 years ago!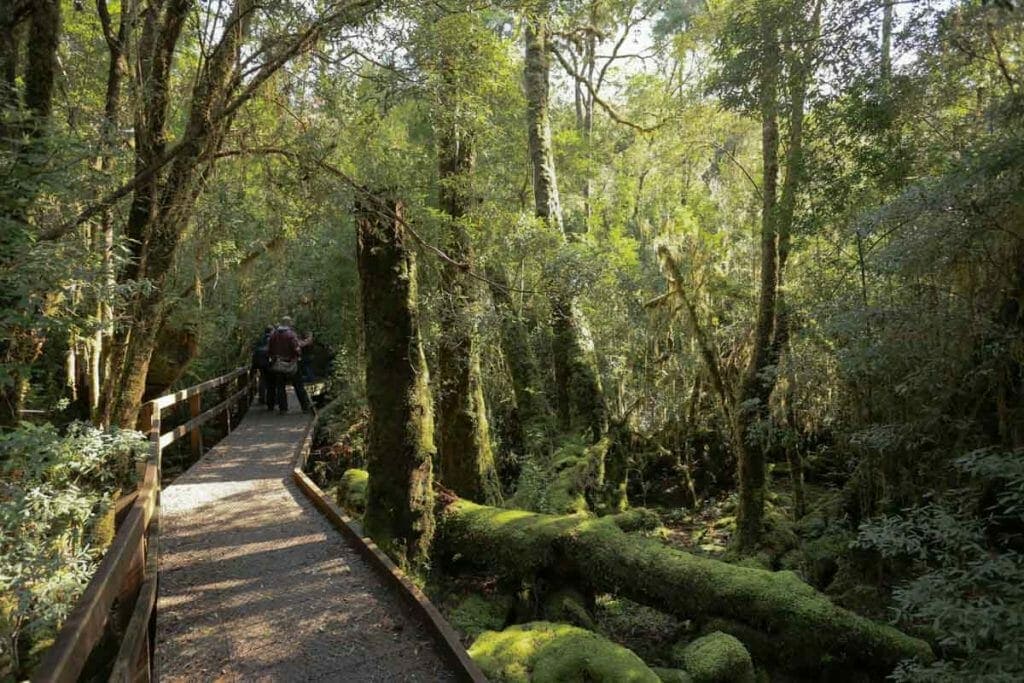 It was no wonder our colonial ancestors saw Macquarie Harbour, and Sarah Island in particular, as being the ideal location for Tasmania's first penal settlement in the early 1800s.
Remote and rugged, the harshest of climates, impenetrable forests, and seemingly inescapable, it was deemed the ideal punishment for repeat offenders.
Fast forward 150 years and again we find the Gordon and Franklin Rivers in the spotlight – as the Tasmanian government sought to expand its hydroelectric scheme by damming the lower reaches of both the Gordon and Franklin rivers.
As someone who has had the privilege of cruising up the Gordon River, it is incredible to hear this pristine location described by the Liberal Premier of the day, Robin Gray, as:
"…nothing but a brown ditch, leech-ridden and unattractive to the majority of people…"
Seriously?
It was no wonder so many thousands of Tasmanians took a stand, protested, and saved these rivers for future generations – and I can't be more thankful for their efforts.
Layer upon layer upon layer… a cruise up the Gordon River is like stepping back in time, and it would have to be one of my favourite tours I have experienced anywhere in the world, let alone Tasmania!
---
Red boat or grey boat – What's the difference?
The two most popular ways of exploring Macquarie Harbour and the Gordon River are by booking a cruise with either World Heritage Cruises (aka the 'Red Boat') or Gordon River Cruises (aka the 'Grey Boat').
Before I dive into the detail, let's get one thing straight.
You can't go wrong with either company! So if you can't get a seat on your preferred cruise, please don't stress, because you will still have an amazing experience.
But at the same time, while the main sights and attractions provided by both companies are essentially the same, there are some important differences that could take your experience from a simple 'wow' to 'OMGTHATSFREAKINGAMAZINGWHENCANIGOAGAIN?!!!' 🤣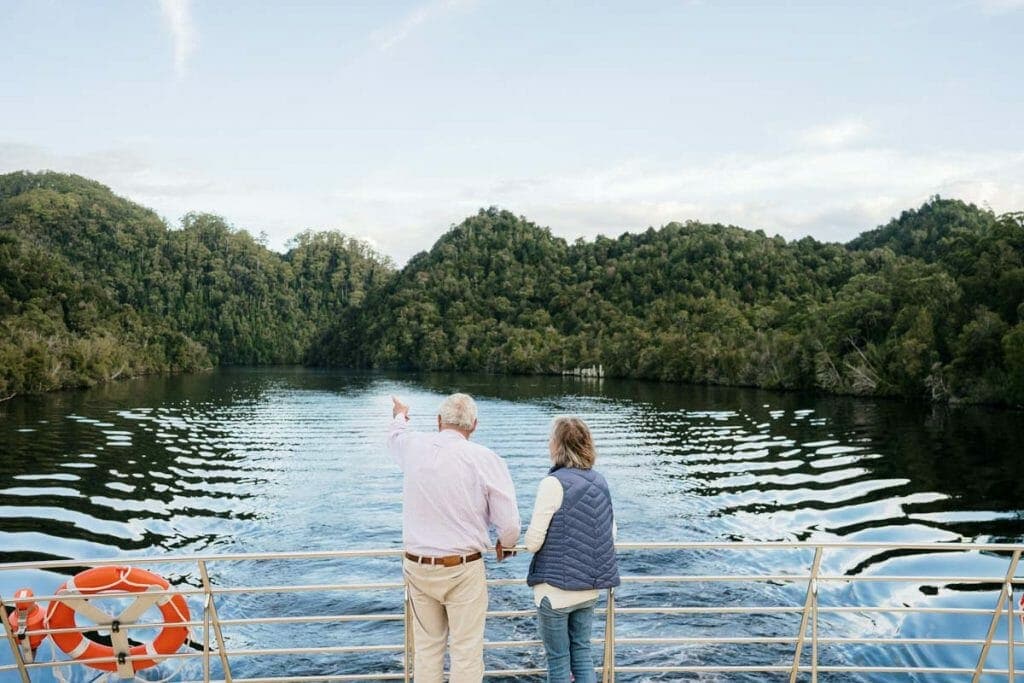 Before we start, it is important that I provide full disclosure of the partnership I entered into with World Heritage Cruises in 2021. Throughout this guide I have been as balanced as possible in presenting the different aspects of each cruise, highlighting where each company offers a point of difference that may be of interest to you.
I pride myself on presenting my community with an honest perspective in all my articles. You are probably spending a lot of money to come all this way, so it is important to me that you have the best information available to help with the planning process and to ensure you don't get any unwelcome surprises.
With that in mind, after doing all my research there was only one company that I felt was the perfect fit for the Lap of Tasmania – which is why I have chosen to partner with World Heritage Cruises, providing you a very generous 10% OFF all ticket prices when you use my LAPOFTAS code to book your cruise 😊
That's enough intro… let's get this review started!
---
Tassie owned and operated?
Winner: World Heritage Cruises (the 'Red Boat')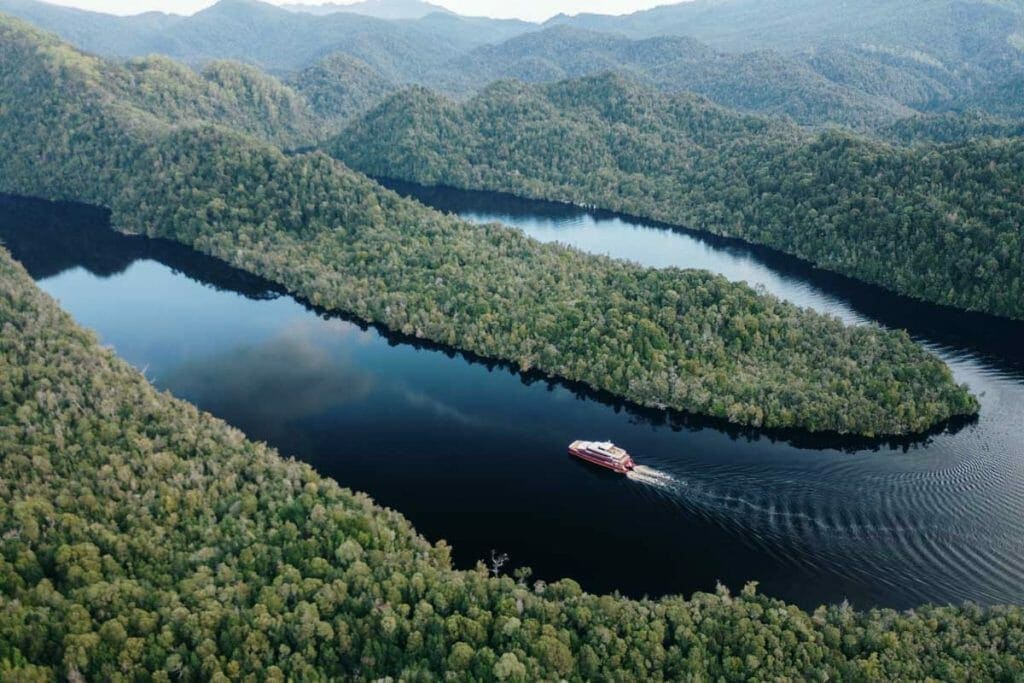 Once upon a time, as a cash-strapped young lad I wouldn't have even given this a thought.
But over the years as the Lap of Tasmania has grown and I have gained a better appreciation for the unique challenges faced by the Tasmanian tourism industry, I find myself wanting to provide as much support as possible for our locally owned and operated tours and attractions.
Sometimes this means paying a premium – but not this time (as I show you further down).

You see, both companies are locally operated, providing much-needed employment opportunities on Tasmania's west coast – but only World Heritage Cruises (the 'Red Boat') is also Tassie-owned.
There is a rich 'West Coaster' history behind World Heritage Cruises that you don't see very often these days. It all started way back in 1896 with the Grining family – some of the region's first colonial settlers – and their transport of passengers and cargo around Macquarie Harbour and up the Gordon River.
More than 100 years and five generations later and they are still there, showcasing this stunning part of Tasmania to ten's of thousands of guests every year.
On the other hand, Gordon River Cruises (the 'Grey Boat'), started out in the 70's as a locally owned tourism business, but in 2021 it was acquired by the NRMA – a motoring group based in NSW/ACT.
It has been good to see NRMA investing in Tasmania's tourism industry, and they also employ many locals who are equally as passionate about showing off the Gordon River to their guests, but I would much rather see these services staying in Tasmanian hands.
---
Things to see and do on your Gordon River cruise
Winner: Both – It's a tie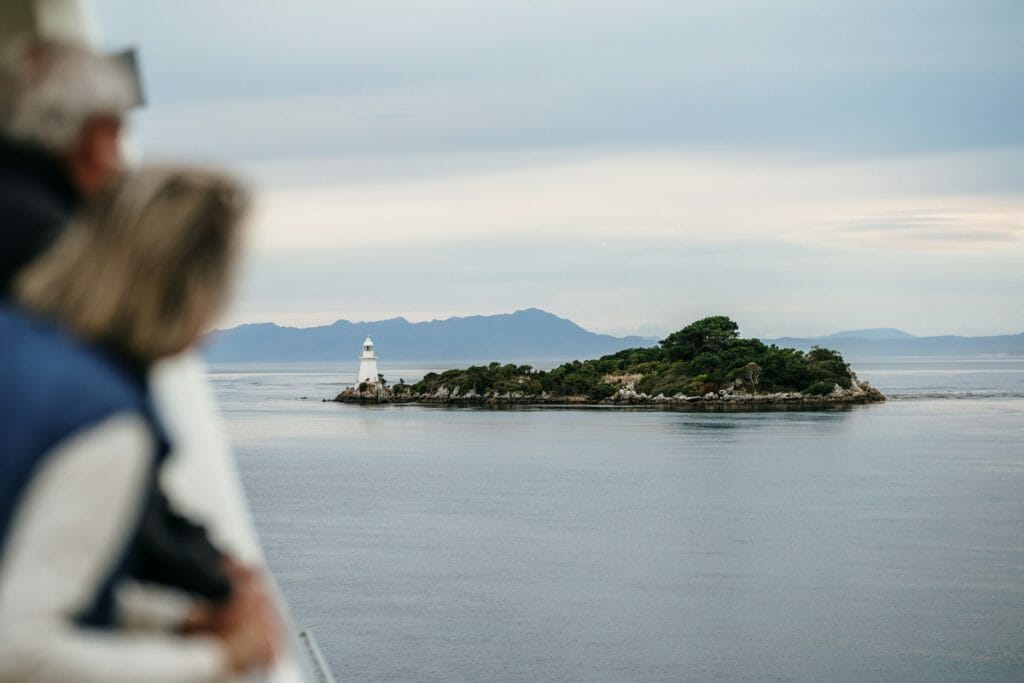 When you look closely at the itineraries provided by both companies you will see that they are essentially the same.
Macquarie Harbour, the Gordon River, Hell's Gates, a guided tour of Sarah Island, and a walk through the forest at Heritage Landing are all included – whichever company you choose.
And when the weather is calm, both companies also provide an extension out through Hell's Gates to Cape Sorell Lighthouse.

It's only a small difference, but World Heritage Cruises time their cruise to finish just before the free sawmill demonstration at Morrison's Huon Pine Saw Mill (right next to the dock where you get off the boat), making this a convenient way to finish your day.
---
Gordon River Cruise Prices and Inclusions
Winner: World Heritage Cruises (the 'Red Boat')
I know a lot of travellers I speak with worry about the cost of a cruise up the Gordon River, but let me reassure you that it will be worth every cent!
In saying that, a comparison between the various rates shows that there are some significant differences in Gordon River cruise prices between both companies.
The upshot?
If seeing the Gordon River is your #1 priority, then World Heritage Cruises represents the best value across all ticket types – whether that is adults, children or families – and that is before you use my LAPOFTAS code for a generous 10% discount on full-price tickets!
They also offer a very welcome seniors discount and a family package (noting that these can't be combined with the Lap of Tasmania discount).
You can click here to book your tickets with World Heritage Cruises.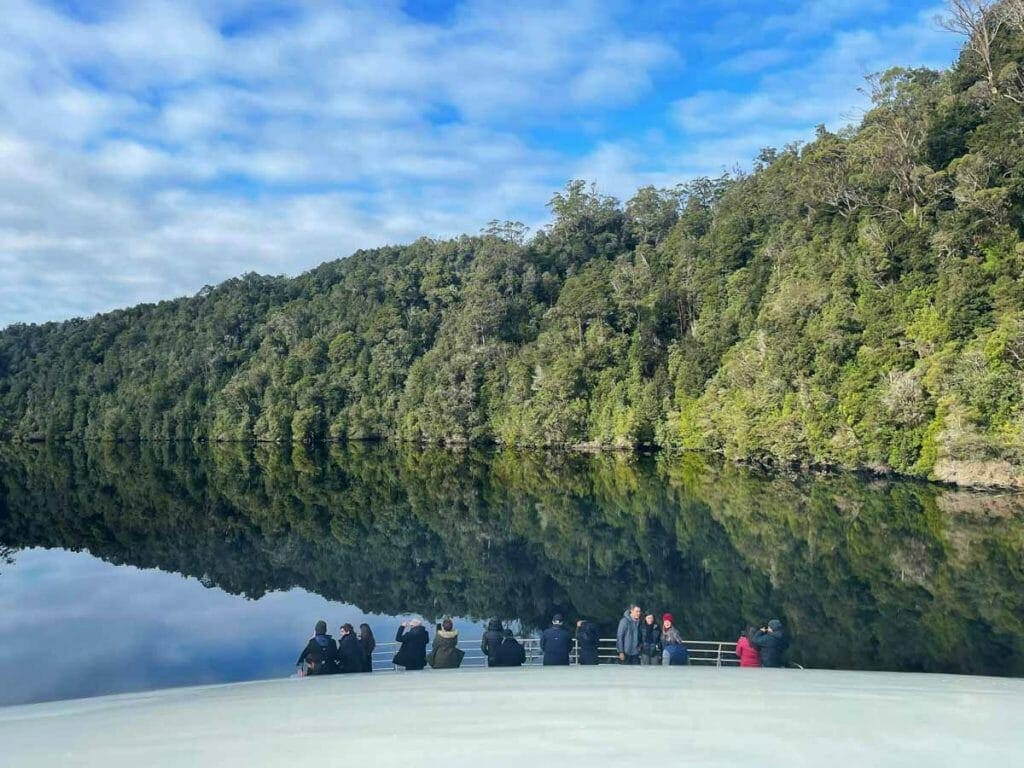 Where Gordon River Cruises positions itself differently is in its appeal for travellers who would like unlimited alcoholic drinks as part of their cruise package and some extra menu items for their lunch – but of course this comes with a sharp increase in your ticket price.
The tables below show you the different pricing tiers and inclusions for each company (for the 2022-23 cruising season) for a seat located either in the centre of the boat or next to a window, and on either the lower deck or the upper deck.
These prices are likely to change over time, so please check their websites for the latest info.
Main Deck Prices

Important note for families:
World Heritage Cruises allows children under 5 years to cruise for free. However, Gordon River Cruises only allows children under 3 years to travel free
A 'Family' ticket includes 2 'Adult' tickets and up to 3 'Child' tickets
The 'Main Deck' on both boats is where you will find the lowest prices for both companies. This deck is closer to the waterline and for that reason the views aren't quite as good as on the 'Upper Deck'.
There are two types of seat – a 'Centre' seat or a 'Window' seat. The window seats on both boats provide essentially the same views, and are grouped in pairs (good for couples).
However, if you have a family of 4 or more, or you are travelling in a large group, then I recommend having a look at the 'Centre' seats provided by World Heritage Cruises, because they have a table in the middle and are perfect for group conversations and keeping an eye on children.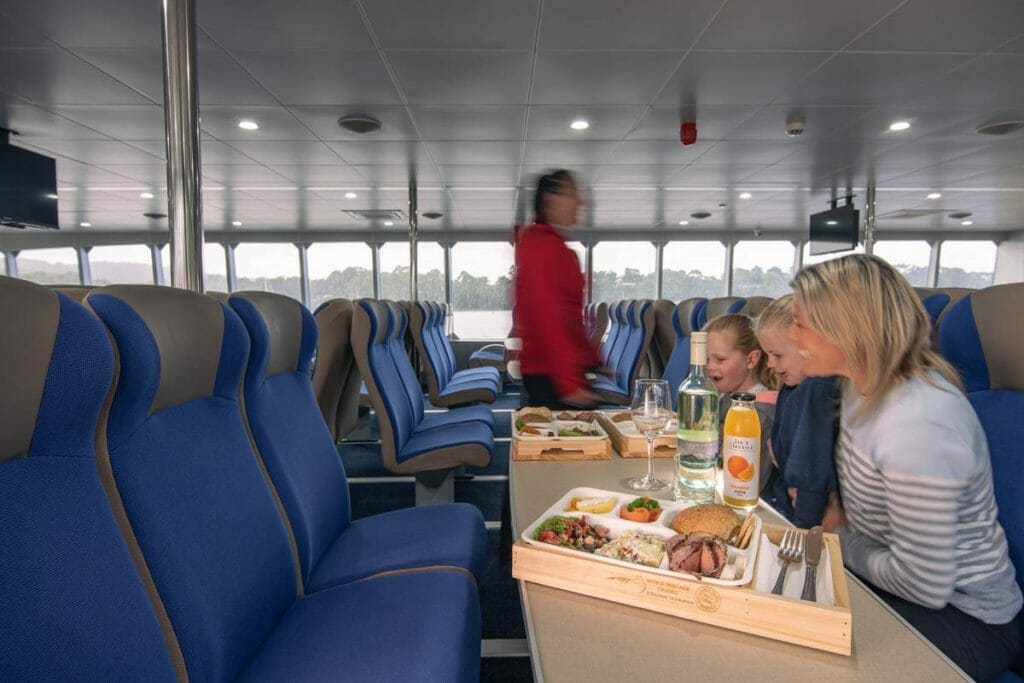 Gordon River Cruises does provide a few seats with tables, but nowhere near as many as World Heritage Cruises.
Another good thing to know is that World Heritage Cruises allow people who have bought a 'Main Deck' ticket to walk through all areas of the 'Upper Deck' and to get the same views as those who have purchased an 'Upper Deck' ticket (but of course you can't sit down or have your meal up there because your allocated seats are down on the 'Main Deck').
Gordon River Cruises also allows you to walk up to the 'Upper Deck', however you won't be allowed to access the private viewing deck that is for exclusive use by 'Upper Deck' ticket holders.
Upper Deck Prices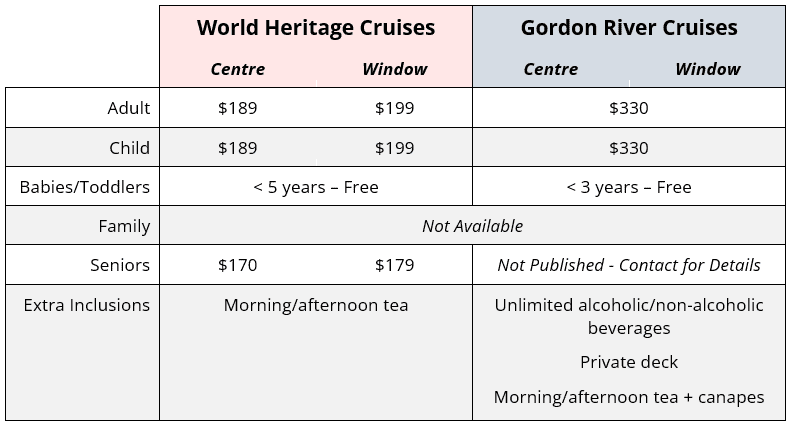 As you would expect, the 'Upper Deck' on both boats is more expensive than the 'Main Deck', but it varies a lot between the two companies.
For World Heritage Cruises the small price increase reflects the better views you get from the comfort of your own leather seat.
However, the huge price increase for Gordon River Cruises is only a little bit about the views and leather seats, and a whole lot about the open bar, and some extra lunch inclusions (as I discuss in more detail below). You also receive access to a viewing deck that is only accessible by 'Upper Deck' ticket holders.
Whichever company you choose, all seats provided on the 'Upper Deck' are grouped in pairs, making this a better options for couples.
---
Meal Options
Winner: Gordon River Cruises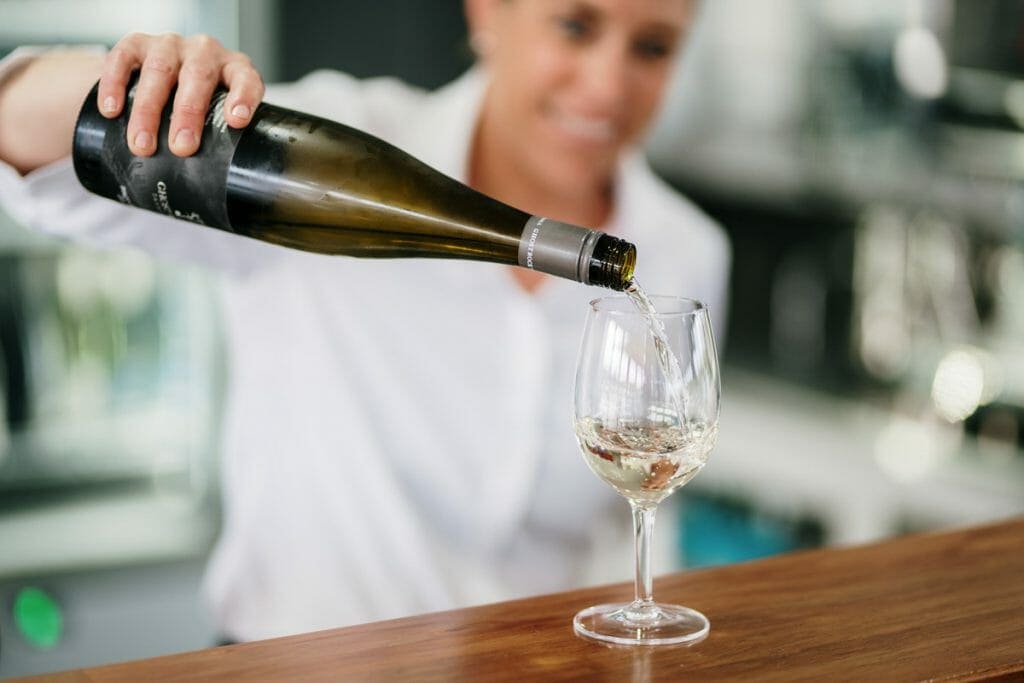 A cruise on the Gordon River takes around 6 hours in total, which means that lunch is included in your ticket price for both companies.
It is fantastic to see both companies sourcing as many ingredients as possible from local suppliers, including their smoked salmon and freshly baked bread.
World Heritage Cruises provides all their guests with individually packed, rustic timber lunch trays, including smoked salmon, cold meats, salad, Tassie cheese and biscuits, and locally baked bread. One of the good things about this approach is that you don't have to worry about queuing for your meal, and in light of our covid issues over the last couple of years I feel it is a sensible way forward (ie. no breathing down each other's necks while waiting in line, and no sharing of buffet utensils etc.).
Gordon River Cruises take a different approach, providing their guests with a buffet lunch. Guests on the 'Main Deck' enjoy smoked salmon, salad, and locally baked bread, however their menu also includes some extra protein/salad options – but you don't receive any Tasmanian cheese and biscuits.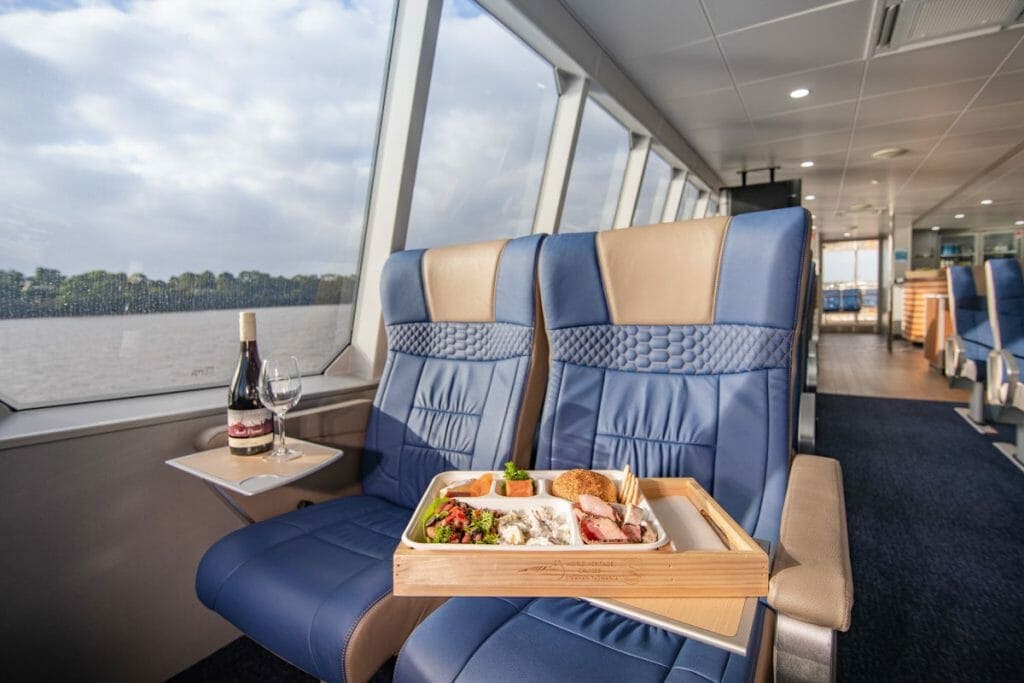 Gordon River Cruises also provides some more gourmet options for 'Upper Deck' ticket holders, such as canapes in the morning, additional menu items like pickled squid or steamed ocean trout, desserts, and Tasmanian cheese and crackers.
Both boats have a couple of bars on board where you can purchase alcoholic and non-alcoholic drinks, however Gordon River Cruises also provides their 'Upper Deck' guests with an open-bar of wines, beers, and non-alcoholic drinks – hence the extra cost.
Families: It is worth noting that the 'Upper Deck' ticket price with Gordon River Cruises is the same, regardless of whether you sit in the centre or at a window seat, and importantly, whether you are an adult or a child. Children won't get the same benefit of the 'open bar' as an adult, making it a potentially expensive exercise to keep your family together on the same deck.
---
Cruising calendar and times
Winner: Both – It's a tie
The core offering from both companies is a daily morning cruise, lasting around 6 hours in total.
In summer, from late-December through to mid-January, both companies also add an extra afternoon cruise to their schedule (where you receive dinner instead of lunch).
Gordon River Cruises is first into the harbour, leaving at 8:30am. World Heritage Cruises leaves 30mins later, at 9:00am.
I've heard some people say that the earlier cruise is better for getting the mirror-flat reflections on the water, but in my experience I've not noticed any marked difference between the two (and I like an extra 30 minutes sleep-in 😂).
It is important to note that both companies take time off in winter to do maintenance on their boats and to get them in perfect condition for the next season. If you are planning on visiting in July or August then please check their website to ensure you don't get caught.
---
Where to stay for your Gordon River Cruise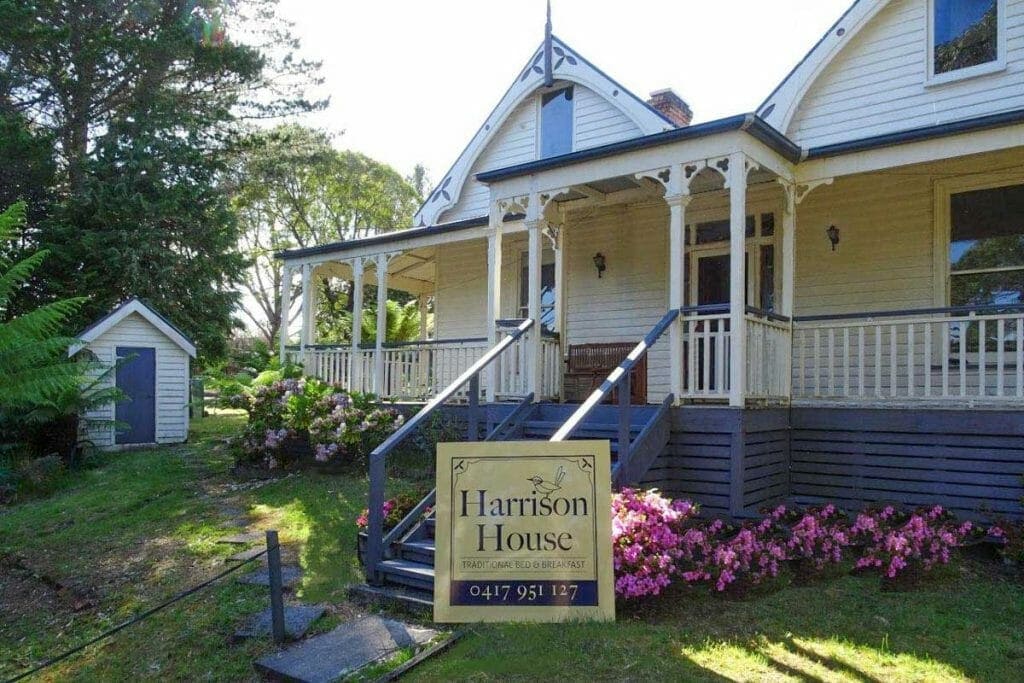 Both cruises depart in the morning from the main wharf in Strahan, meaning Strahan is the perfect place to stay.
There are plenty of great options to choose from for all budgets and styles of travel. These are my favourites:
---
Gordon River cruise discount / promo code
Is it possible to find a Gordon River cruise discount or promo code? You bet!
World Heritage Cruises Discount
I love what the team at World Heritage Cruises are doing to showcase Tassie's West Coast and to support the Tasmanian tourism industry.
They are also a proud Friend of the Lap of Tasmania, and to say 'thank you' for your support they are providing a very generous 10% discount on all their cruises when you use my LAPOFTAS discount code!
Click here to book your tour with World Heritage Cruises
10% Discount Code: LAPOFTAS
Gordon River Cruises Discount
NSW/ACT residents who are also members of NRMA can receive a 15% discount. You can't book online though, and you will need to ring them on the phone to get them to arrange it for you.
---
Final thoughts on which Gordon River cruise is best?
I hope you have found this guide helpful in learning more about what you can expect to experience on a cruise up the Gordon River, and some of the differences in what each of the major cruise companies is providing to visitors.
As you can probably tell, I have a big soft spot for World Heritage Cruises, especially considering that they are Tassie-owned and operated and are big supporters of the Lap of Tasmania.
But as I said right at the start, you can't go wrong with either company. Because at the heart of both tour options is the mighty Gordon River. A slowly meandering, utterly gorgeous waterway that will leave its mark on your heart forever 😊
Happy and safe travels,
Andrew.
---
FAQs – Frequently Asked Questions
I sometimes suffer from motion sickness – should I be worried?
Good news! Unless you are extremely sensitive, it is very unlikely that you will get sick. Personally, I always find myself feeling a bit queasy when I go out onto the open water, but I didn't feel a thing on my cruise up the Gordon. The twin-hull design of both boats is very stable, and because the harbour is sheltered there is hardly any swell at all to worry about.
Do I need to book ahead?
If you are visiting between December and May (summer/autumn peak), then I would be trying to book my tickets at least a few months in advance. Possibly even earlier for January. Demand drops away in winter and you should be fine leaving it to closer to the day, but I would still try to book at least 1-2 weeks ahead if possible.
Are the boats wheelchair accessible?
Yes! Both boats are wheelchair accessible, including bathroom facilities.
While on a cruise, can I go outside to get fresh air and to take photos?
Absolutely! Both boats have exterior deck options where you can soak up the sun, breathe in the salt tang, and grab some stunning photos.
Are there plenty of bathrooms on board?
Yes, both boats have excellent facilities on both decks, including wheelchair access.
Have I got time after a cruise to continue my road trip and drive to Cradle Mountain?
Yes! The tours finish around 2:30-3pm in the afternoon, and a non-stop drive from Strahan to Cradle Mountain will only take 2-2.5hrs (maybe a bit longer in a motorhome or towing a caravan). Please take it easy in winter, as the sun sets early and wildlife often cross the roads at dusk (and later).
Rain is forecast – will I still enjoy my cruise?
Unless it is torrential rain that is being forecast for most of the day, a trip up the Gordon River under grey skies is a real treat! Tassie's west coast is renowned for its changeable weather patterns, and in this part of the island it makes for some really moody, atmospheric photography.
---
Travel planning resources
Tasmania's remote location means there are internet 'black spots' across the island.
A paper travel guide or map is the perfect backup, and I love the range from Lonely Planet.