Do you prefer the road less-travelled? Are you keen to discover one of Tasmania's quiet gems – hidden in plain sight?
Keep reading to learn more about the 'tiny town' of Rocky Cape and Rocky Cape National Park – the best things to do, where to stay and a whole lot more!
---
This page contains affiliate links. If you book or buy something through one of these links, we may earn a small commission (at no extra cost to you!). Read our full disclosure policy here.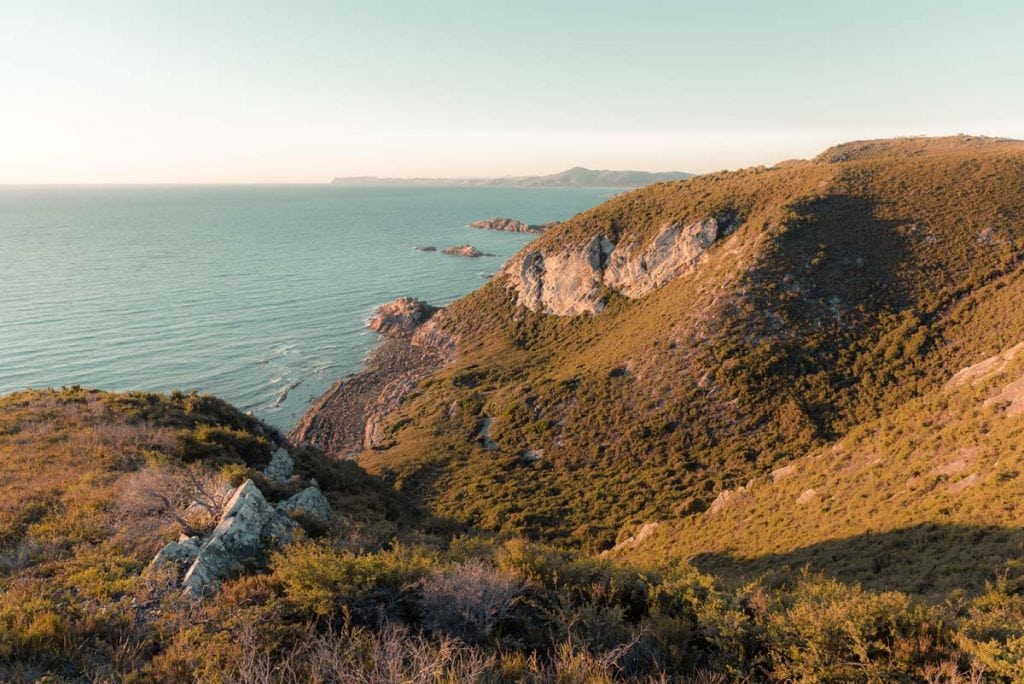 There are plenty of of 'must see' highlights dotted across Tasmania – Cradle Mountain, Freycinet, the Bay of Fires… but what if I told you there's a place just as beautiful that's easy to access by car or campervan, and flies waaaay under the radar?
That's right, it's Rocky Cape National Park!
Hugging the wild northern coastline between Stanley and Wynyard, Rocky Cape – or 'pinmatik' in the palawa kani language – is like a land out of time.
Gnarled stone fingers reaching and plunging into the cold roiling waters of Bass Strait. Beaches of stone and sand, surrounded by jagged capes and quartzite towers. In fact, 1 billion years ago Rocky Cape was once part of the Grand Canyon – 13,000 km away!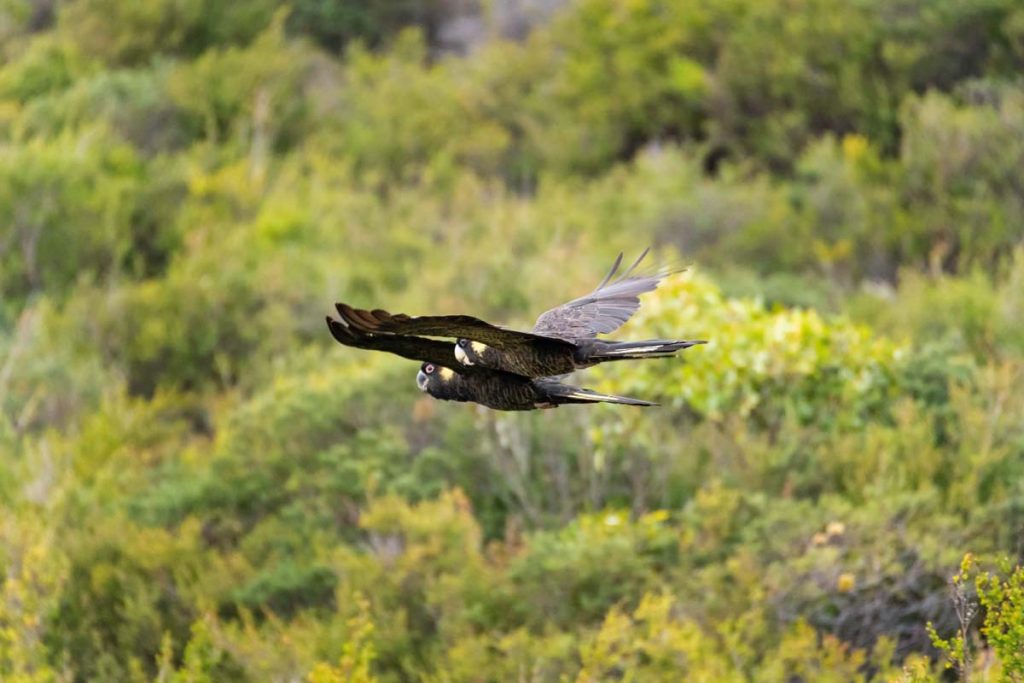 It might sound like a harsh landscape, but look beyond the obvious and you'll see a very different land emerge. One of sea caves and banksia groves, carpets of colourful wildflowers sprawled across the heathlands, inland waterfalls, turquoise rockpools, and more than 8000 years of aboriginal history.
It is strange that the four-lane Bass Highway is just minutes away – visitors whooshing past in their rush to get to the tourist magnets of 'the Nut' at Stanley, spectacular Cradle Mountain, and the ancient Tarkine wildernes.
Don't do it!
Take a breath, slow down, take the road less-travelled – Rocky Cape Road (C227) or Port Road (C232) to be precise – and savour this shy little natural wonder that will take your breath away.
👍 National Parks Pass

If you would like to visit Tasmania's National Parks then you must have a Tasmania Parks & Wildlife Service 'Parks Pass'.

Where? You can buy them online here, on the Spirit of Tasmania ferry, Service Tasmania outlets, and from some of the large National Parks.

How much? Prices vary depending on the type of pass you purchase. Day passes are available, but the best value option is the 8-week 'Holiday Pass' for $80 per vehicle (covering up to 8 people). This page describes the different options and latest prices.
---
6 best things to do in Rocky Cape National Park
As with most of Tasmania's national parks it is no surprise that most of the things to do in Rocky Cape National Park revolve around the great outdoors.
1. South Cave and North Cave – Step back in time
At the north-west end of the park, near the little shack town of Rocky Cape Beach, there are two fascinating walks that will take you back 8,000 years – to a time when Tasmania wasn't an island.
It only takes a few minutes to walk to both North Cave and South Cave, with each providing an interesting window into life for the first inhabitants of Tasmania.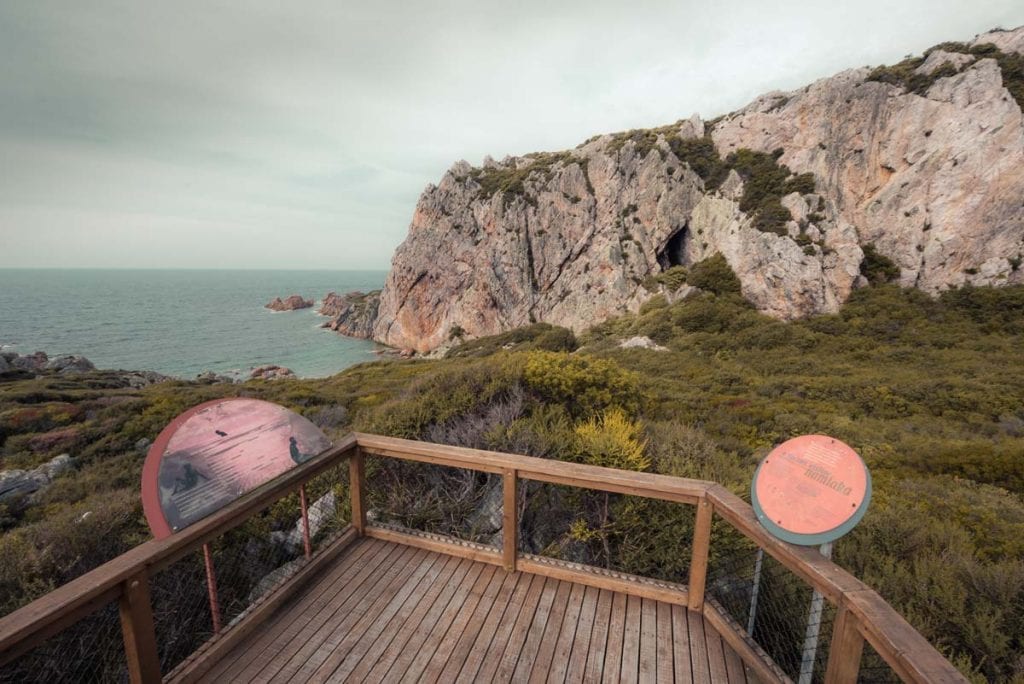 South Cave was the first one to be used by aboriginals, and inside there is a shell midden nearly 4 metres deep, containing ancient stone tools and the remains of seals, birds and abalone. The remains of small camp fires lie against the stone walls, exactly as they would have been left all those years ago.
We'll never know exactly why, but it is thought that North Cave was used after South Cave became too cramped. In this cave there were also a lot of stone tools, with some high quality stone coming from as far as Rebecca Creek on the Tasmania's remote west coast.
Middens are a fantastic way of learning about how our ancestors lived. Incredibly, between these two caves we have one of the longest uninterrupted histories of food and tool usage to be found anywhere in the world!
To protect these important sites it isn't possible to enter the caves, but you will find interpretive panels at the end of each walk where you can learn more.
More: South Cave | North Cave
---
2. Explore Rocky Cape National Park walks
Rocky Cape National Park might be small compared to some of Tasmania's other gems, but there are a surprising number of short and long bushwalks available.
Click here to see an awesome map of the walks in the area, created by the good folks at Sisters Beach House (you can learn more about their wonderful holiday accommodation here).
Car parking and trail access is available at the northern end near Rocky Cape Beach, and from the southern end at Sisters Beach.
All timings provided below are for a return walk – allow a little extra if you want to take it easy, or if you like to stop for photos every 10 steps like me 🤣
Northern Walking Trails
Burgess Cove (10 minutes – Easy) – A very easy walk down to the cove. I love the layers of red, yellow and orange in the rocks, especially on a sunny blue-sky day. This is easily one of my favourite Rocky Cape National Park walks!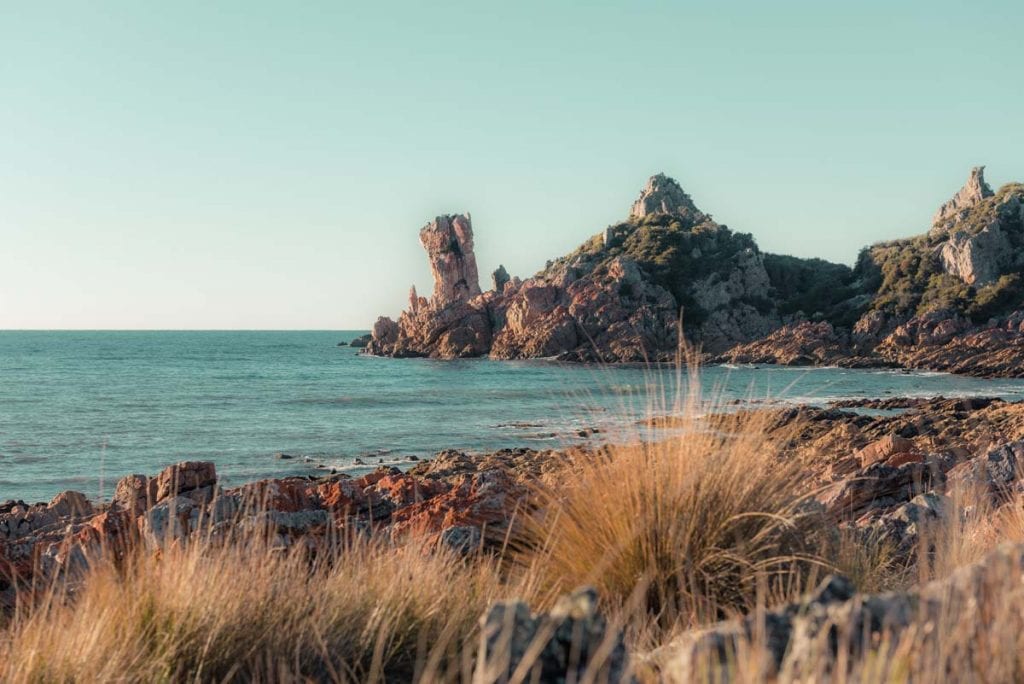 Cathedral Rocks Circuit (3 hours – Medium) – This 10 kilometre triangular walk shows you the diversity of Rocky Cape National Park. The first section takes you past Postman's Pass and up to Tinker's Lookout where you will find sweeping views of the entire park. After a snack and some water you take Blandfordia Spur down the forested hillside where a side-trail provides access to Cathedral Rocks, perched high above the salt spray – perfect for a scramble across the red ochre rocks. Return back to the main trail and continue up to Postman's Pass and back to your vehicle.
If you are short on time you could break this up and only walk to Tinker's Lookout (2 hours return) or to Cathedral Rocks (2 hours return).
Southern Walking Trails
Banksia Grove and Caves Loop (1 hour – Easy/Medium) – This fantastic little loop starts right next to the Sisters Beach Boat Ramp (here).
Wet Cave is small, dark and 'close', but you may find a pool of water at the back of the cave and the rainforest surrounding the cave is really refreshing.
A little bit further on is Lee Archer Cave, and just like South Cave this site has significant aboriginal historical value. Access isn't allowed, but there is an excellent interpretive panel at the front of the cave. The short walk to get to Lee Archer cave is brilliant, as it hugs the headland and provides great views up and down the coast.
Returning the way you came, turn right and head up the hill to the Banksia Grove. These are 'Saw Banksias' and this region is the only place you will find them in Tasmania.
Keep following the path until it meets the Anniversary Bay trail, where you turn left before returning back down the hill to Sister's Beach.
If you are very short on time you could easily just walk to the Wet Cave (10 minutes) or Lee Archer Cave (30 minutes) and not bother with the full circuit.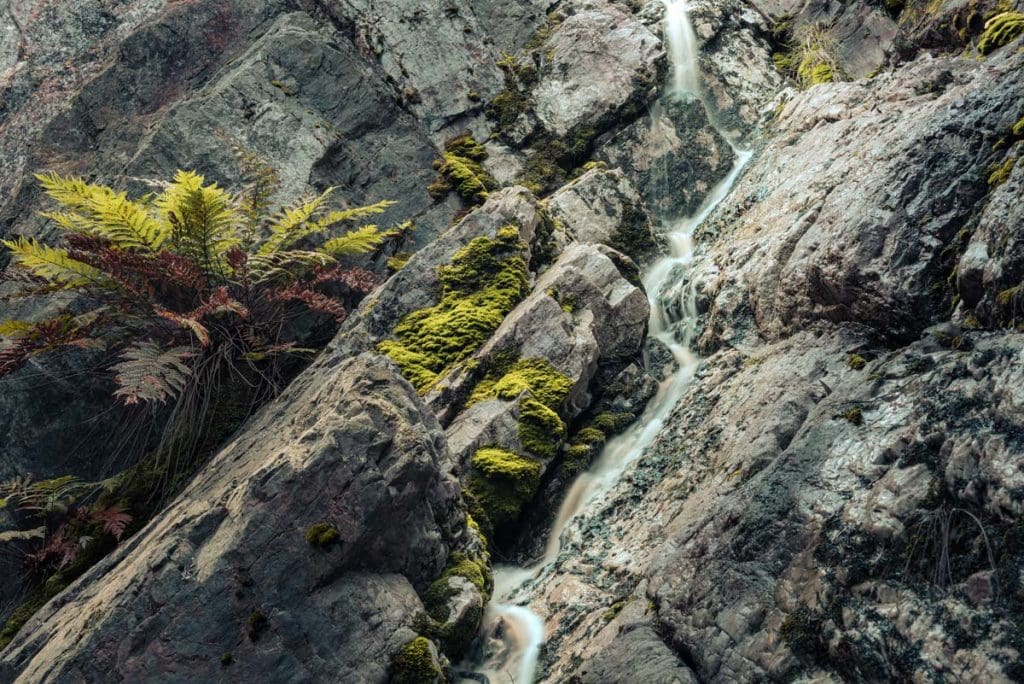 Doone Falls (3 hours – Medium) – The walk to Doone Falls is a great leg-stretcher. Rocky Cape has very little fresh water, but Doone Creek is one of the exceptions. Flows are minimal for much of the year, but get there after heavy rains and you'll be treated to a torrent leaping it's way down the rocks to the forest below. This walk starts at the big 'Information' sign, opposite the large car parking area before you get to the Sisters Beach boat ramp (here).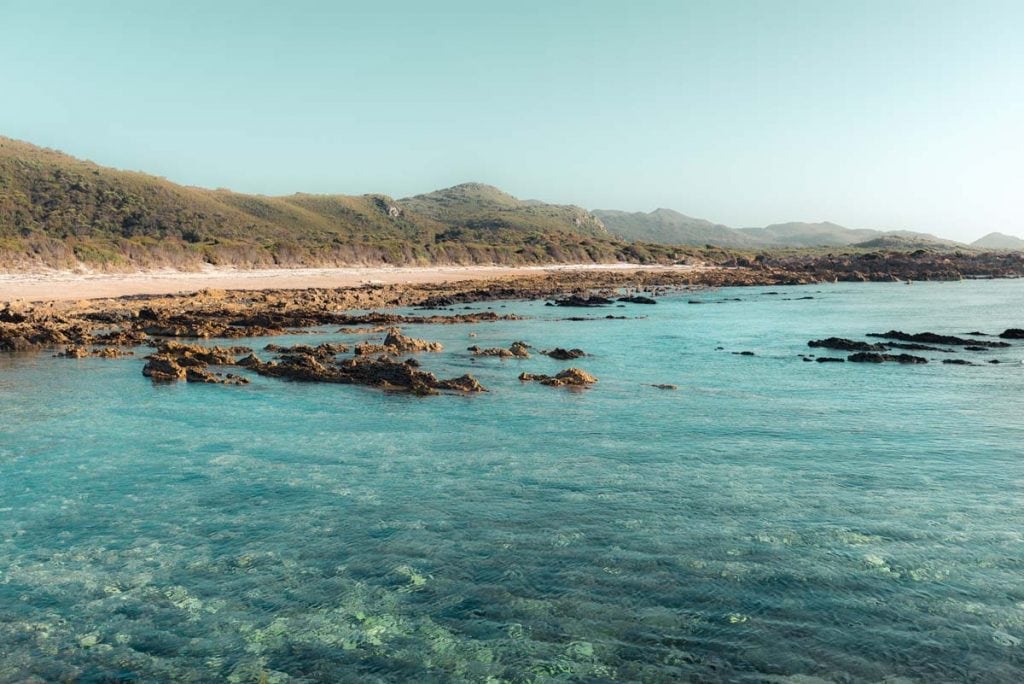 Anniversary Bay Circuit (4 hours – Medium) – This loop walk is the best way of seeing the southern section of Rocky Cape National Park. To start, follow the instructions for Doone Falls (above), but when you have finished at the waterfall continue along the main trail down to Anniversary Bay. This beautiful white sand beach is ideal for a lazy picnic lunch before returning along the beach and over the headland to Sisters Beach (with optional detours to Lee Archer Cave and Wet Cave).
---
3. Enjoy a picnic at Rocky Cape Tasmania
When the weather is good the whole region around Rocky Cape Tasmania is perfect for a picnic. There's also a very good chance that you'll have the place to yourself!
At the northern end I recommend these locations:
Burgess Cove – As I've described above, this little cove is a beautiful location to chill out with a picnic rug, a platter and a beverage or two.
Mary Ann Cove – A little to the north of the Rocky Cape shacks, where you'll also find the boat ramp and BBQ facilities.
Rocky Cape Beach – Right next to the shacks.
Picnic Beach – With a name like that you know you can't go wrong! It is a very long beach, just to the south of the shacks, with plenty of space for you to find your own section of private sand.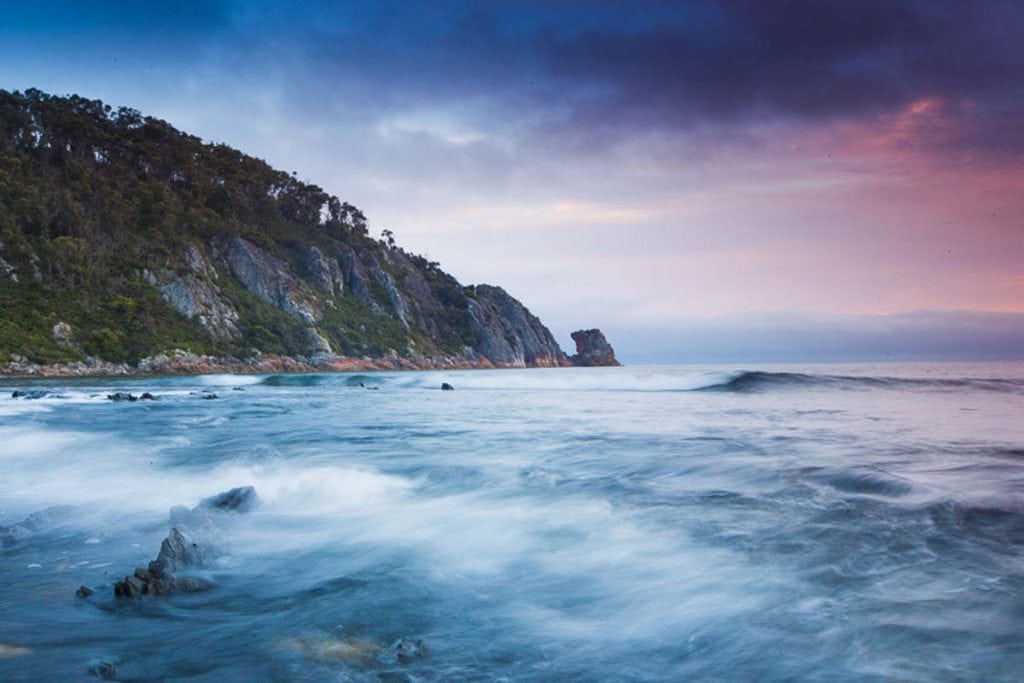 At the southern end of the National Park you'll find these spots worthwhile:
Sisters Beach – Simply stunning. The only slight downside is that it can be popular so you may need to share.
Anniversary Bay – It's a bit of a hike to get there, but the serenity of this beach make it the best of all the picnic options in the region.
---
4. See the views from Rocky Cape Lighthouse
Lighthouses around the world are often found on some of the most stunning headlands, and at Rocky Cape Lighthouse the views are second to none!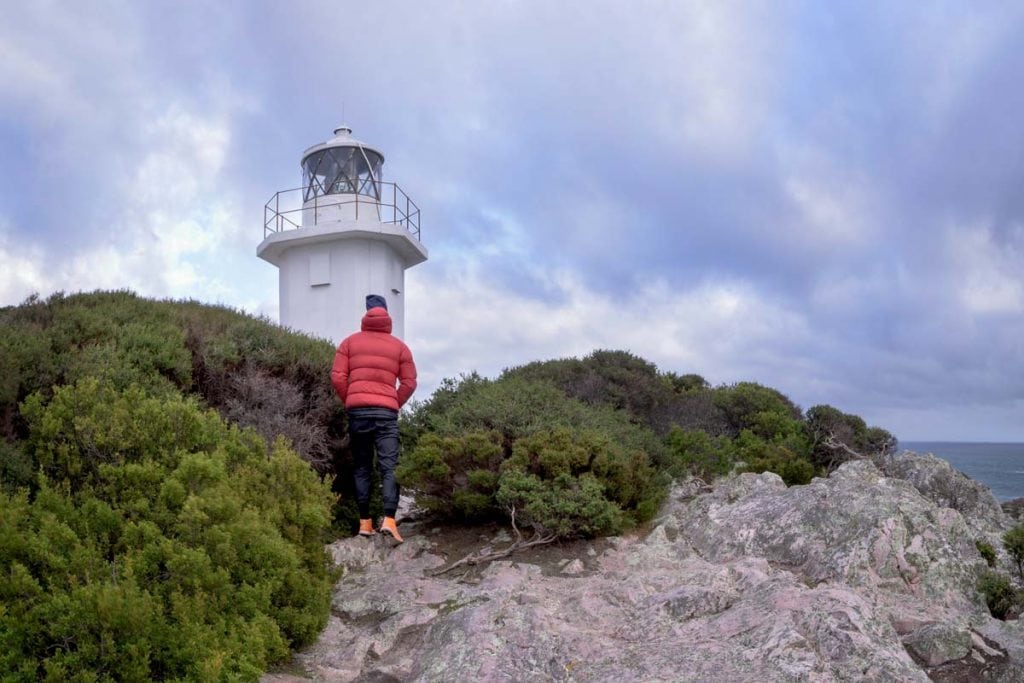 Access is super easy. Just take Rocky Cape Road right until the very end, where you can park your car and follow the short trail through the scrub by foot.
For the lighthouse aficionados out there, Rocky Cape Lighthouse was built in 1968 and uses a Chance Brothers 400mm catadioptric lens, flashing once every 10 seconds. Who knew?
---
5. Kayaking, snorkelling, and diving
Bass Strait is notorious for its heavy seas, but in reality it only gets rough when the occasional westerly weather system trundles through. The rest of the time the waters are completely sheltered by mainland Tasmania and on a good day the conditions can be as still as a pond – perfect for kayaking, snorkelling, and diving!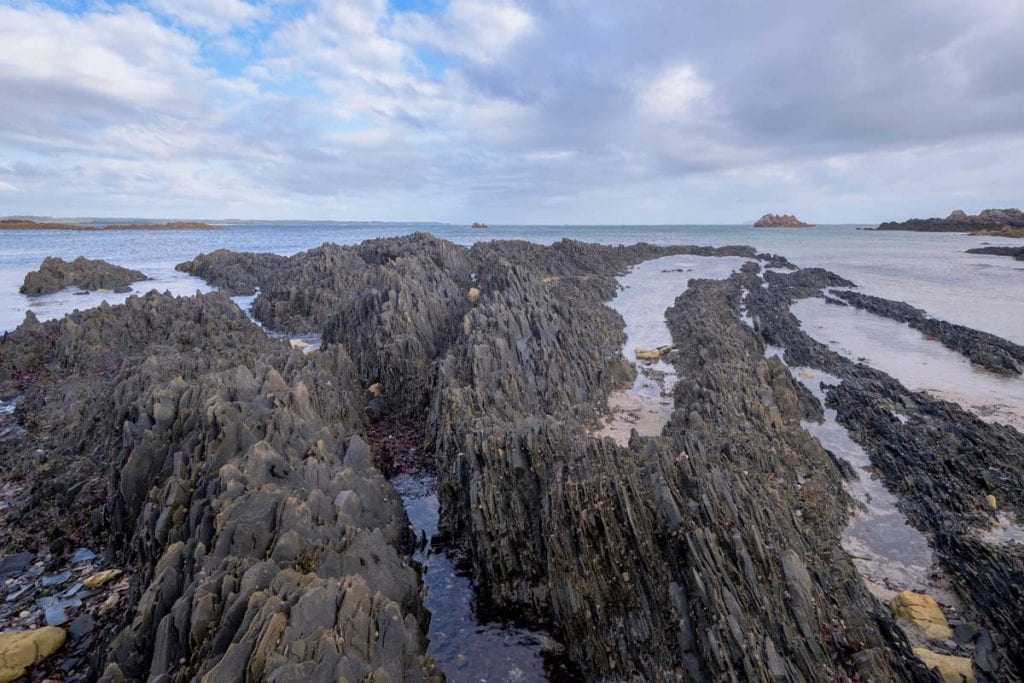 There are many little coves and bays dotted along the coast between Mary Ann Cove and Sisters Beach that can only be reached by kayak or boat. Snorkellers will enjoy launching themselves from Burgess Cove or Sisters Beach for an underwater adventure, and divers can go in search of one of the many shipwrecks in the area or explore the reef system off Rocky Cape Point [learn more].
---
6. Relax on Sisters Beach
sshhhh… Don't tell anyone, but a lot of locals think Sisters Beach is even better than its more famous sibling, Boat Harbour Beach!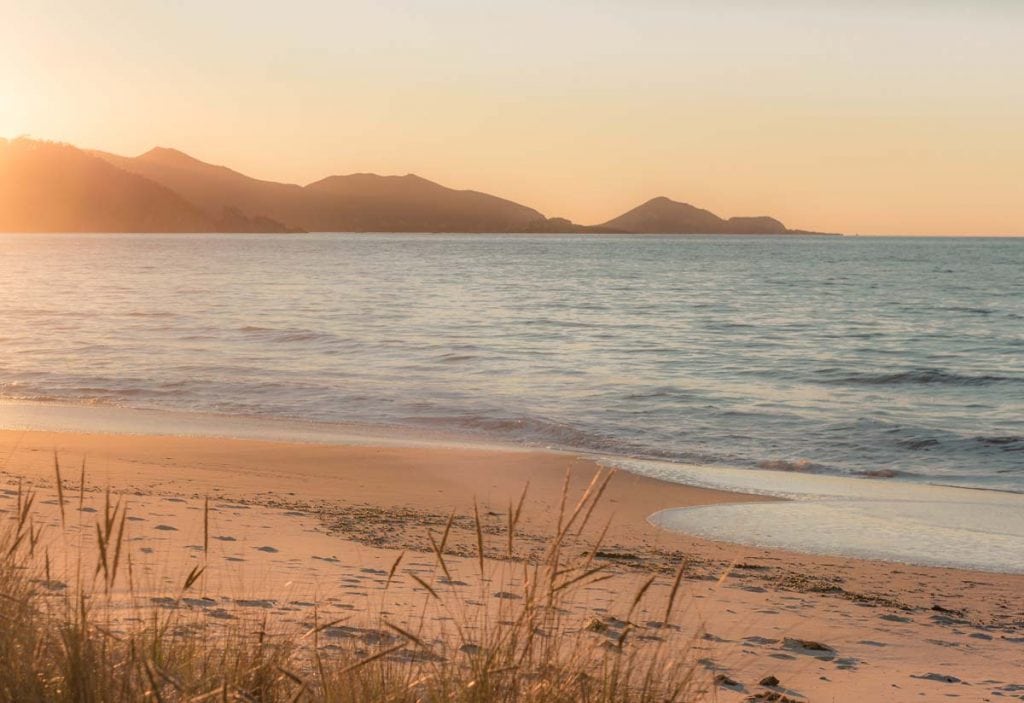 The shallow aqua blue waters are perfect for the kids, and they also warm up very quickly under the Tassie sun. Dogs are allowed in the central section (the eastern and western ends are National Parks… so no dogs allowed there), and there is plenty of room to park yourself for a day of paddling, sand castle building and welcome relaxation.
Toilet and BBQ facilities are also available for public use at the end of East Boulevard.
---
Other things to see and do near Rocky Cape Tasmania…
---
Rocky Cape restaurants and cafes
The Rocky Cape region is where you go to get away from it all… but if you know where to look you'll find some fantastic dining options. Keep reading to find out where to go!
Rocky Cape Tavern
The most popular venue in the region – the Rocky Cape Tavern – is an absolute cracker. There's a good range of Aussie pub staples and no chance of leaving hungry! There's also a bottle shop on site – perfect for keeping the eski well-stocked – and frequent live music on weekends.
Detention River Store
The Detention River Store is only a few minutes drive up the Bass Highway from the Rocky Cape turnoff, and it is a favourite 'one stop shop' for many locals and visitors. Groceries, gifts, fuel, fresh fish and chips, delicious cakes… it has everything you need for your short break.
Sweet Ness at the Sea
Right on the water's edge, Sweet Ness at the Sea is where you go to unwind at the end of a jampacked day of full-on relaxation. Sweeping sea views, salt air, and great food are what you'll find, right next to a children's playground and just metres from one of the Australia's best beaches (seriously – click here to read more!).
Rocky Cape Roadhouse
For lighter meals and takeaways then Rocky Cape Roadhouse is a very good option. I've heard nothing but good reports of not only the food but their service as well. You'll find them on the corner of Rocky Cape Road and the Bass Highway.
Thistle Hut
Near the turn-off to Boat Harbour Beach is 'blink and you'll miss it' Thistle Hut. This hand-built timber store is absolutely gorgeous, and a wonderful place to take a break from the driving and enjoy a delicious light meal on the verandah. Soups, freshly baked bread, and sweet treats all make an appearance on their changing menu, and souvenir hunters will love their range of handmade possum puppets and scrumptious relishes.
---
Rocky Cape Tasmania accommodation
Whether it's a weekend away or a week-long escape, you'll love the accommodation options near Rocky Cape National Park.
I've scoured all the accommodation sites to save you the hard work, and these are the best of the best!
Eagle's Roost Farmstay
Perfect for: Couples who want to be as close as possible to Rocky Cape National Park.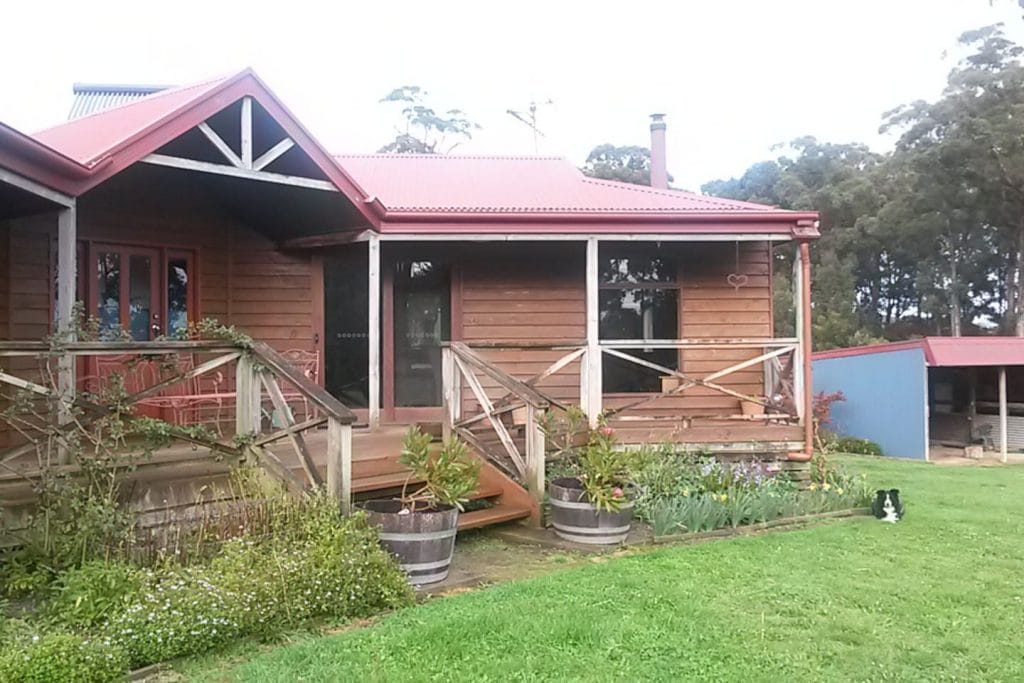 With an acre of garden, 5 acres of paddocks and 12 acres of forest, there are so many fantastic things to do at Eagle's Roost Farmstay that you might never leave!
Bushwalking, funghi-hunting and bird watching would be enough for most B&Bs, but here you even get the chance to feed the cows, pick berries from the garden and say g'day to their friendly chooks. It is such a lovely place to get back to nature, and you are only 5 minutes from Rocky Cape National Park.
Cooked breakfasts are provided every morning, the spa bath is HUGE, and you can use the kitchen facilities of an evening if you'd prefer to self-cater.
Check prices for Eagle's Roost Farmstay here
---
Shakespeare's Wilderness Chalet
Perfect for: Couples in search of a romantic escape.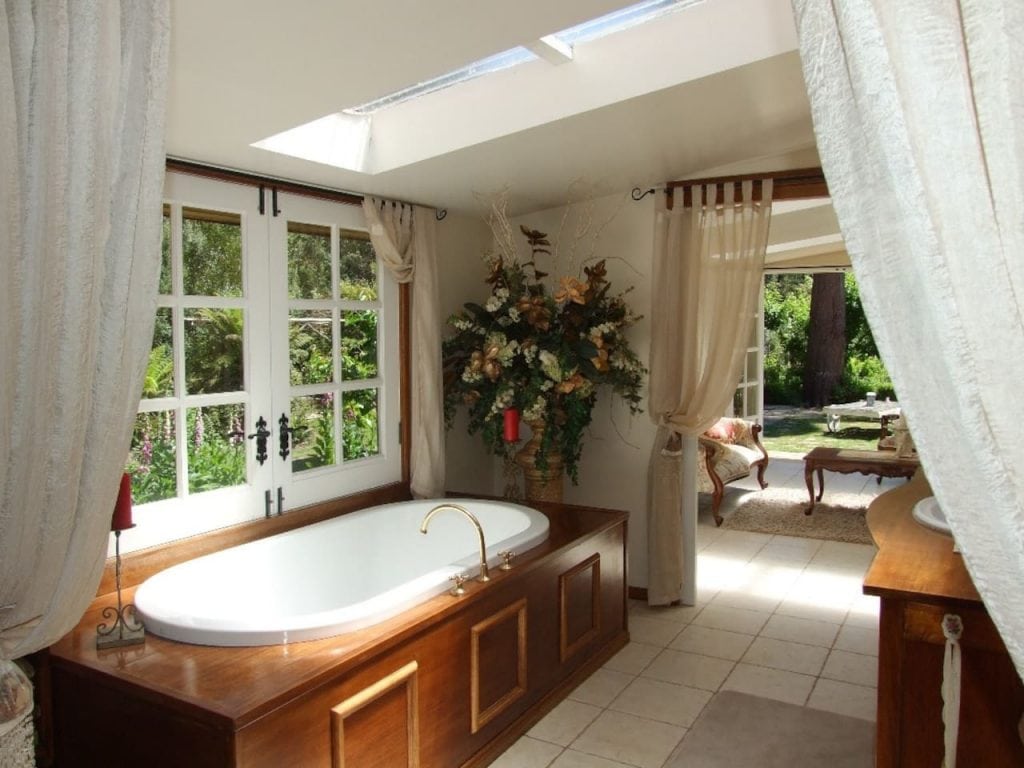 High in the hills, and yet only a short drive from Rocky Cape National Park, Shakespeare's Wilderness Chalet is where you go to relax in seclusion, with only the sound of running water and native birdlife in your ears.
Couples will love the opportunity to slow down, reconnect and create new memories amid the sprawling landscaped gardens and elegantly furnished rooms.
Check prices for Shakespeare's Wilderness Chalet
---
Sisters Beach Shack
Perfect for: Families or couples who love beach life on a budget.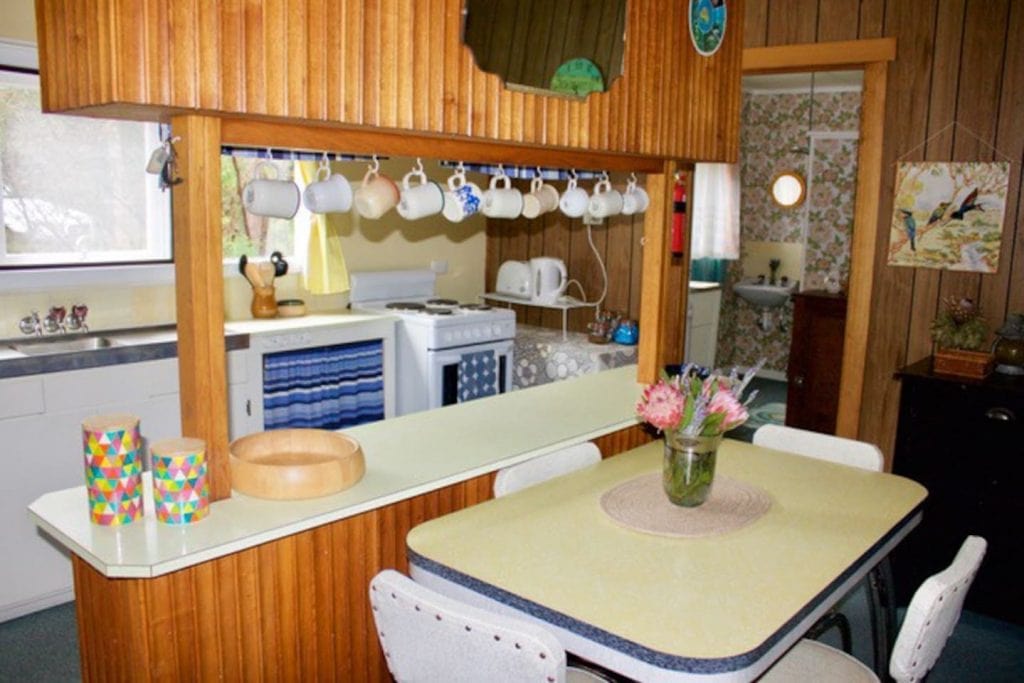 It's not often you can find accommodation that sleeps 6 for less than $100 per night – let alone one that is within minutes of the beach!
As they say themselves, there's nothing fancy about this shack, but what you do get is fantastic value for the whole family, and one of the cutest, quirkiest interior decors I've seen in a long time.
There's a cosy wood fire for those brisk Tassie nights, a BBQ for summer days, and a comprehensively equipped kitchen to help you keep your dining costs down. Oh… and did I mention the shagpile rug…? What more could you want?!
Check prices for Sisters Beach Shack
---
The Shack
Perfect for: Couples who value comfort and convenience, with sound of the ocean in their ears.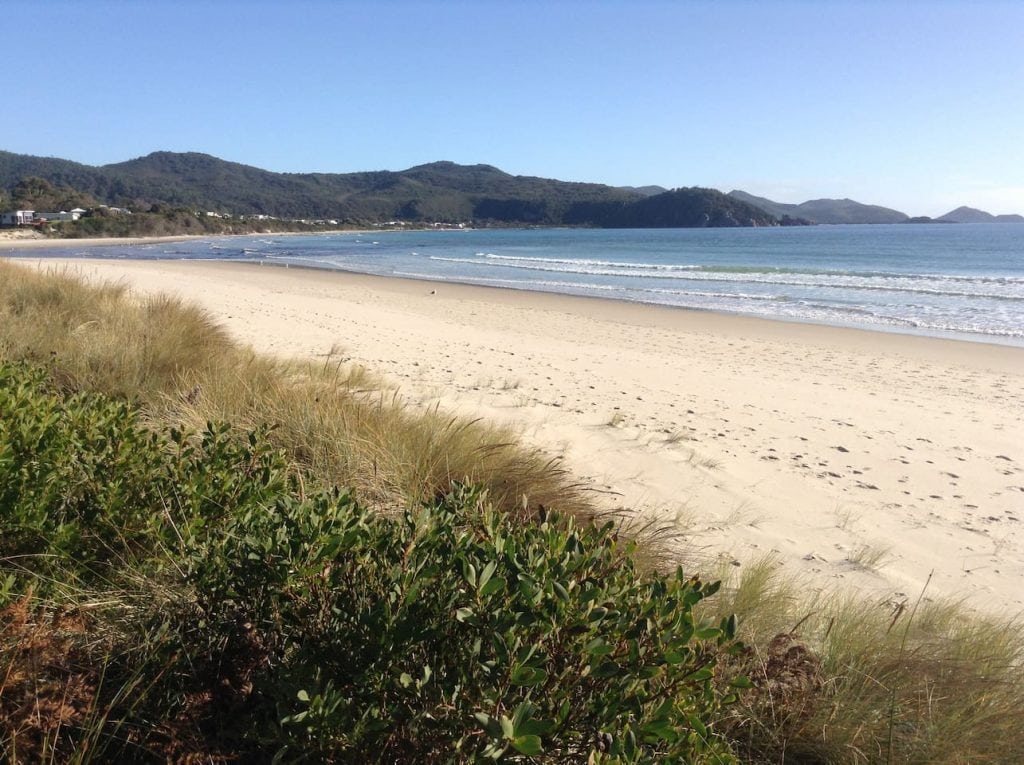 A classic exterior with a modern, relaxing interior, and literally right on the beachfront – The Shack is your beachside home away from home.
Quaint and cosy is how they like to describe their little beachside getaway, but it is a lot more than that. The kitchen is fantastic for self-catering, and not only do you get the option of a wood fire indoors, but there is also a sensational fire-pit out back with views of Rocky Cape National Park and the sea!
Everyone has their own preference, but I could see my wife and I spending a lot of time here next time we're up that way.
---
Rocky Cape Camping
If you'd like to visit Rocky Cape, camping is a really good way to see all its attractions. While there aren't any camping options inside the park, there are some really good ones close to the National Park.
Rocky Cape Tavern & Caravan Park – I mentioned the Rocky Cape Tavern as a great place for a meal… well they also get fantastic reviews from other campers for their Rocky Cape caravan park as well!
Powered sites, playground for the kids, a dump point, bathroom amenities with hot showers, laundry facilities, and pet-friendly – this is a great place to settle in for a few days or longer.
Sisters Beach Foreshore – This is a great free-camp site, especially now that Boat Harbour Beach has closed to free-campers. Toilets are available, but there are no showers or power. Being so close to the beach though, I'd be more than happy to forego a few luxuries!
Crayfish Creek Van and Cabin Park – This caravan park is only a 5-10 minute drive up the Bass Highway from Rocky Cape. This park is further away from Rocky Cape National Park, but it is more secluded and provides a lot more options, especially for families.
They have all the facilities you could need, including both a camp kitchen and a communal kitchen, as well as a TV and family room for when it gets a bit damp outside. The beach is only minutes away and there are forest reserves right next door as well. It's brilliant!
---
Final thoughts, and suggested reading…
We hope you've found this article helpful in discovering the beautiful region around Rocky Cape National Park!
This article is the fourth in our 'Tiny Towns of Tasmania' series. Here's another few little gems that you'll love:
Pyengana – Peace, serenity, waterfalls, and ALL the cheeses!
Southport – The most southerly town in Australia
Evandale – Where history and art combine
Are you still a little bit unsure which place to visit? Or maybe you'd like to bounce some ideas off other travellers or Tassie locals?
We welcome questions over at our Facebook group, so please stop by and say g'day!
We also have plenty more articles on things to see and do, and to help with your planning. Here are some of our most popular ones:

Happy travels!
Andrew.
---
Travel planning resources
Tasmania's remote location means there are internet 'black spots' across the island.
A paper travel guide or map is the perfect backup, and we love the range from Lonely Planet.