It is important to get your Tasmania road trip off to the perfect start – but the sheer number of options makes it easy to feel overwhelmed by all the amazing Hobart accommodation options.
I've reviewed them all and found a selection of the best places to stay in Hobart that I know you are going to love!
This page contains affiliate links. If you book or buy something through one of these links, I may earn a small commission (at no extra cost to you!). Read my full disclosure policy here.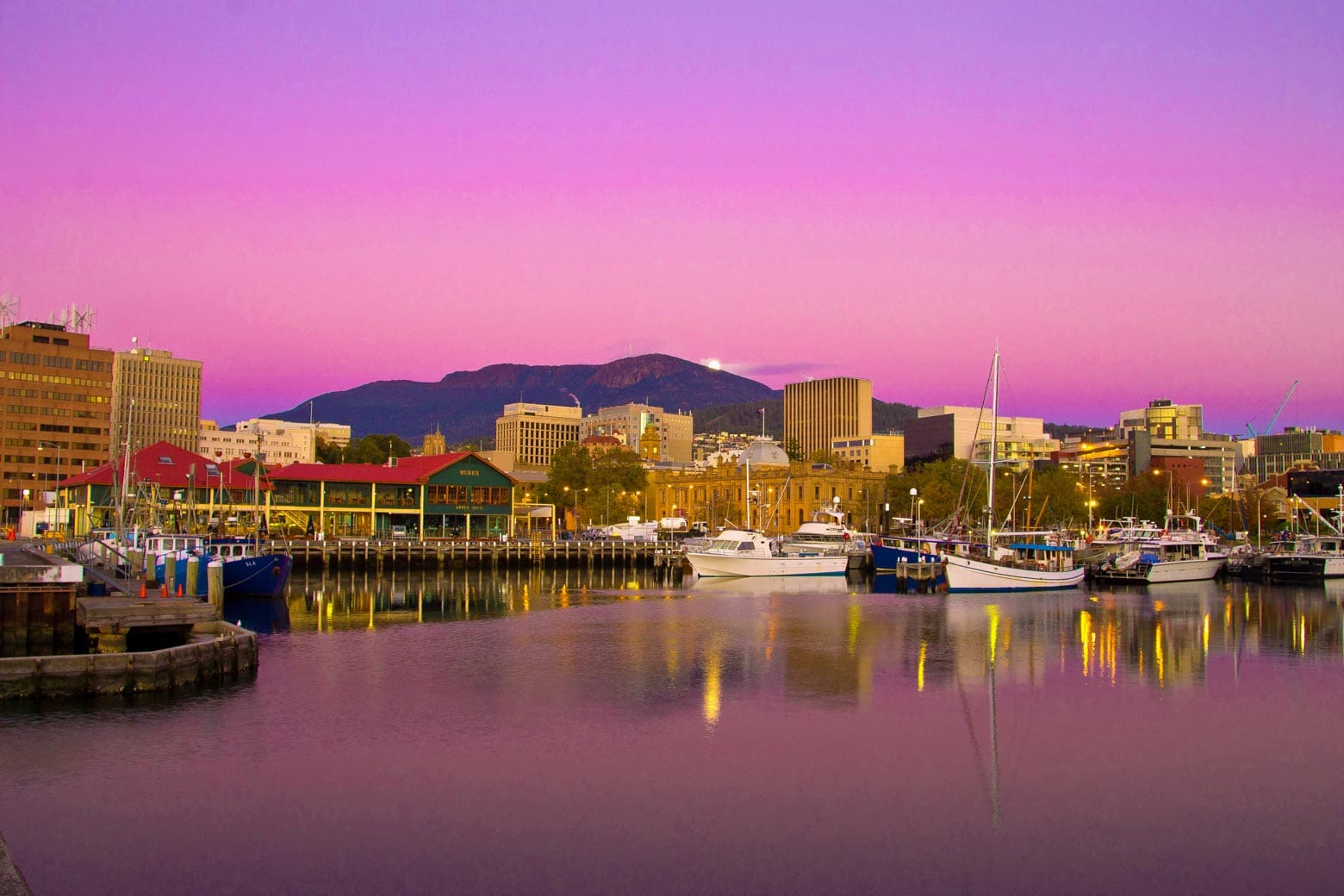 There's no doubt about it, Hobart is Australia's most beautiful capital city.
The spectacular natural harbour at the foot of Mt Wellington is the first thing that strikes you – but it's not just a pretty face!
World-class festivals, incredible history – both indigenous and colonial – and of course that disturbingly bizarre, yet strangely addictive rabbit hole called MONA
Hobart is the perfect place to start or finish your Tasmania road trip, and there are plenty of accommodation options catering to every possible style of travel.
Whether you are travelling as a couple or a family, and whatever your budget, we've reviewed them all and found 7 of the best.
(Seriously, check out #7…it's jaw-dropping!)
Hobart accommodation summary
Here's a summary of the best Hobart accommodation options that I recommend for your Tasmania road trip.
Feel free to click through and make your booking, or keep reading to find out more.
| Accommodation | Perfect For... | Budget | Booking Link |
| --- | --- | --- | --- |
| MACq 01 | Couples who love to indulge and relax in romantic luxury | $$$ | |
| Alabama Hotel | Independent and quirky travellers that love to get off the tourist track | $ | |
| RACV/RACT Hotel | Families seeking comfort, convenience and excellent value in central Hobart | $$ | |
| Waterview Gardens B&B | Couples in search of the quiet life | $$ | |
| 110 Hampden | Self-catering, comfort-loving couples | $$ | |
| Barilla Holiday Park | Families seeking kid's activities, delicious food and extremely good value | $ | |
| Galleria Salamanca | Romance and comfort in the heart of Salamanca | $$$ | |
Perfect for: Couples who love to indulge and relax in romantic luxury.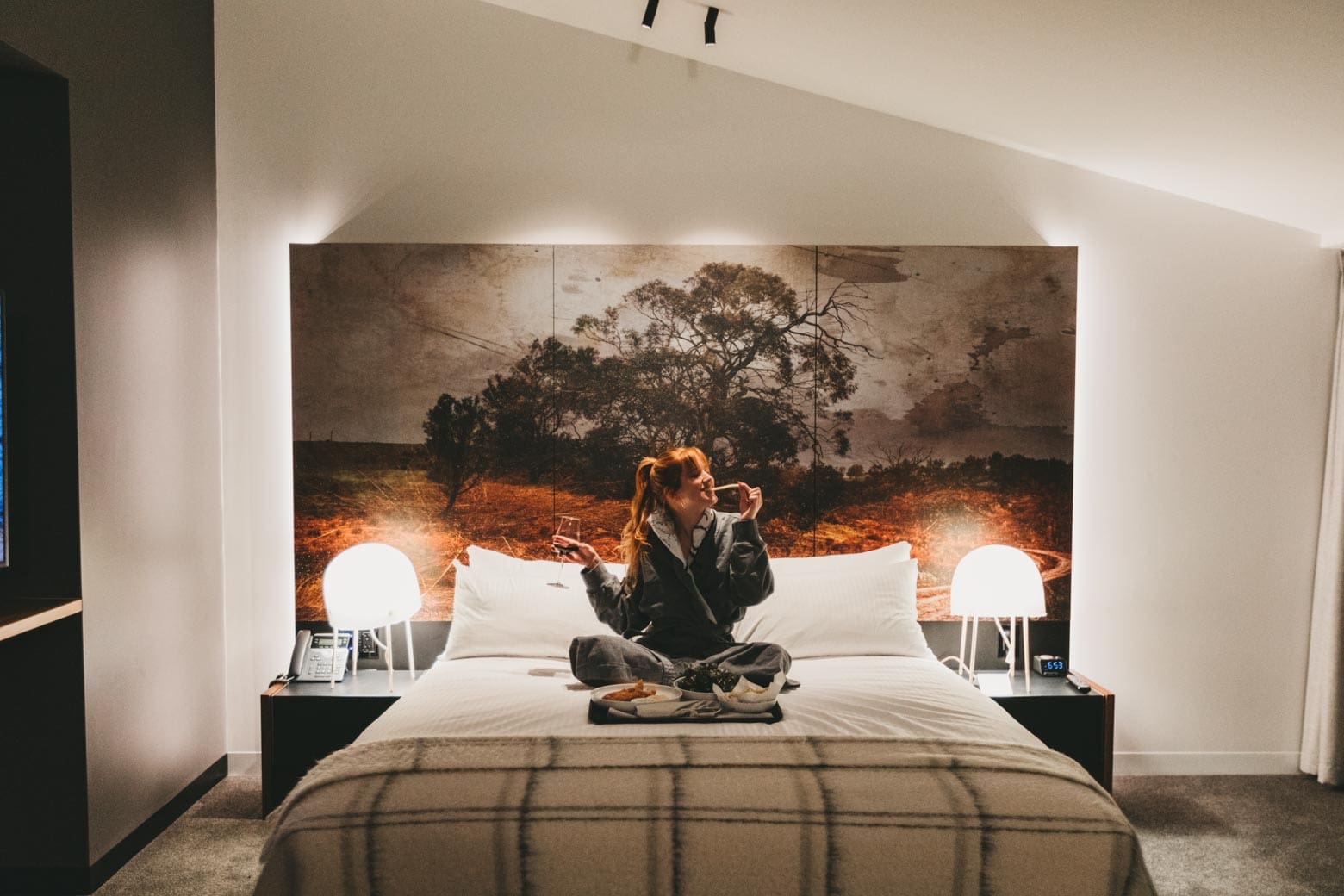 Hobart's sparkling waterfront has a thousand stories to tell.
The ancient myths and legends of the Mouheneenner. The tall ships and taller tales of convicts and colonials. And now, the exciting buzz of the world's best and most beautiful small city.
MACq 01 hovers breathlessly above the icy waters of Sullivans Cove, and every luxuriously appointed room has its own unique tale for you to discover. Book a suite and you even secure the services of your own butler!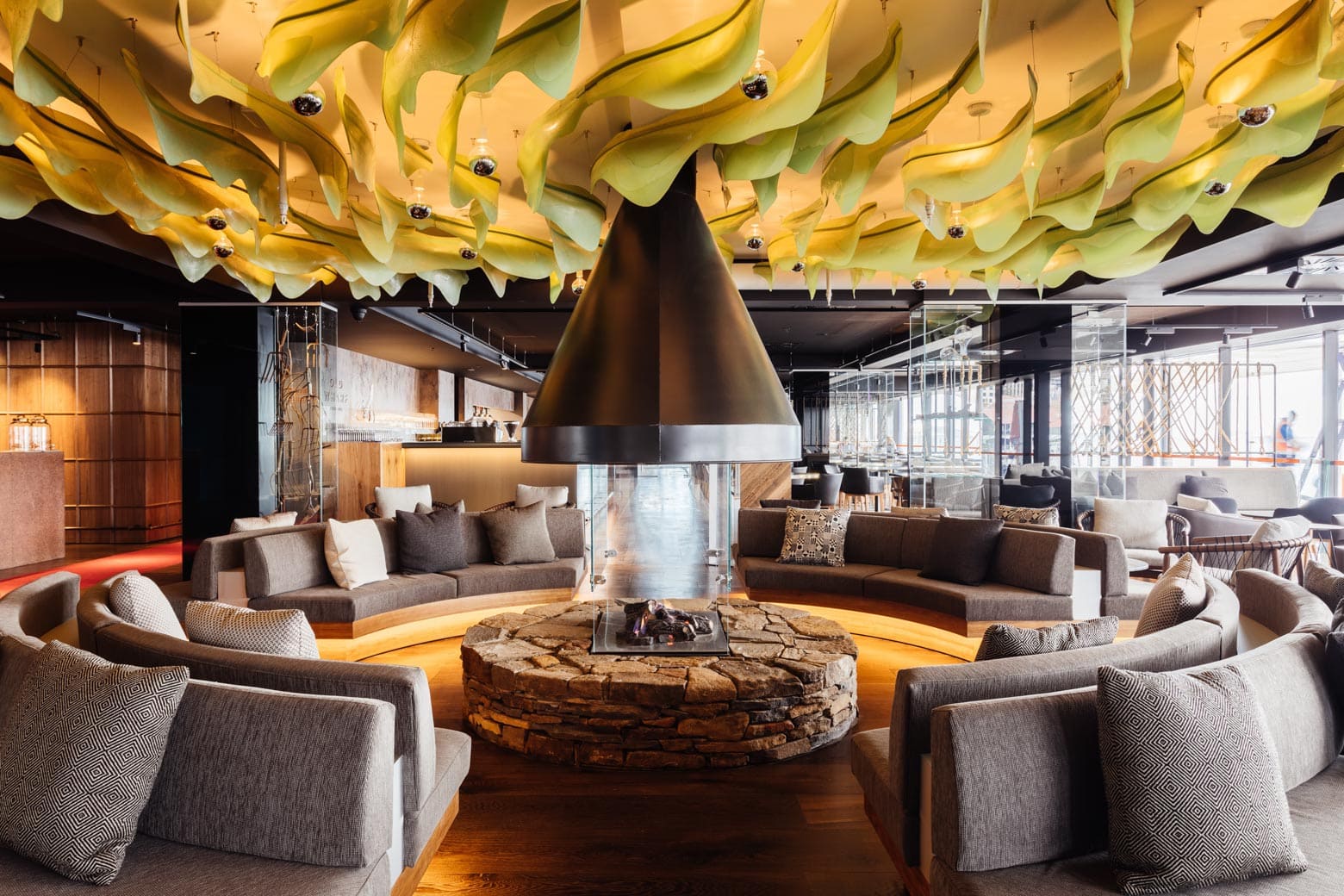 Finished indulging in a little R&R? Book a table with harbour views and taste Tasmania's freshest seafood at the Old Wharf Restaurant. 
Valet parking is complimentary and in a welcome nod to sustainability a Tesla charger is also available.
Whether you're celebrating one of life's milestones, or simply prefer the finer things in life, you can't get any better than MACq 01.
Budget: $$
Address: 18 Hunter Street, Hobart
Perfect for: Independent and quirky travellers that love to get off the tourist track.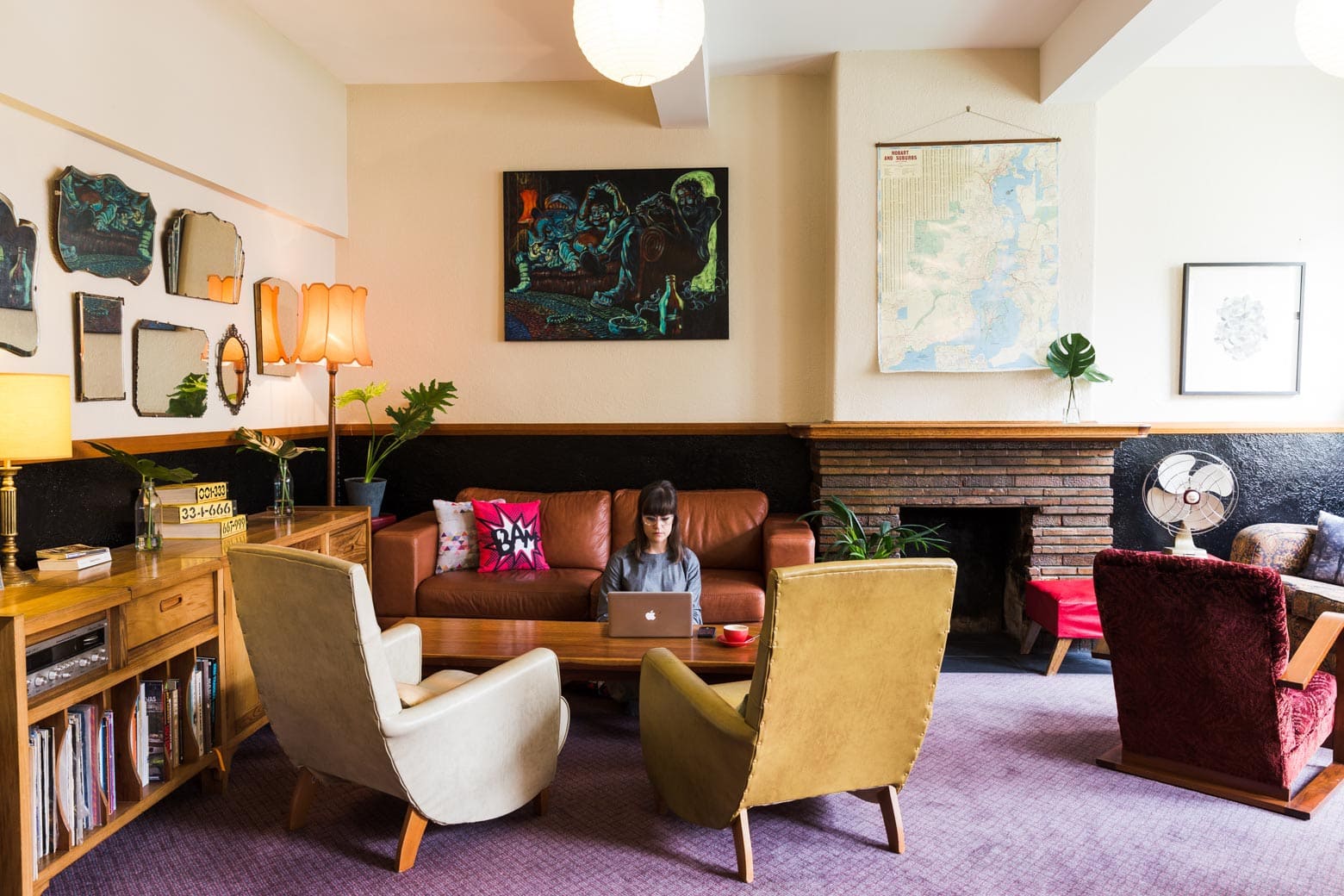 The moment you walk through the doors of the Alabama Hotel you know you're in for a special stay.
Its eclectic mix of art deco, minimalist 60s chic and modern art is like no other hotel in town. 
Leather, timber, glass and stone greet you in the tastefully decorated guest lounge, and this photogenic theme continues upstairs to the saloon bar and out onto their cute balcony – the perfect place to watch the sun go down with a classic cocktail or local Tassie wine in hand.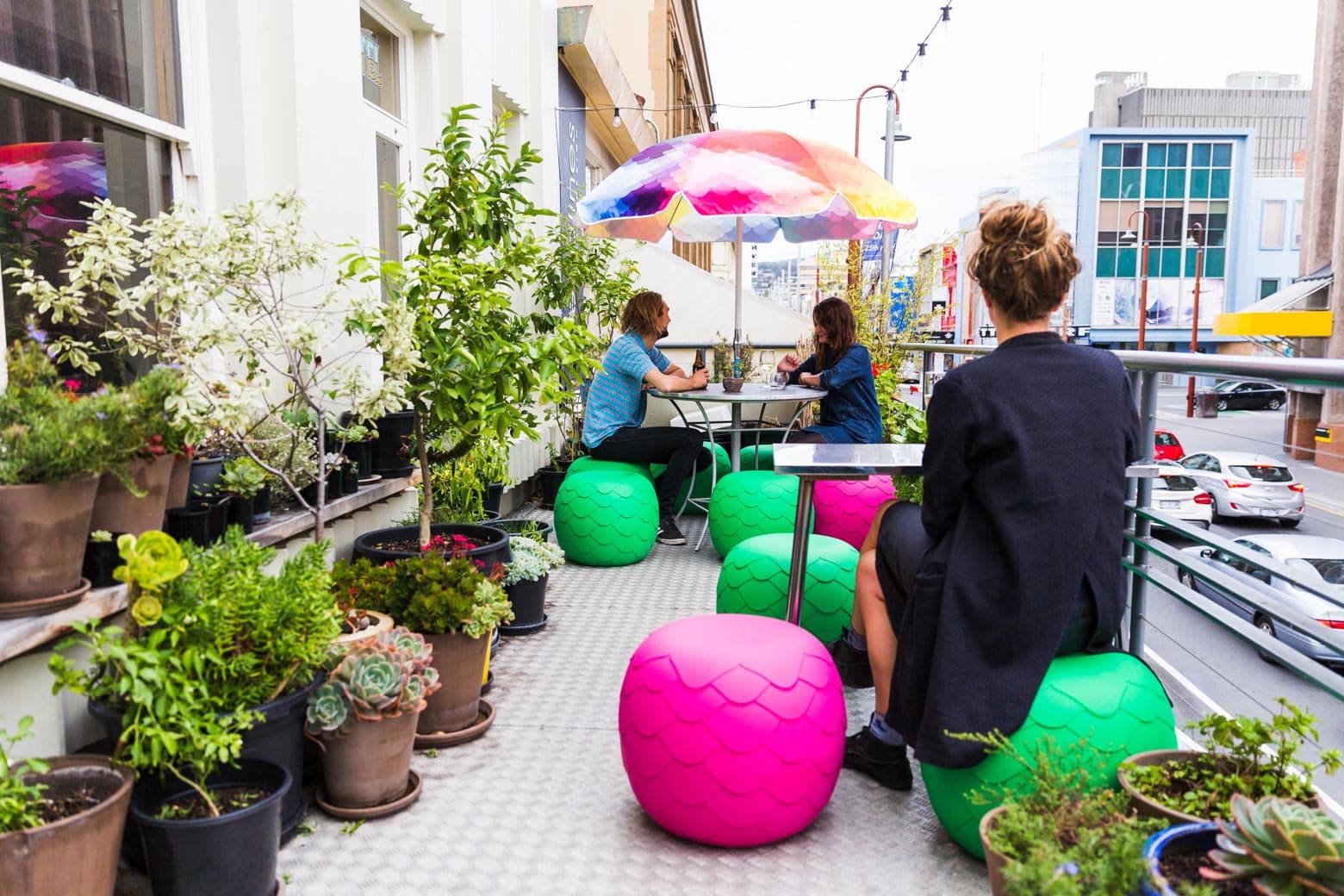 "Boutique bedrooms on a budget" is a fantastic description, and you'll really appreciate the sense of rest and solitude created by the use of sound-reducing window panes.
In keeping with their eco-friendly ethos, bathroom facilities are shared – but it's quirks like this that make the Alabama Hotel such a memorable place to stay.
Budget: $
Address: Level 1, 72 Liverpool Street, Hobart
Perfect for: Families seeking comfort, convenience and excellent value in central Hobart.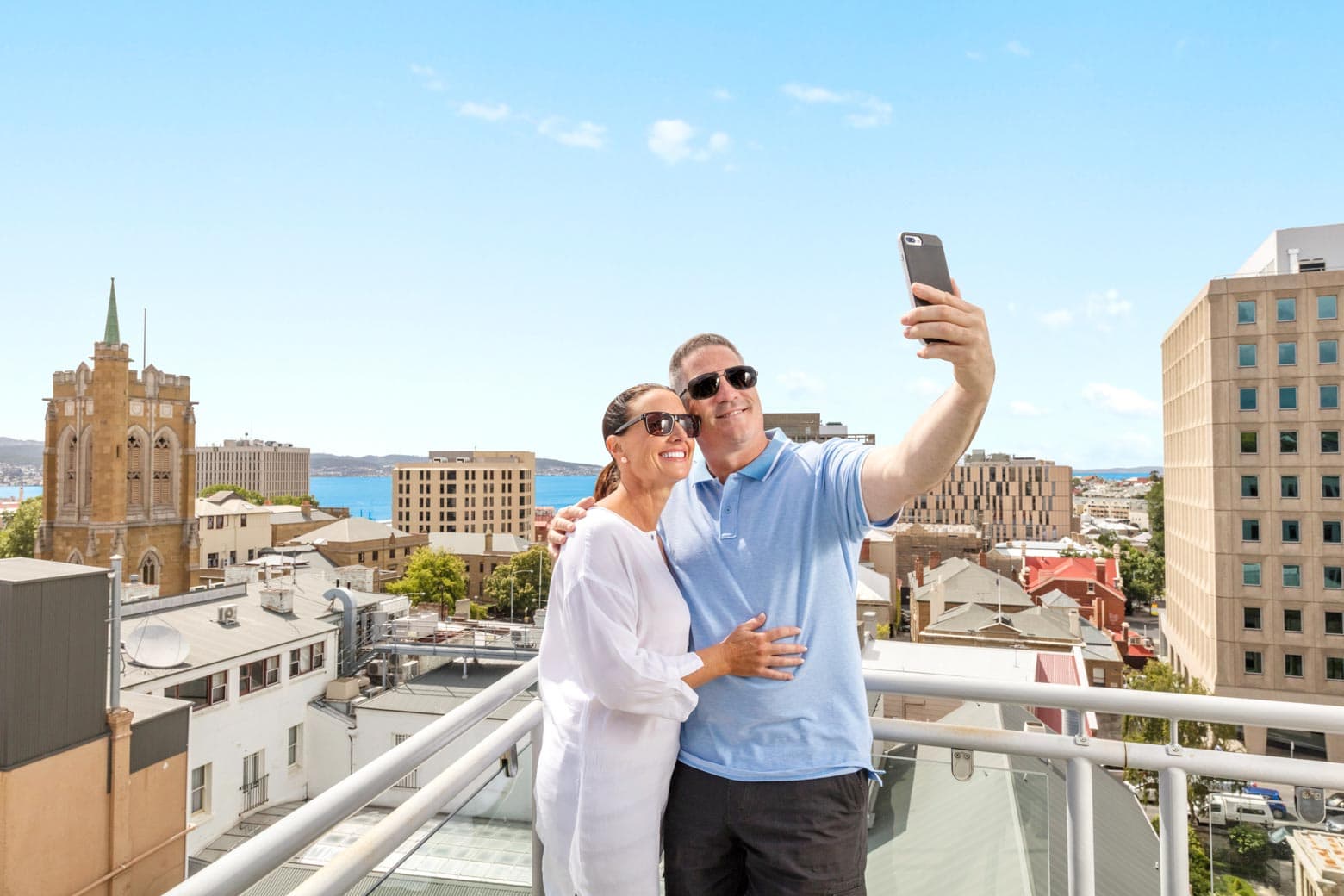 The RACV/RACT Hotel offers amazing values for families visiting Hobart. 
Located within easy walking distance of historic Salamanca, cosmopolitan NoHo (North Hobart) and beautiful Battery Point, you'll love the convenience of this wonderful property.
Even better, if you're an RACT or RACV member you'll receive a whopping 25% discount on room rates!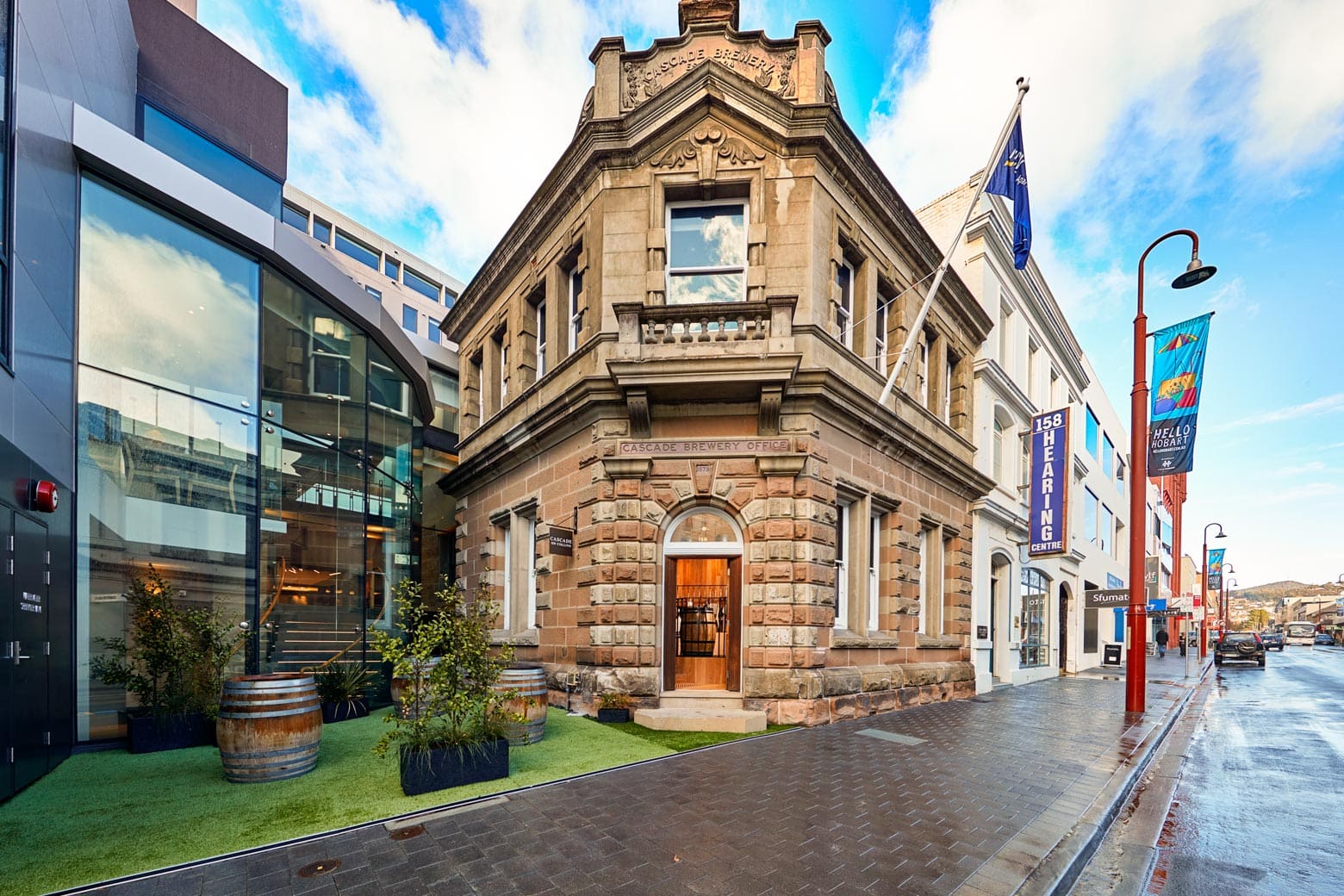 The rooms and apartments are spacious, and self-catering is an option if you'd like to stretch your holiday dollar even further.
I love that the Skybus Airport Shuttle stops right out front as well.
You won't find better value in the heart of Hobart. Book your room today!
Budget: $$
Address: 154-156 Collins St, Hobart
Perfect for: Road trippers wanting a comfortable base from which to explore Bruny Island, the Huon Valley, and the Far South of Tasmania.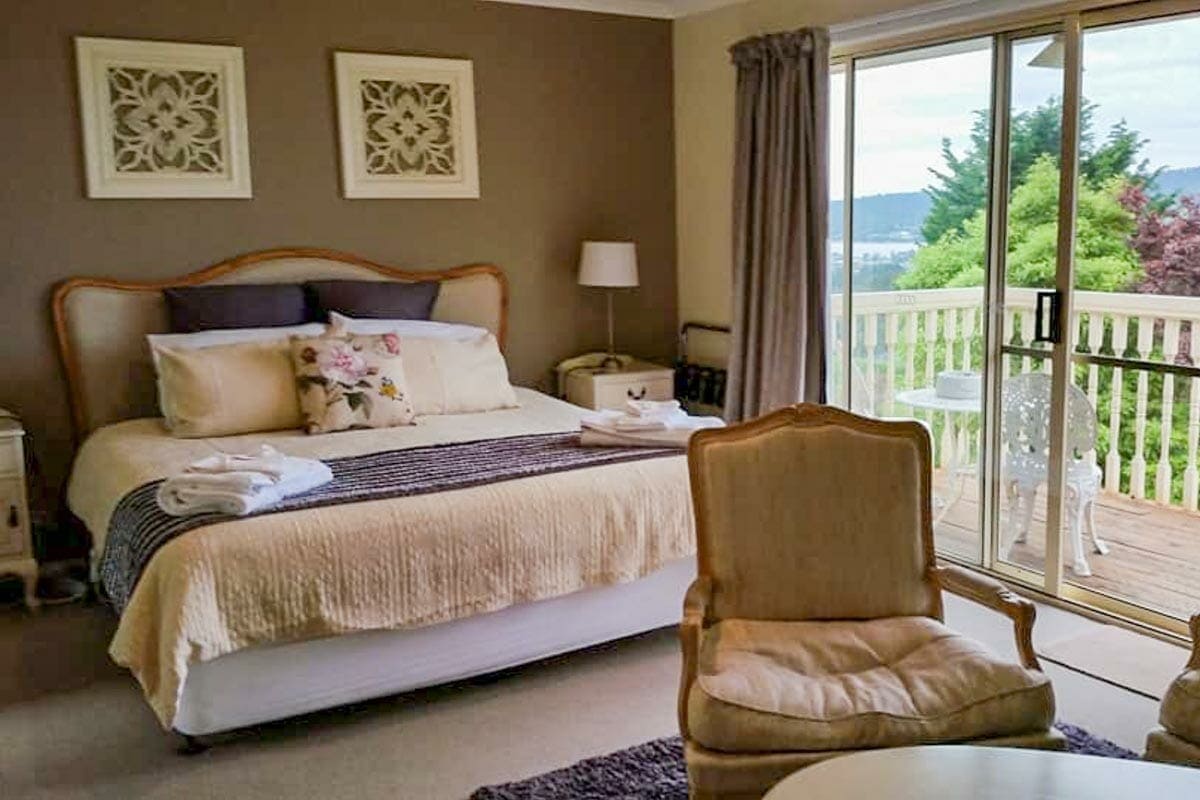 It is often the bright lights and cultural sights of Hobart that first catch the eye, but what a lot of first time visitors don't realise is how close Hobart is to the iconic Huon Valley and scenic Bruny Island.
The quiet, coastal community of Margate is ideally located – close enough to Hobart to easily access its best attractions like MONA or Salamanca Markets, while also on the doorstep of some of Tasmania's most beautiful land and seascapes.
Waterview Gardens B&B is what I like to call a 'day tripper's delight'!
The ferry to Bruny Island leaves from Kettering, barely 15 minute's drive away, and its location on the southern side of Hobart also means that, unlike most other inner city B&Bs, you don't have to contend with peak hour traffic.
Head south and you will find the laid-back vibe of pretty Woodbridge, ewe-nique cheese and spirits of Birchs Bay, and the famous ciders and weekend markets of folksy Cygnet.
Got even more time on your hands? Keep heading south to Southport, Hastings Caves, and Cockle Creek – as far south as it is possible to drive anywhere in Australia!
Waterview Gardens B&B is an absolute gem of a place to escape, recharge and relax. Or as Leonie likes to call it, "Your home away from home" 
I am very proud to be partnering with Leonie from Waterview Gardens B&B, and she is offering all Lap of Tasmania readers some fantastic extras to make your road trip super special:
10% OFF

 your booking; and

FREE bottle of bubbles

 🍾 – OR –

 cheese platter 🧀 

upon arrival!
All you need to do is mention the Lap of Tasmania when making your booking!
Valid for direct bookings only.
Budget: $$
Address: 152 Macquarie St, Hob
5. 110 Hampden Apartments
Perfect for: Self-catering, comfort-loving couples who love the buzz of Salamanca waterfront.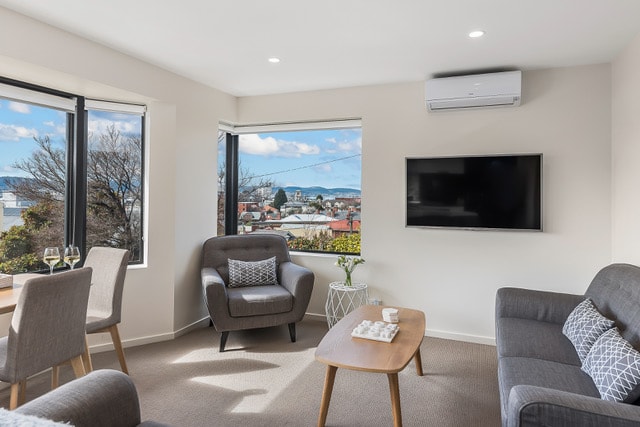 I know how hard it can be to find the perfect Hobart accommodation for your road trip holiday, and I think family-owned 110 Hampden Apartments is one of the best in town.
Opening their doors in 2016, the nine apartments are in astonishing condition, offering a fantastic combination of form and function for the discerning traveller.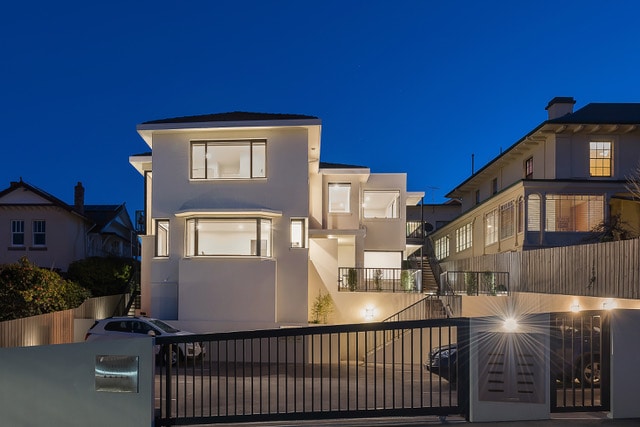 The magnificent sandstone cottages of historic Battery Point are just around the corner, and Salamanca's buzzing restaurant precinct is only minutes away by foot. 
Why not pick up some of Tassie's freshest produce from the Farm Gate Markets and unleash your inner chef in the immaculately appointed kitchen?
Secure parking is available onsite at no extra cost and you'll appreciate the free WiFi.
Book your apartment today and get your Tasmania road trip off to the perfect start!
Budget: $$
Address: 110 Hampden Road, Battery Point
Perfect for: Families seeking kid's activities, delicious food and extremely good value.
Barilla Holiday Park is located at the gateway to the beautiful Coal River Valley, just 10 minutes from Hobart Airport and 15 minutes drive from central Hobart.
It's hard to imagine that such a paradise could exist so close to one of Australia's capital cities…but hey, that's Tasmania for you!
The first thing the kids will notice on arrival is the amazing Putt-n-Play mini-golf course, and water babies will love the undercover heated pool. Want more? How about a playground as well?! 
Just 15 minutes up the road is historic Richmond Village, and a little further are ZooDoo Zoo and Bonorong Wildlife Park.
It's not all about the kids though. Mum and dad will love the dining options at Nates, regularly acclaimed as grilling Hobart's best steaks – and their pizzas aren't bad either! 
The accommodation options are also excellent, with a range of cabins on offer – some with ensuites – and of course they have plenty of space for caravans, campervans and campers. 
If you want to get back to nature and have a great time with the kids while still being just minutes from Hobart, Barilla Holiday Park is the place for you!
Budget: $
Address: 75 Richmond Road, Cambridge
Perfect for: Romance and comfort in the heart of Salamanca.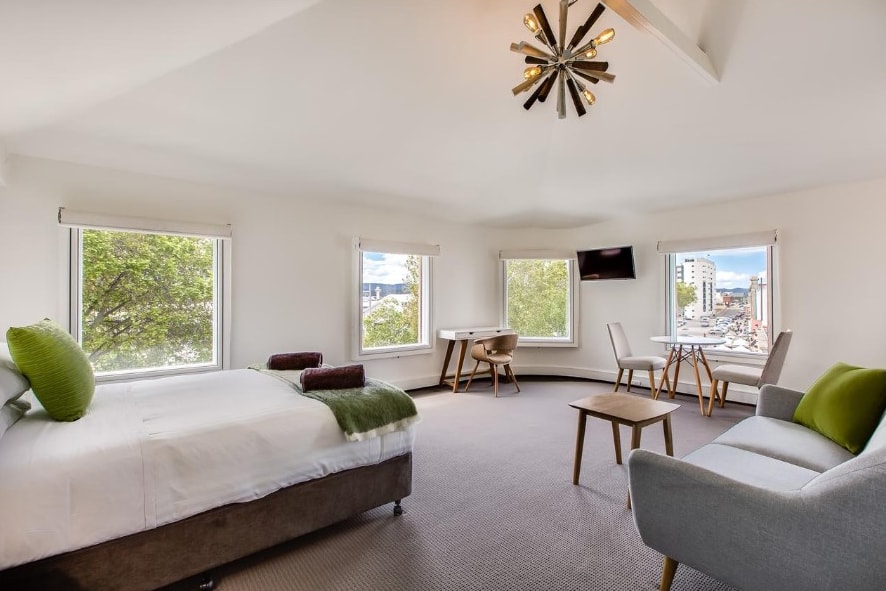 Is it even possible to get any closer to the famous Salamanca Markets than what you are at Galleria Salamanca? Nope!
This tiny boutique hotel is gorgeous, but don't let it's old sandstone walls fool you  – inside you'll find more than half a dozen modern rooms, built for comfort and ultimate relaxation.
The views across the harbour are spectacular, and you'll be pleased to know that the ferry to MONA is just minutes away – but that's only if you can hold yourself back from an afternoon of foodie indulgence at the dozens of amazing waterfront restaurants, cafes and pubs scattered along the water's edge.
You can't find a better location – kick your road trip off with a couple of nights at Galleria Salamanca!
Budget: $$$
Address: 31-35 Salamanca Place, Hobart
More amazing Tasmania accommodation options
If you're planning on doing the Lap of Tasmania you'll be needing other accommodation options across the island.
Here are more recommendations to help make your planning easy:
And if you are ready to book your vehicle, these guides will simplify the process and save you money:
I hope this has helped you plan your Hobart accommodation. If you've got any questions at all please get in touch, we'd love to hear from you.
Happy road tripping!
Andrew.