From luxury estates to vineyard retreats – one place you've got to visit on your Tassie road trip is Richmond (Tasmania). Accommodation options are plentiful, and in this article we recommend the 6 best places for you to stay.
This page contains affiliate links. If you book or buy something through one of these links, we may earn a small commission (at no extra cost to you!). Read our full disclosure policy here.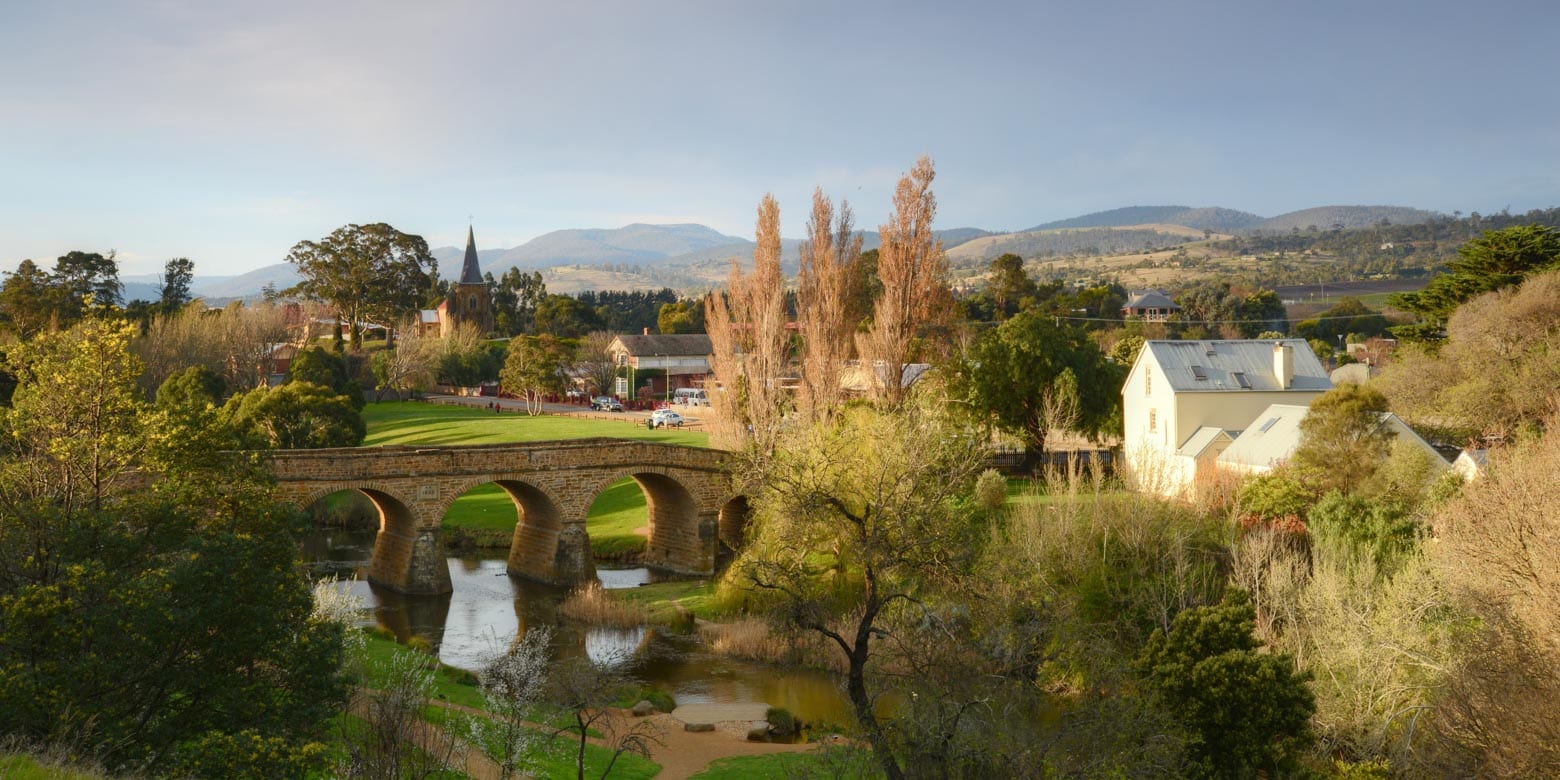 The Coal River Valley is one of Tasmania's finest regions – click here for our Guide to the Coal River Valley – and yet for some reason it seems to fly under the radar.
So many travellers treat Richmond and the Coal River Valley as a quick day-trip option from Hobart, but it isn't the same as staying a night or two and giving yourself time to soak up the country vibes, away from the hustle and bustle of Hobart.
It's a beautiful valley, and you'll enjoy learning more about Tasmania's convict history while visiting Richmond Bridge, the old Richmond gaol and St John's Church. And when you need to take a break you'll find the food and wine options liberally sprinkled across the valley to be second to none! 
Wine lovers will enjoy tasting their way through some of Tasmania's best cool-climate Pinot Noir and Riesling wines, while foodies will be in gastronomic heaven as they sample the cheeses, chocolates and modern-Australian menus found in many of the valley's best restaurants.
Whether you're in search of luxury, a family farm stay, or quality accommodation in the heart of Richmond, this guide to the best Richmond accommodation is sure to help you plan your Tasmanian road trip.
Choosing the best Richmond (Tasmania) accommodation
Very quickly, we thought we'd explain how we chose the best accommodation options in Richmond and the Coal River Valley.
It's pretty simple. We look for 3 things:
Amazing customer feedback (including our own experiences)
Superb location, or an 'X' factor that makes it stand out from the crowd
Great value
Just one isn't enough. To get on our list it must meet all three.
But you know what, it's pretty hard to get it wrong in Tasmania because they're all so amazing!
1. Prospect House Private Hotel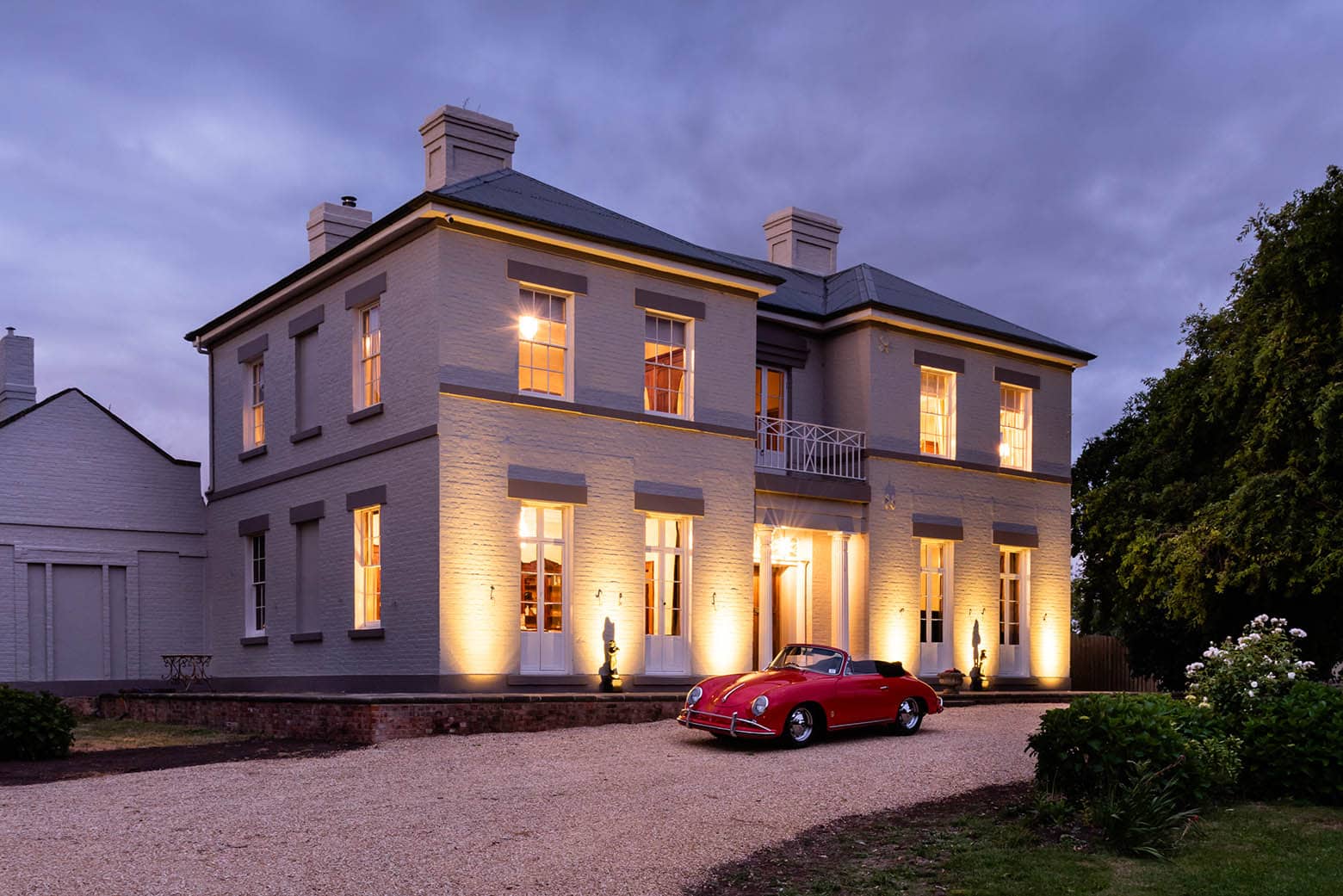 If you like to travel in style then Prospect House Private Hotel is one place you must stay on your Lap of Tasmania road trip.
The team behind award-winning Pooley Wines have unlocked the incredible potential of this sprawling colonial retreat, located at the gateway to historic Richmond Village.
The king and queen courtyard rooms achieve outstanding levels of understated elegance, and you'll welcome their personalised service and genuine hospitality.
Whether its a luxe picnic on the lawns, a round of golf, or a lazy day of cycling around Richmond village, Prospect House has plenty to keep you occupied. And at the end of the day you'll relish the opportunity to taste the highest quality produce of the Coal River Valley under the expert hand of head chef Kurstin Berriman.
Book it in, and you too can explore, connect and reflect at Prospect House Private Hotel.
Budget: $$$$
Address: 1384 Richmond Road, Richmond
 Exclusive Offer
Lap of Tasmania readers will receive 15% OFF their stay at Prospect House Private Hotel.
To claim this fantastic deal, call them on (03) 6205 9740 to make your booking and mention the Lap of Tasmania.
2. The Mill House Cottage
Historic Richmond Bridge is considered by many to be the heart of Richmond Village – and you can't get any closer to this Australian icon than Mill House Cottage (circa 1853).
The gardens and grounds are in immaculate condition, and after a day in the village you'll appreciate the serenity of this wonderfully restored private cottage.
The cottage is fully self contained with all modern conveniences, and you'll also receive provisions for a delicious continental breakfast.
Budget: $$
Address: 2 Wellington St, Richmond
3. Every Man and His Dog Vineyard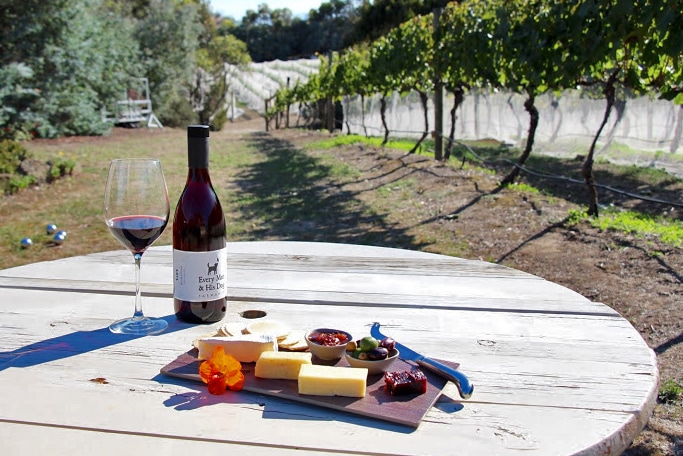 The Coal River Valley is dotted with tiny boutique wineries, and at Every Man and His Dog Vineyard you not only get to taste their wines, but you can stay among the vines as well!
Just minutes from Richmond, you'll love the cosy vibe and central location. Loretta and Andy receive fantastic feedback from all their guests for their laid back approach and country hospitality – not to mention their scrumptious breakfasts.
If you love fine wines and a cosy retreat, then you're going to thoroughly enjoy a night or two at Every Man and His Dog Vineyard.
Budget: $$
Address: 1314 Richmond Rd, Richmond
4. Tara's Richmond Farmstay
Tara's Richmond Farmstay offers a unique experience for anyone planning a family road trip in Tasmania.
This small, family-run working farm is a destination in itself, with a range of crops and farm animals changing with the seasons.
Your children will love the opportunity to get up close to the friendly farm animals, – including lambs, sheep and ponies – while in summer you can all enjoy picking your own farm-fresh fruit.
Previous guests have commented on how warm and comfortable the cottage is in winter, and ZooDoo Wildlife Park is only 15-mins away. 
If you're looking for the perfect family getaway, Tara's Richmond Farmstay ticks all the boxes!
Budget: $$
Address: 31 Ogilvie Lane, Richmond
There's something for everyone at Mulberry Cottage B&B. Just a few minutes walk from historical Richmond Bridge and the village centre, their two delightfully renovated cottages offer comfortable and cosy lodgings with a choice of valley or garden views.
Take one look at all the positive feedback from fellow road trippers and you'll see two things that really stand out – the decadently comfortable beds and their delicious pancakes with maple syrup and fresh fruit!
If you prefer self-catering, book the Valley View cottage as it has the best cooking facilities of the two cottages.
For quality accommodation at a fantastic price you can't go wrong with Mulberry Cottage B&B.
Budget: $$
Address: 23A Franklin St, Richmond
6. The Original Bridge Cottages
Built in 1823 for the village Sergeant, The Original Bridge Cottages are among the oldest in Tasmania.
With lovely views across Richmond Bridge, both the Armoury Cottage and Sergeants Cottage offer white picket fences, luxurious open fires, wooden floors and grand French doors.
If you're looking for the ultimate adults-only retreat just minutes from all the attractions of Richmond and the Coal River Valley, this is the place for you!
Budget: $$
Address: 47 Bridge Street, Richmond
More amazing Tasmania accommodation options
If you're planning a Tasmania road trip you'll need to find other accommodation options across the island.
Here are more recommendations to make your planning easy:
If you are considering a rental car or campervan, these guides will help you make the right choice and save you money:
We hope this guide has helped you plan your Richmond accommodation. If you've got any questions at all please get in touch, we'd love to hear from you.
Happy road tripping!
Andrew.