Are you in search of Tasmania's best cheeses? Do you love rainforest waterfalls? Or maybe Priscilla the beer-drinking pig is on your bucket list?
Keep reading to learn more about the 'tiny town' of Pyengana Tasmania – the best things to do, where to stay and a whole lot more!
---
This page contains affiliate links. If you book or buy something through one of these links, we may earn a small commission (at no extra cost to you!). Read our full disclosure policy here.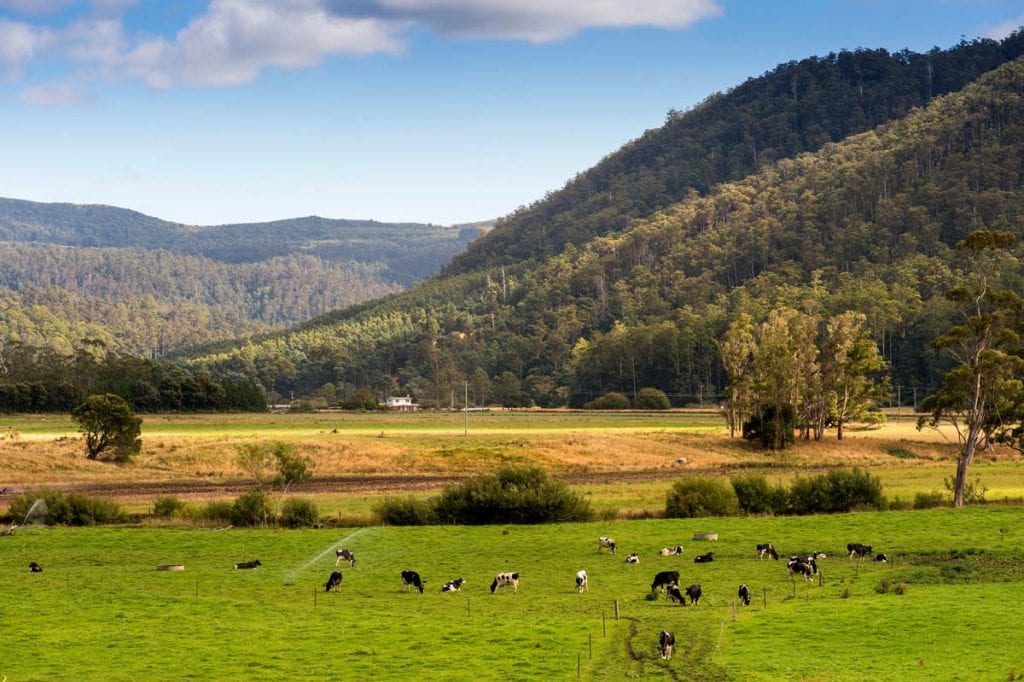 This article is the third in our series of 'Tiny Towns of Tasmania', and our focus this time is on a place so small that if you blinked you'd miss it.
Pyengana is tiny. In fact, it is so small you couldn't even call it a village, let alone a town!
'Community' is a better way of describing Pyengana and its beautiful surrounds. Surrounded by tall timbers and lush rainforests, this rural setting is an oasis of fertility. A few farmhouses are scattered across the rolling hills of green, and it is no lie to say you'll see more cows than people!
Too many travellers rush on by on their way between Launceston, 2 hours drive to the west, and the red ochre beaches of the Bay of Fires just 40 minutes drive to the east.
A half-day would be nice, and a one-night stay even better. Keep reading to find out why!
---
A brief history of Pyengana Tasmania
As I recently found when researching the towns of Southport and Evandale, there are many fantastic stories to be discovered in localities like Pyengana, Tasmania.
As with so much of Tasmania, one of the few remaining pieces of indigenous history for the region is in its name – Pyengana. There are dozens of articles about the town online, and you'll see that nearly all of them refer to this word as meaning 'two rivers'.
I don't know where it has come from, but this isn't right as I found out after indulging in a spot of historic fossicking…
A gentleman by the name of Robert Smyth was deeply concerned with how poorly aboriginals were being treated in Victoria and Tasmania in the 1800s, and he could see that their culture, traditions and language were disappearing fast. In an effort to capture this before it disappeared he recorded a comprehensive dictionary of Tasmanian aboriginal words, and it is here that we find 'Pyengana' actually means 'earth'.
Not nearly as romantic as 'two rivers', but I think it is important when so much of our history has been lost to time – and very apt when you realise how rich and fertile the soil is in this part of Tasmania!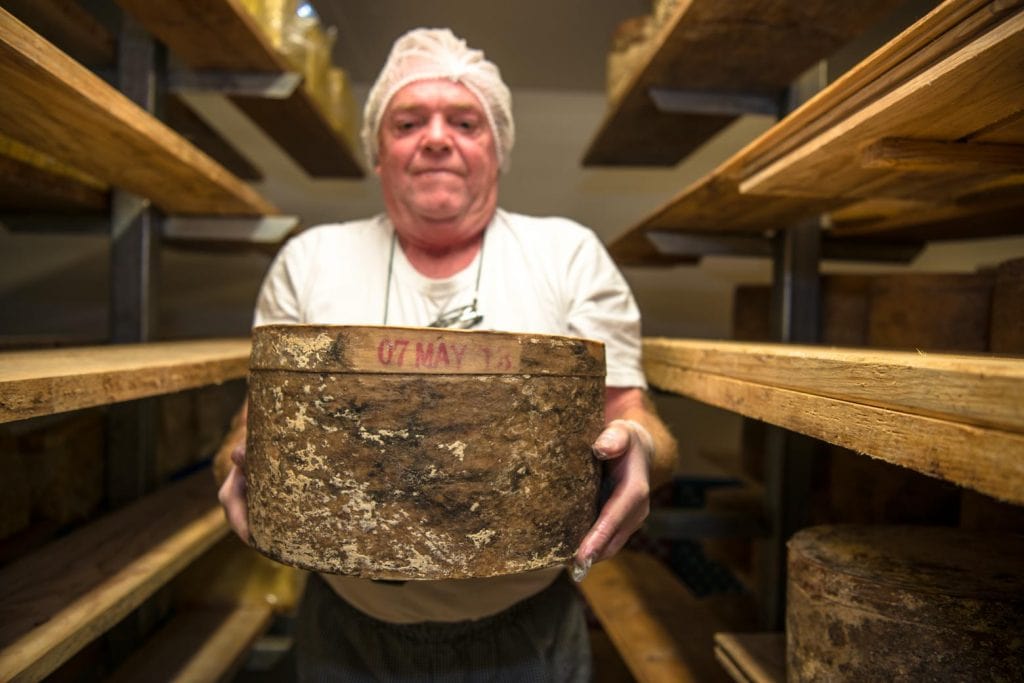 European history in the region first makes its appearance around 1875 with the arrival of Margaret and George 'Dicky' Cotton to the banks of the South George River. In remembrance of their Irish heritage they named their property 'St Columba' after the Irish monk, and not long after it was two of their children – Charles and Gus – who while bushwalking to Mathinna discovered the towering waterfall we now know as 'St Columba Falls'.
🍎 Did you know…?

Margaret Cotton was the first person to export apples from Tasmania – now known as the 'Apple Isle' – back to mainland Australia!
Farming was the mainstay of the region until the 'tin rush' of the late 1800s that saw hundreds of miners move to the town of Lottah, a few kilometres north of Pyengana. Lottah is all but a ghost town now, a far cry from its hey-day when it sported two hotels, two churches, and plenty of shops. Historical remains can be found in the forests though, as we show you below.
Since then life in Pyengana has quietened down somewhat, with grazing, cheese, farming and tourism now sustaining the few locals that call this gorgeous valley home.
There are so many more stories I could tell you, but I know you're keen to hear about all the things to see and do in the region. So for now I'll drop you a few links to other websites where you can read more about the history of Pyengana and the Cotton family.
---
7 best things to do in Pyengana
It might be tiny, but there are plenty of things to do in Pyengana and the surrounding region.
Here are some of its best attractions that I know you'll love.
1. Pyengana Dairy Company | Farmgate Cafe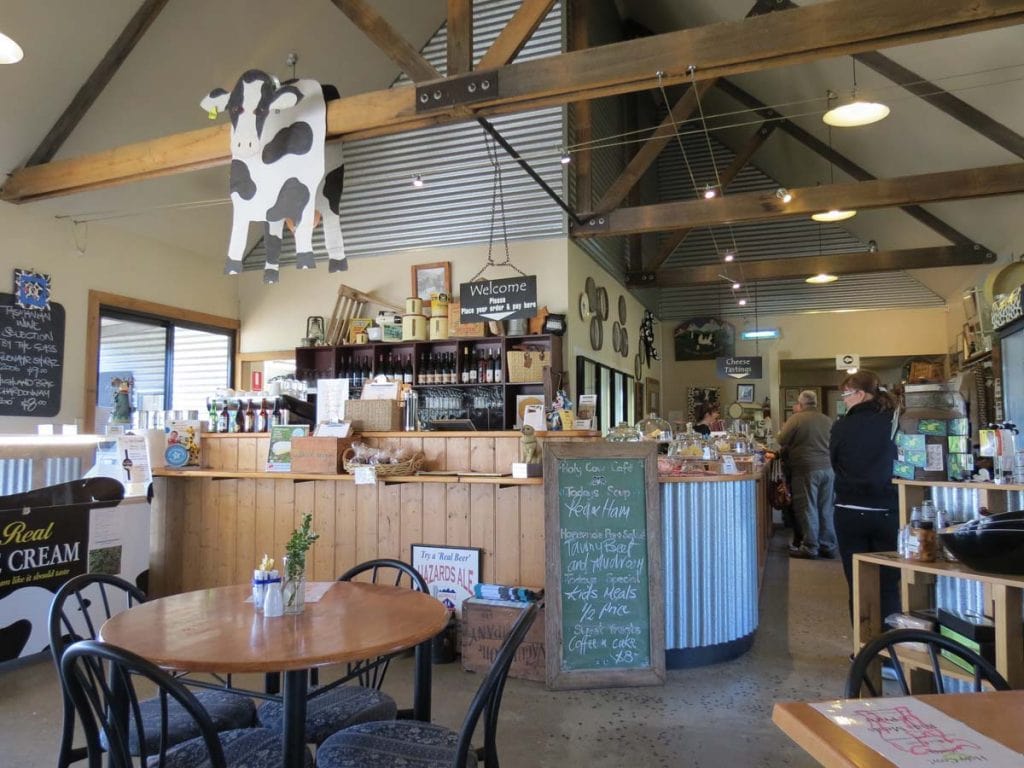 If you're a foodie then a visit to Pyengana Dairy Company is an absolute must!
I doubt the grass is greener anywhere in Tasmania, and for more than 130 years the farmers of Pyengana have been crafting some of the island's most delicious cheeses.
You'll find a variety of Pyengana cheese available for tasting in the Farmgate Cafe, but if you only taste one it has got to be their famous cloth-bound cheddar cheese.
Tasting of herbs, honey and a hint of good old Pyengana soil, this cheese is complex, crumbly and utterly delicious. Grab a wheel to go – it's perfect for picnics!
More: Pyengana Dairy Company
---
2. St Columba Falls Nature Reserve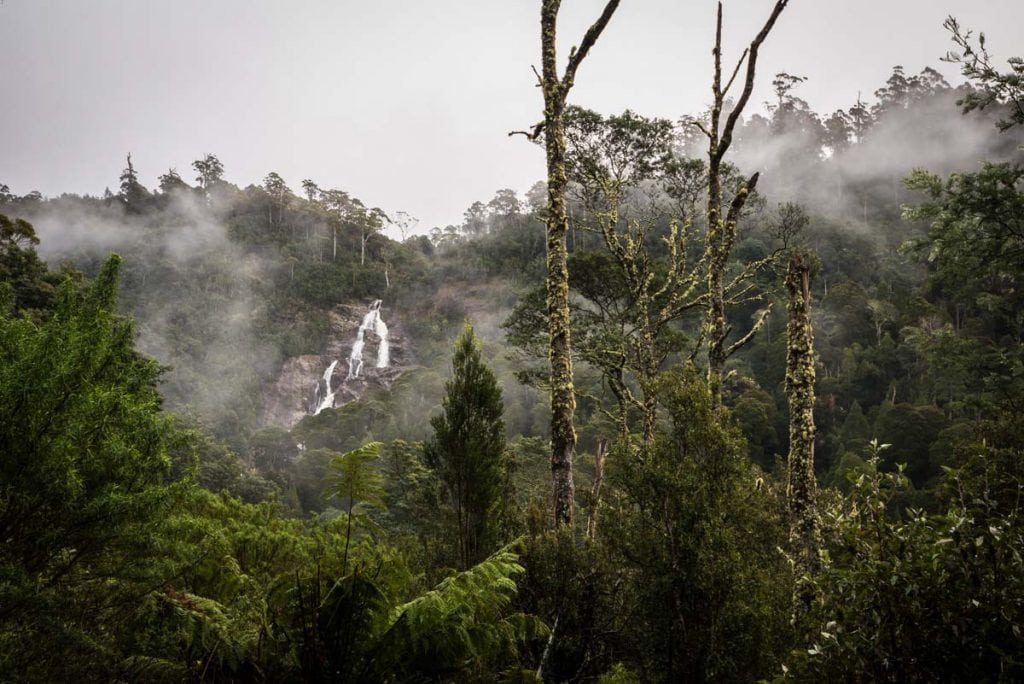 It doesn't matter who I ask, everyone who has visited St Columba Falls says exactly the same thing…
"The waterfall is great, but the walk getting there is even better!"
Surrounded by green ferns and soft moss, with the sound of water dancing over the rocks it is like walking back into prehistoric times. It is only short – perhaps 20-30 minutes return – but utterly enchanting every step of the way. This classic Tassie walking track is in great condition and is accessible for all ages.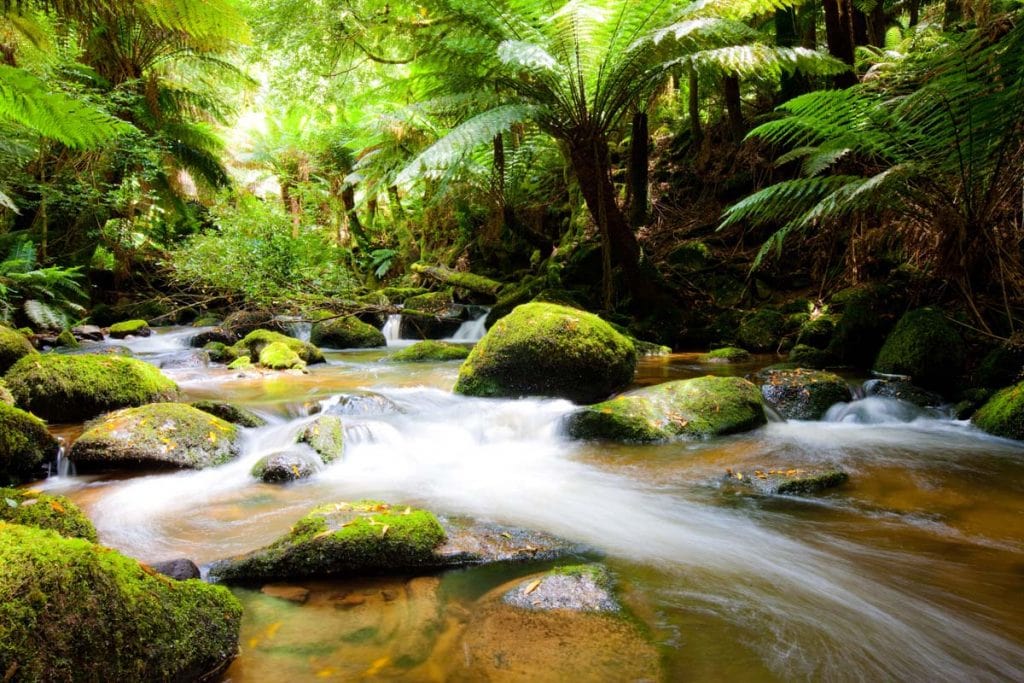 At around 90m St Columba Falls is one of Tasmania's highest, with streams of water leaping down the cliff-side in fits and starts. It is a true force of nature after heavy rain!
Getting to St Columba Falls is easy. Just keep following the road past Pyengana Dairy Company for another 15 minutes until you reach the well-signposted parking area.
More: St Columba Falls
---
3. Pyengana Pub in the Paddock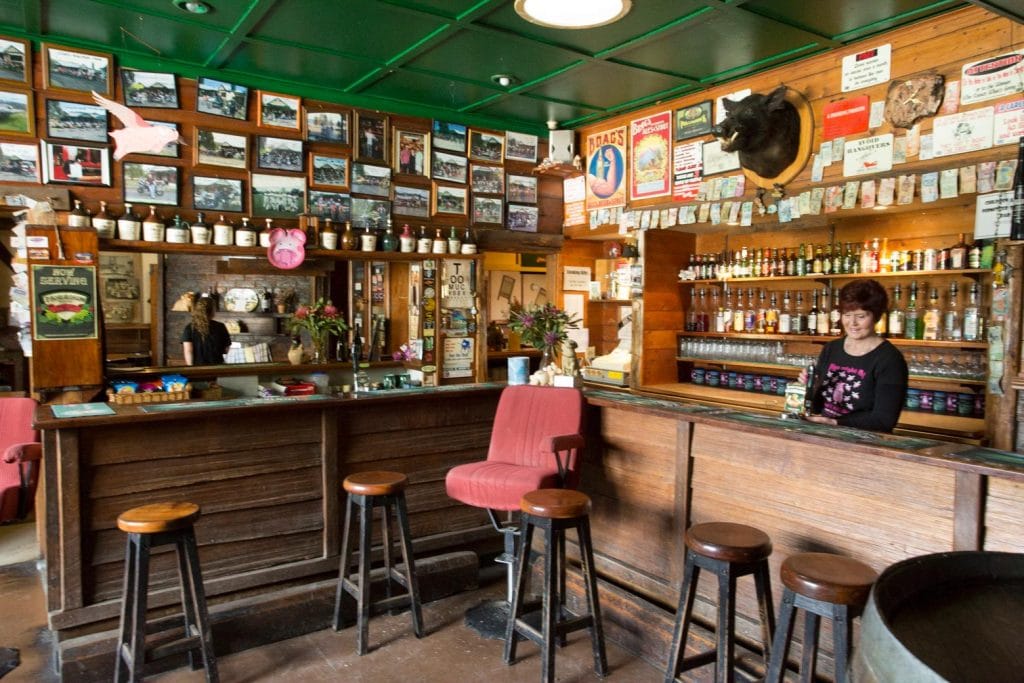 How many people can honestly say they've shared a drink with a beer-swilling pig?
No, I'm not talking about your husband!
At the Pyengana Pub in the Paddock you not only get to enjoy their honest, hearty meals, but you can visit the pig-sty and get nose-to-snout with Priscilla, Princess of the Paddock 🤣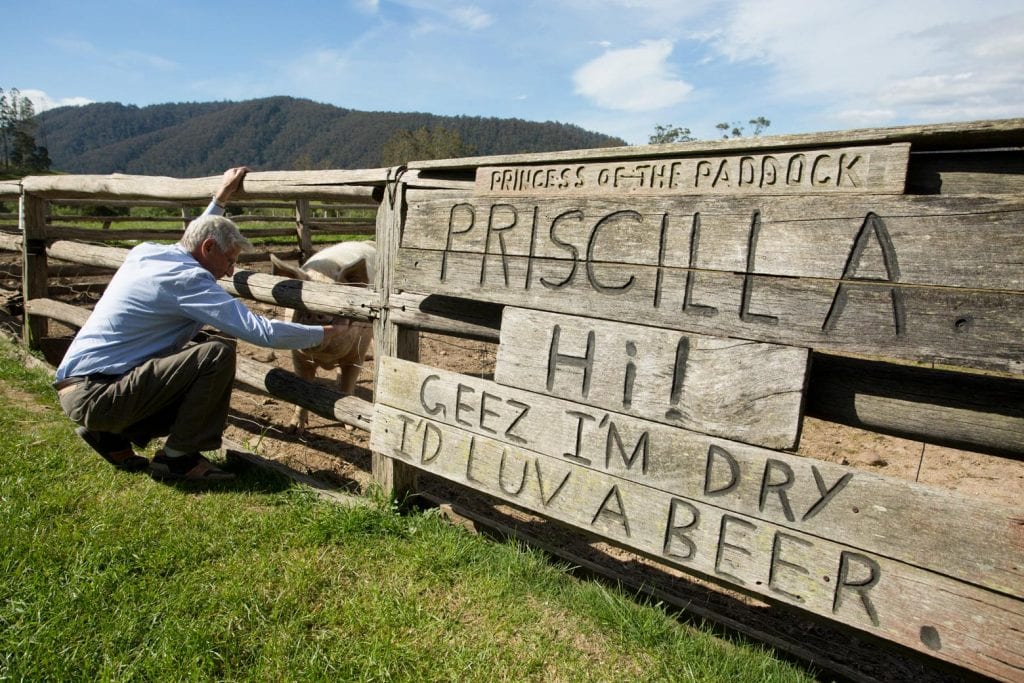 Don't worry, Priscilla gets her own very special low-alcohol brew…so no harm done…but it makes for a fantastic photo opportunity to share with your friends back home.
You'll find the Pub in the Paddock just 1 km down the road from Pyengana Dairy Company.
More: Pub in the Paddock
---
4. Mountain Bike Adventures
Tasmania has exploded onto the mountain biking scene in recent years. It shouldn't be a surprise though when you think about the terrain, natural beauty, and 'clean and green' image that combine to provide the ultimate in downhill excitement.
Blue Derby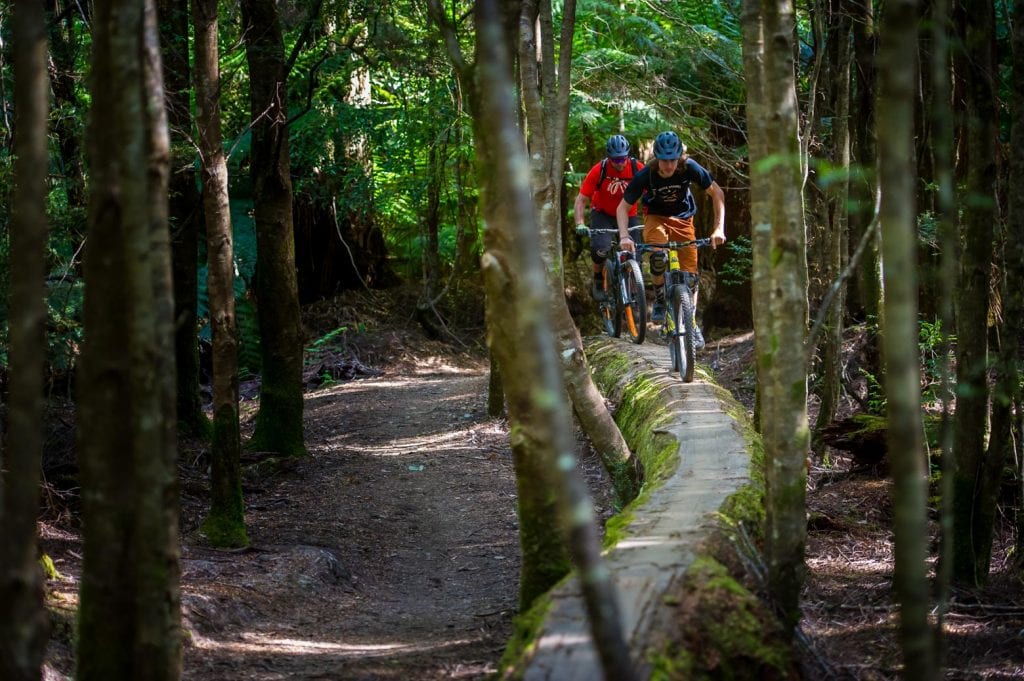 Blue Derby is where it all began, just a short drive from Pyengana. The spiderweb of trails criss-crossing the dense rainforest are so good that they even hosted the famous Enduro World Series in both 2017 and 2019.
You'll find more than 30 trails to choose from, spread across their two sites at Derby and Blue Tier, with plenty of options ranging from absolute beginner up to extremely difficult. Shuttle services to the trailheads are also easy to organise.
More: Blue Derby
St Helens Mountain Bike Trails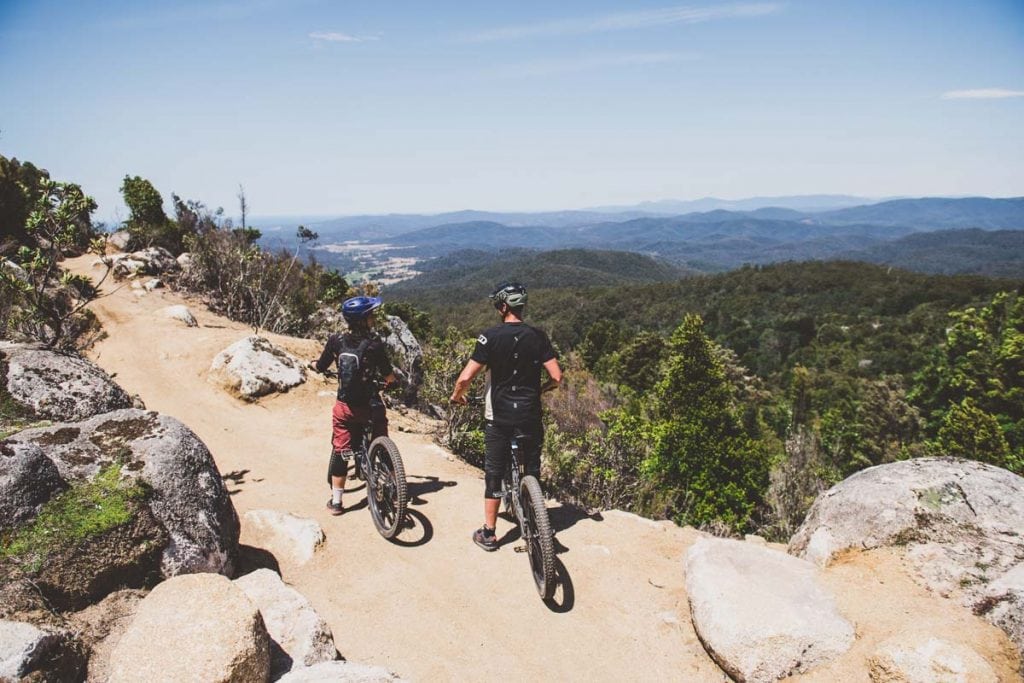 The 'Bay of Fires Trail' is the jewel in the crown for St Helens Mountain Bike Trails.
'From the mountains to the sea' is exactly what you get. Exciting downhill, cross-country cruising, and even the occasional lung-busting uphill climb as you complete this 42km long adventure.
Starting in the hills close to Pyengana and finishing at Swimcart Beach on the shores of the iconic Bay of Fires, transport is easy to organise from either St Helens or Derby. A half-way starting point is also possible if you'd prefer a shorter ride.
More: St Helens Mountain Bike Trails
---
5. Ghost Town of Lottah
When you see how quiet and sedate the pace of life is now in Pyengana it is hard to imagine how different it must have been back in the middle of the 'tin rush' of the late 1800s.
By some accounts the 'grey gold' of the region was the highest quality to be found anywhere in the world, and the ghost town of Lottah was at its heart.
There's not a lotta Lottah left now, but if you are interested in the history of the region then I recommend a visit to the Anchor Stamper [here] – the rusted remains of a massive mechanical device used to crush the ore and extract the tin. It looks like a giant medieval pipe organ, hidden among the man-ferns!
---
6. Halls Falls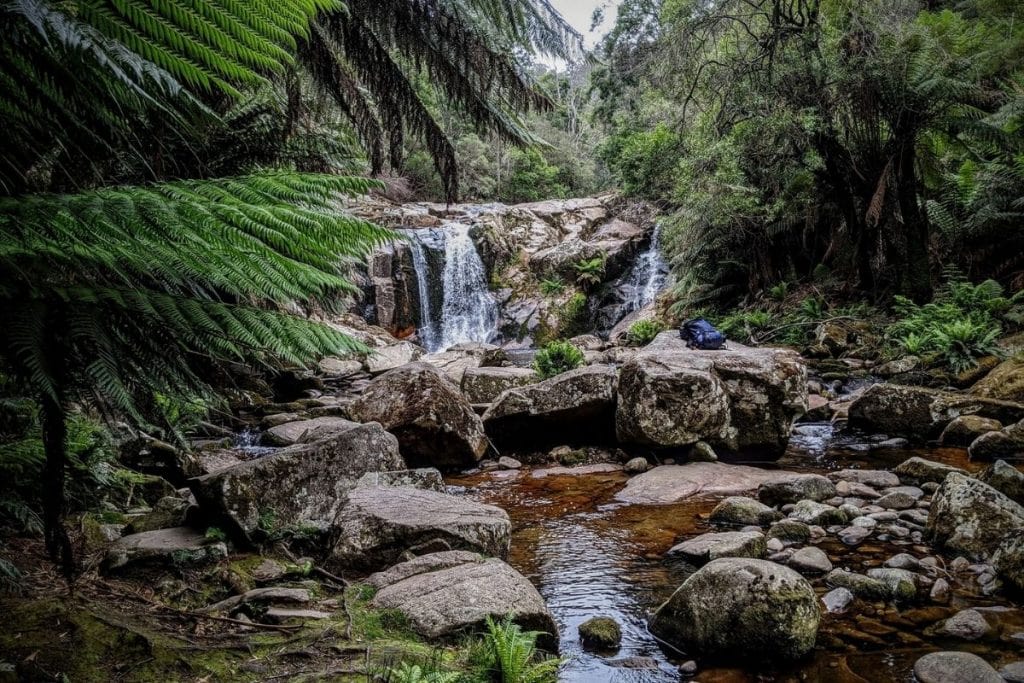 Back in the 1800s the tin miners built a weir across the Groom River to create a reliable source of water. Nearly all evidence of their presence has disappeared now, but the weir remains and creating a beautiful cascade – Halls Falls – to the pools below.
The walking trail is mostly flat, but it does get steeper close to the falls and especially if you decide to scramble down the last section to the base of the waterfall for that perfect photo. Nothing too strenuous though and worth the effort!
The Halls Falls walk will take you around an hour (return), but I recommend allowing at least 1.5-2hrs as there are a few viewing points that have recently been upgraded by the Parks and Wildlife Service, and if you're a photographer you'll easily lose track of time among the rockpools.
The car park for Halls Falls is only a 10 minute drive from Pyengana – here.
---
7. Blue Tier Reserve
You don't need a mountain bike to enjoy Blue Tier! This sub-alpine plateau has a number of short walks for you to enjoy, with the closest to Pyengana being the Blue Tier Big Tree Giant trail.
This tree is massive, and with a circumference of nearly 20m it is no surprise that it is the widest living tree in Australia
Allow around 2 hours for the return walk. Along the way there are fantastic views of the valley, lots of other huge trees like 'Chapel Tree', hand-built stone bridges, and interpretive panels pointing out some of the unique features of this ancient landscape.
Park here for the start of the Blue Tier Big Tree Giant walk.
---
Other things to do near Pyengana…
If you're prepared to travel a little bit further you'll find so many other things to do near Pyengana.
No doubt we will cover these in more detail in future articles, but for now we'll leave the googling to you!
---
Where to stay – Pyengana accommodation
As a mainly farming community there aren't many options for accommodation in the heart of Pyengana, so we've cast our net a little bit wider to provide you with some cosy and cost effective recommendations.
Of course you could always stay in the larger towns of St Helens to the east, or Derby to the west, but we want to support our rural communities, which is why we keep our accommodation options local 😊
---
Pub in the Paddock
Perfect for: Singles, backpackers, or couples who want to stay in the heart of Pyengana.
The Pub in the Paddock isn't just about eating, drinking and pigging – they also run a lovely Bed and Breakfast.
Singles, couples and families are catered for, all with shared facilities. This is the best Pyengana accommodation option if you don't want to waste any time travelling and prefer saving money instead of having all the 'bells and whistles' of a more upmarket option.
---
Pyengana Country Farm Stay
Perfect for: Families or couples looking for great value close to Pyengana.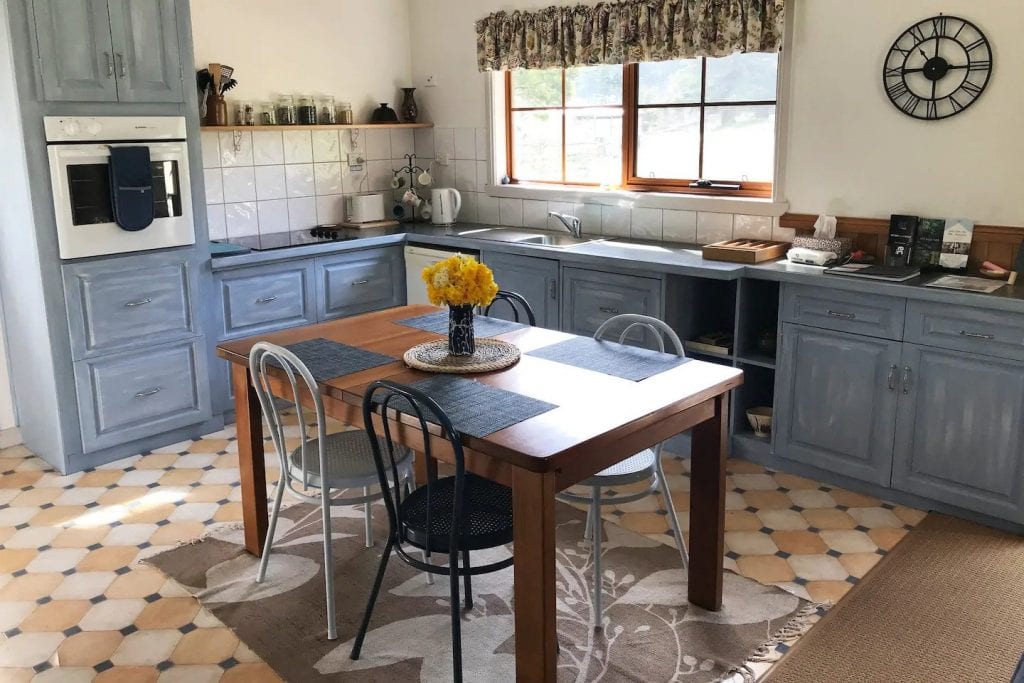 This self-contained farmhouse has got everything you need for a fantastic getaway for both couples and families.
The cottage is located on a working cattle and lamb farm, which means you can see all their animals – including very friendly dogs, horses and chooks.
Tara is your host and she gets plenty of positive feedback from her many past guests about her friendly approach, and if you're lucky you may even get to sample some of the fresh produce from her garden!
---
The Keep
Perfect for: The most special celebration for the most discerning travellers.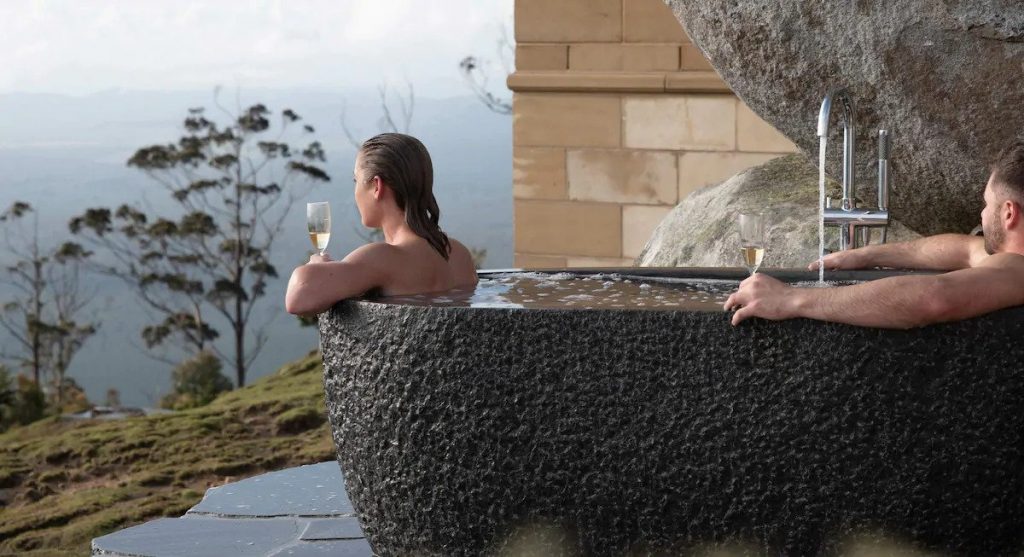 Wow…my jaw dropped when I started scrolling through the photos of this stunner.
This is the best of the best – perfect for couples wanting escape the rat race and unwind in the type of solitude only Tasmania can provide. Perched high on the Blue Tier plateau, you are guaranteed absolute privacy – essential when you see the luxury outdoor bath, begging for a couple of glasses of Tassie's finest bubbles.
Beautifully appointed in Tasmanian timbers, this retreat is your ultimate indulgence. Whether its to celebrate a special anniversary, to indulge in the most romantic of honeymoons, or to simply get away from it all and recharge your batteries… The Keep is the answer you never knew you needed.
---
Peaceful Getaway Weldborough
Perfect for: Nature lovers – couples, families, or small groups – who enjoy the quiet life.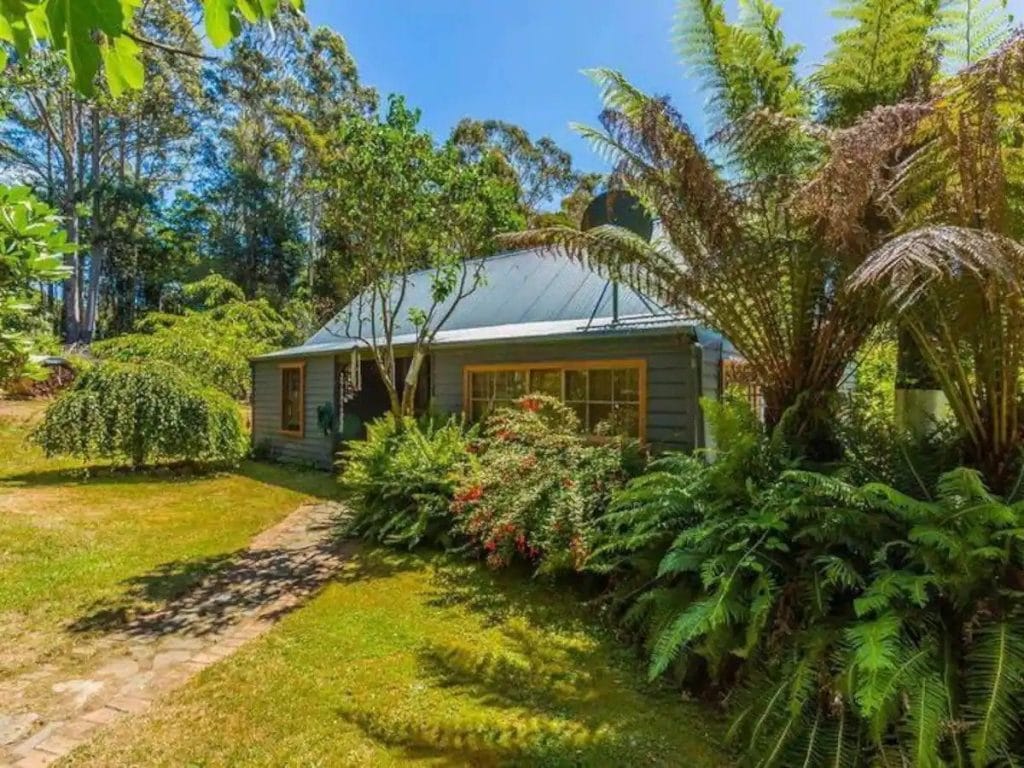 This rustic period cottage takes you back to yesteryear, without depriving you of modern day comfort.
There is a toasty wood fire for those crisp Tassie nights, board games for the kids, and a fully equipped kitchen to help keep your costs down. Oh…and don't forget the claw-foot bath and firepit out in the garden, complete with stump seating!
---
Fairfield House
Perfect for: Families and large groups looking for a holiday base with all the trimmings.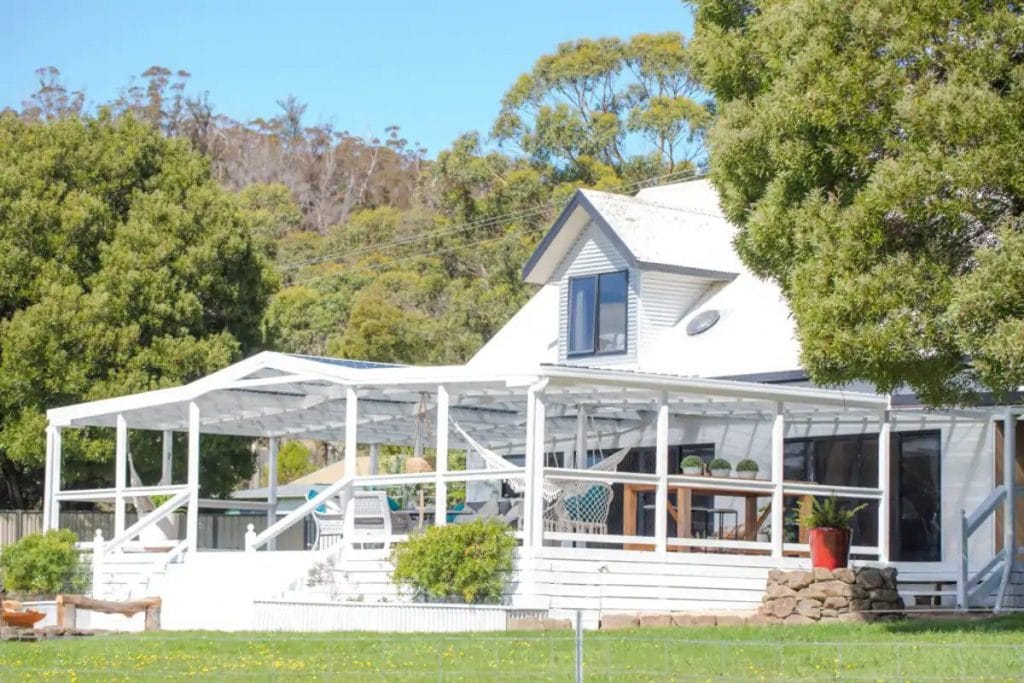 Goshen is only a few minutes from Pyengana, and as they say themselves it is, "…where you come to experience the gift of quality time between the mountains and the sea in Magical North East Tasmania with self, loved ones and nature!"
This is your home away from home, complete with a sprawling lounge room, fully equipped kitchen (including coffee machine, oven, and microwave), and a separate laundry to help your post-adventure cleanup.
The views are amazing, and you even have your own river-front access!
---
Final thoughts, and suggested reading…
We hope you've found this article helpful in discovering the beautiful region in and around Pyengana!
This article is the third in our 'Tiny Towns of Tasmania' series. Here's another couple of little gems that you'll love:
Are you still a little bit unsure which place to visit? Or maybe you'd like to bounce some ideas off other travellers or Tassie locals?
We welcome questions over at our Facebook group, so please stop by and say g'day!
We also have plenty more articles on things to see and do, and to help with your planning. Here are some of our most popular ones:

Happy travels!
Andrew.
---
Travel planning resources
Tasmania's remote location means there are internet 'black spots' across the island.
A paper travel guide or map is the perfect backup, and we love the range from Lonely Planet.