Table Cape Tulip Farm is the hottest destination to see tulips in Tasmania – but there are some tips and tricks to make the most of your tulip farm Tasmania experience. 
Keep reading to learn more about the 'Colours of the Cape', and how you can enjoy the best tulip festival in Tasmania on your Tasmania road trip!
This page contains affiliate links. If you book or buy something through one of these links, we may earn a small commission (at no extra cost to you!). Read our full disclosure policy here.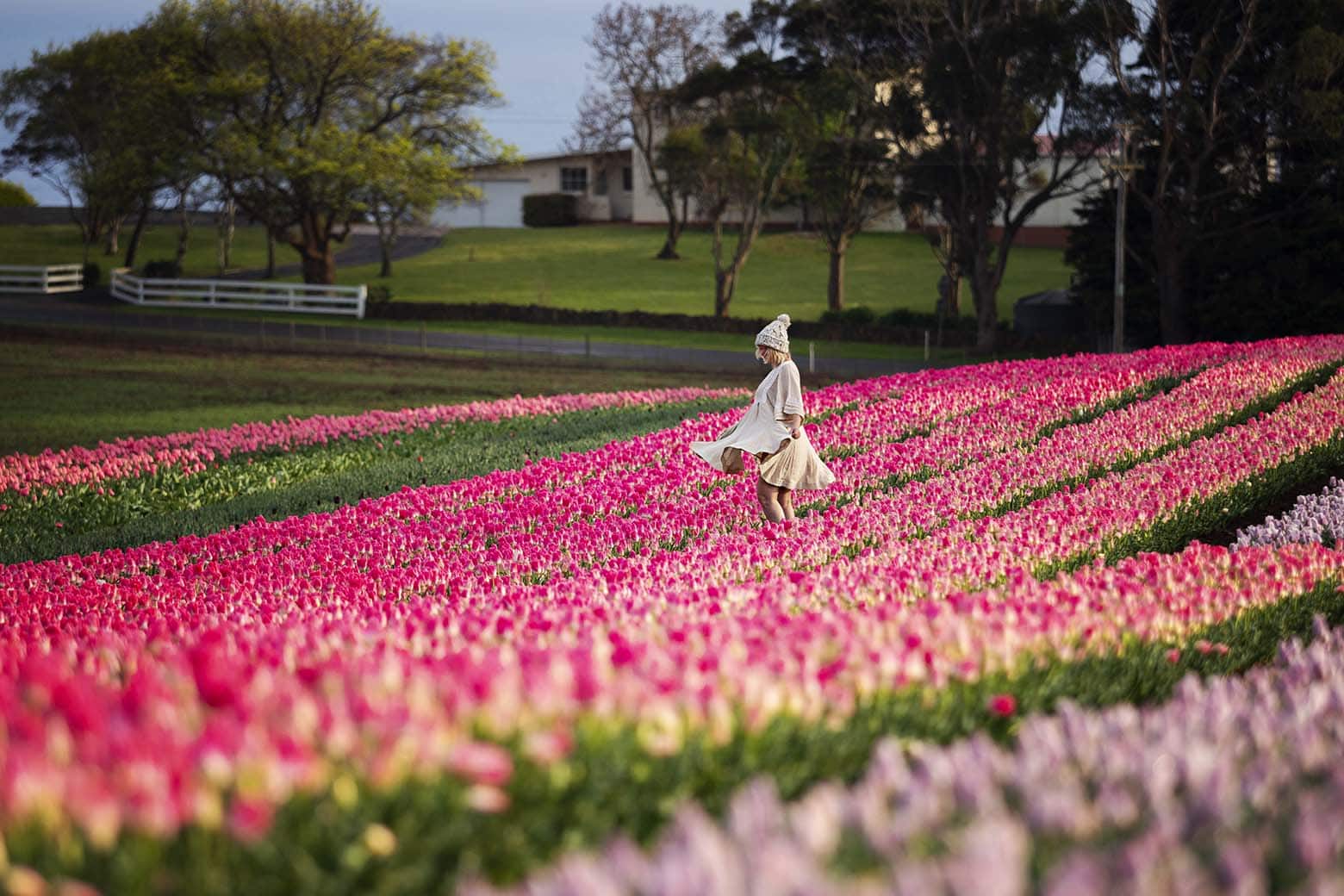 It only happens once a year, but when the tulips start flowering during September and October the tiny town of Wynyard and nearby Table Cape become Tasmania's hottest destinations!
The rainbow of colours is breathtaking, but it only lasts for 4 weeks so you need to plan your visit wisely.
Keep reading to find out more about:
Where and how to see the tulips in Tasmania on your road trip;
The best Tasmania tulip festival; and
Two 'secret' options if you're stuck in Hobart and can't make the trip north, but still need your tulip fix
Table Cape Tulip Farm Tasmania
You can't miss Table Cape and Table Cape Tulip Farm Tasmania as you approach the northern outskirts of Wynyard on Tassie's Cradle Coast.
From the cold, tumultuous waters of Bass Strait its cliffs soar more than 180m into the sky to a flat topped 'table' of gently undulating fields.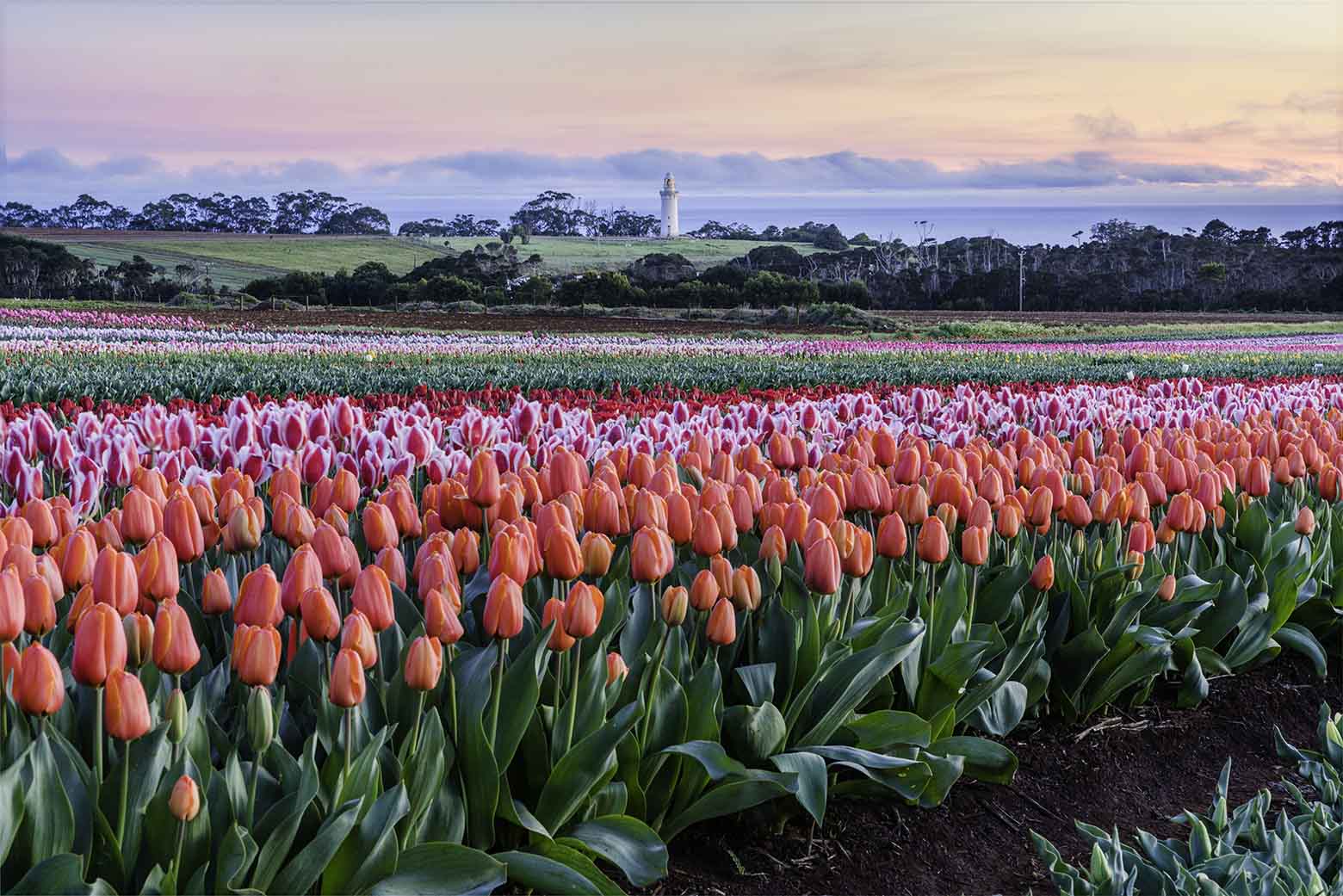 It might not be as spectacular as the iconic 'Nut' at Stanley (just a 45 minute drive up the road), but the similarities are striking. And that is because Table Cape is also the remains of an ancient volcano crater.
The volcanic soils are some of the most fertile in Tasmania, making it ideal for growing tulips – as the Roberts-Thomson family have done for more than 30 years at Table Cape Tulips Farm.
In fact, the Tasmanian tulips grown at Table Cape are such high quality that they even sell them back to the Netherlands, the home of the tulip!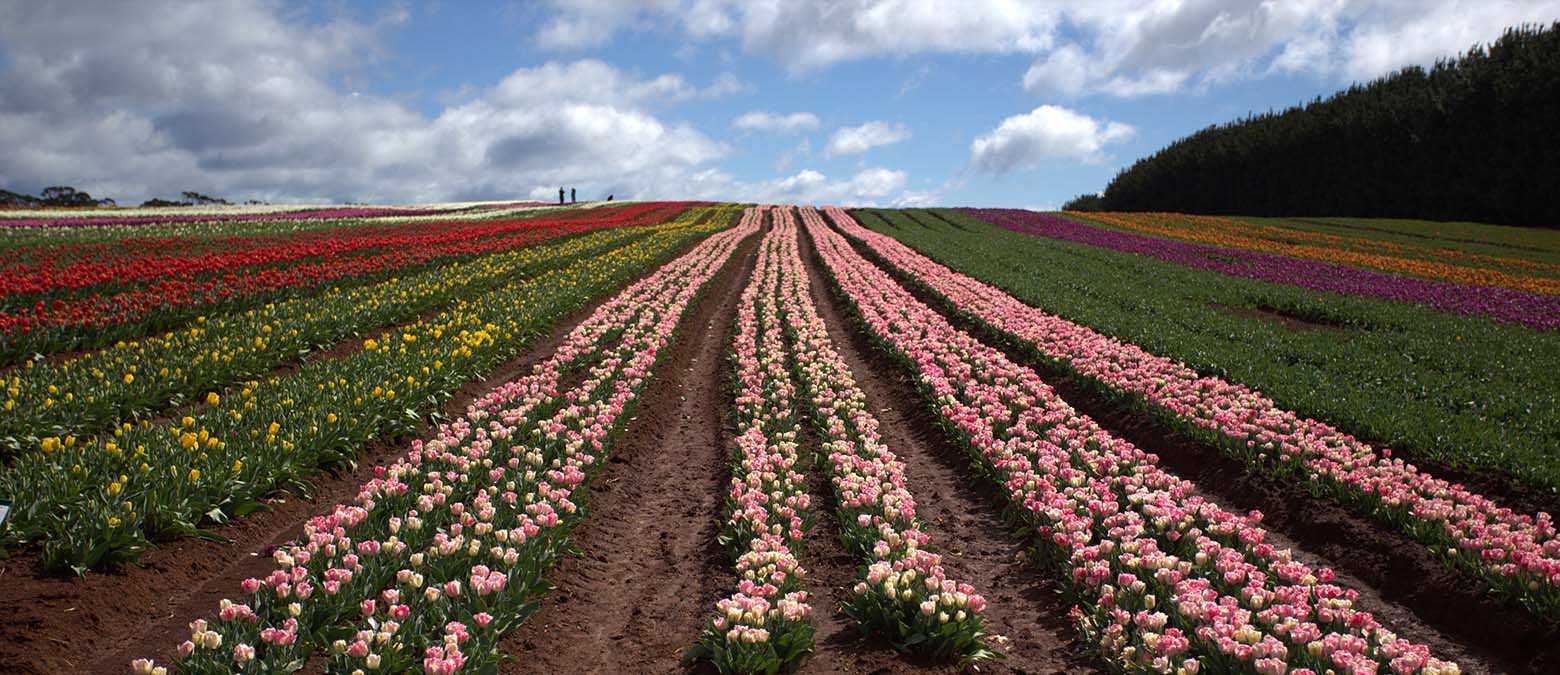 It's a shame that tulips only flower for such a short time, but when they do they are bloomin' marvelous – and you can't get a better backdrop than Table Cape.
From a distance it's like a patchwork quilt, but up close you start to see row upon row of colour stretching to the horizon. Look closely and you might even spy an 'imposter' tulip, with a different colour to the rest – it's like finding a four-leaf clover!
Instagram Tips
Table Cape Lighthouse looks fantastic positioned in the background of your photos.
If you can, try to get your camera down low for a different perspective and make the most of the 'leading lines' created by the rows of colour.
What to wear at Table Cape Tulip Farm Tasmania
If the weather is perfect then anything goes, but if it has rained, or rain is forecast, then you'll appreciate a pair of sturdy shoes with a closed toe.
The soil at Table Cape is extremely rich, and all it takes is a little bit of water to turn it into sticky mud. Not everyone travels with a pair, but gumboots would be perfect. And don't forget to pack a large plastic bag in the boot/trunk of your car to store your muddy shoes afterwards
How to get to the Table Cape tulips
Getting to Table Cape Tulip Farm is very easy from Launceston, Devonport, Wynyard and Stanley. See my map below for the best routes.
Allow the following driving times:
From Launceston – 2 hrs by car (2hrs 30mins for larger vehicles)
From Devonport – 1 hr by car (1hr 30min for larger vehicles
From Wynyard – 10 minutes
From Stanley – 45 minutes by car (1hr for larger vehicles)
Entry fees and opening times
Adults – $15 | Concession – $13 | Children (6-17yrs) – $2 | Children under 6 are FREE
Open 9am to 4:30pm daily, from 23 September to 31 October – the best days to see tulips in Tasmania are in the second week of October.
Outside these dates the farm is closed to the public. Bulb sales are possible, but contact them before visiting as they may not be in the office.

To stay up to date for opening days and times for the 2023 tulip season, follow their official Facebook page here.
Toilets are available at the farm, and there is a small gift shop and cafe on site where you can soak up the views and sip on a hot coffee or enjoy a Devonshire Tea, before picking up a souvenir of your time on 'the Cape'.
There is plenty of parking available for cars and vans.
Other activities in the nearby area include
Seeing Table Cape Lighthouse
Soaking up the views from Table Cape Lookout
Bushwalking at Rocky Cape National Park [click here to learn more]
A day trip to the 'Nut' at Stanley
Feeling the sand between your toes at Fossil Bluff 
Where to stay near the tulip farm
If you are looking for accommodation that is close to the tulip farm you will be pleased to know there are plenty of good accommodation options in nearby Wynyard.
My wife and I loved spending a weekend at the gorgeously designed Coastal Pods Wynyard (perfect for couples), while families will enjoy Leisure Ville Holiday Centre, complete with heated pool, games room and kids playground.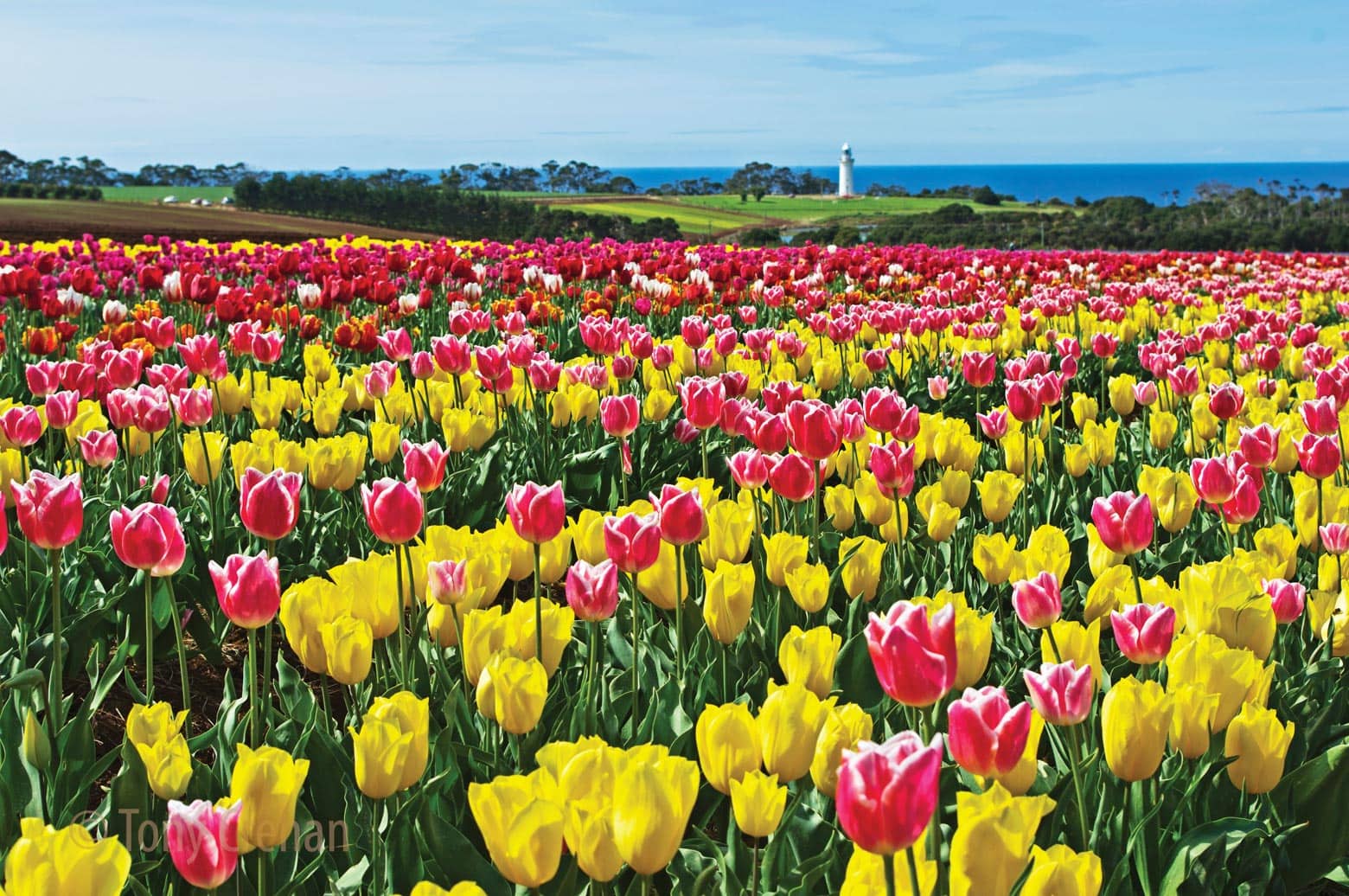 Spring Loaded Program - Featuring the 'Bloomin Tulips' Wynyard Tulip Festival Tasmania
With such a colourful display right on their doorstep it is no surprise that the town of Wynyard celebrates with a festival at the same time – the Wynyard Tulip Festival Tasmania – saying goodbye winter and hello spring!
There is plenty happening throughout October as part of the month-long 'Spring Loaded' program – including the quirky Gopher Race and a kaleidoscopic Colour Run – but the main festival on
14 October 2023 is the biggest and best event.
Throughout the day you'll be swept up in the fun of Bloomin Tulips. A sailing race often starts the day, and the Foreshore Market is always a good place to taste some of the Cradle Coast's best produce. Music, stilt-walkers, dancing and plenty of activities are always on the go for the kids, and you'll love the 9pm fireworks that bring the day to a close.
You can find out more here.
Cost: Free!
Location: Various locations along the Wynyard waterfront, centred around Gutteridge Gardens.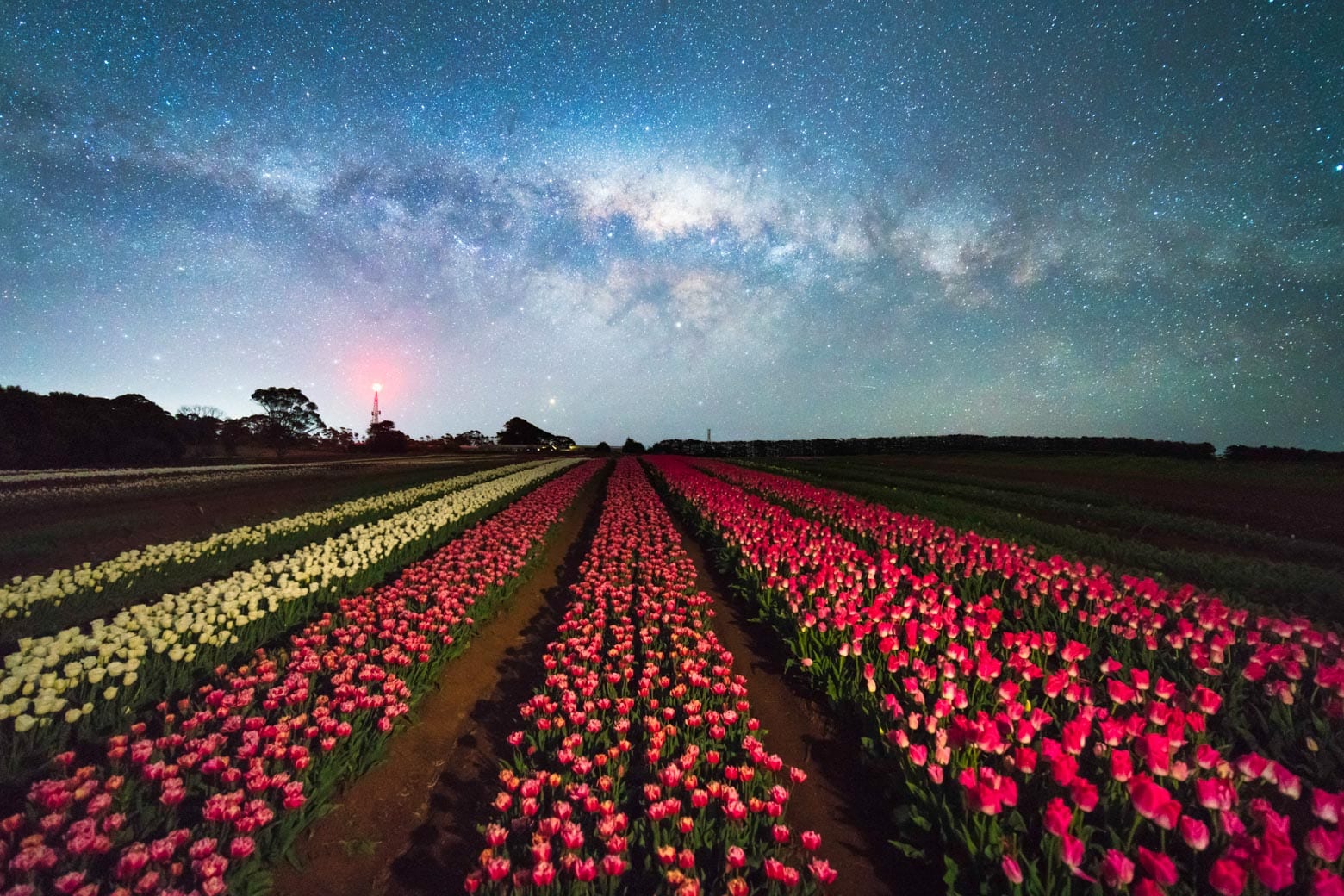 If it wasn't enough to have 3 weeks of festivities and a farm full of tulips, Table Cape Tulip Farm also puts on a wonderful day full of music called 'Tunes in the Tulips'.
Dates are yet to be announced for 2023 (I will update this article once I have more info for you), but you can look forward to 3hrs of eclectic music from some amazingly talented musicians!
With a million tulips as the backdrop, what's not to love?
Cost: Adults (16+) $28 | Kids (11–15yrs) $12 | Kids (6–10yrs) $6 | Kids under 6yrs FREE
Date: TBA
Time: TBA
Tickets: TBA
Location: Table Cape Tulip Farm
Where to find tulips in Hobart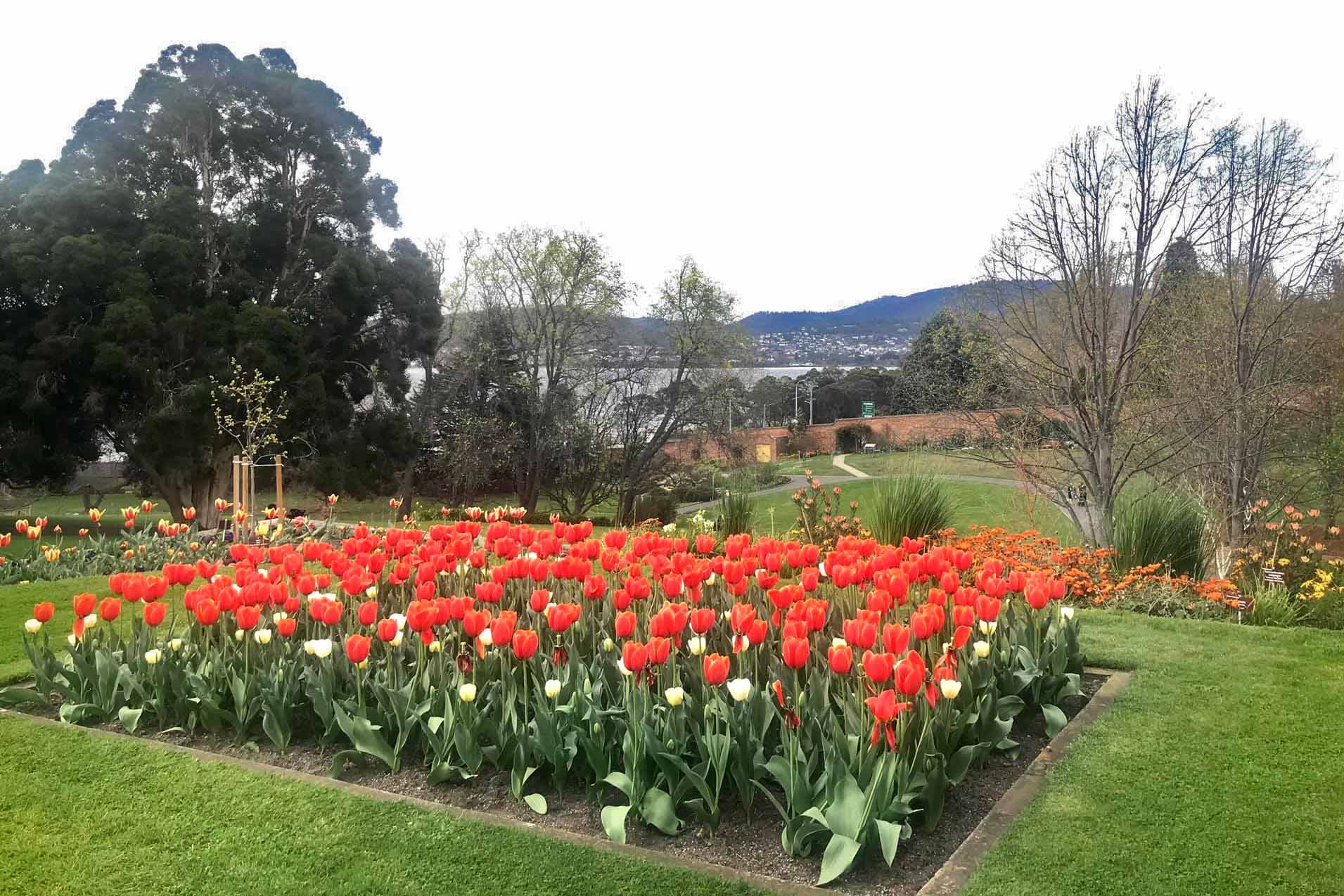 Sometimes it simply isn't possible to make the 4-hour journey all the way from Hobart up to Wynyard to see the tulips.
The good news is that you can still experience the rainbow of colours in Hobart!
The Royal Tasmanian Botanic Gardens are one of my favourite places to spend a lazy afternoon, and in late September you'll find plenty of tulips in full bloom – for some reason they seem to bloom a little earlier than up north
Entry is free, and the lawns are a wonderful place to spread a blanket and enjoy a picnic.
Location: Lower Domain Rd, Hobart
Hours: May-Sept from 8am to 5pm | Oct-Apr from 8am to 6:30pm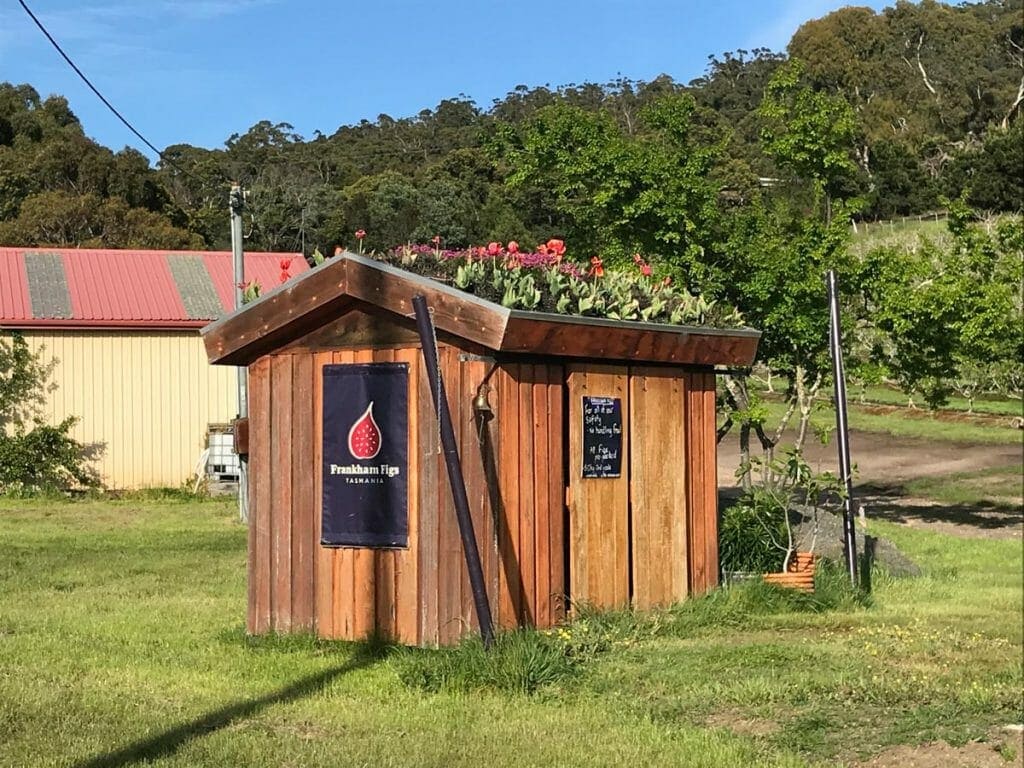 Have you ever heard of a 'tulip roof' before?
Me neither!
It was while driving into Hobart one September morning that I looked through the gates of Frankham Figs and, to my surprise, saw that they had grown a garden of bright red tulips on top of their roof!!
This wasn't a once-off either, as they reappeared again in 2021. They are very easy to find – just keep your eyes open as you drive from Hobart to Richmond Village. Frankham Figs are located on the left hand side, just before you get to the Dulcot turn-off.
Why not pick up some of their tasty fruits while you're there as well?
Cost: FREE
Times: September and October, any time
Location: 1 Boyes Street, Dulcot
I hope you have found this guide useful in planning your Tasmania road trip holiday.
For plenty more articles like this please keep browsing the website. Or visit my Facebook group to share your tulip photos and get free travel tips and advice from fellow road trippers!
Happy travels,
Andrew.
Travel planning resources
Tasmania's remote location means there are internet 'black spots' across the island.
A hard copy travel guide or map is the perfect backup, and we love the range from Lonely Planet.