The lavender fields in Tasmania are without doubt some of the most beautiful in the world. Keep reading to learn more about the best Tasmania lavender farm – including FREE options – and where to stay to enjoy this wonderful time of year!
This page contains affiliate links. If you book or buy something through one of these links, we may earn a small commission (at no extra cost to you!). Read our full disclosure policy here.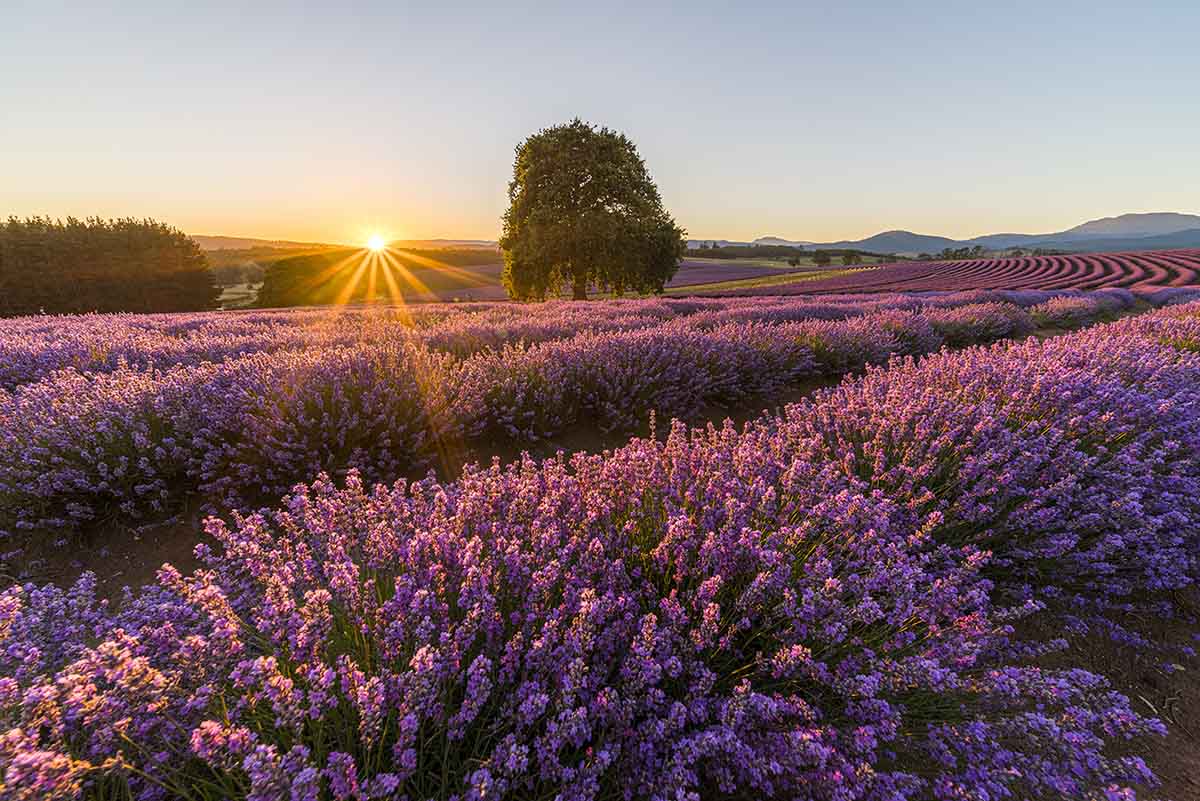 So many of Tasmania's natural treasures are here forever – fixed, immovable and rock solid.
But sometimes it is the fleeting wonders, here for a season and just a memory the next, that make the biggest impact.
The lavender fields in Tasmania are something you need to see, smell, and feel to believe.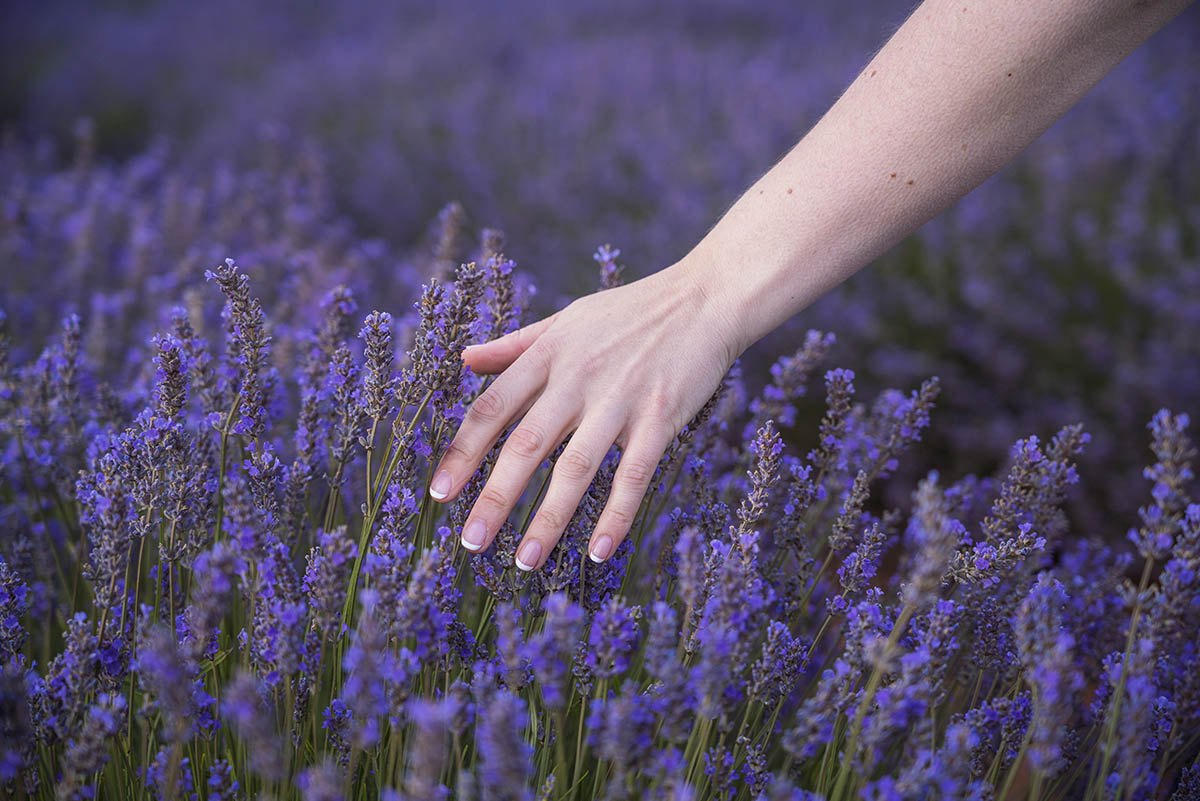 Row upon row of violet, mauve and indigo reaching for the broad horizon – delicate tendrils of lavender essence dancing on the breeze and soothing the soul – dark soil radiating the warmth of the day and framing the magnificent purple blooms.
It doesn't last forever, but this ephemeral quality is exactly what makes a visit to the Tasmania lavender fields so special and unique.
A lot of guides will only show you one, or maybe two of the biggest lavender farms in Tasmania. 
Not this one! 
I've dug deep to find you six places in both northern and southern Tasmania to experience this summer spectacular, and to find the perfect souvenir or gift for family and friends.
Where to find the best lavender farm? Tasmania!
There are two large lavender fields in Tasmania where you can walk among the flowers – Bridestowe Lavender Estate and Port Arthur Lavender Farm Tasmania.
There are also five other places where you can either see lavender flowering, or where you can buy lavender perfumes, beauty products, oils and other aromatic souvenirs or gifts.
Keep reading to find out more about each place!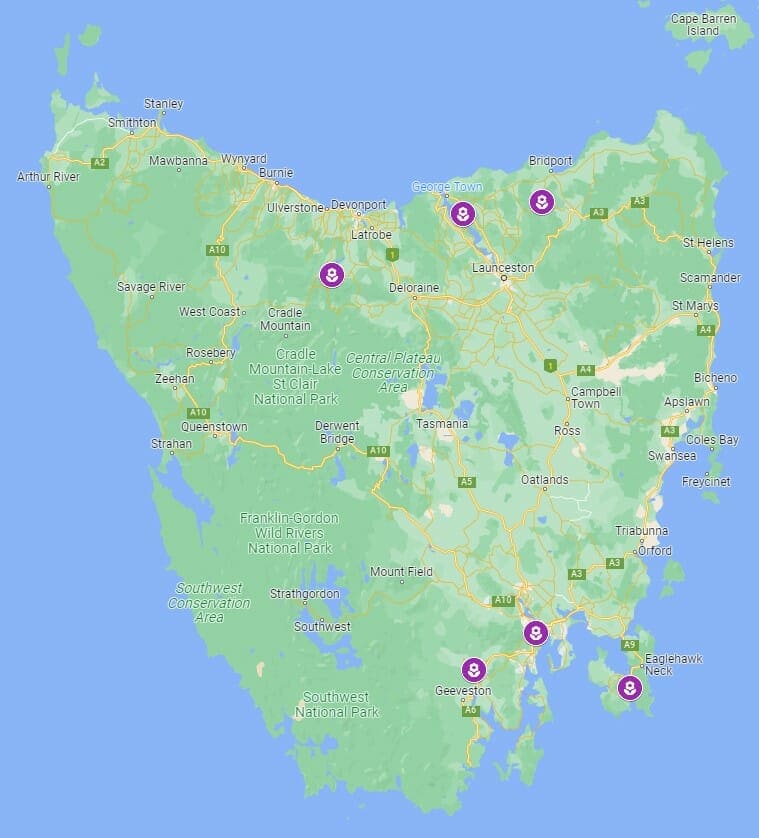 When to visit for the Tasmania lavender season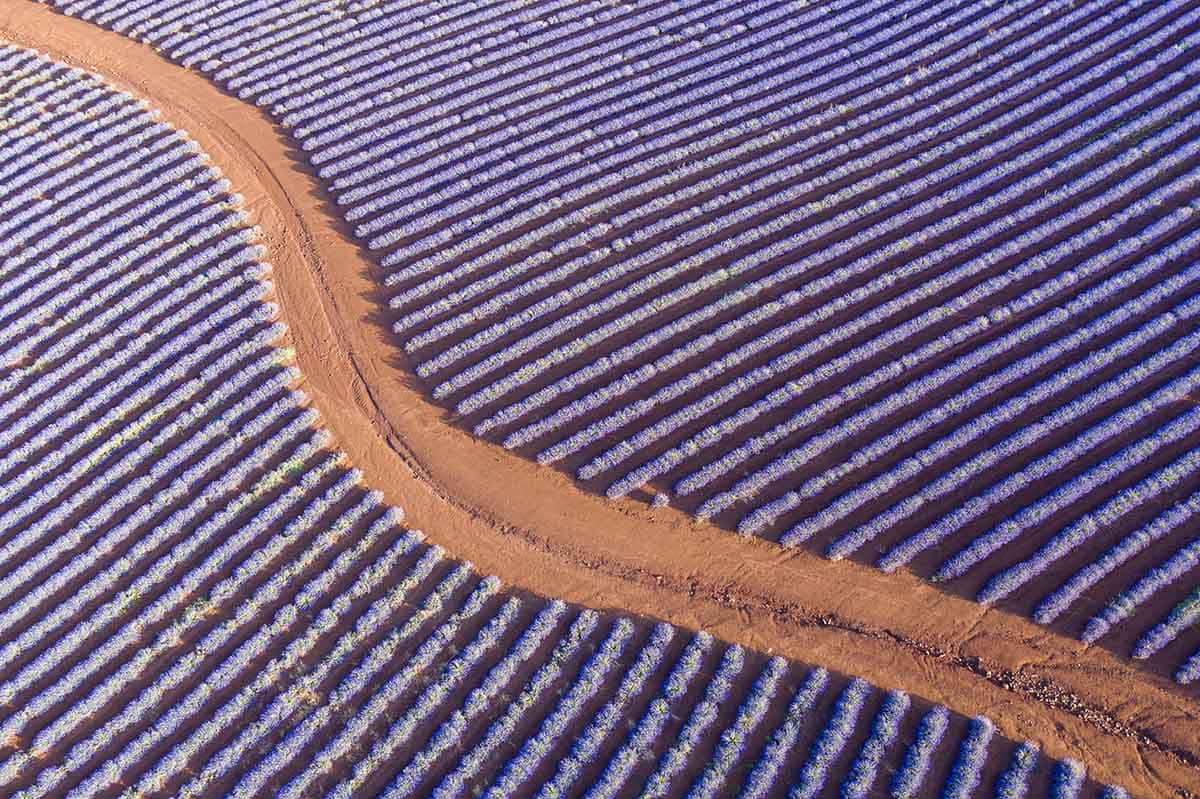 If you love your lavender then you need to schedule your Tasmania road trip for the southern summer – from December through to February.
It would be a dream come true if the lavender in Tasmania could flower year-round, but unfortunately that isn't the case for the main varieties that most businesses rely on for their perfume and essential oils.
You may find that the flowering season starts a little earlier, or finishes later depending on temperatures and rainfall, but late December and early January is when the lavender fields are at their finest.
Don't stress if you can't be there for the Tasmania lavender season in summer, because you can always visit the Lavender House in the Tamar Valley year-round – I have all the details below!
1. Bridestowe Lavender Estate Tasmania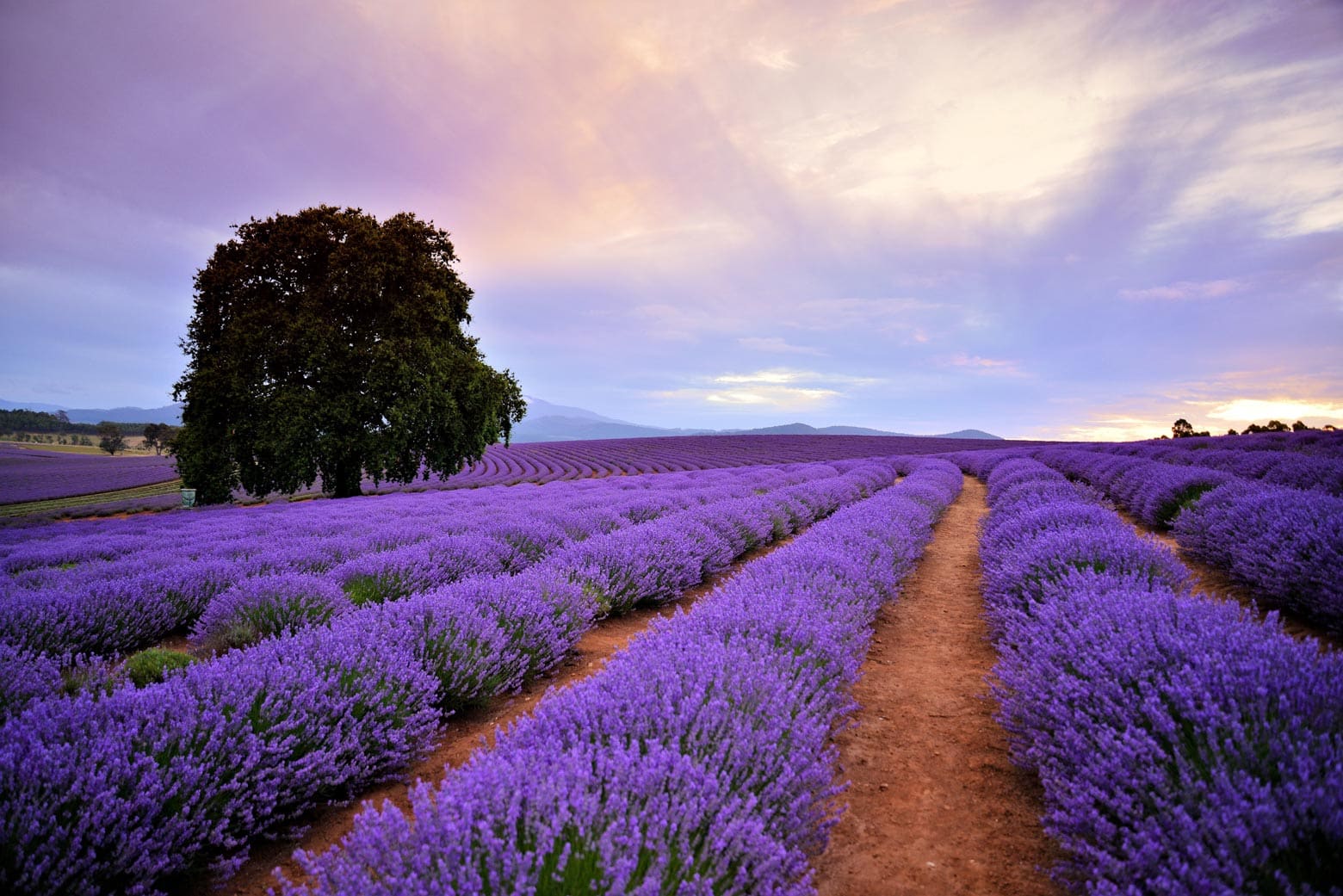 Tasmania's French-affair with lavender all began here, at Bridestowe Lavender Estate back in the 1920s.
With decades of refinement under their belt, the quality of the lavender produced on this estate – the largest privately owned in the entire world and less than an hour from Launceston – is as good as you will find anywhere on earth.
And those views…wow!!
Bridestowe lavender farm is one of Tasmania's most photographed locations, and when you go for a lazy stroll along its gracefully curving rows of mauve you'll have plenty of fun capturing your own piece of lavender Insta-magic.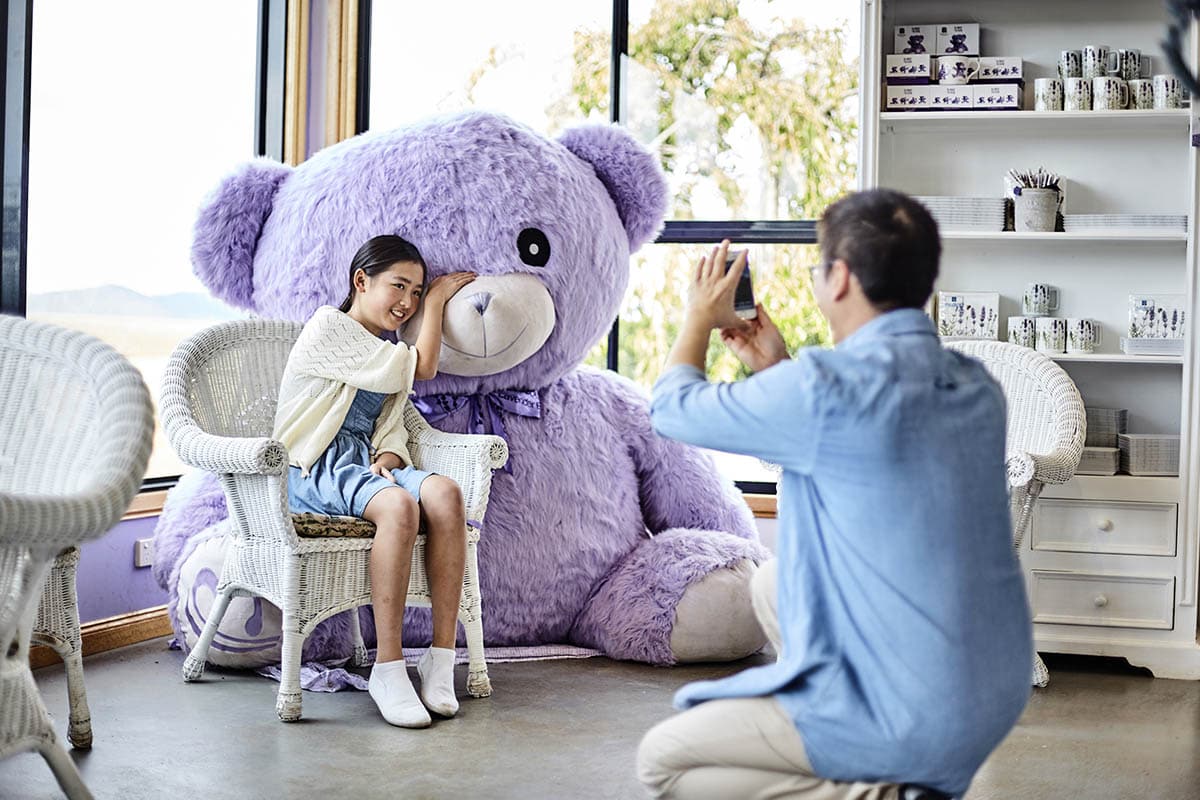 At the visitor centre there are many souvenir options. Bobby the Bear is a popular keepsake, or you can lose yourself in all the indulgent lavender-inspired spa products.
After you've finished exploring the grounds – guided tours are available – make your way to the cafe to sample the delicious range of sweet and savoury seasonal dishes, including their signature lavender scones!
To visit this lavender farm, Launceston is a great place to base yourself – or you could find accommodation in nearby Scottsdale, or near the Bay of Fires at Beaumaris Beach.
There is a handy shuttle bus in December and January for visitors staying in Launceston, with two morning departures and an afternoon option during peak times. Click here to check availability and to make your booking.
Cost: Peak season (Dec-Feb) – $20 entry per adult, including a guided tour | Rest of the year – FREE, but no guided tours
Best time to visit: Mid-December to mid-January (sometimes the season extends to late January or early February)
Times: Daily from 9am – 5pm (exc. Christmas Day)
Where to stay: Anabel's of Scottsdale (Scottsdale) | Change Overnight (Launceston)
2. Port Arthur Lavender Farm Tasmania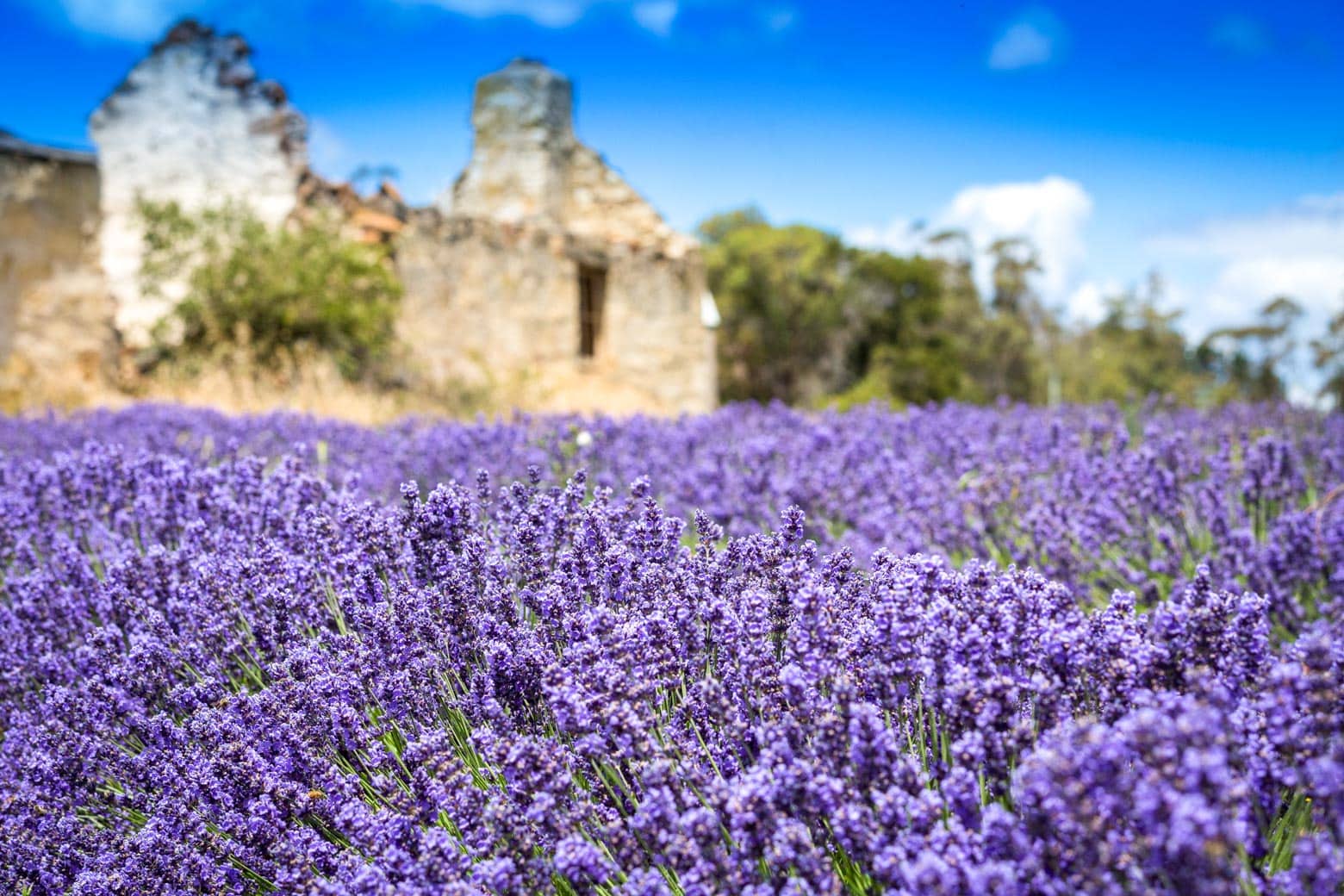 Port Arthur Lavender Farm Tasmania couldn't be any more different to Bridestowe. 
With soaring eucalypt forests on one side, the icy waters of Long Bay on the other, and the ruins of Port Arthur Historic Site just minutes down the road, this is a truly unique place to go in search of lavender – and it is completely FREE!
Wandering along the rows of colourful lavender is encouraged, and self-guided walks are also available if you'd like to learn more about the farm. 
If you're feeling hungry you'll love the menu at their on-site cafe. I recommend the lavender-infused icecream!
After a delicious meal I also recommend perusing their sensational gift shop. With plenty of lavender-related perfumes, skincare products, handmade crafts and other souvenirs available – it's your one-stop-shop for family gifts.
The really good thing about Port Arthur Lavender Farm is its accessibility. It is only a 1.5hr scenic drive from Hobart, or an easy add-on if you're already planning on visiting Port Arthur.
Cost: FREE
Best time to visit: December – Port Arthur blooms early in the season
Times: Daily (excl. Christmas day). January to Easter – 9am to 4pm. Other months – 10am to 4pm (check) 
Where to stay: Stewarts Bay Lodge | Port Arthur Villas
 Can't get to Port Arthur?
Port Arthur Lavender Farm has opened an amazing store called the 'Tasmanian Lavender Company' in historic Richmond Village, just a 20 minute drive from Hobart. 
This is an ideal option if you are short on time and can't get to their farm on the Tasman Peninsula, as they stock all the same amazing lavender products in one easily accessible location!
Open 7-days, from 10am to 3pm.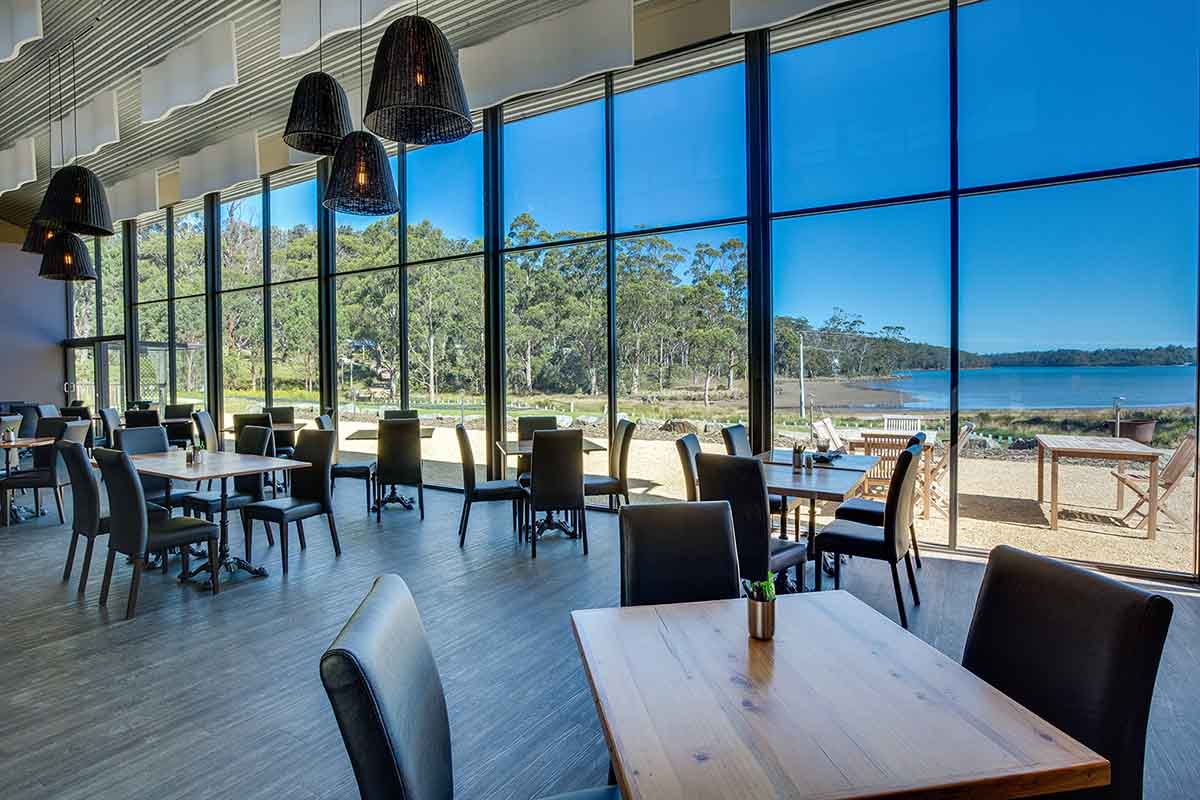 3. Lavender House Tasmania (closest lavender farm to Launceston)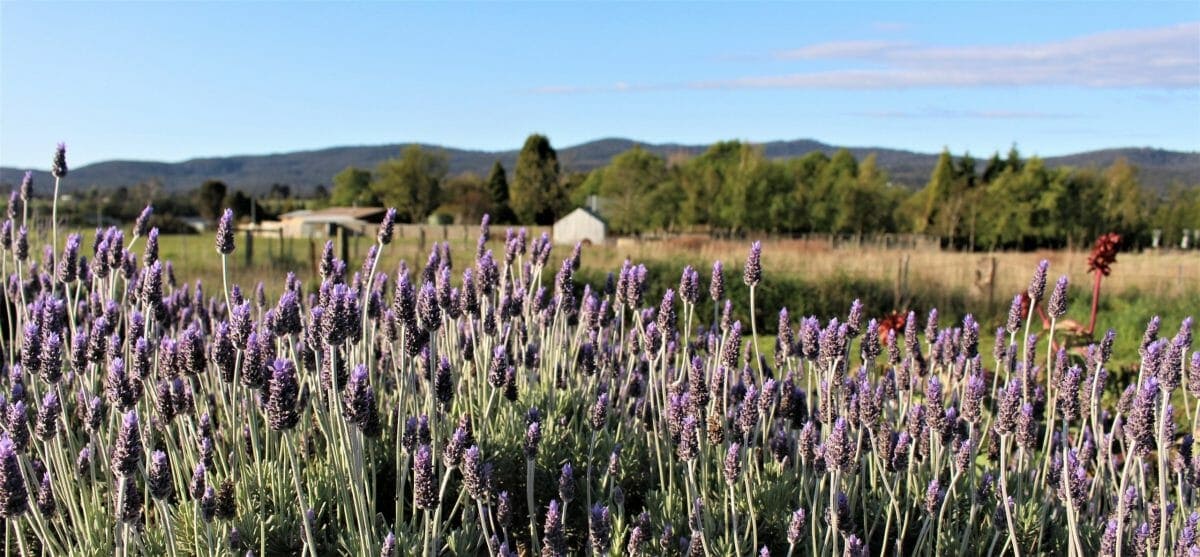 The Tamar Valley is most famous for its aromatic wines, but nestled away at its northern end, just 40 minutes from Launceston, you'll find the fields of Rowella lightly infused with with the lingering scent of lavender.

For more than 30 years Lavender House Perfumery has been creating dozens of lavender-scented perfumes, healing balms, soaps and other self-care indulgences.
The gallery and working perfumery are at the centre of everything Tony and Denise do, but you'll also love the variety of lavender plants in their sprawling gardens. Unlike the larger lavender fields in Tasmania it doesn't matter what time of year you visit because at least one variety will be in bloom.
Guided tours aren't available, but you are free to browse their amazing shop and see them at work inside the perfume distillery at your leisure.
Cost: FREE
Best time to visit: All year, but there will be more flowers in summer
Times: Tuesday to Friday – 10am to 3pm | Sunday – 10am to 3pm
Where to stay: Jensens Bed and Breakfast (Beauty Point) | Stillwater Seven (Launceston)
4. Tazmazia and the Village of Lower Crackpot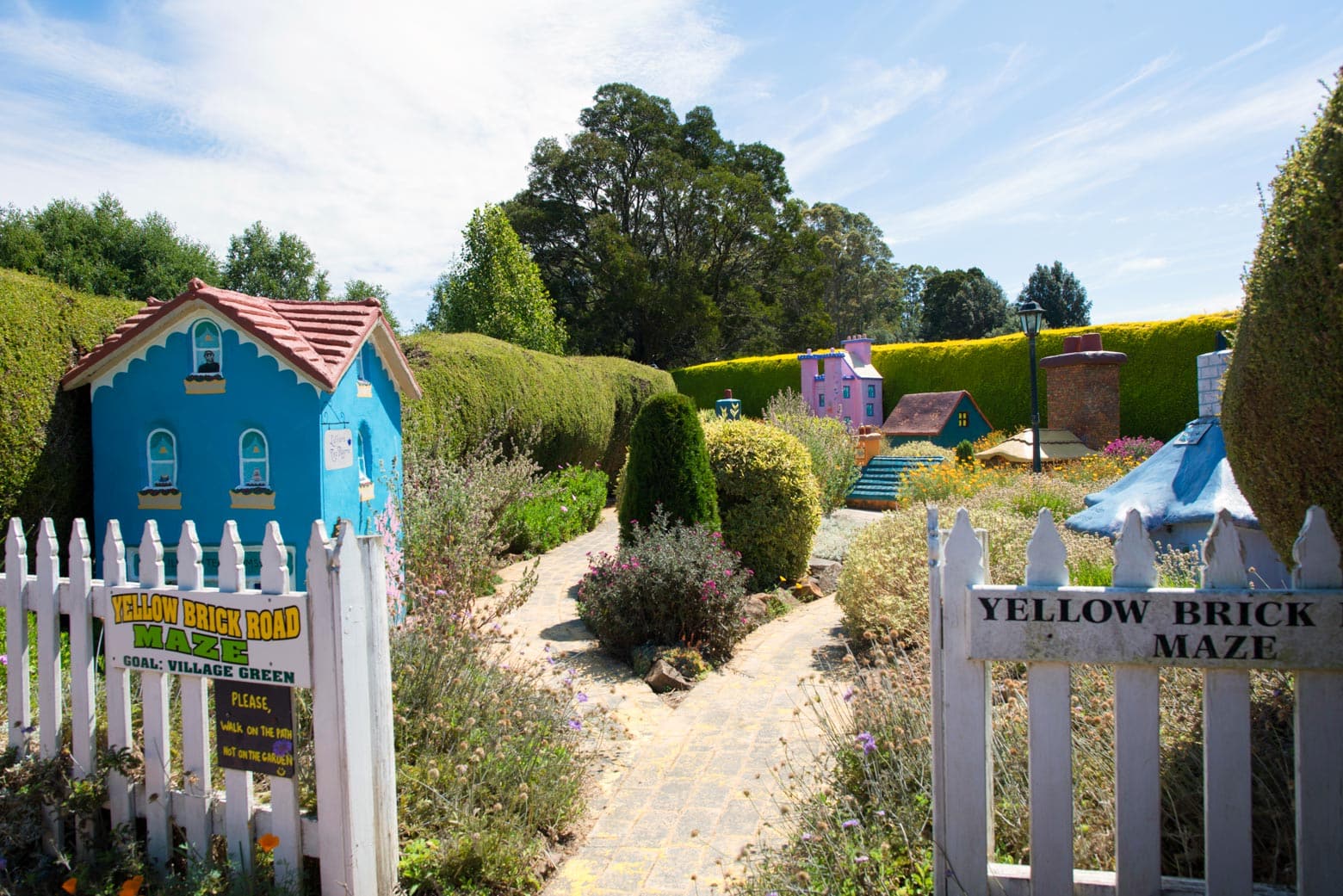 And now for something very different – Tazmazia and the Village of Lower Crackpot 😀
This quirky attraction has been a favourite with both children and adults for years now.
The main attractions are the natural mazes that wind their way across the property – be careful or you will lose yourself for hours – and the tiny 1/5 scale model village of Lower Crackpot.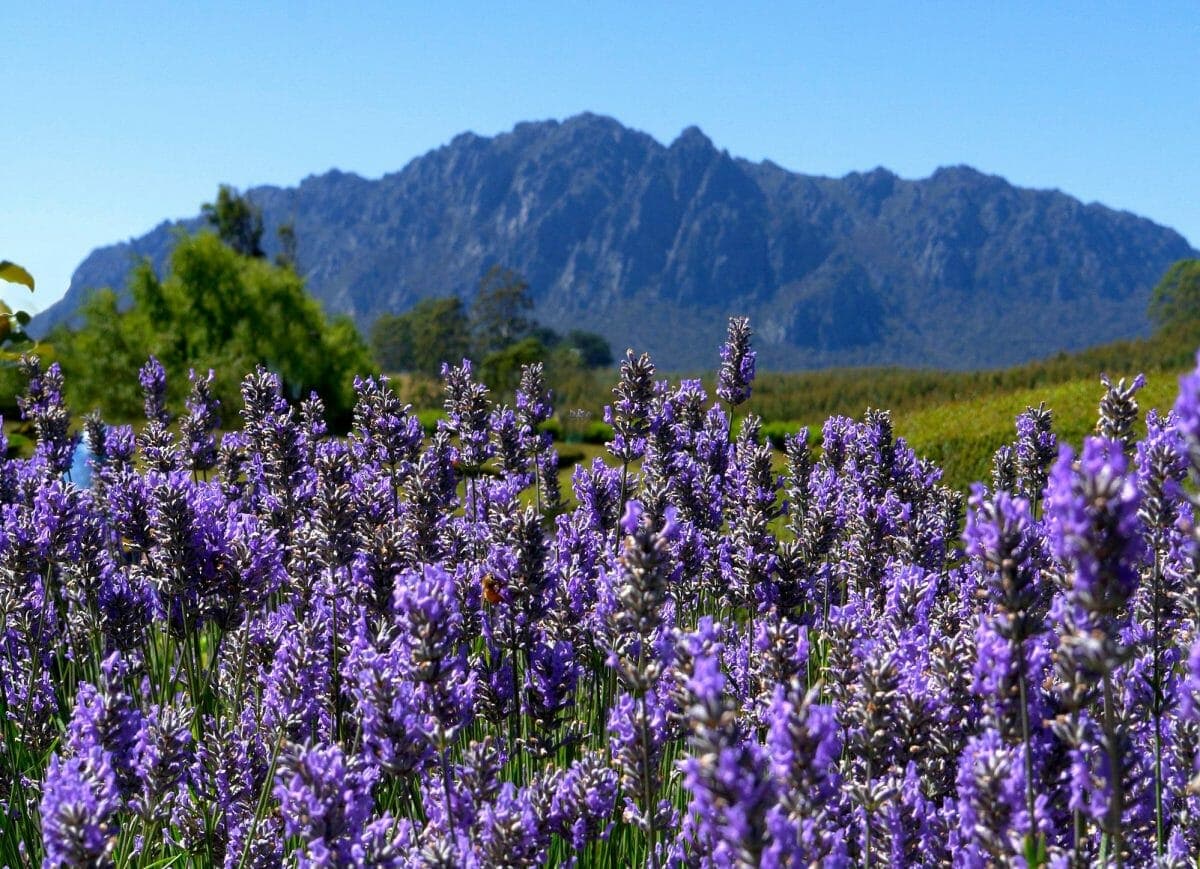 Look more closely though and you'll notice that there is also a working lavender farm at the front of the property, with the majestic peaks of Mt Roland a glorious backdrop.
Cost: Adults – $30 | Children – $14.50
Times: Open daily, 10am to 4pm (check)
Where to stay: The Station House
5. Tasmania Lavender Gifts (your closest option to a lavender farm Hobart)
If you are looking for a Tasmania lavender farm, Hobart isn't normally the first place that comes to mind. But don't be disappointed because Tasmania Lavender Gifts might be exactly what you are looking for!
"Beautiful rows of purple scent,
Lavender in the breeze,
Gently drifting through the fields,
Puts mind and soul at ease."
For more than 30 years now they have been setting up their stall at the famous Salamanca Market in Hobart, providing visitors with a wide range of Tasmanian lavender products.
Flowers, oils, herbal teas, and even 'Bobby' the Tasmania lavender bear and other Bridestowe products – just in case you couldn't visit Bridestowe Estate Lavender Farm.
A visit to the Salamanca Market on a Saturday morning is a must for every visitor to Hobart, and it is definitely worth your time to stop by and wrap up your holiday souvenir shopping.
Location: Salamanca Market (Site #287, Centre Aisle, near Wooby's Lane)
Times: Every Saturday from 8:30am to 3pm
Where to stay: Galleria Salamanca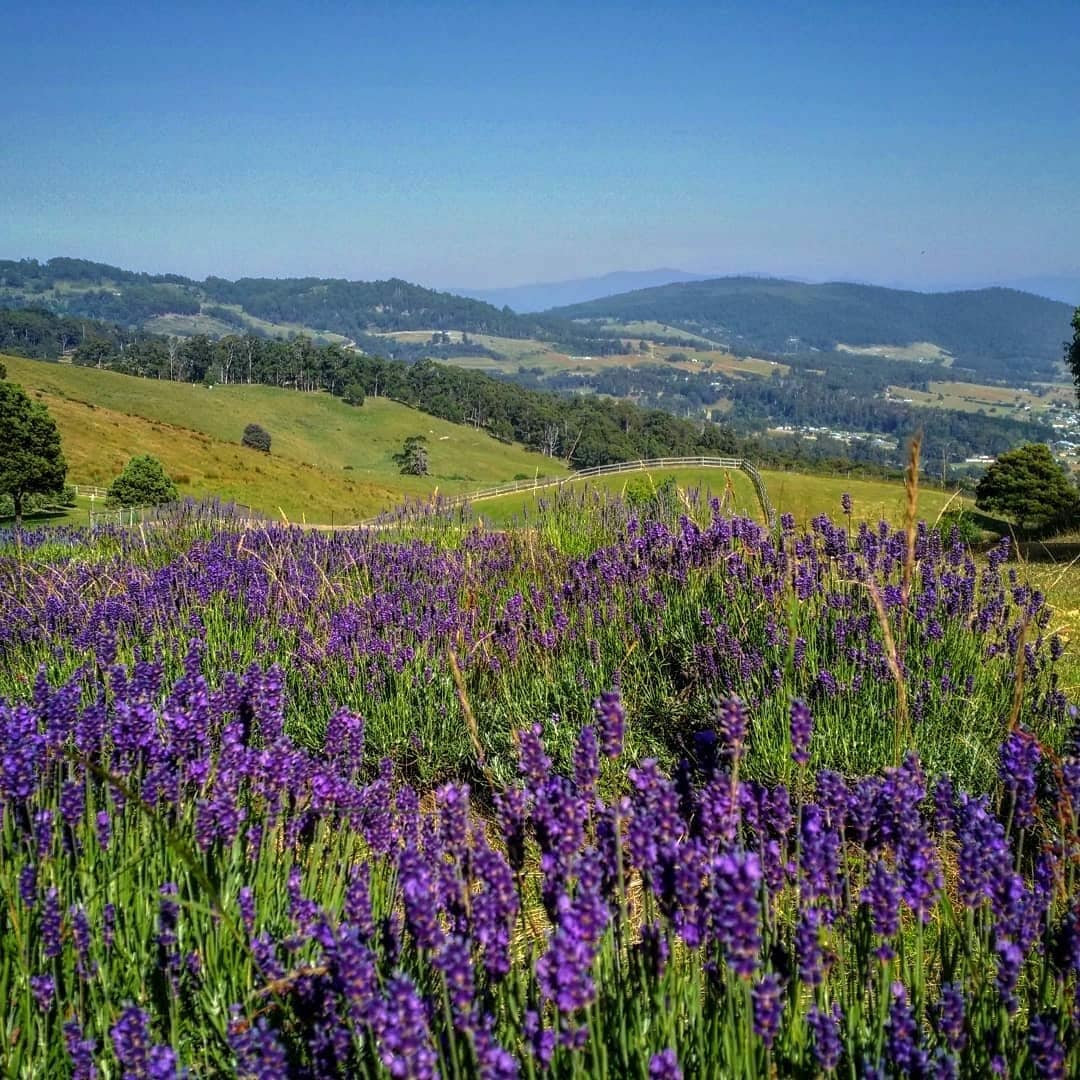 You'll find Campo de Flori lavender farm just 45 minutes south of Hobart among the beautiful rolling green hills of Glen Huon, and it is a great addition to any road trip through the Huon Valley.
Visit Lisa and David in summer and you'll love taking photos of their lavender rows in flower. They are waaay off the tourist path, so you won't need to compete with a thousand other visitors in the background (unlike some of the other big Tasmania lavender farms).
Their range of lavender products is great, including lavender pillows, lavender sachets, fried flowers, wheat bags and more.
But that's not all!
They also have a beautiful range of handmade pottery on display, and foodies will love learning more about their artisanal saffron and olives that are also grown on site, through one of their immersive 'hands-on' workshops or farm tours.
Cost: FREE to visit their farm gate shop – Farm tours are also available ($125 per adult)
Times: Normally weekends from 10am to 4pm (best check beforehand though). Weekdays by appointment.
Location: 184 Lanes Road, Glen Huon
Where to stay: House on the Hill B&B
Final thoughts on lavender in Tasmania
I hope you have found this guide useful for planning your Tasmania road trip to include its gorgeous lavender fields.
You might not realise it but Tasmania is also famous for its colourful tulips. This is another seasonal attraction that happens every spring. So if you can't make it for the lavender in summer, why not see if a spring visit is possible instead?
For plenty more articles like this please keep browsing the Lap of Tasmania website. Or visit my Facebook group to share your lavender photos and get free travel tips and advice from fellow road trippers!
Happy travels,
Andrew.
Travel planning resources
We love the range of travel guides and maps from Lonely Planet (great for when you hit one of Tassie's notorious internet blackspots).