When it comes to the very best things to do in Hobart – Australia's most southern capital city – there is so much on offer!  
From picturesque landscapes to trendy bars and restaurants as well as great local attractions, Hobart is the perfect place to start your Tasmania road trip.
This page contains affiliate links. If you book or buy something through one of these links, we may earn a small commission (at no extra cost to you!). Read our full disclosure policy here.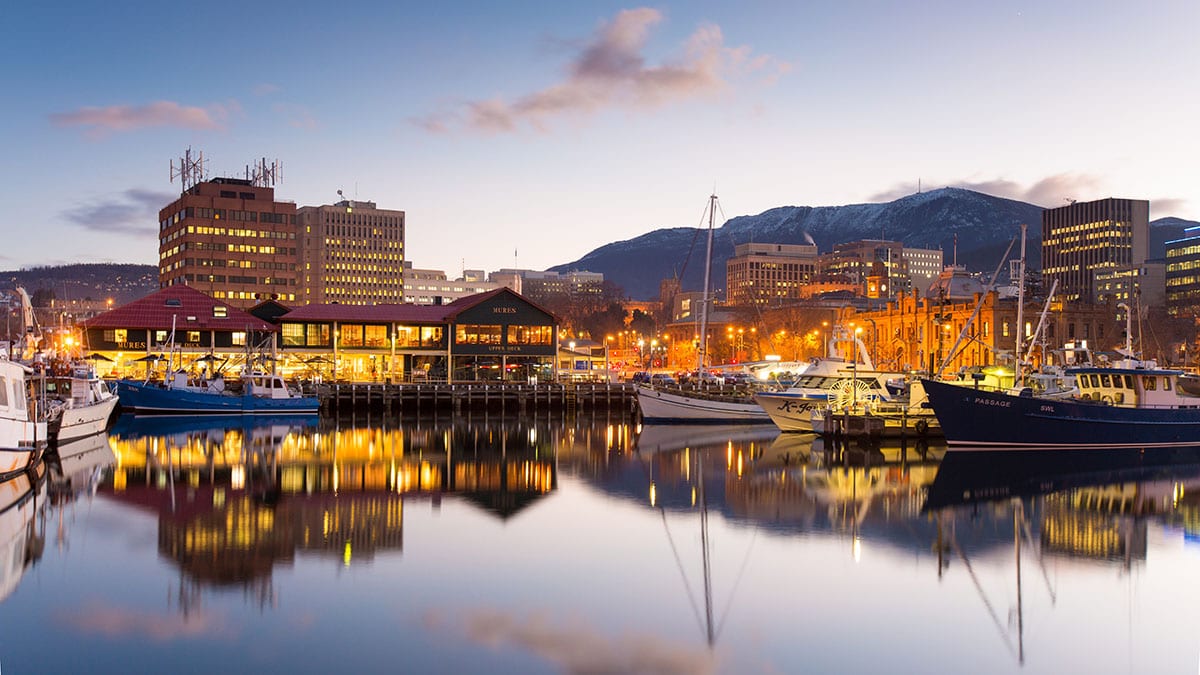 If you're wondering what to do in Hobart on your upcoming trip, then this Hobart travel guide is the perfect place to start.  
In this guide, I list 21 of the best places to visit in Hobart, including the very best Hobart attractions, and if you're travelling with family, I also mention some of the best things to do in Hobart with kids.
No matter what sort of Hobart trip you have in mind, in this Hobart guide you're sure to find some great suggestions.  In fact, with all these amazing things to see in Hobart, you'll no doubt have trouble deciding what to do and what to leave for your next trip!
So let's get into it and discover 21 of the top things to do in Hobart.
21 of the Very Best Things to do in Hobart
To make your Hobart sightseeing planning a little easier, all of the things to do and Hobart tourist attractions in this guide have been split into the following categories:
Markets
History
Nature
Foodie Activities
Festivals and Events
Kid's Activities
Arts and Culture.
Keep reading to find out more, or use the table of contents to jump ahead.
A must do in Hobart is to visit one of their lively markets.  Hobart has a reputation for having some of the very best markets in all of Australia, where you can expect to find all sorts of treasures from locally crafted items to delicious locally grown produce.
Listed below are three of the very best markets to visit in Hobart.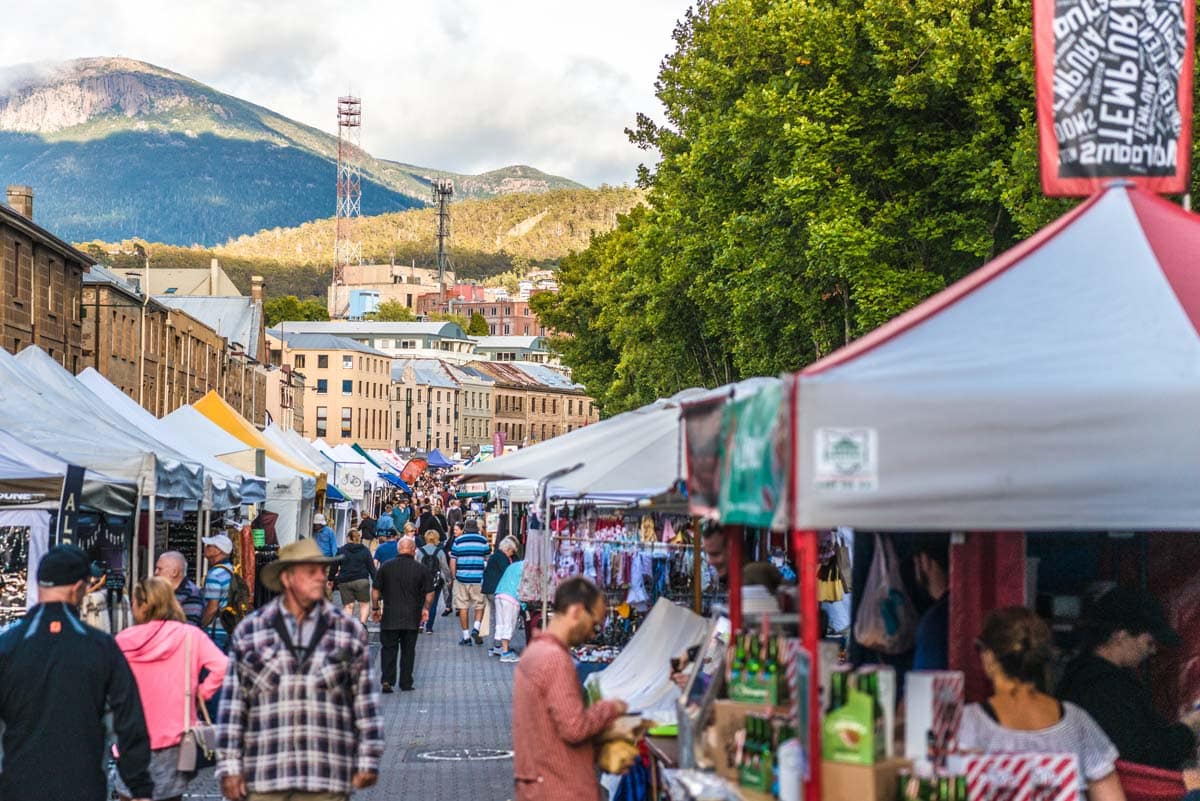 When you visit Hobart a few hours at the Salamanca Markets is a must!  These markets are one of the best places to go in Hobart and are considered by many as not only the best markets in Hobart but one of the best in Australia.
Situated along the historical Salamanca Place, these markets are in a picturesque setting, with the surrounding sandstone buildings along Hobart's gorgeous waterfront, certainly one of the Hobart top attractions.
At the markets, you can expect to find a range of products on offer.  It's a great place to come for some local souvenirs, as well as purchase clothing, artwork and of course some delicious food to sample.
It's recommended to plan your trip around mealtime, and take your time wandering up and down the more than 300+ stalls and trying a range of foods as you go.  Also be sure to take your time really soaking up the atmosphere.  The vendors are super friendly and always up for a chat to talk about their products and take the opportunity to watch some of the various buskers that can be found throughout the area.
Keep in mind that given Salamanca Place is one of the most popular places to visit around Hobart, on most days you can expect it to be quite busy and crowded.
Also if you're looking for things to do in Hobart at night, come back to the Salamanca precinct after sunset when the place comes alive with a range of great restaurants and cafes!
Salamanca Markets are open every Saturday (except Christmas Day and ANZAC Day) between 8:30 am and 3:00 pm.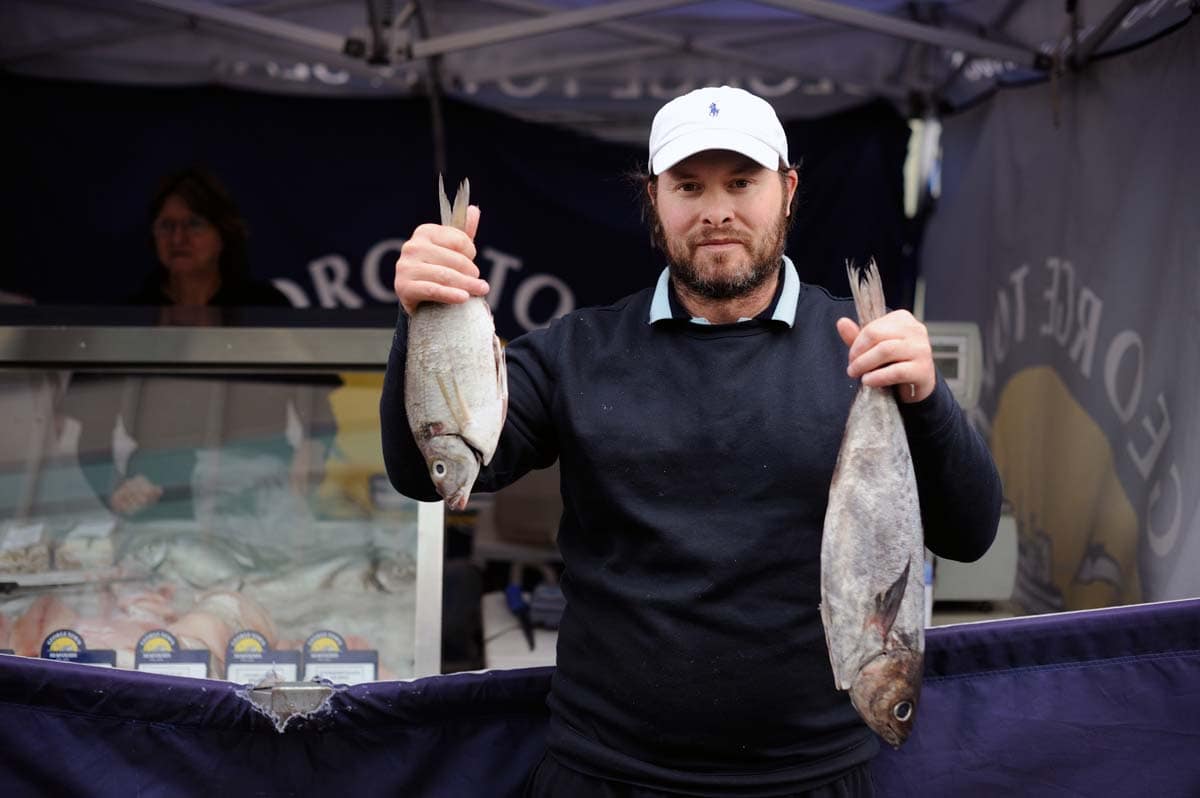 If you like farmers markets, then Farm Gate is definitely a Hobart must see. Regularly voted as one of the top farmer's markets in Australia, this market is hands down one of the best Hobart city attractions.
Held every Sunday from 8:30 am to 12:30 pm come rain or shine, in the afternoon the market turns into a drive through where you can order online ahead of time, and come pick up your veggies with your car on a Sunday afternoon!
The market was originally started by a handful of stallholders and has grown into the Hobart institution that it is today. Expect to find lots of yummy seasonal, Tasmania-grown produce here. There are also artisan cheese and wine vendors, and stalls selling homemade bread, cakes, and even locally roasted coffees!
Farm Gate market is also great if you're looking for free things to do in Hobart – just know that you will be tempted to buy, even if you only come to browse! There's a good range of produce available year round, but summer is probably the best time to visit here thanks to all the fresh berries and summer fruits.
You'll find this market in central Hobart on Bathurst Street. You can't miss it!
3. Hobart Twilight Market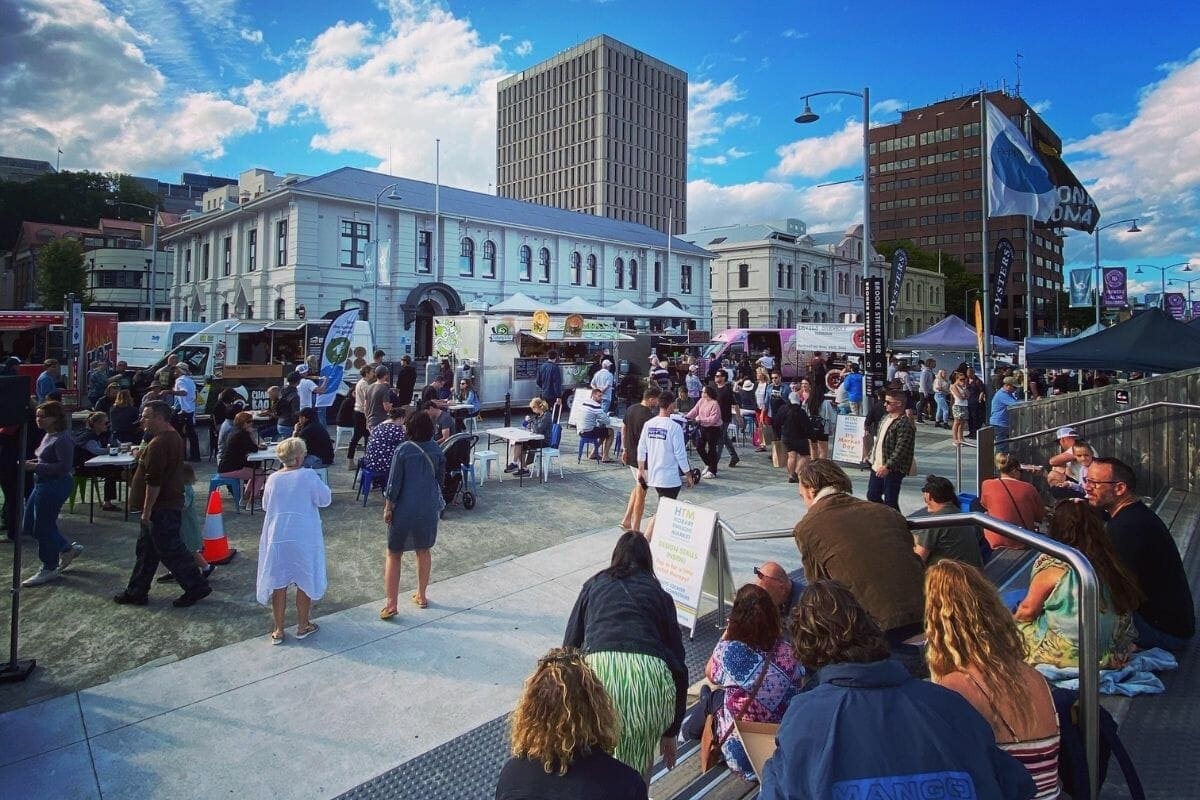 Hobart is a must for market and festival lovers, and the very first market to kick it all off was the Hobart Twilight Market way back in 2013.
This fantastic family experience began at beautiful Long Beach, in Hobart's southern suburbs just 10 minutes' drive from the CBD, and over the years its huge popularity has seen the market expand to include a second event at Brooke Street Pier – right in the heart of Hobart's buzzing waterfront precinct!
Food, drinks, design and music are what it's all about, with many of Tasmania's finest food trucks, artists and entertainers represented. We also love that it's one of very few markets in Tasmania that are dog-friendly, and unlike some of Hobart's other markets and festivals the Hobart Twilight Festival operates year-round.
Go where the locals go, and spend your Friday night relaxing with some delicious bites, refreshing drinks, and toe-tapping beats!
Summer (October to March) – Long Beach Sandy Bay on the 1st and 3rd Friday of the month – 4:30pm to 9pm.
Year Round – Brooke Street Pier on the last Friday of every month – 4:30pm to 9pm.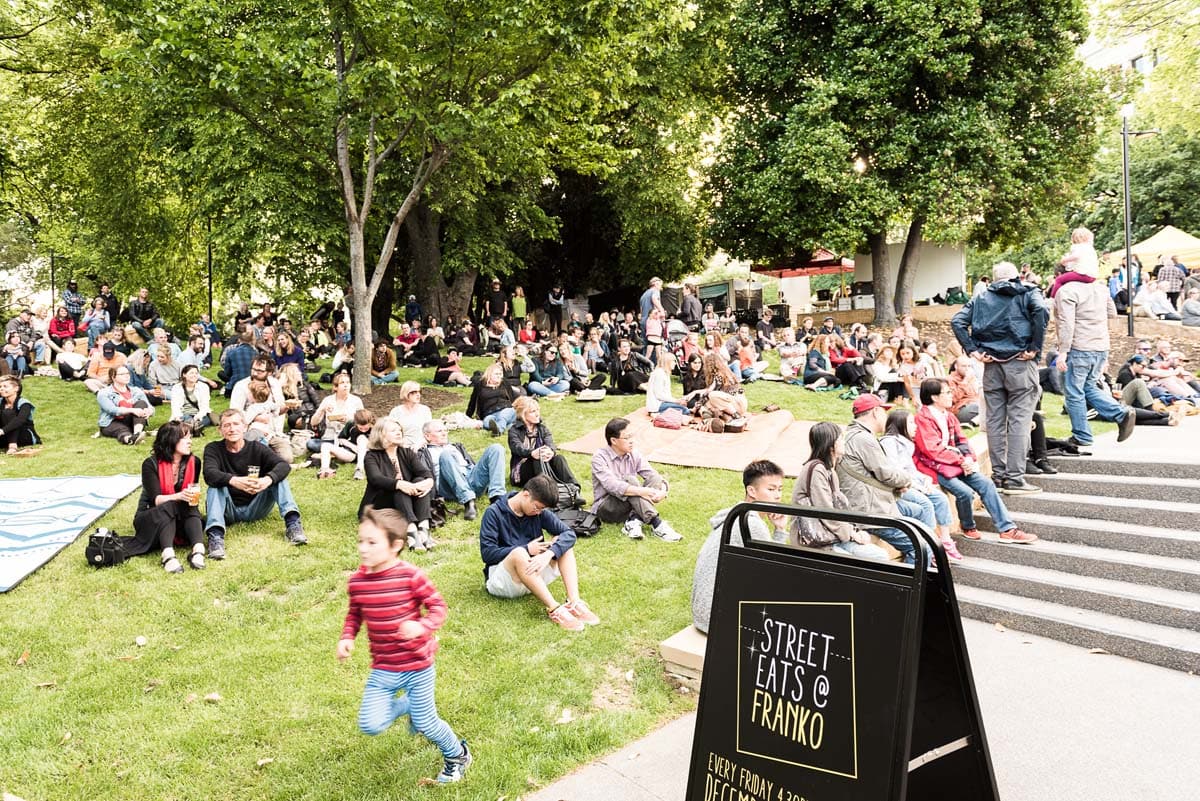 Every Friday evening from late spring to early autumn, Franklin Square comes to life with Street Eats @ Franko, a night market of street food and cocktails, and one of the great Hobart experiences.
You'll find many locals enjoying Friday nights here with a great selection of street food inspired both locally and from around the world, but the great thing is that all the food served here is grown in Tasmania. Expect snack sized curries, vegan treats and locally reared burgers.
If you're feeling thirsty, there's a number of local distilleries with stalls for craft cocktails with locally distilled gin, vodka, and craft beers.
There's an eclectic range of musical acts and bands each Friday too to keep you entertained.
So if you're looking for cool things to do in Hobart, or just wondering what to do in Hobart at night, come visit Street Eats Franko. 
The night market begins at 4 pm every Friday and usually winds down by around 9 pm. Franklin Square is in the centre of Hobart, just a couple of blocks from the waterfront.
Despite its small size, Hobart is home to some of Australia's most important history, and if you love learning about Australia's past, you'll find no end of interesting things to do around Hobart. 
Convict history features strongly on the agenda here, and it's recommended you visit at least one of these on your trip to Hobart.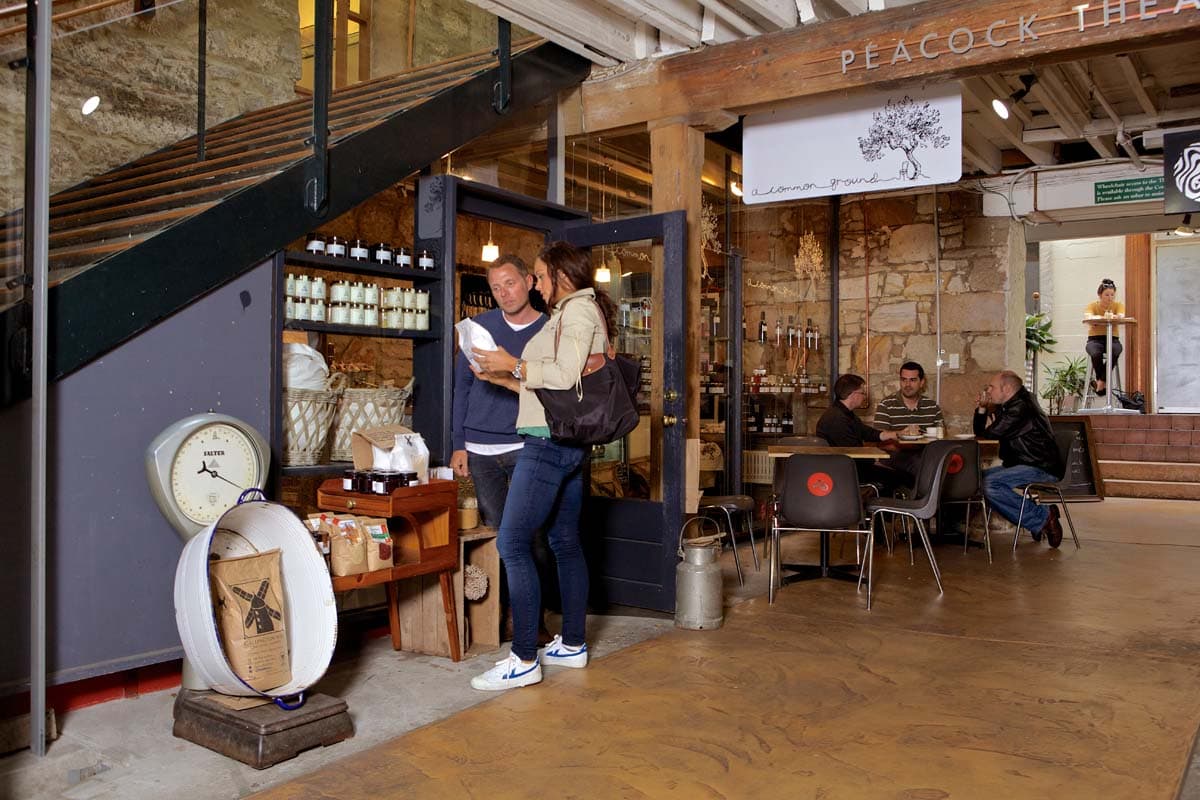 One of the first places people head when wondering what to see in Hobart, is to the waterfront – and with good reason! Salamanca Waterfront (or Salamanca Place as it's also called) is the creative, historic and cultural heart of Hobart, making it one of the top Hobart city tourist attractions.
Once the stomping ground of tradesmen, sailors and merchants, today Salamanca Waterfront is home to art galleries, theatres, cafes, bars and boutiques selling vintage jewellery and clothing. It's a great place to come to browse, go to a show or exhibition, or just come for a coffee with a view and soak up the atmosphere. It's also located right next to the Salamanca Market, so you can easily combine these two Hobart landmarks.
The Salamanca Markets are a great way to spend your Saturday morning. But if you're in town during the week then you can still get your souvenir or self-care fix by dropping into Beauty and the Bees in Galleria Salamanca. They are open Monday through Saturday and provide Hobart's best locally-sourced, eco-friendly hair and skin care products.
Beauty and the Bees - Special Offer
Visit Beauty and the Bees in buzzzzing Salamanca, and when you mention the Lap of Tasmania you will receive 20% OFF their iconic Luxury Hair and Skin Pack
It's the perfect sensory memory of your time in Tasmania!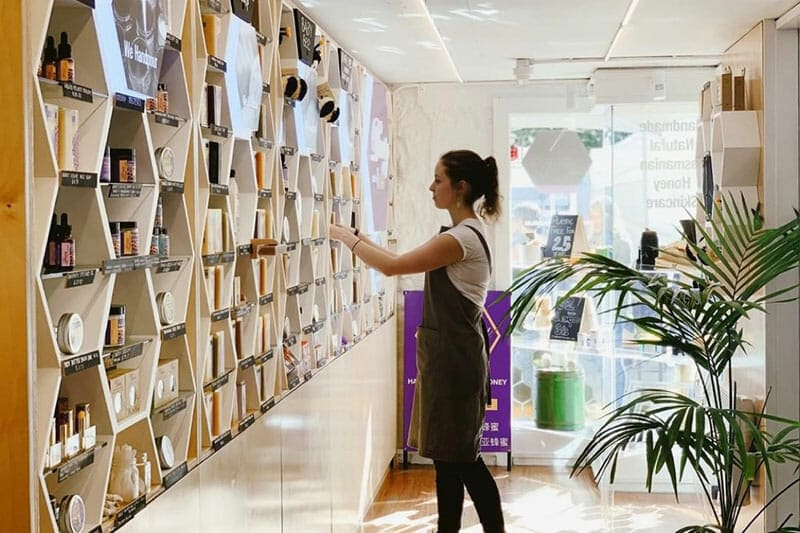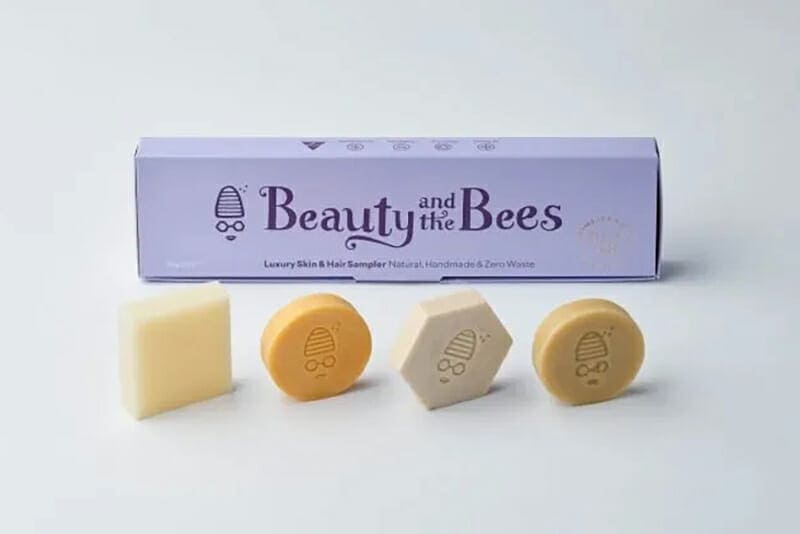 Another great thing to do at the Salamanca Waterfront is to see a play at the Peacock Theatre, which is inside the Salamanca Arts Centre. If you happen to be there on a Friday night, make sure to check out the free Jazz performances inside the courtyard.
If shopping is more your thing, one of the Hobart highlights is shopping at the Spacebar Gallery, which supports independent local artists and craft-makers.
Last but not least if you love the sound of this area, you might consider a stay at the trendy Salamanca Wharf Hotel. Come summer, the area is also home to the Taste of Tasmania festival, a week long celebration of the best of Tassie food and wine!
6. Hobart Convict Penitentiary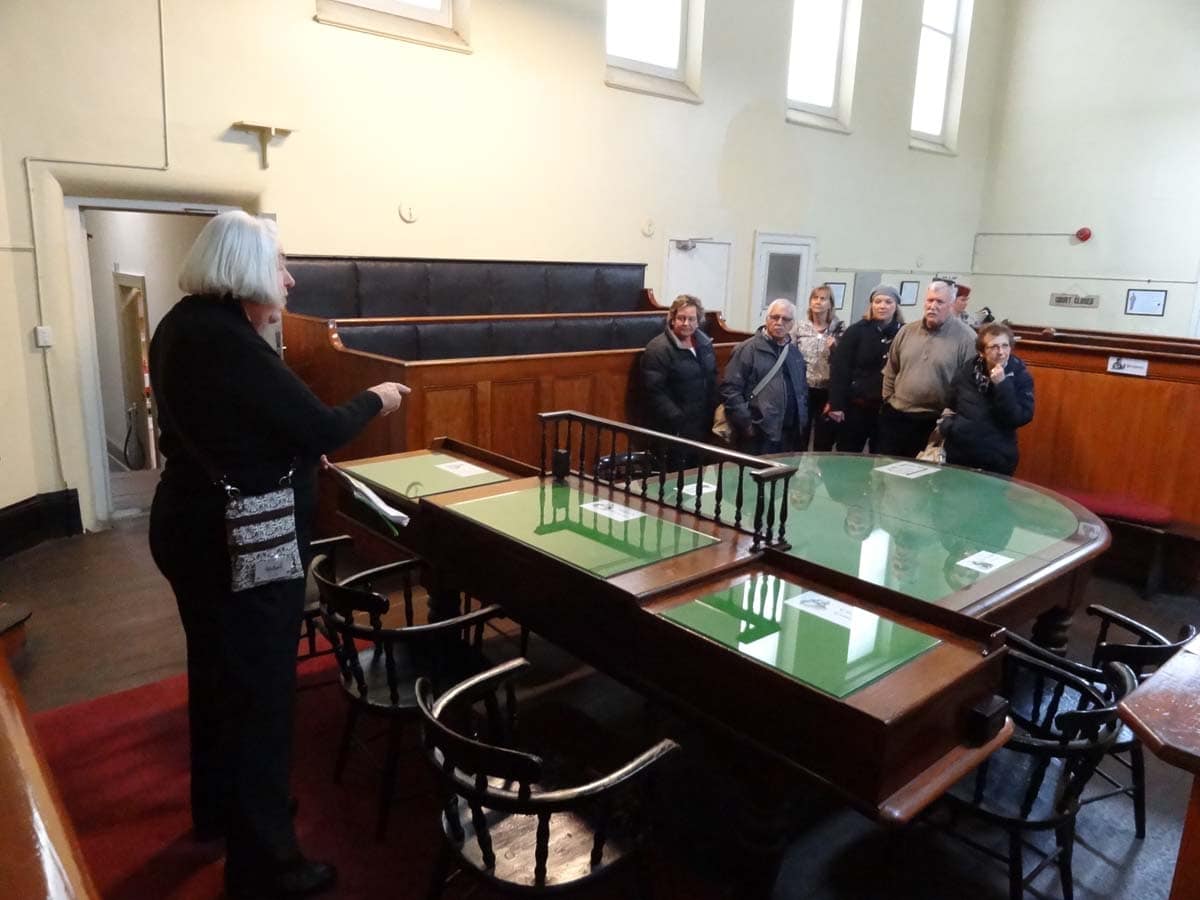 If you're interested in the history of Tasmania, at some point you're bound to want to learn more about Tasmania's convict history. Hobart Convict Penitentiary is another of the popular Hobart places to visit for tourists and is an internationally significant convict site, making it one of the best places to learn about convict history in Tasmania.
Comprising networks of underground tunnels, a chapel, cells and gallows, the Hobart Penitentiary is consistently rated one of the best Hobart tours and attractions. The penitentiary, with the facade of a chapel, saw 40,000 male convicts pass through its walls. After the end of convict transportation, the site became Hobart Gaol.
Sections of the chapel were converted into two supreme courts with tunnels linking them, leading on to an execution yard and gallows.
Entrance to the penitentiary is by guided tour only, and one of the most popular experiences is to go on a ghost tour of the penitentiary. The ghost tours run between Thursday and Sunday by appointment, or you can take other guided tours to learn more about the history between Tuesday and Sunday.
The site is operated by National Trust Australia and is located just 2 blocks north of Bathurst Street.
7. Cascades Female Factory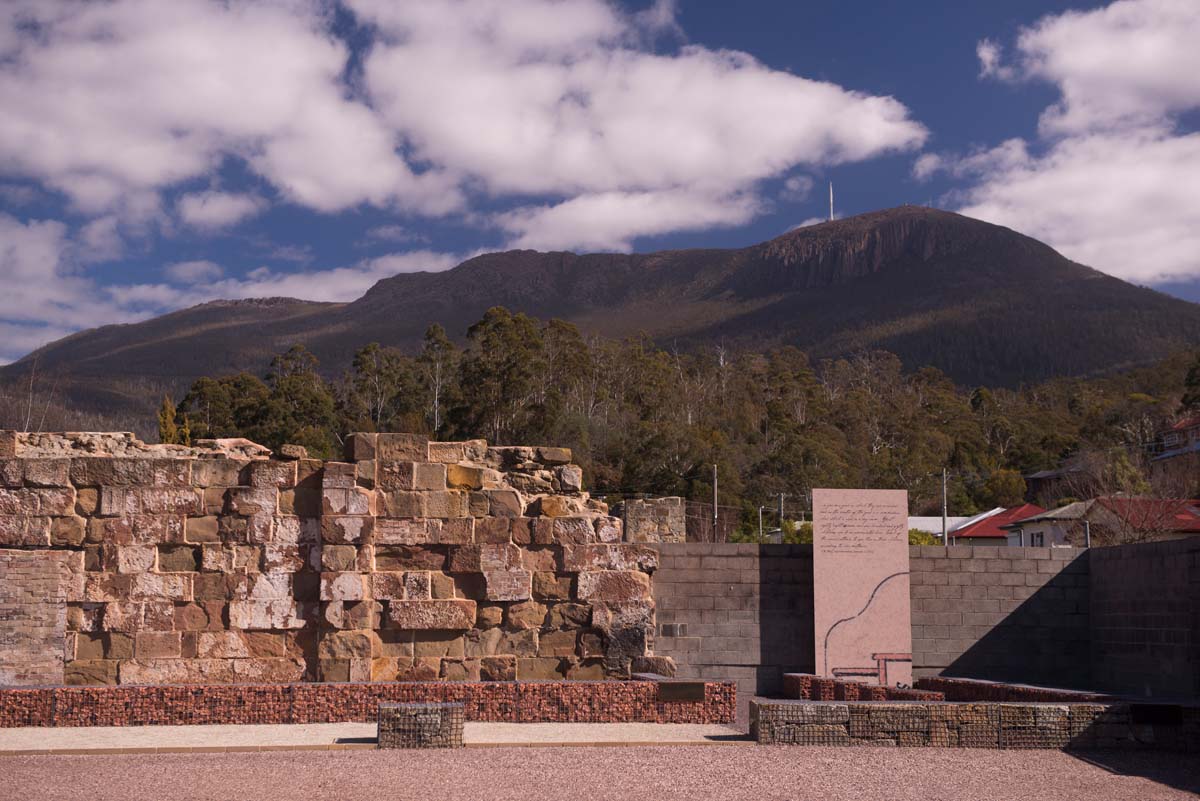 Originally intended to be home to a gin distillery, the government purchased the land that forms the Cascades Female Factory and turned it into a female gaol and factory in 1828. Women inmates were kept separately and did not inhabit the main Hobart Penitentiary above, and were kept under tough conditions, sentenced to many years of hard labour depending on their class and fortunes.
The Cascades Female Factory is 1 of 11 Australian convict heritage sites and is classed as a world heritage site. If you want to learn more about the history of Tasmania and the treatment of convicts, this is definitely one of the places of interest in Hobart you should visit.
The factory runs a number of different tours as well as general admission, where you can hear stories from the factory, learn more about the history of the prison and what went on here, or attend a dramatised tour which represents what life was like for some of the inmates.
While this is not a light-hearted place to explore, the dramatised tours can bring this museum to life and is still considered by many as one the top 10 things to do in Hobart, especially on a rainy day when you want to be inside. All proceeds from the tours and admission go towards the conservation of the buildings and further preserving this history for future generations to learn about.
The Cascades Female Factory is located in South Hobart and is open between 9:30 am and 4:00 pm each day.
One of the best reasons to visit Tasmania is the beautiful nature, and in Hobart, you can get the best of both worlds by enjoying its cosmopolitan vibe but also its very own nature activities which are some of the best of Hobart. 
Hiking trails, walks and parks make for some great family things to do in Hobart, too if you're visiting with kids.
8. Wellington Park Hiking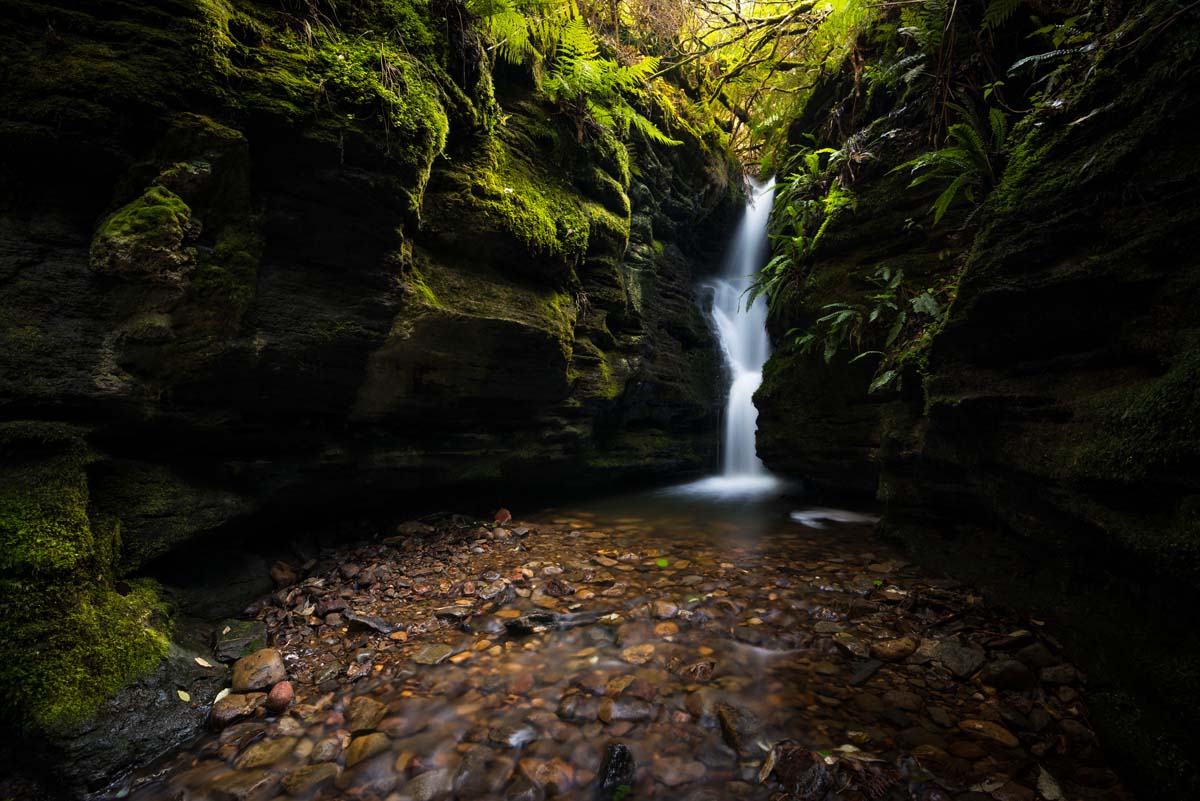 On the doorstep of Hobart are the Wellington range and Wellington park which includes hiking trails below and is a great place to come if you love the outdoors and are wondering what to do around Hobart.
From woodlands to summits, Wellington Park is packed with bushwalking routes of varying difficulty through different types of terrain. Shorter walks in the eastern end of the range are easier and more suited to families, while there are much more exposed tracks leading to the summit for the more intrepid or experienced hiker.
Routes are graded by difficulty, making it super easy to choose a route that's suitable. Before setting out hiking make sure you have good sturdy hiking boots or shoes for the more challenging trails, and that you've checked the weather – conditions can change quickly! Also note that lighting fires are strictly prohibited except for in designated fireplaces within huts on trails. Make sure you have a good map, too, as mobile phone coverage can be spotty.
If you don't feel like walking, there are options to explore Wellington Park on horseback, by mountain bike, or even by 4×4. Mountain biking trails are also rated by difficulty in a similar way to the bushwalking routes.
If you want to experience Hobart beyond the city itself, this is one of the fun things to do in Hobart, especially in summer. Park Entrance fees do not apply and there are no opening or closing hours for hiking.
9. Mt Wellington Summit Views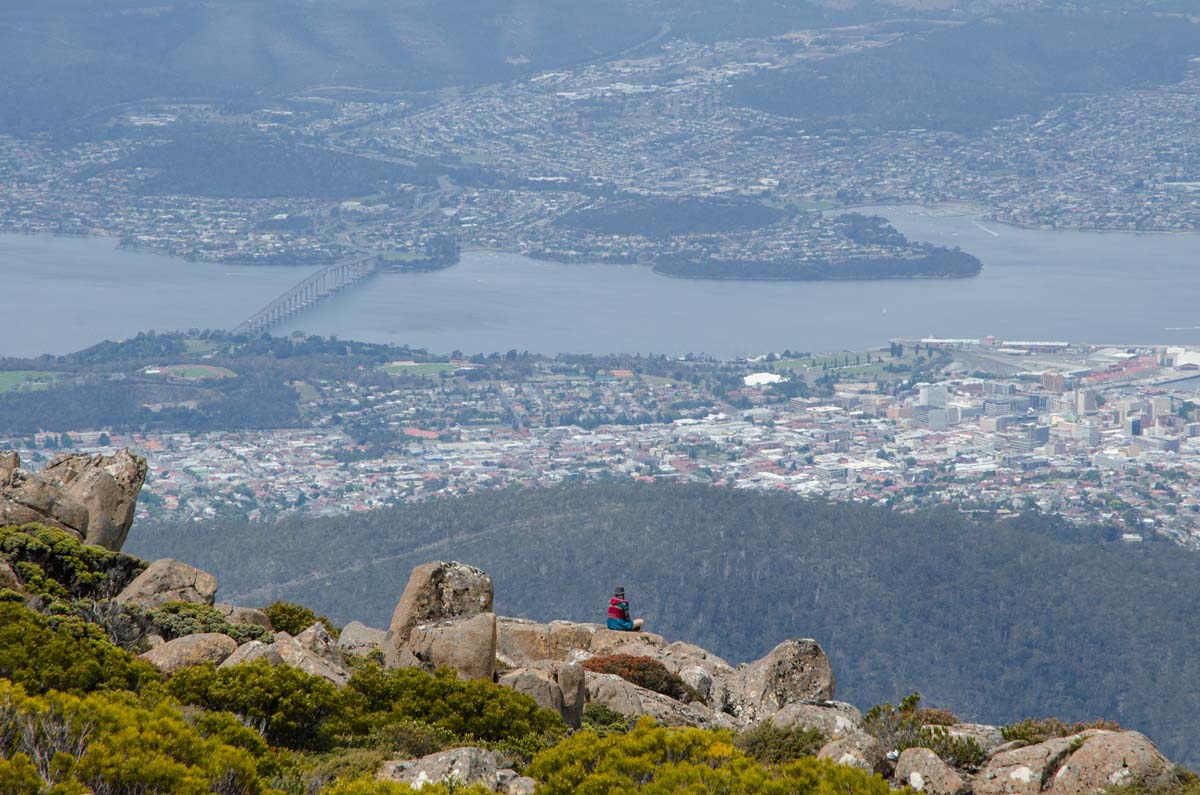 Another of the best places to see in Hobart – or more to the point, see Hobart from, is the summit of kunanyi, or Mount Wellington. If you don't fancy hiking on one of the many bushwalking trails within Wellington Park that reach the summit, you can access the top of Mount Wellington by road instead.
Once you reach the top, there are stunning views down over Hobart and out on to the River Derwent and the Tasman Sea. At the summit, there's a beautiful glass pinnacle observation shelter to keep you out of the wind (and comes in handy especially outside of summer months), and there's a small cafe called "Lost Freight" at the Springs serving coffee and snacks.
The main road access to Mount Wellington from Hobart is up the Pinnacle Road, along which you can drive all the way to the summit. Just make sure to check ahead if the road is open during winter as it can close when conditions are icy or snowy. If you don't have your own vehicle, there's also the kunanyi/Mount Wellington bus which runs up Pinnacle Road. The summit is around 21km from Hobart, so allow about half an hour to drive or take the bus up.
If you feel like taking the more intrepid route, there are several hiking trails which run to the summit including the ambitious sea to summit trail which runs from Hobart to the summit. Make sure you choose a trail that matches your ability, and whichever way you choose to reach the summit of kunanyi, remember to pack an extra sweater as it can get up to 10 degrees colder on the summit compared to downtown Hobart!
This option is also great if you're looking for things to do in Hobart for free as the park has no entrance fee! A visit to the summit is truly one of the Hobart major attractions you'll remember from your visit for years to come. Even if you only have one day in Hobart, you won't want to miss Mount Wellington.
10. Royal Tasmanian Botanical Gardens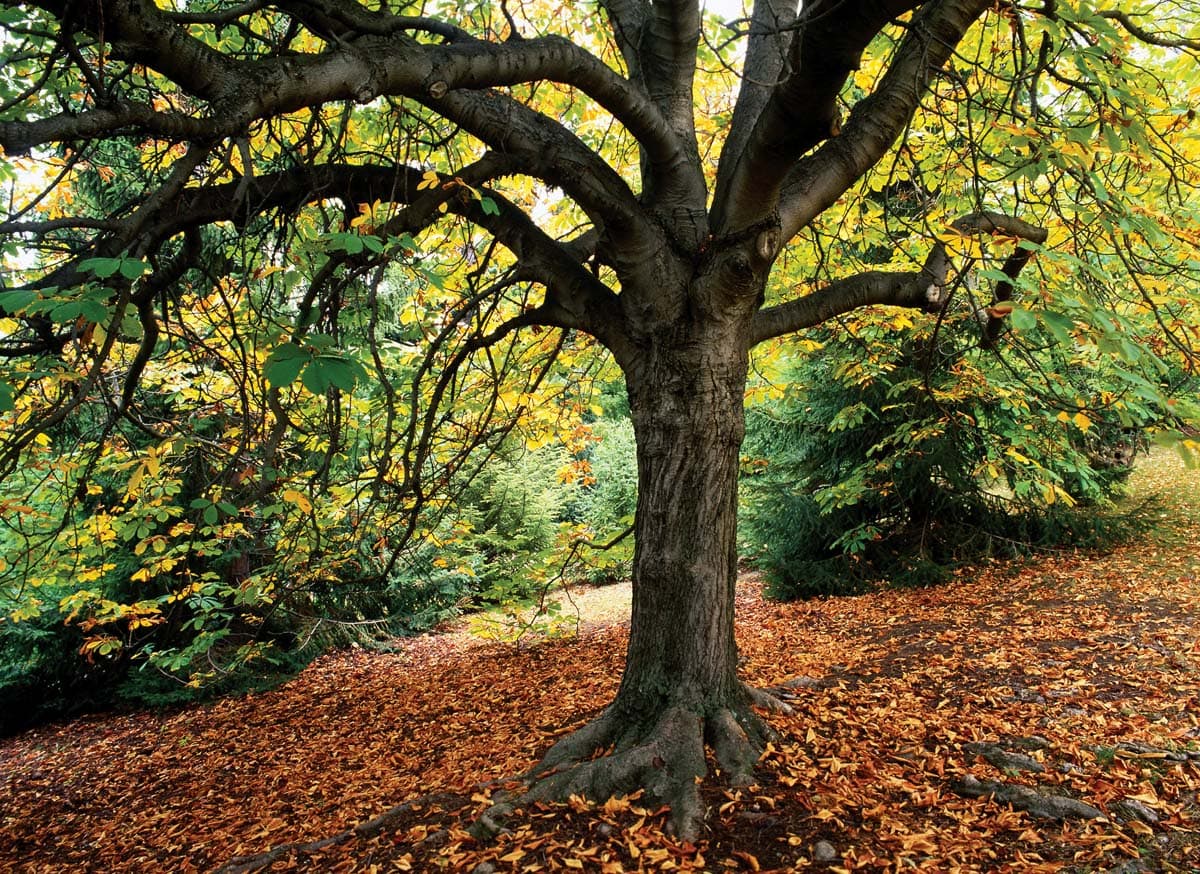 The Royal Tasmanian Botanical Gardens are just a short walk or drive from the city centre of Hobart and are another of the top rated things to do in Hobart city.
The gardens cover over 14 hectares, and visitors can either stroll around and enjoy the gardens at their own pace or take a guided tour which costs $15 per person. General admission is free, however a gold coin donation helps them keep the gardens in pristine condition.
The gardens are home to a huge range of horticulture and styles of gardens – from a community vegetable garden known as "Pete's Patch", to a zen style Japanese garden, a Subantarctic plant house that is home to many rare Macquarie island plants, to a cactus house that's filled with succulents. There's also the indigenous Tasmanian East Coast collection.
The Gardens have a restaurant, cafe and a shop selling locally made crafts and even gin and honey that are produced on site! There are events held regularly at the gardens, too, so check the gardens' website for up to date info before you visit.
If you're looking for stuff to do in Hobart at a slightly slower pace, then a visit to the gardens is a great idea. Regularly voted as one of the 10 best things to do in Hobart, this is a great place to come and enjoy some time in nature.
If you're a foodie at heart, Hobart will not disappoint! Hobart is bustling with different food and beverage options in its markets, restaurants, cafes and bars. Local is the name of the game here and you'll find an impressive commitment to sustainably sourced food as well.
Whether you're looking for a quick bite in between exploring Hobart must see attractions or for a full culinary adventure, here are some of my favourites.
11. Cascade Brewery Tour and Brewery Bar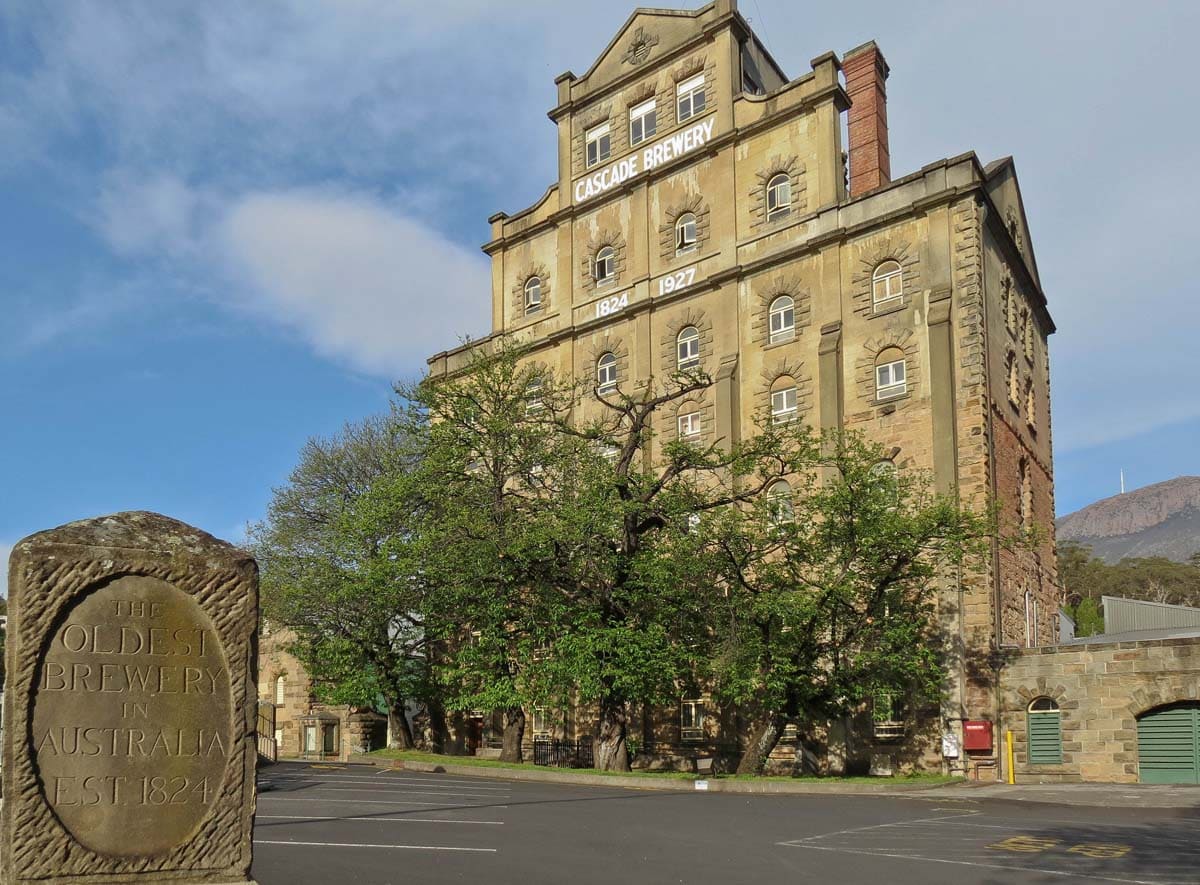 Australia's oldest operating brewery, the Cascade Brewery Company dates back to 1824 and is definitely one of the Hobart tourist sites you won't want to miss if you're a beer lover.
Located at the base of Mount Wellington, the brewery is the home of Cascade Pale Ale, which is Australia's longest continually brewed beer (it dates back to 1832). Its location is stunning, too, surrounded with picturesque views of the Wellington range while you choose your brew. In addition to the ales, lagers and bitters brewed here, the brewery also has an impressive range of Tasmanian ciders.
The brewery offers a number of different tours and experiences, which regularly feature among the top ten things to do in Hobart. There's a Cascade History and Brewery Experience which takes you through the history of the brewery and explains the brewing process, accompanied by those all important tastings along the way! Or for true beer lovers, there's the "Beer School" – a 60 minute crash course into all you need to know about beer brewing.
Or, you can just come and visit the Cascade Brewery Bar – the Brewery's restaurant and bar, where in summer you can sit outside and enjoy tasty Tassie food washed down with some of the country's finest beers and ciders, with views of Mount Wellington in the background. 
If you're searching for the best places in Hobart, then definitely add Cascade Brewery onto your list!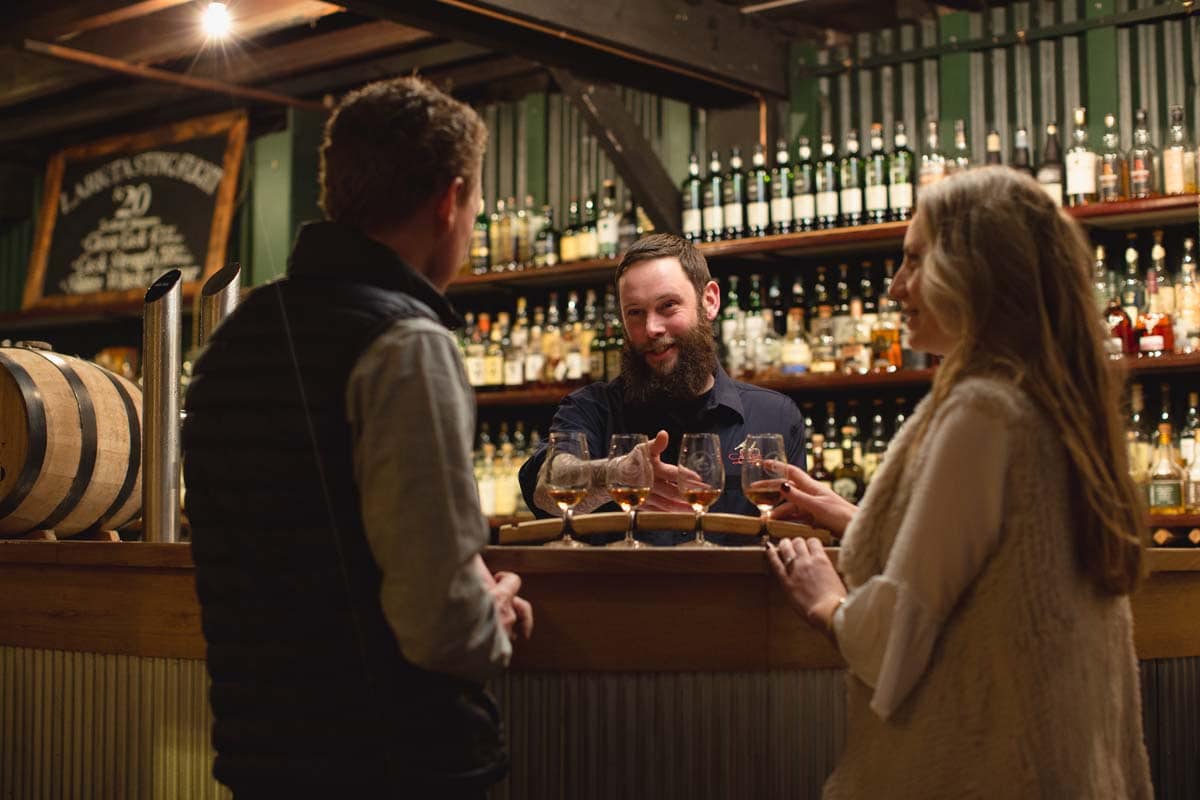 If whisky is more your thing, then you won't want to miss the Lark Distillery, part of the Tasmanian whisky trail, which is my top recommendation for where to go in Hobart for whisky and spirits lovers.
Dating back to 1839, Lark Distillery was the first licensed distillery in Tasmania, but it closed afterwards. It was not until 1992 that the distillery was reopened, and has been producing award-winning single malt whisky since then. In addition to whisky, the distillery also produces different types of gin and run, all from Tasmanian sourced ingredients.
The Lark Distillery also owns two bars in downtown Hobart, and a visit to them is one of my favourite things to do in Hobart when raining. The Lark Cellar Door and Whisky Bar are located on the Hobart Waterfront, at Franklin Wharf. Try a whisky tasting flight, or buy your own bottle to take home with you.
They also own the Lark Experience at Brooke Street Pier, which offers guided tastings of all of the Lark Distillery spirits. So, pull up a barstool and prepare to learn everything you need to know about Tasmanian whisky!
13. Moorilla Estate Winery (next door to MONA museum)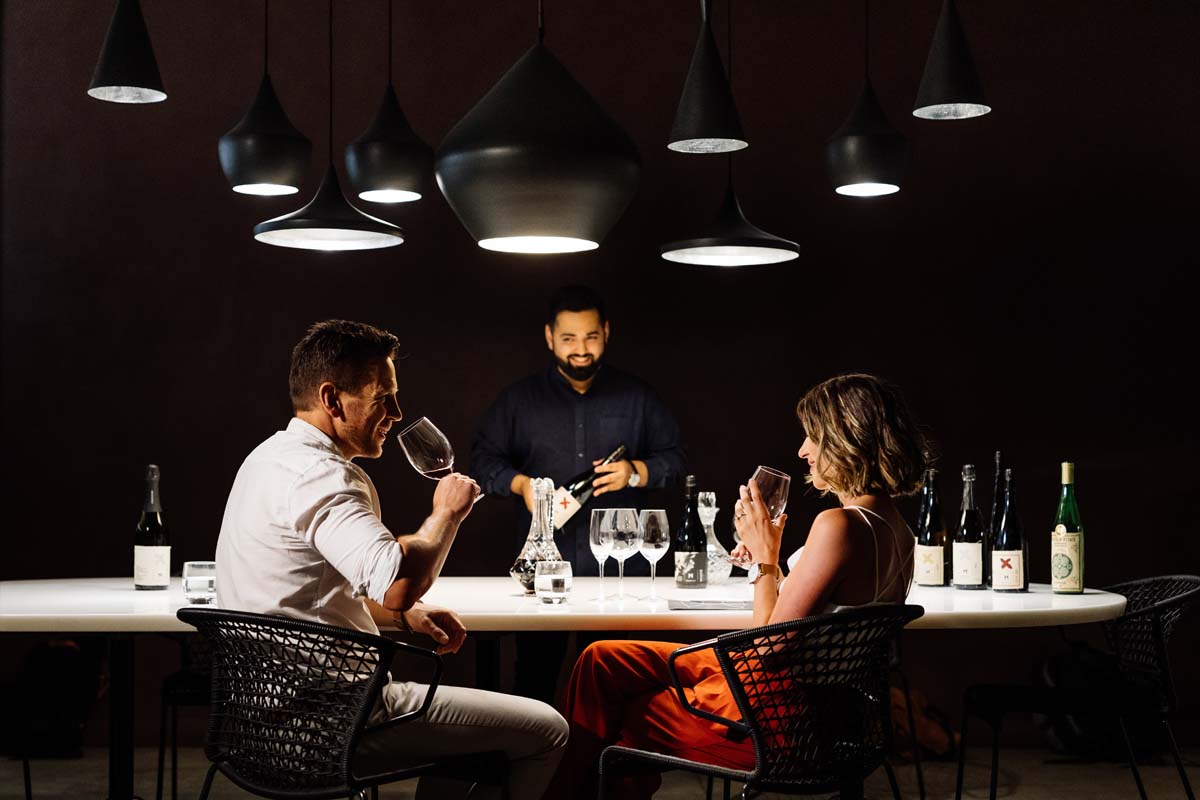 If wine is more your thing, then you won't be disappointed by a trip to the Moorilla Estate Winery located right next to MONA museum to the north of Hobart. So, if you're looking for things to do in Hobart and surrounds and enjoy your wine, you won't want to leave this winery off your list.
The word Moorilla means "rock by the water" in Aboriginal languages, and the soil in the area has long been regarded as one of the best areas for cultivation, but it wasn't until 1958 that vines were first planted, and the first wine was produced here in 1962.
The winery is owned by the founder of Mona and supplies wines for all Mona events and parties. There are tours and tasting events available at the winery as well, you can eat at Moorilla's restaurant (which serves French-inspired cuisine), or you can even stay overnight in the luxurious pavilions by the water here for the complete Moorilla experience.
Moorilla tours and events include wine and art days at Mona, private vineyard tours combined with wine tasting, or wine, golf and art events. Check the Mona website for their events, too, before your visit.
So if you love sampling local wines, this is definitely one of the best things to do around Hobart, and perfect to pair with a trip to Mona museum (see below).
Some of the best Hobart things to do and see are its festivals and events, many of which take place in the summer months. Below are some of the most popular festivals to consider visiting in Hobart.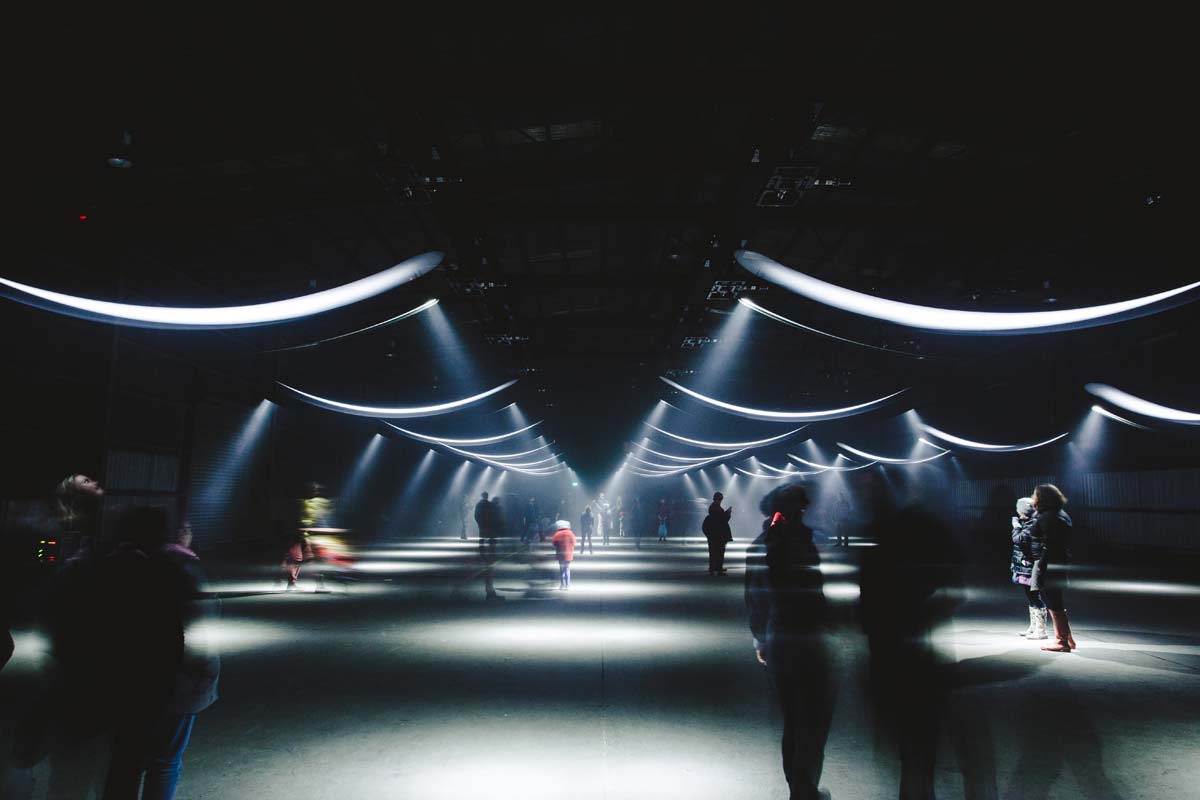 Dark MOFO is an annual music and arts festival held each June in mid-winter, and is the winter version of the FOMA festival, with its own unique flavours and style.
Expect "offbeat" theatre productions, light shows, and classic films plus late night openings of MONA – who the event is run in collaboration with. You won't find anything quite like MOFO anywhere else, and if you happen to be in Tasmania during MOFO, it's definitely one of my top Hobart adventures.
Expect stunning displays of art through light, sound, music and dance performances, fire and film. There's also a mid-winter feast. The festival has a cult following and tickets usually sell out well in advance – so book early: This is one of the very best Hobart things to do at night.
Celebrating dark and ancient pagan rituals is at the core of this festival, and during the time of the festival, you can't miss the references to light and dark, birth, death and modern mythology around Hobart. Last year, nearly half a million visitors attended this festival from around the globe, so it's without a doubt one of the top things to do in Hobart in winter.
If you're planning a trip to Hobart around this time, book your travel and especially accommodation well in advance!
15. Taste of Summer / Sydney to Hobart Yacht Race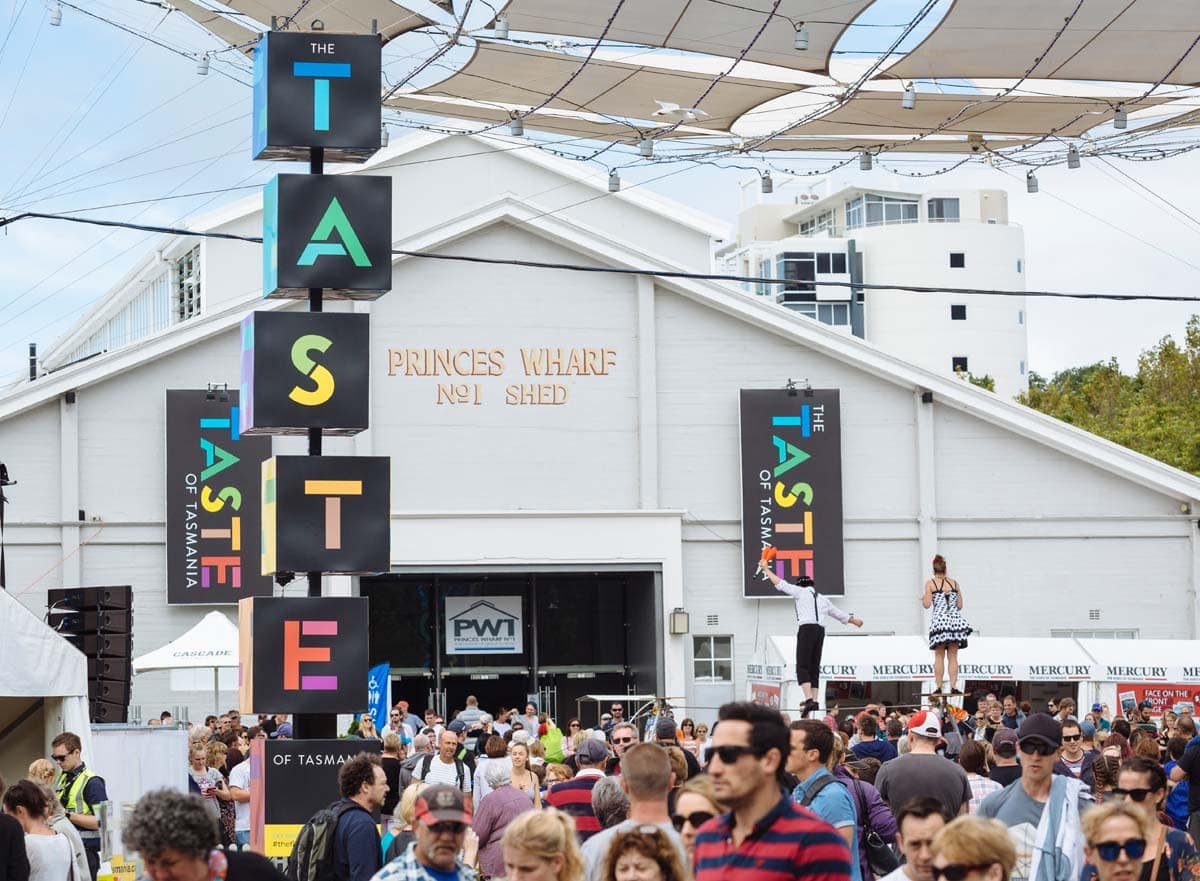 The famous Taste of Tasmania might have changed its name to the Taste of Summer, but is still a huge community event that draws crowds from around Australia to enjoy live music, great food and stunning waterfront views – and even the chance to watch the culmination of the Sydney to Hobart yacht race! If you're wondering what is there to do in Hobart, summer festivals don't get much better than this.
The festival was started in 1988, with the intention of ensuring the crews finishing the Sydney to Hobart yacht race had a reason to stick around and celebrate their arrival in Hobart, and it is now the largest festival of its kind anywhere in Australia.
Every year the yacht racing crews leave Sydney Harbour on Boxing Day, race more than 630 nautical miles, and arrive in Hobart a few days later just before new year, which is when the Taste Festival is held. 
The festival showcases the best of Tasmanian wine, food and beer, and there are also outdoor movies screened on the beautiful lawns of nearby Parliament House. The festival culminates in a New Year's Eve party overlooking fireworks on the Hobart Harbour.
The festival is the perfect way to enjoy some of the Hobart sights as well as, soaking up the atmosphere and enjoying the best cuisine Tasmania has to offer.
16. MONA FOMA (MONA Festival)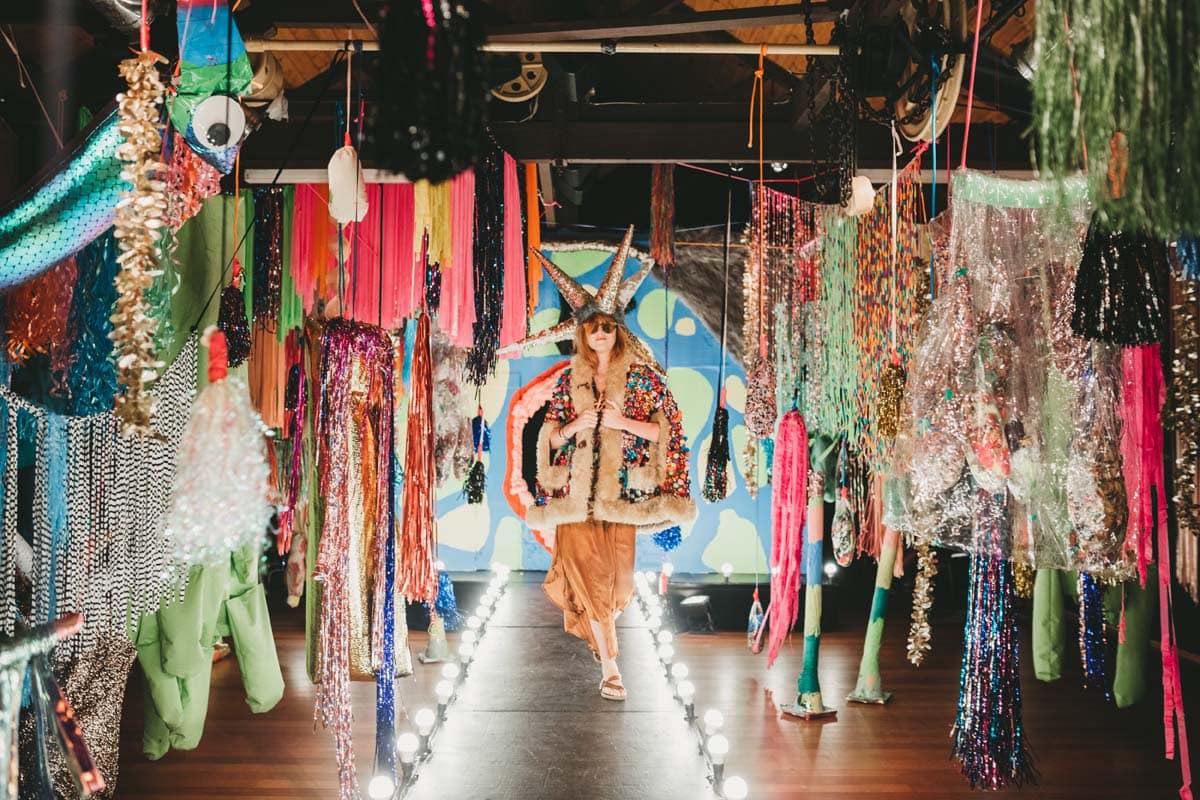 If you'll be visiting Hobart or Launceston during summer and love arts and culture, you won't want to miss the MONA FOMA festival which takes place each year in January. Like its winter counterpart, FOMA is a hedonistic celebration of modern art, dance, food, culture and much more, and is one of the most popular fun activities in Hobart. 
The festival lineup varies from year to year, drawing inspiration from music, art, theatre and food from around the world but also from Aboriginal cultures closer to home. The festival acronym stands for Museum of Old and New Art Festival of Music and Art. Launched in 2009, the festival has been a hit and draws crowds from around the world – so be prepared to buy tickets and book your accommodation months in advance. 
If you're wondering what the main difference between MONA FOMA and Dark MOFO is, the seasonality impacts the line up and types of events at these festivals. MONA FOMA, the original festival has more of a daytime summer vibe, while Dark MOFO features more light shows and displays, with most events taking place in the evenings. 
So, if you're looking for things to do around Hobart area then definitely consider adding this unique festival to your Hobart to do list!
If you're planning a family trip to Hobart, worry not! There are plenty of kids activities Hobart has to offer, both within the city itself and in the surrounding areas. Many of the other activities listed in this guide are also suitable for families and children, but here are a few of the best things to see and do in Hobart for kids.
17. Horsedrawn Carriage Ride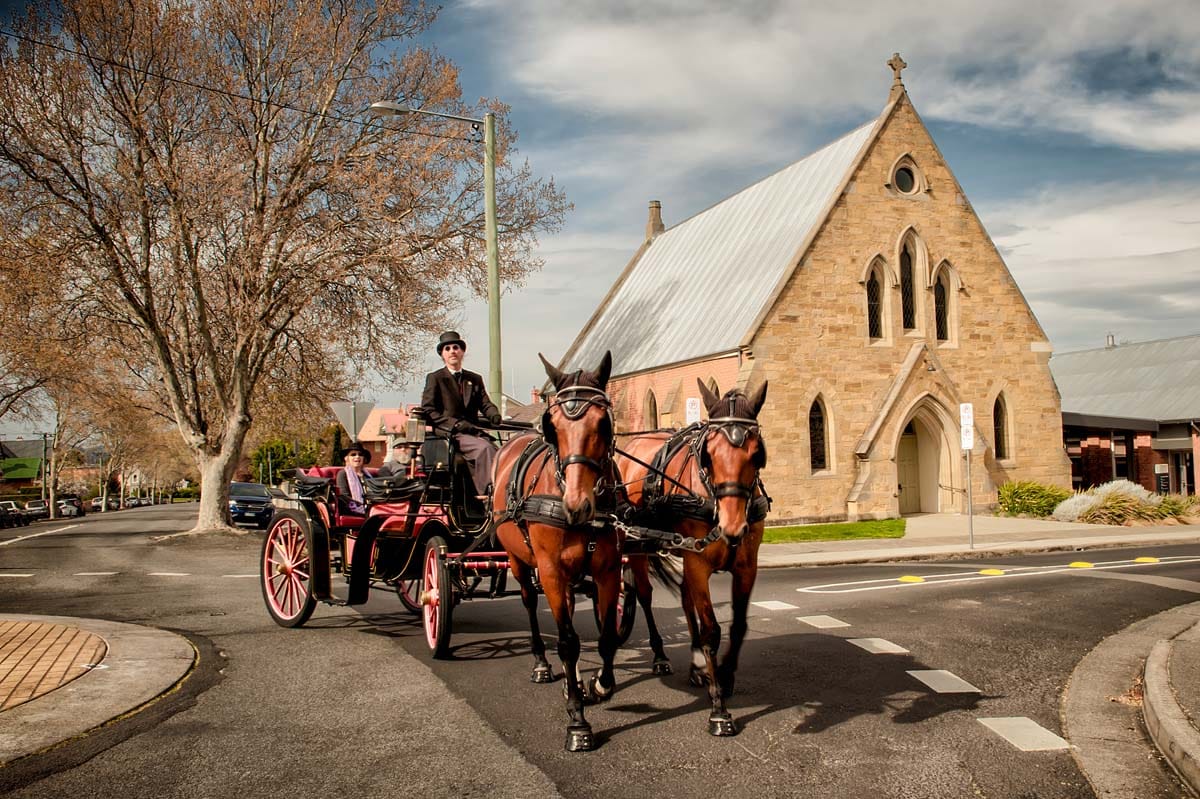 For a unique way of exploring Hobart that the kids will remember, consider taking a horse drawn carriage ride along the waterfront and around the historic centre of the city. If your little ones get tired of walking around, this is one of my favourite suggestions for things to do in Hobart for families.
Most of the carriage rides depart from Salamanca Place – so perfect if you have shopped a little too much or feel a little full after enjoying Salamanca market! There are different routes that run for varying lengths of time. You can either go for a quick 15 minute ride around Salamanca square, a 30 minute ride along the waterfront, or you can take one of the Hobart day tours for a longer trip around Battery Point or around the historic districts of Hobart.
It's also possible to combine carriage rides with afternoon tea or make your own tour, too! Pre-booking is recommended for longer tours, or you can find the horse drawn carriages along Salamanca Place in summer for shorter tours.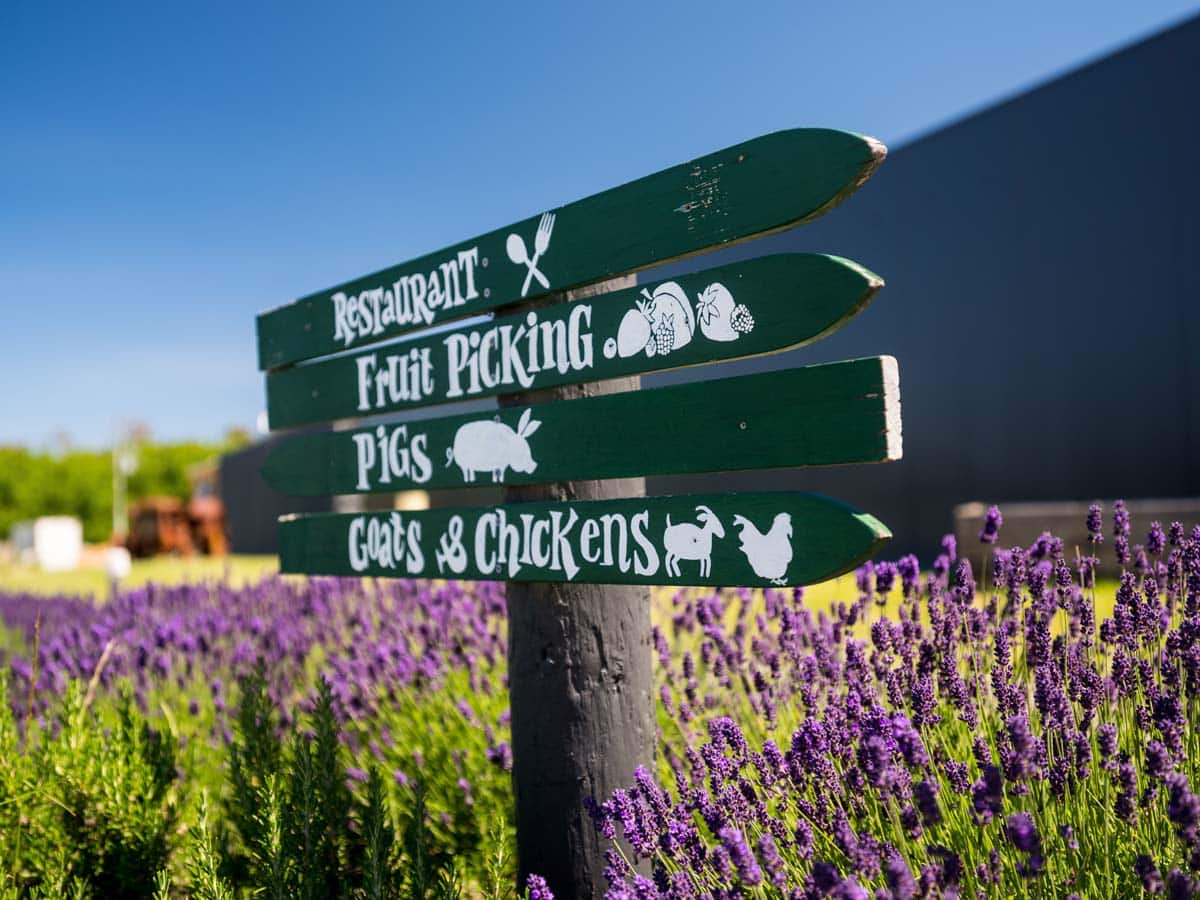 Just a 15 minute drive from Hobart CBD, if you're wondering what to do in Hobart with kids on a sunny day, look no further than a trip to Coal River Farm.
An easy drive from Hobart (or there's a bus operated by Tassielink if you don't have your own wheels), Coal Valley Farm is one of the best places to go to savour some of the best Tasmanian seasonal produce and for the kids to get a glimpse of farm life and spend time with some of the pigs, chickens and goats that are kept on the farm, too.
In summer months, Coal River Farm has Pick Your Own – the perfect Hobart family activity – and you can wander through the fields picking strawberries, raspberries and other fruits in season.
The farm also produces its own chocolate and cheese, among other products, and you can learn how to make them in workshops held here, too. The restaurant on the farm is open for delicious, locally sourced food 7 days a week and tastings as well. The farm also produces coffee, jams and different spreads.
The farm is family owned and run, and looks to showcase the very best of Tasmanian produce, which they believe is truly world-class.
For a beautiful day with the family outside of Hobart, a trip to Coal River Farm is one of the best things to do in and around Hobart.
19. Bonorong Wildlife Park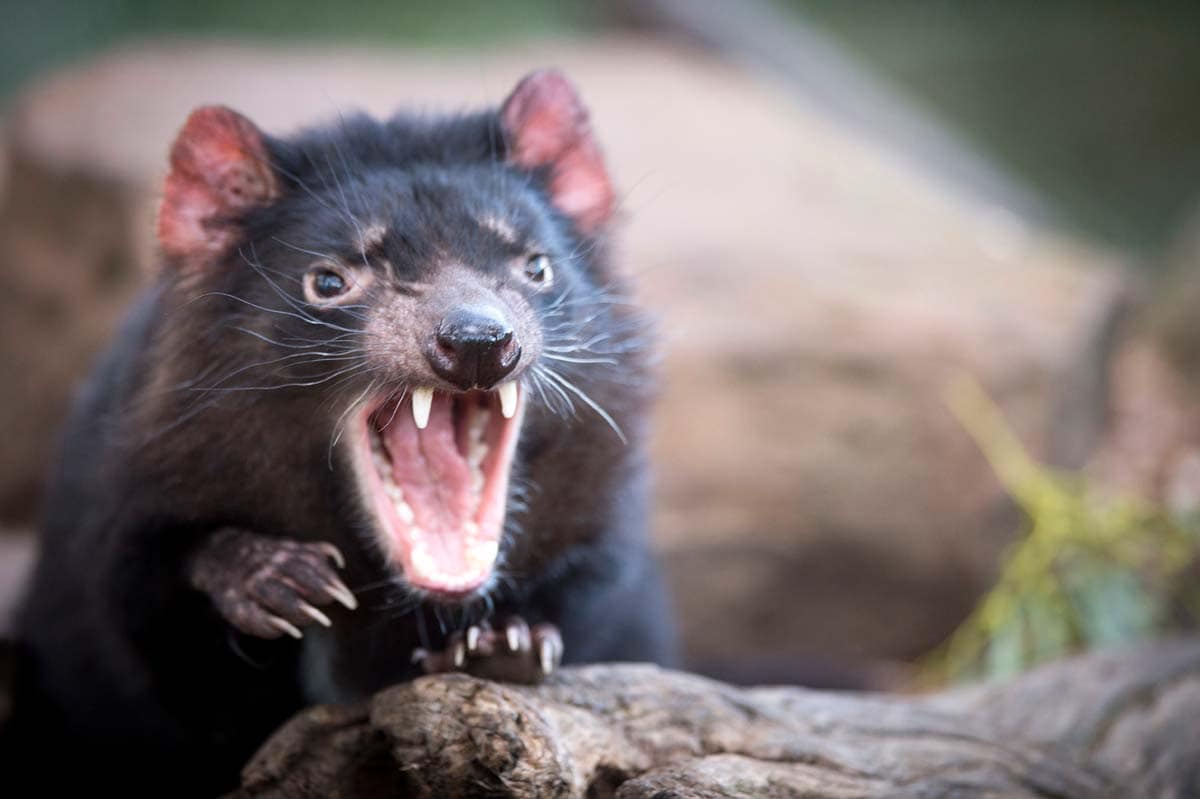 Just a 30 minute drive from Hobart, Bonorong is another of the tourist attractions near Hobart that's great for kids. Bonorong Wildlife Park is a rescue centre and sanctuary that helps sick, wounded, displaced or endangered wildlife – the name Bonorong is an Aboriginal word meaning "native companion", and this is another one of the top Hobart attractions for families.
The Lap of Tasmania is a proud sponsor of Bonorong, and proceeds from visits to the sanctuary play an essential role in funding the work of the conservation and rescue centre. The wildlife sanctuary is open daily, and there are regular tours of the sanctuary which introduce you to the wildlife and explain the work that goes on.
The sanctuary also runs night safaris (which do require advance bookings), and if you want more time with the animals, it's possible to book a private "feeding" session where you and your group will get time to feed many more of the animals.
Bonorong is home to a host of furry friends, from big to tiny, including kangaroos, Tassie devils, wombats, koalas, bettongs and many more. The sanctuary is supporting a number of conservation initiatives including the 24/7 wildlife rescue service, a seabird rehabilitation project, and the Bonorong wildlife hospital.
There's a gift shop on site where you can take home souvenirs of your trip for your kids, too, and there's also a full restaurant on site. If you're looking for unique family activities Hobart has to offer, definitely don't miss Bonorong off your list.
Hobart and the surrounding area is home to some world class museums that showcase some of Tassie's best arts and culture – so if you looking to discover Tasmania's art scene, or simply looking for indoor things to do in Hobart when raining, definitely have a look at these suggestions.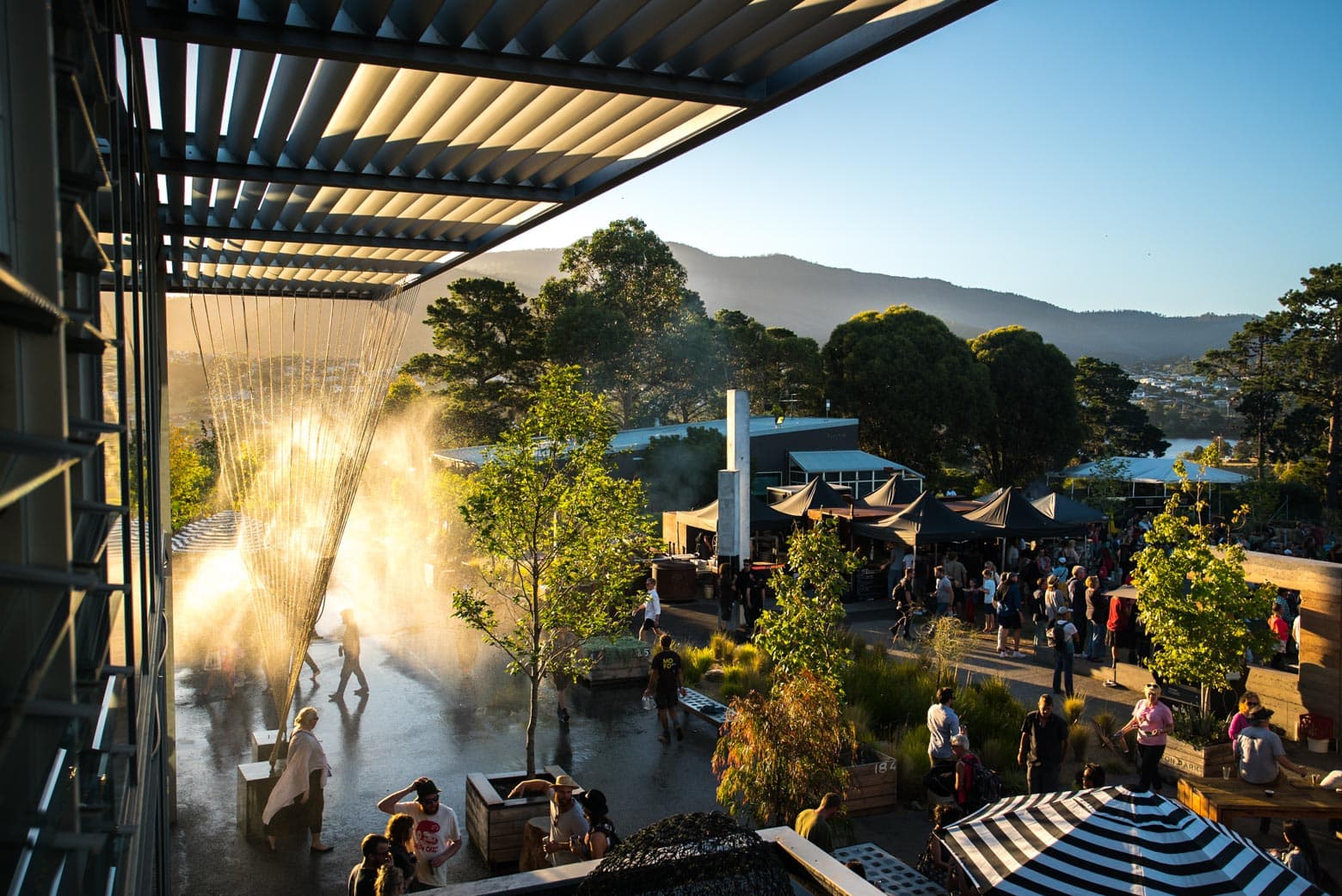 The MONA Museum is one of the most popular places to visit and a key feature of any Hobart top 10. MONA is also the museum behind the MONA FOMA and MOFO festivals held in Tasmania each year (see the festivals section above for more info).
This is a museum that is hard to define in a single sentence. MONA stands for Museum of Old and New Art. Located about 20 minutes drive from Hobart, you can also take a flash catamaran from Brooke Street Pier, taking about 25 minutes each way.
The exhibitions at MONA range from the wacky, to the unconventional, to the more traditional – it's an art museum unlike any other, and it's hard to put the style of MONA into words. Expect fun exhibitions for kids, modern art that courts controversy, and a focus on experiential art with light and sound displays.
Besides the art, you can head next door to Moorilla wine bar next door to get a taste of the local wine, or to The Source restaurant which features the best of Tasmanian-sourced fine dining. There are also "luxury dens" which are beautiful accommodations you can book to stay in along the riverside. MONA is also working on a hotel for the future.
Even if you don't normally love museums, a trip to Mona is highly recommended and may just turn out to be one of your Hobart highlights – it's certainly one of the Hobart things to see that shouldn't be overlooked. You can spend a few hours here or linger for longer – coming here and back by boat makes for one of the great day trips from Hobart in summer too.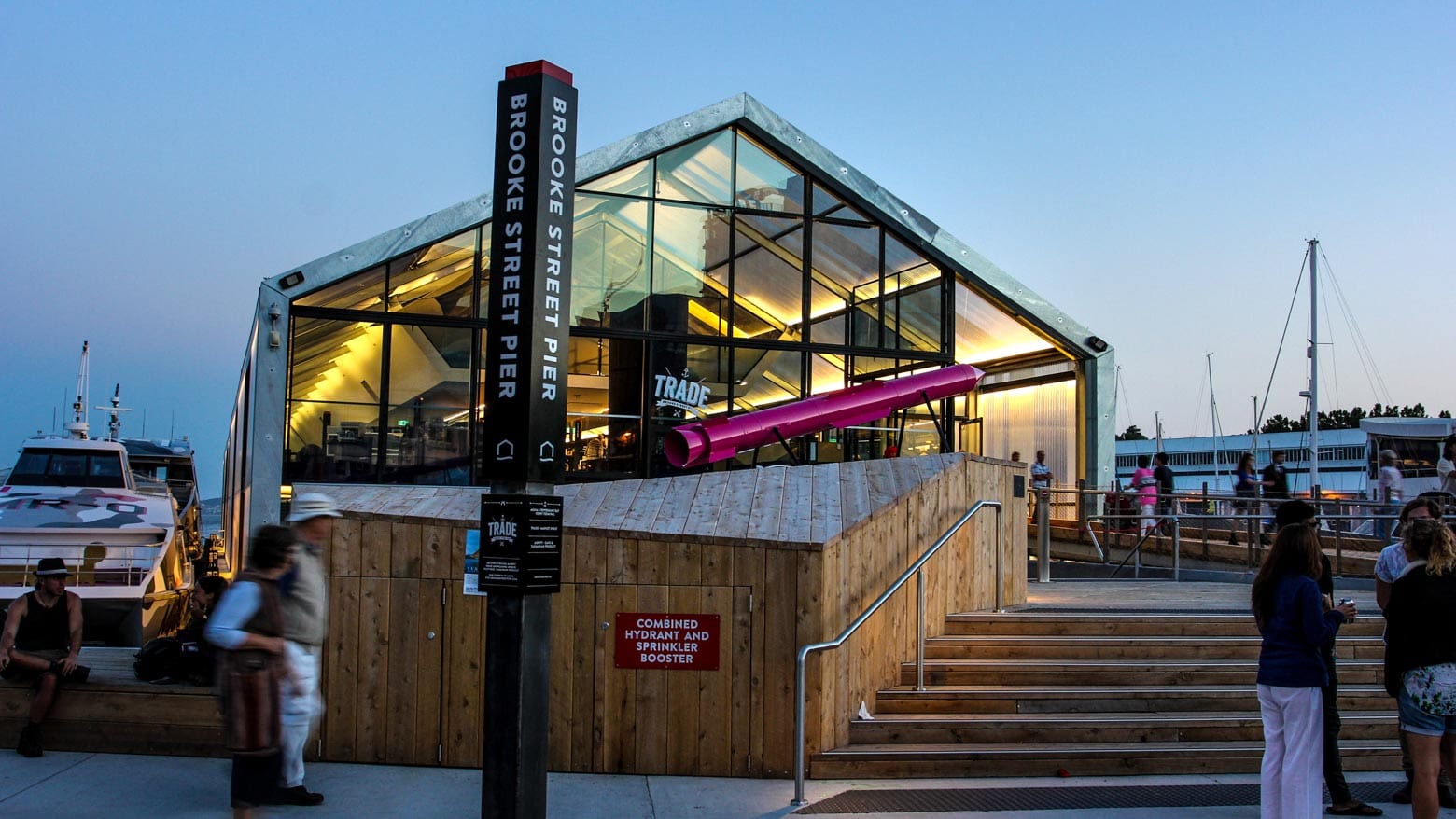 It's no surprise that visiting the waterfront is one of the top activities to do in Hobart, and while you're in the area, you won't want to miss out on Brooke Street Pier if you like culture and locally made products/food. You can make your own Hobart free walking tour of the area, or just drop in for an hour or two.
Brooke Street Pier is a floating pontoon which has existed in various forms for over 150 years. Originally a ferry terminal, the developers of the current pier were keen to ensure that diverse and unique Tasmanian business can thrive.
The pier serves partly as a ferry terminal today – this is where the boats to MONA leave from, and there are also catamaran cruises operated by the luxury operator, Peppermint Bay (book in advance). There's a beautiful restaurant on the pier, the Brooke Street Larder, which is one of Hobart's only waterside restaurants.
You can also find local suppliers here from Moorilla wines to Grandvewe cheese and Island tastings – so it's the perfect pitstop if you need to pick up some gifts from Hobart or have left your souvenir shopping until now! There are also some nice coffee bars and cafes if you feel like passing some time next to the water.
Far quieter than the Salamanca Markets and waterfront, a stop at Brooke Street pier is highly recommended during your time in Hobart for a nose-around. It's also a good option if you're in search of indoor activities Hobart has on offer.
Final thoughts, and suggested reading...
We hope you've found this article helpful in planning your exploration of Tasmania's capital city, Hobart!
Are you still a little bit unsure which places to visit? Or maybe you'd like to bounce some ideas off other travellers or Tassie locals?
We welcome questions over at our Facebook group, so please stop by and say g'day!
We also have plenty more articles like this to help with your planning. Here are some of our most popular ones:
Andrew.
Travel planning resources

Tasmania's remote location means there are internet 'black spots' across the island. 
A paper travel guide or map is the perfect backup, and we love the range from Lonely Planet.