Visiting Hobart? MONA Tasmania has got to be at the top of your list!
In this guide I answer all your questions – Is MONA worth it? How to catch the MONA ferry? How much does MONA cost? And plenty more!
The MONA Museum Tasmania is both controversial, and absolutely spectacular at the same time. Keep reading to learn how you can plan your perfect MONA day trip itinerary!
---
This page contains affiliate links. If you book or buy something through one of these links, we may earn a small commission (at no extra cost to you!). Read our full disclosure policy here.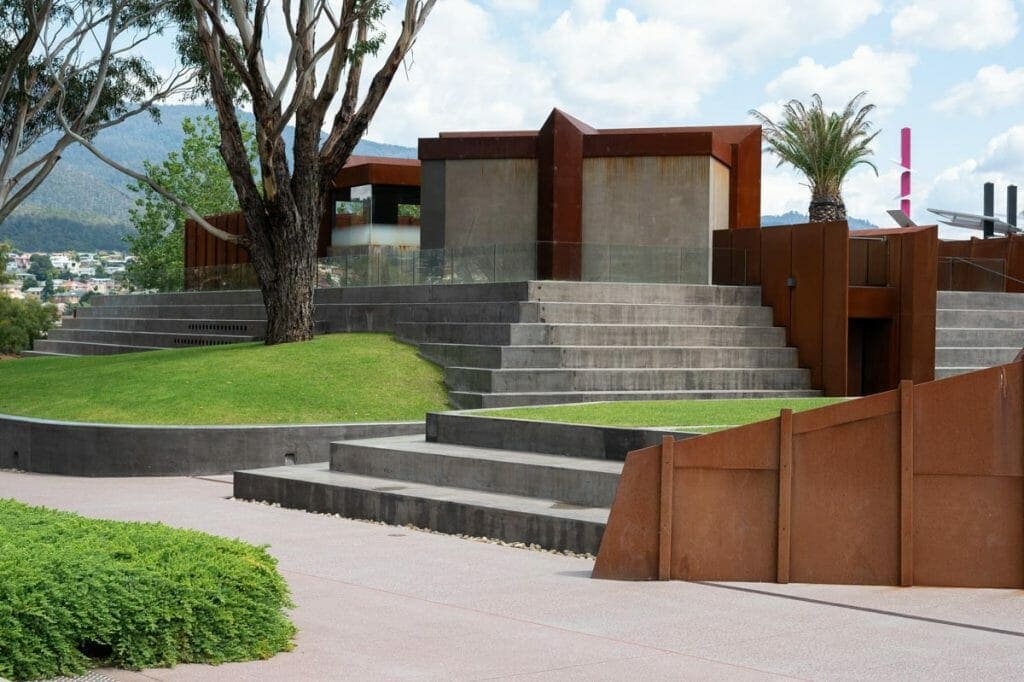 Is MONA Museum Tasmania worth visiting?
Whenever the MONA Museum Tasmania gets mentioned in our Facebook Group, it is inevitable that someone will ask the question – "Is MONA worth visiting?".
Every. Single. Time.
And I totally get it!
MONA Museum Hobart – or to use its full name, the Museum of Old and New Art – is not everyone's cup of tea.
In fact, I don't know that I've come across such a divisive attraction anywhere in Australia.
Some people absolutely swoon at the very mention of this weird, dark, and wonderful temple to the bizarre (yes, guilty).
Others? You couldn't pay them enough to ever set foot in Walshy's concrete and steel backyard ever again!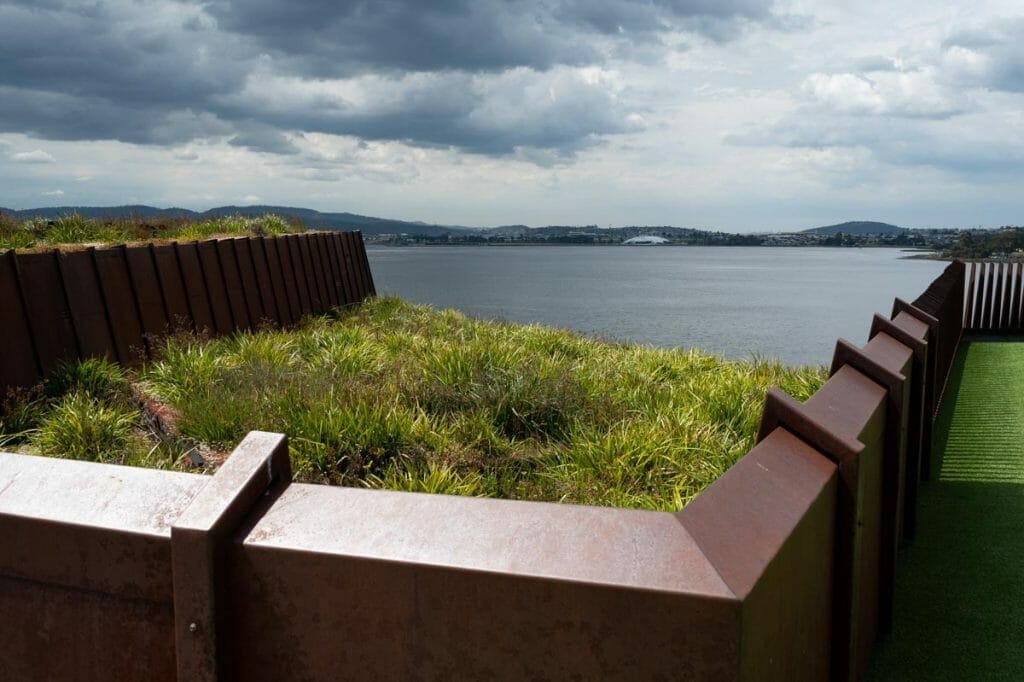 The answer lies in what you hope to get out of the experience.
If you are tight for time and want a guaranteed 'puppies and rainbows' kind of day, you might want to walk on by.
But for anyone else who is remotely curious as to what all the fuss is about, I can't encourage you enough to push your boundaries and give it a shot.
Even if you don't end up liking the art, just about everyone who visits can't help but admire the incredible architecture, the stunning views of the Derwent River and Mt Wellington from the MONA ferry, and the wonderful foodie experiences also available on site.
When deciding whether to visit or not, it's worth thinking about this quote by Cesar Cruz:
"Art should comfort the disturbed, and disturb the comfortable."
Of course, not everyone wants to be 'disturbed' on their Tassie holiday – and that's completely understandable.
But on the other hand, it doesn't matter who you are or what your 'art' preferences might be, among all the oddities scattered throughout this post-modern megalith I can guarantee you will find at least one piece of art that you will never forget – in a good way!
Something that lifts your spirit, opens your eyes to a new and exciting point of view, stimulates your senses, or simply reaffirms what you always suspected.
At the same time, no matter how liberal-minded you might be, there is going to be something that makes you wince. Something that hits you deep in the feels in an uncomfortable and unforgettable way.
This is what I love about art, and whether you choose to include Hobart's MONA museum in your Tasmania itinerary or not, I think we can all agree that Tasmania is very privileged to be the home of this world famous attraction.
---
To help you plan your visit, I have structured this guide to, first of all, provide you with a an easy-to-follow day trip itinerary, and then to answer any questions you might have about this fascinating museum.
Please feel free to use this Table of Contents to jump ahead as well.
Table of Contents
---
Hobart MONA Museum Day Trip: Your perfect itinerary
A Hobart MONA Museum day trip is the perfect way to spend your time when visiting Tasmania's bustling little capital city – nestled between the mountain and the River Derwent.
Planning your day trip to MONA isn't hard, but the timing and order in which you do things can make a big difference to your experience and making the most of your time.
My wife and I recently revisited MONA, and our itinerary ended up working out perfectly – so I thought I would share it with you!
I also have an alternative itinerary in my Hobart Day Trip Planner (eBook), that you shows you how to combine a day at MONA with many of Hobart's other attractions – click here to learn more.
9:00-10am: Breakfast
There are plenty of amazing breakfast options throughout Hobart, so I have no doubt you will find one near your accommodation.
Some of our favourites include Harbour Lights Cafe (waterfront), Machine Laundry Cafe (Salamanca), Berta (CBD), and Born in Brunswick (North Hobart). Vegetarians will love Straight Up Coffee and Food (CBD).
If you are keen to hit MONA as soon as possible then you could start breakfast a little bit earlier, skip a separate coffee stop, and aim to catch the 10:15am ferry.
10-10:30am: Coffee!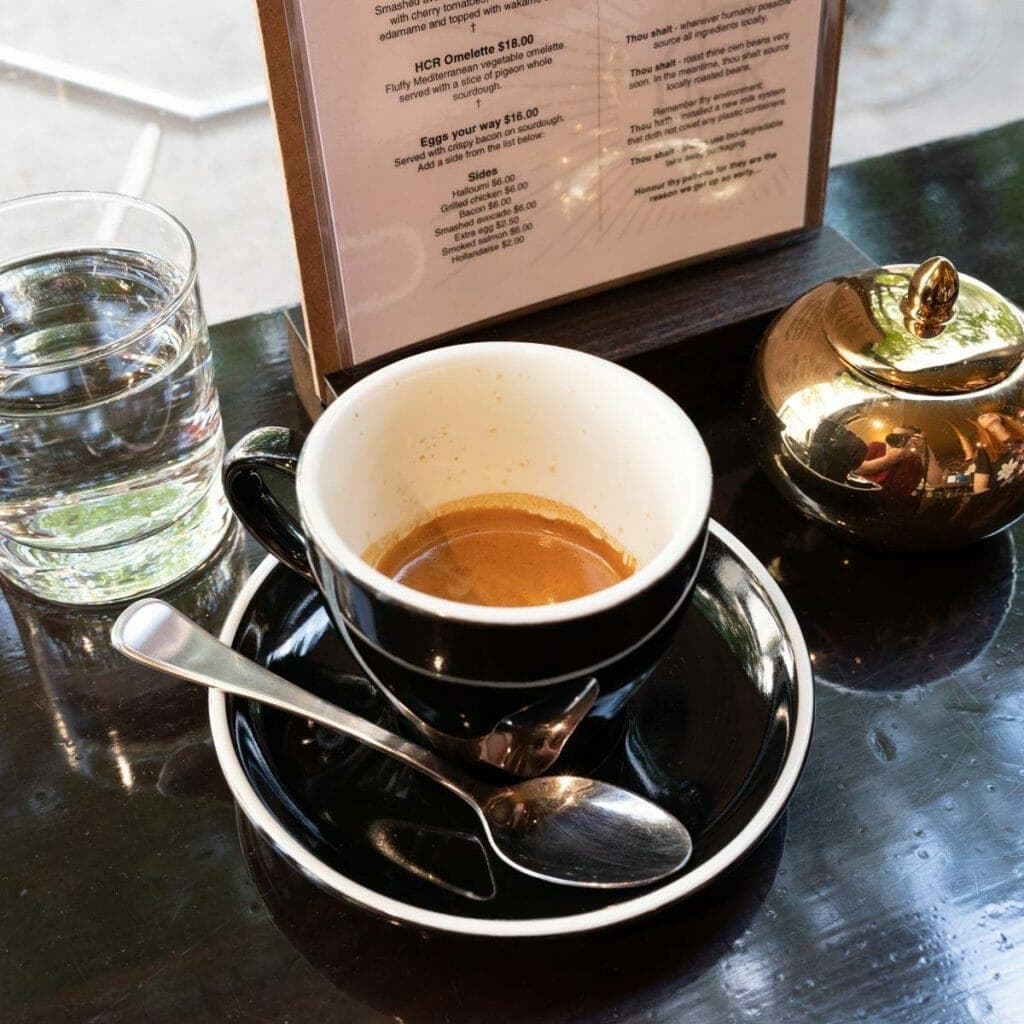 We always like to start our day with a hot brew, especially from somewhere we haven't tried before.
This time, we discovered a little gem in Hobart Coffee Roasters – Franklin Wharf Chapter. It's a bit of a mouthful of a name, but their espresso is literally the best I have found in Hobart, and they are also just a few minutes' walk from Brooke Street Pier.
10:30-11am: Browse Brooke Street Pier
In addition to being the place where you can buy your MONA ferry tickets, Brooke Street Pier is also a great place to spend some time and pick up a souvenir, especially if you don't have long in Hobart.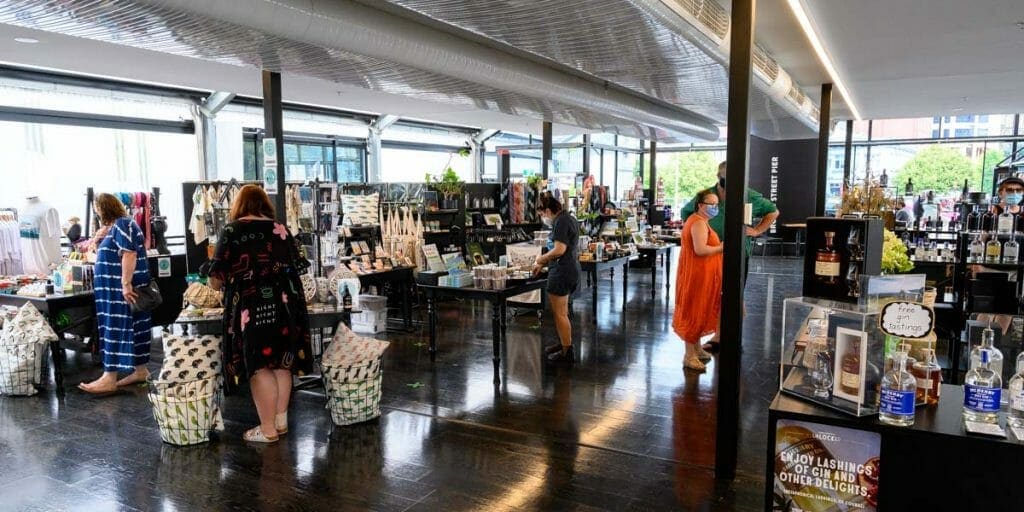 It is a huge floating structure containing many of Tasmania's most iconic businesses all under one roof, such as:
Brooke Street Larder
McHenry Distillery
Grandvewe Cheeses
Naturally Millie Ma
Island Tastings
Aloft Restaurant
The Glass House
And plenty more!!
Entry is free, and many of the foodie options provide tastings as well 😋
11:15am: Catch the MONA Ferry
Catching the MONA Ferry is an experience in itself – don't forget to look really closely at the camouflage boat design for a cheeky surprise…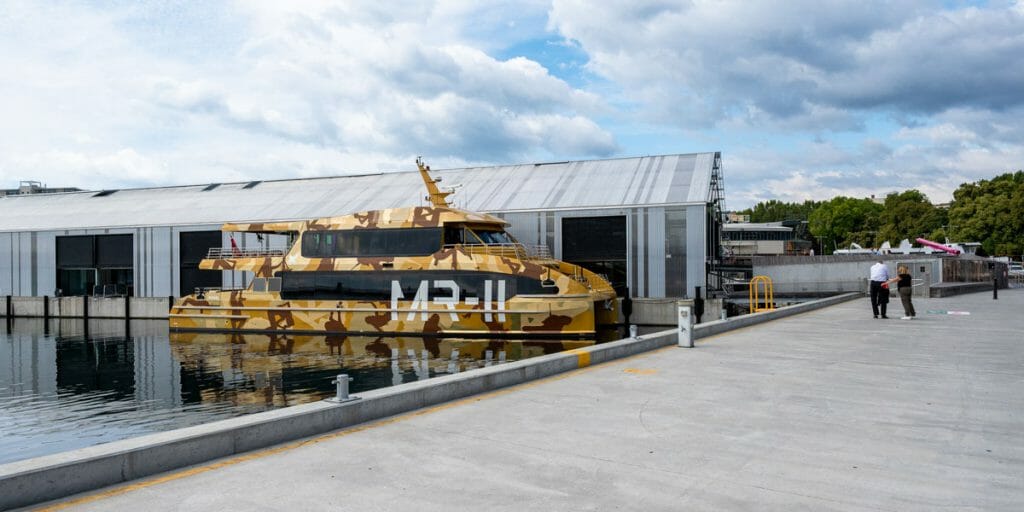 There are two catamarans – MONA ROMA I and II – that cruise the River Derwent between Brooke Street Pier and the MONA Museum, with departures from each end scheduled roughly hourly (as per the schedule below).
These catamarans are super stable, and the river is sheltered, meaning you don't need to worry about getting motion sickness at all.
You could go for the cheapest option and pay for a regular ticket ($25pp) that gets you access to all common areas, including the bar – but my wife and I wanted to take things to the next level, treating ourselves to 'Posh Pit' tickets instead!
The Posh Pit ticket costs a little extra ($60pp), but if you love your food and drink then the splurge is well worth it. Here's what you get:
VIP queue, getting you on board the ferry with a minimum of fuss
Private lounge, bar, and front-facing deck (for your very best Leo+Kate impression)
Complementary drinks, including a great selection of Moorilla Winery wines and Moo Brew beers (non-alcoholic options are also available) – the mimosas were proving very popular on our trip in the morning
Complementary plates of delicious tapas – the lightly seared tuna with sweet corn and salsa was amazing!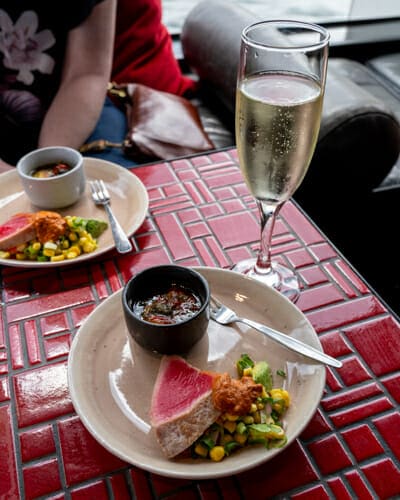 Pro Tip: The total cruise time from Brooke Street Pier to MONA is about 25 minutes, and because of all the food and drink inclusions it is easy to run out of time to explore the boat (including an obligatory photo of yourself riding on the sheep).
The best time to go for a quick wander is after finishing your welcome drink, before the first plates of food are served (or save it for your return journey).
Tickets can be bought from the MONA outlet inside Brooke Street Pier on the day, but a lot of other visitors will have the same idea meaning you are going to be queuing for ages.
The better option is to buy your tickets online in advance, and you can head straight downstairs to the waiting area. All you need to do is to present your digital tickets on your phone at the time of boarding.
12pm: Lunch at FARO Restaurant
As a pair of massive foodies we were more excited about our lunch at FARO Restaurant than MONA itself to be honest.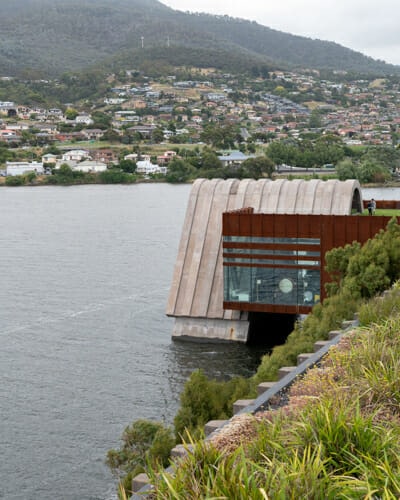 Every few months they mix up the theme at this quirky restaurant, and for our visit we enjoyed an absolutely amazing Japanese degustation, complete with ridiculously fun entertainment throughout!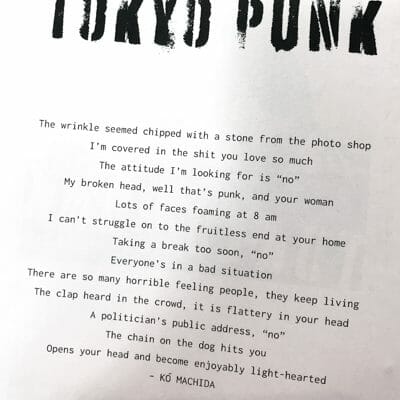 My wife and I normally cringe at typical 'lunch and a show' type of experiences…but honestly, we couldn't stop laughing right from the start at how ridiculously over-the-top and quintessentially Japanese it all was.
Can you remember the last time a giant pink thingabob invaded your lunch? Or when a giant mushroom from Mario Brothers was thrashing out some insane riffs from stage left?
Yeah, me neither 🤣
The entertainment was fantastic, but the food was even better.
Refined. Amazing texture and flavour combinations. Not too stingy on size either.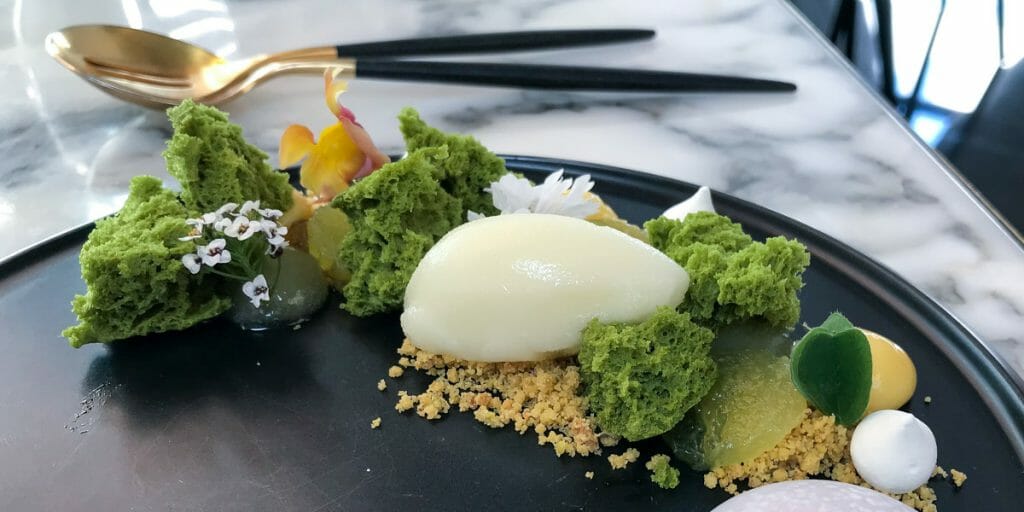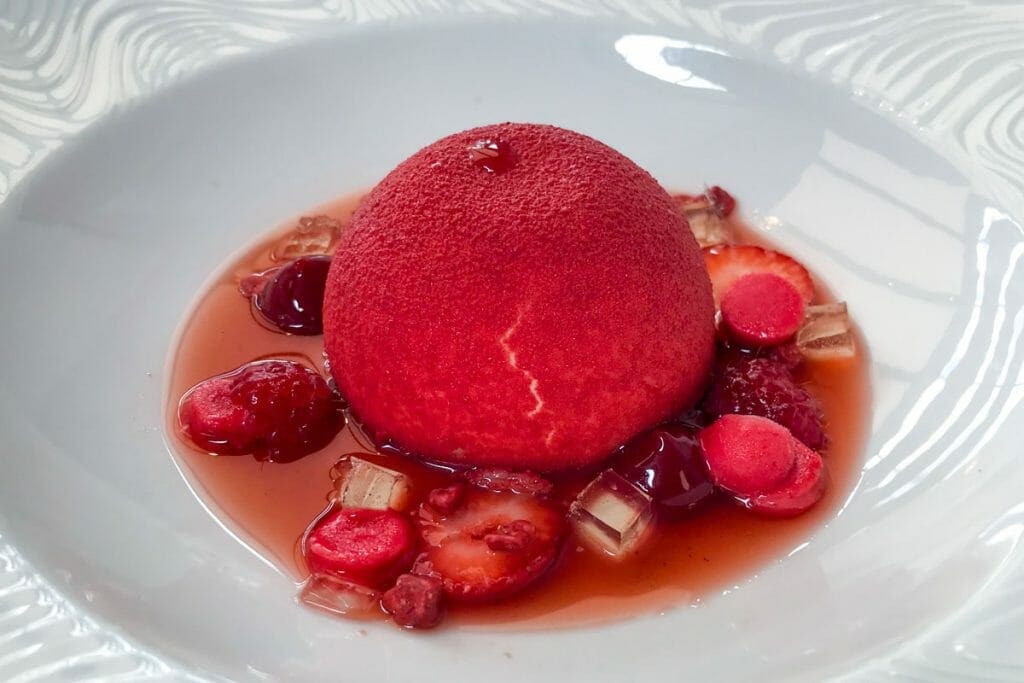 At $150pp it isn't cheap, but this is one foodie experience we will never forget!
As part of your lunch you also get to visit one of the mind-blowing James Turrell artworks that is hidden away from regular museum visitors.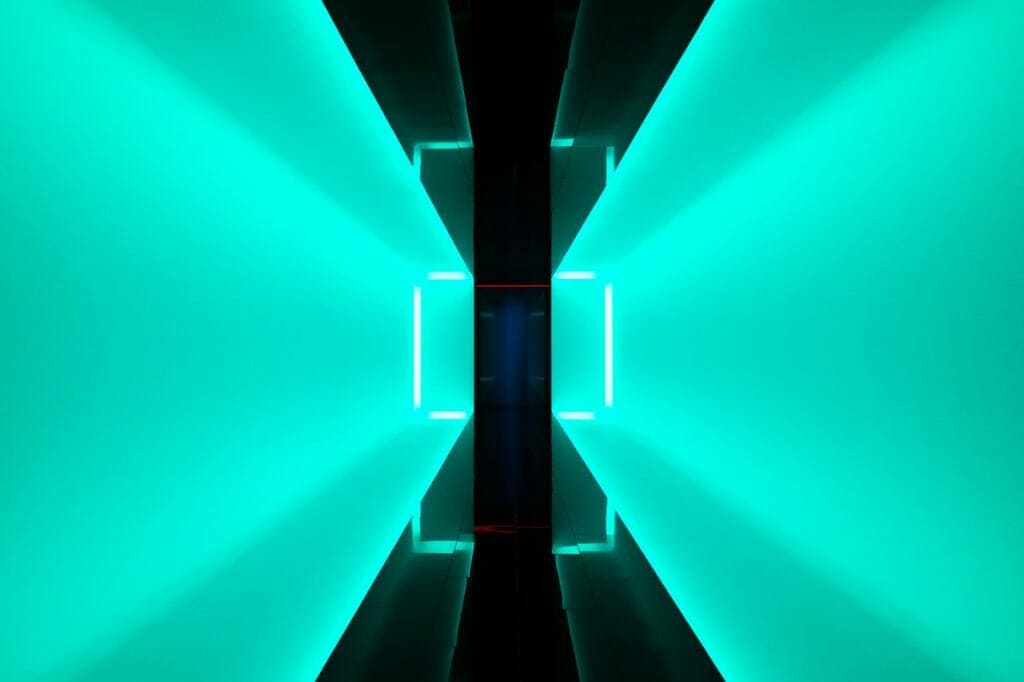 FARO lunches are divided into two sittings – 12pm and 2:30pm.
The 12pm sitting times in nicely with the ferry arrival at around 11:40am, giving you time to casually make your way through the grounds to the restaurant. With lunch finishing around 2pm you will have a half-day to explore MONA afterwards.
The 2:30pm lunch option can also work, but to have enough time to see the MONA Museum you would need to get one of the very early ferries at 9:15am or 10:15am.
Dinner at FARO wasn't going to going to be possible for us on the day, but it is the best way of having the most amount of time possible to see the MONA Museum, as long as you don't mind waiting an hour between the museum closing (5pm) and the first available dinner seating at 6pm.
FARO Opening Hours:
Lunch – Monday to Friday, sittings at either 12pm or 2:30pm
Dinner – Friday to Sunday, from 6pm
FARO Cost:
Multi-course set menu – $150pp
Multi-course set menu + drinks package – $200pp
Deluxe Dinner (incl. more dishes, rare and vintage wines and other beverages, and complementary entry to numerous James Turrell artworks) – $350pp
2-5 or 6pm: Explore MONA
With lunch finished, it is time to go exploring the MONA Museum itself!
The first thing you will notice about MONA is the architecture. Its exterior is all about contrasts in textures and angles – rusty carbon steel, futuristic reflections, lush grass, and harsh concrete.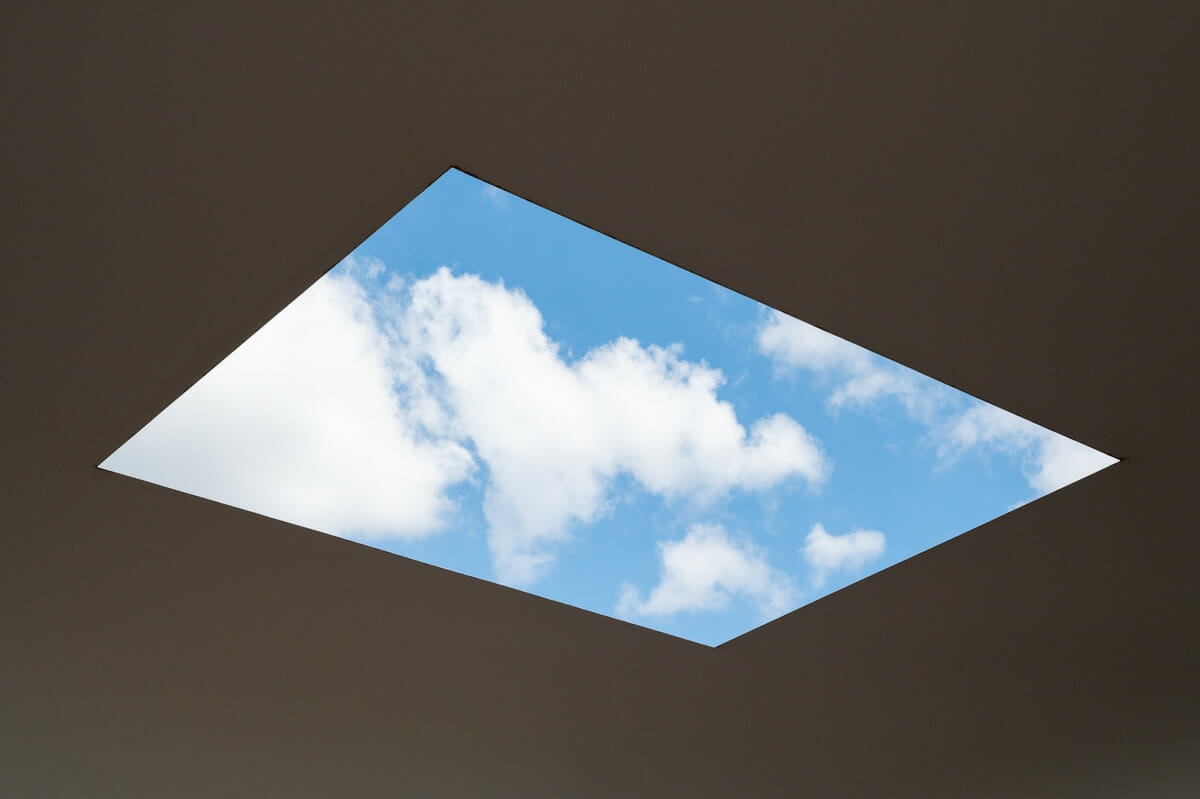 These themes continue as you descend into the bowels of the earth, but with a shift away from the light toward dark corners, eery tunnels, spotlights, rough-hewn sandstone and a disconcerting maze of platforms and gangways.
It can be disorienting, but with plenty of time on your hands the best way to start is to choose a direction and simply wander to your hearts content. It won't take long and you'll start to get a feel for how the museum is laid out.
A cocktail from Void Bar isn't a bad idea to get you settled in either.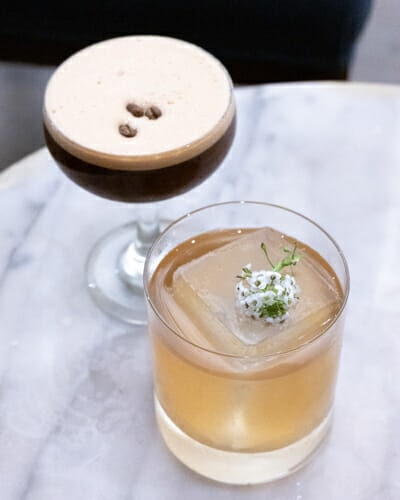 Don't forget to download your copy of the 'O' app before you arrive.
Not only will 'O' help you find your way around, but it has plenty of information and narrated stories about all the exhibits you will encounter around MONA right at your fingertips. You can also use it to rate your favourite (and not so favourite) exhibits.
In pre-covid times you would receive a pair of headphones and a little device pre-loaded with the app, but these days in the interest of public health you simply download the app to your phone and bring your own headphones or ear buds.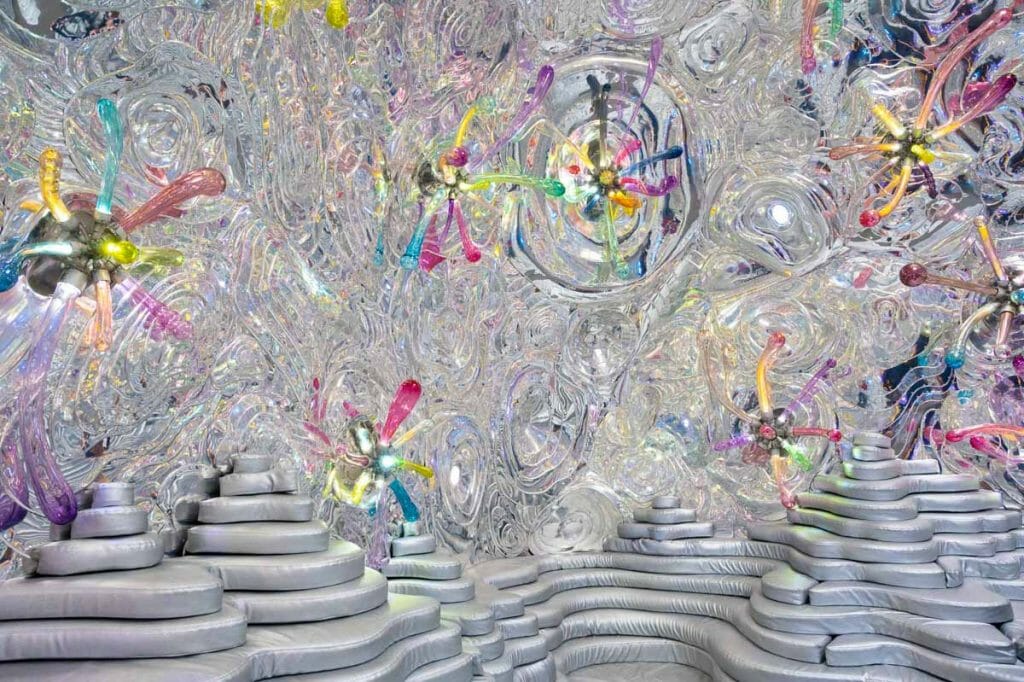 There is something for everyone in this museum, but when you step back and look across all the exhibits you start to see recurrent themes emerging around death, love and lust, the human body, and some pitch black humour.
Who knows what David Walsh's true intentions are with this very expensive hobby horse… but for me it feels like he is encouraging us to explore what it means to be human. Challenging us to strip back our protective layers and acknowledge that no matter where we come from, what language we speak, or which footy team we support (unless it's Port), when it comes down to it there is more that brings us together than keeps us apart.
In saying that, don't be fooled into thinking that MONA is all morbidly depressing and 'deep'. Nothing could be further from the truth.
I can't remember laughing so much, feeling such awe for the incredible artists and their crazy ideas that have actually become a reality, or feeling such a sense of optimism for our future.
As you can probably tell, I love MONA. And I hope you will too!
MONA Tasmania Opening Hours:
Friday to Monday (closed Wednesday and Thursday), from 10am to 5pm
During Dark MOFO opening hours extend to 6pm
MONA Tasmania Cost:
An online booking is essential for all visitors (no walk-ins allowed)
Tasmanians – Free entry ($10 deposit, refunded after you visit)
Non-Tasmanians – $30pp (adults) or $27 (concession)
Under-18s are free, but still require a booking
Exploring the grounds is FREE
Some exhibitions and collections require an additional fee (bookable online)
5pm or 6pm: Catch the Ferry Back to Hobart
The two best ferry options to get back to Hobart are the 5pm (year-round) and 6pm (summer/peak season only) options.
It was summer when we visited, meaning the 6pm ferry option was perfect. It allowed us to explore MONA right up to closing time at 5pm, and then grab a drink at the Moorilla Wine Bar to relax and process everything we had just seen, heard, smelled and felt – all while watching the crowd build up for a Midnight Oil concert being held on the grounds that night.
If you are visiting outside the summer season and you also want to go to FARO for lunch, then I suggest getting the 9:15am or 10:15am ferry to MONA to give you 2-3 hours of time in the museum in the morning. You can then return to the museum after lunch, as your ticket allows entry all day.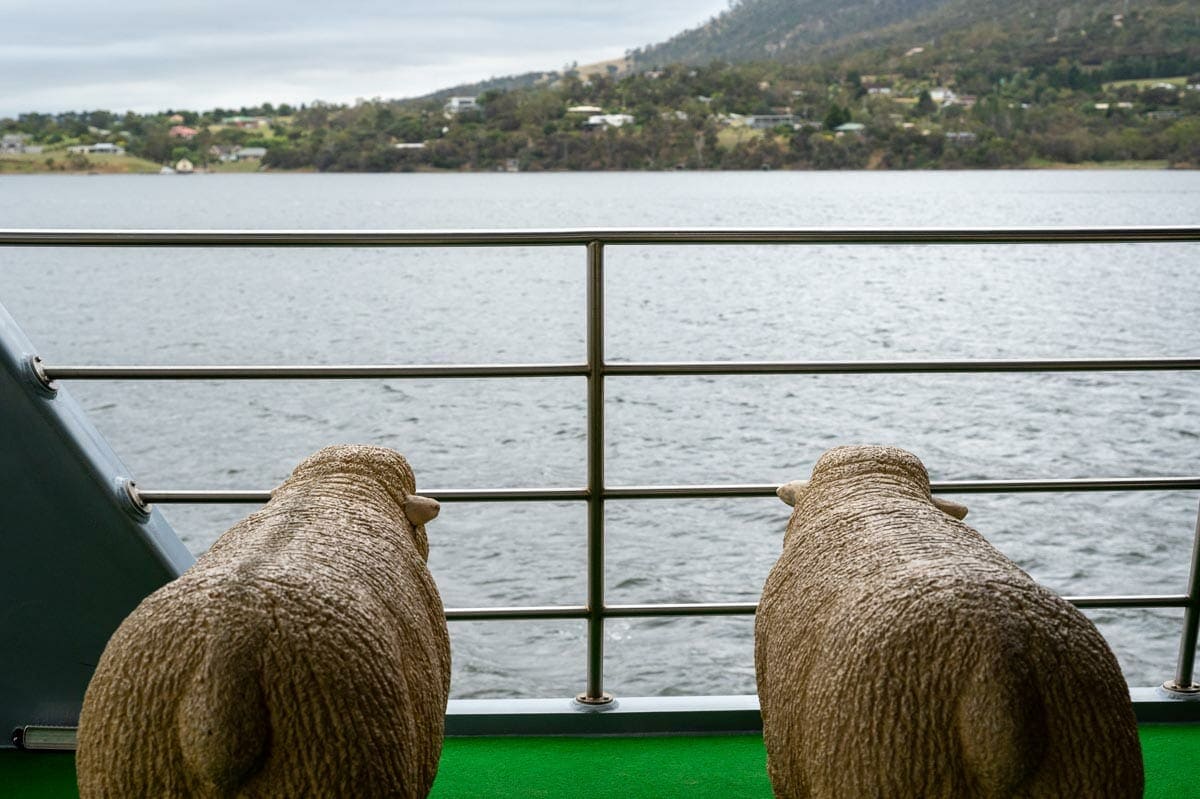 If you bought a 'Posh Pit' ticket then you will again receive some small dishes of food (sweets this time) and access to their complementary drinks list for the return journey to Hobart.
We found the return journey to be a lot quieter than in the morning, making it ideal for going for a wander around the ferry.
8pm: Dinner in Hobart
Hobart has gone through a food revolution over the last 10 years, and there are so many sensational options available to you.
My wife and I have eaten at nearly every restaurant in Hobart, and some of our favourites within walking distance of the Hobart waterfront include:
Aloft (pan-Pacific cuisine, stunning water views)
Landscape Bar and Grill (showcases Tasmanian produce)
Da Angelo (Italian, never-fail option, short walk to Battery Point)
The Drunken Admiral (renowned for their chowder, family friendly)
The Glass House (cocktails and small plates, also has amazing water views)
Mures (iconic seafood restaurant, lower-deck is family-friendly, upper-deck more exxy)
Dier Makr (ultimate degustation)
Urban Greek (great value, family friendly, short walk to CBD)
Flippers (fish punt, fish and chips)
If you need help choosing, or are looking for something more specific, please don't be shy to ask over at our Lap of Tasmania Facebook Group.
---
How to get to MONA from Hobart
Don't stress if you are wondering how to get to MONA from Hobart, because there are seven great options (I provide detailed information for each further down):
MONA Ferry – Your best and most fun option. Not suitable if you need a wheelchair though.
MONA Bus – Cheaper than the ferry but doesn't leave or return as often. Suitable for wheelchair users (let them know beforehand though).
Car – Saves you the cost of a ferry or bus, and you have ultimate flexibility – however parking is limited.
Tour – Most expensive option, but everything is all planned out – no fuss.
Bike – A fun way to get to MONA, while exploring Hobart's northern suburbs.
Bus (public) – Cheapest option, but limited by bus frequency.
Taxi/Uber – A more expensive option, but flexible with timing.
How to catch the Hobart ferry to MONA
The Hobart ferry to MONA leaves from Brooke Street Pier at the Hobart waterfront, and it is heaps of fun for both adults and children!
As you can see from the timetable below, the MONA ferry departs from both ends roughly hourly. The first ferry leaves Hobart at 9:15am, and the last ferry departing MONA back to Hobart leaves at 5pm (or 6pm during summer/peak season).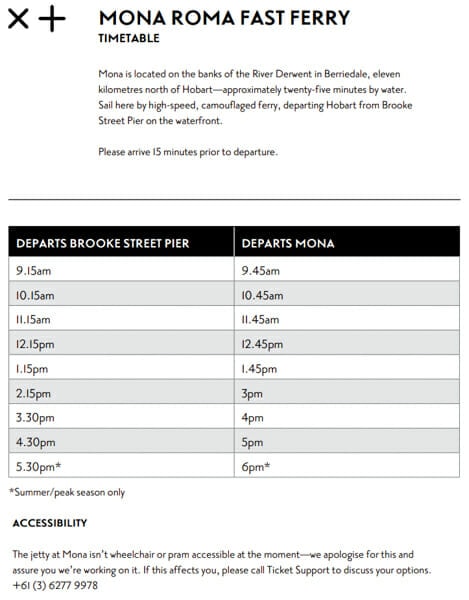 The cruise takes around 25 minutes each way, and there are plenty of seats both inside and outdoors.
Please note that the jetty at MONA is not yet wheelchair accessible. If you require the use of a wheelchair (or pram, walking frame or scooter) then your best option is to book the MONA bus (below).
There are two types of ticket available for the MONA ferry:
Regular ticket – $25pp, children under 4 years are free
'Posh Pit' ticket – $60pp (see my itinerary above for all the inclusions my wife and I received!)
All tickets include your return journey.
To buy your tickets you can either buy them online (recommended), or you can buy them from the stall inside Brooke Street Pier. The ferry is extremely popular in summer, so I strongly recommend buying your tickets online if possible.
Lockers are available at Brooke Street pier if you need to store small items of baggage.
How to catch the MONA Bus
Catching the MONA Bus is also very easy, however as it isn't as popular as the ferry it doesn't have as many departure times.
The table below shows you the available times, to and from MONA.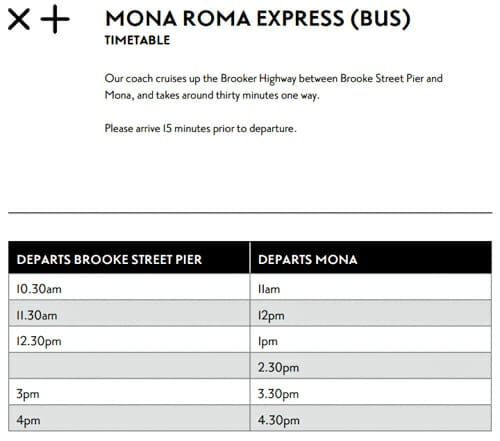 Tickets cost $15pp for a return journey, and it takes around 30 minutes to get to MONA from Brooke Street Pier.
You can buy your tickets online or from Brooke Street pier.
Don't forget to have a look at the back of the bus and to take a photo – it's very funny!
How to drive to MONA
If you are a local, or you have rented a vehicle for you holiday in Tasmania, then driving to MONA is a great option.
Personally, I think experiencing the MONA Ferry is an absolute 'must' for any Tassie holiday, but if you need to save a few dollars then driving yourself is the way to go.
The roads out to MONA are in good condition and sealed all the way. Simply take the Brooker Highway out of central Hobart for about 15-20 minutes and then take the Chigwell off-ramp and follow the signs.
Parking is free, but very limited at MONA – I advise arriving early during summer.
MONA tours
A tour is a great way to see MONA, without needing to worry about planning all the details of your day.
There are a lot of fantastic tour companies in Hobart that offer MONA tours, and these are a few of my favourites:
Hobart City Tour + MONA (from $115pp) – Includes a Hobart city tour by tram-bus, and entry to MONA
Moorilla's Wine Meets Art Tour (from $190pp) – Includes wine tasting at Moorilla Estate, lunch at the Source restaurant, and entry to MONA
MONA and Moorilla Winery 'Posh As' Tour (from $450pp) – Includes 'Posh Pit' ferry transfer, a private wine tasting with the Moorilla Estate Ambassador, 2-course lunch at The Source Restaurant with matched wines, MONA entry, and complementary bottle of wine
How to ride a bike to the Hobart MONA Museum
Hobart is a ridiculously hilly city, but what a lot of people don't realise is that there is a brilliant intercity cycleway that takes you from the Hobart waterfront along the river and up to Hobart's northern suburbs – including the Hobart MONA Museum!
As it follows the river, the cycleway ascends slightly along its length, and there aren't any large hills at all. Your level of fitness and the number of food/drink/photo stops will determine how long it will take – I'd be allowing 1-2 hours.
There are a few options in town to choose from and all are great. The last time my wife and I did this we chose to hire a bike from Hobart Bike Hire, as they have an outlet right by the waterfront.
Prices range from $30-50 for a full day hire (less for children).
How to catch the public bus from Hobart to MONA
Catching the bus to MONA is definitely possible, and it is cheaper than the other options, but you will lose some time while waiting for buses or due to bad traffic. Buses in Hobart don't tend to run very often on weekends either.
There are five buses you can catch that will take you past the entrance of MONA – 510, 521, 520, 522, X20. The 605 is also an option, however service is very limited. Allow around 30 minutes from the Hobart CBD.
Travelling from Hobart to MONA by bus will take you through two 'Zones', meaning a one-way ticket will cost around $4.80 for adults, $2.40 for concession holders, and $1.90 for children under five years.
Tickets can be purchased on board the bus.
To save 20% on fares, there is also the option of buying a prepaid 'Greencard' from the Metro Shop or the Tasmanian Travel and Information Centre by the waterfront.
For more information, including timetables and route maps, visit the MetroTas website.
How much does a taxi or Uber cost to MONA?
Taxis and Ubers are a very flexible way of getting to and from the Hobart MONA Museum.
Costs will vary based on the time of day, but I would allow $25-30 each way.
---
Where to eat and drink at MONA
There are six places you can grab a feed at MONA, with menus and budgets to cater for all types of traveller:
FARO Bar and Restaurant – Set menu, available for both lunch (Fri-Mon) and dinner (Fri-Sun). Includes a performance as well – the theme changes every few months.
Dubsy's Food Truck – Specialising in burgers, but with a range of other quick and tasty options as well.
The Source Restaurant – High end dining. Lunch only (Fri-Mon).
Moorilla Wine Bar – Share plates, seasonal treats, breads, pastries, and an extensive list of beverages. Open Friday to Monday from 9am until close.
Void Bar – Cocktails, wines, beers, pizzetas, sweets and snacks. Located inside MONA, so you will need a ticket.
Cellar Door – Wine tastings available from Friday through to Monday, 12-5pm.
---
Where to stay near MONA
The absolute best place to stay near MONA is on the grounds of MONA itself at MONA Pavilions. It isn't cheap, but I don't know that you would find a better place to stay anywhere in Tasmania!
Each pavilion is perched on the cliffs of the Derwent River, where you can relax in your bath and soak up the incredible views. Being on-site, you also have the freedom to explore the MONA Museum grounds after hours, without all the crowds, to your heart's content!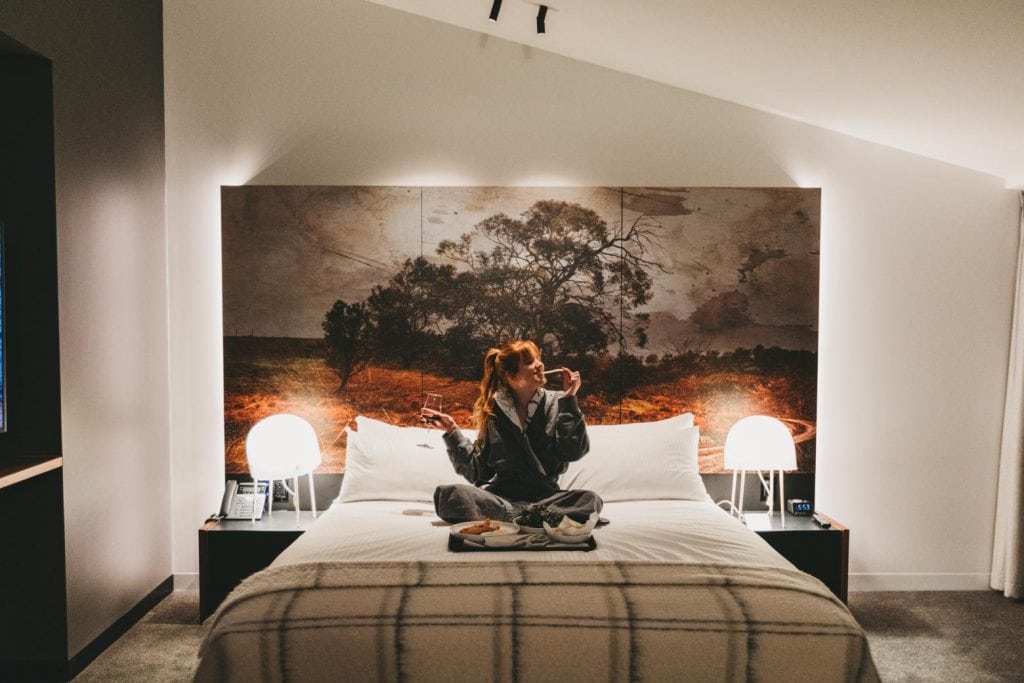 You will also love these options near the Hobart waterfront, with nearly all being just a few minutes walk to Brooke Street Pier and the ferry:
---
– FAQs –
I get a lot of questions about MONA, so I thought I would include the most popular ones here.
How long to spend at MONA?
If you are wondering how long to spend at MONA, I always recommend allowing 2 hours as an absolute minimum, and up to 8 hours (a full day) if you know you are going to love MONA.
The reason I say 2 hours, is that it will take an hour or more to simply wander the labyrinthine corridors and walkways of the museum (even if you end up not liking the art installations), as well as allowing 30 minutes or more to explore the museum grounds.
Add in drinks and a meal and most people find that allowing 4 hours at MONA – a half-day – is about right.
MONA Museum cost / Is MONA free?
Lucky you if you're a Tasmanian, because MONA is FREE for locals, with a $10 refundable deposit.
Non-Tasmanians will need to pay an entry fee of around $30pp for adults, or $27pp for concession holders. Children under 18 years are free.
MONA Tasmania opening hours / When is MONA open?
MONA is open four days per week – from Friday through to Monday.
MONA Tasmania opening hours each day are from 10am to 5pm (or 6pm during the annual Dark MOFO Festival).
Can you drive to MONA Museum?
Yes, you can drive to MONA Museum. Scroll up, where I have all the details!
Is it worth getting the ferry to MONA?
Absolutely! It is definitely worth getting the ferry to MONA.
The ferry is full of quirky things to make your journey fun, and the bar has an excellent variety of Tasmanian wines, beers, spirits and cocktails. It also takes you up the beautiful River Derwent, presenting wonderful views of Mt Wellington, Salamanca waterfront, and the lovely eastern shore.
A lot of travellers tell me that they actually liked the ferry to MONA even more than the museum itself!
Is the 'Posh Pit' worth it?
If you are a foodie, or love the finer things in life, then you will really enjoy the 'Posh Pit' experience.
Young children will prefer exploring the main parts of the ferry that come with a regular ticket, and adults who aren't interested in foodie experiences probably won't feel that the 'Posh Pit' represents good value either.
Where is MONA Museum?
The Hobart MONA Museum is located at 655 Main Road, Berriedale, Tasmania 7011 – here
---
Final thoughts on MONA Tasmania
Whether it is the awe inspiring architecture, the weird and wonderful exhibits, or simply a case of insatiable curiosity… I hope I have helped convince you to put MONA Tasmania onto your Tassie itinerary!
Yes, it is controversial, but Tasmania is all the better for having such an exceptional global icon right on its doorstep, and I have no doubt that an exploration of this subterranean temple to the bizarre will create memories that last a lifetime.
If you enjoyed this guide to MONA then I've got a feeling you might also find these articles helpful in continuing your holiday planning:
Happy and safe travels!
Andrew.