Are you wondering what to wear in Tasmania?
Tassie is famous for its changeable weather and you don't want to get caught out. We take you through all the options – showing you how to stay warm and save money!
This page contains affiliate links. If you book or buy something through one of these links, we may earn a small commission (at no extra cost to you!). Read our full disclosure policy here.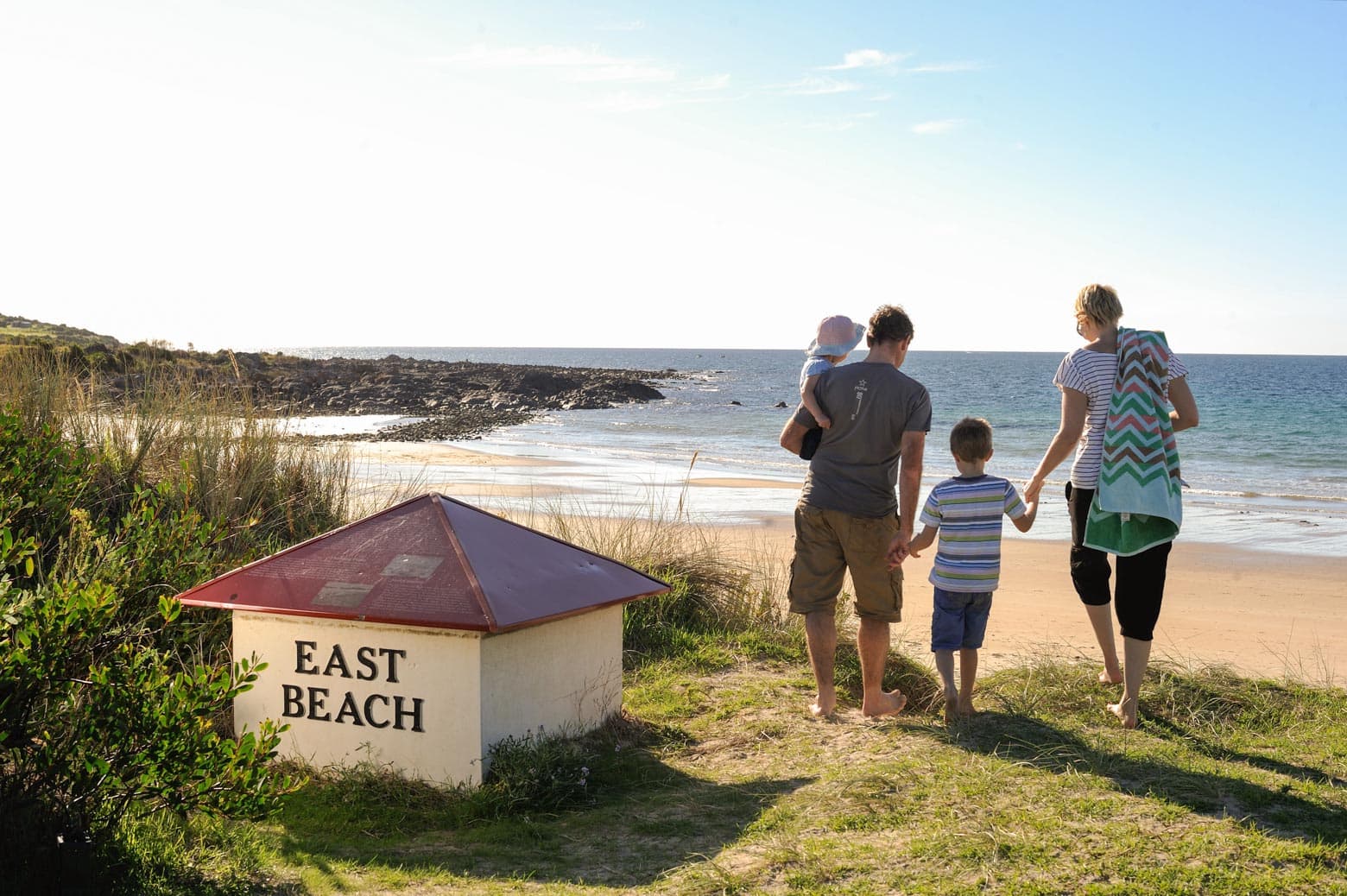 Warm sun, magical snow falls, gusty winds, drenching rain…and that's all before lunch time 😀
Tasmania's unique weather is more extreme than most of Australia and for a warm, dry and comfortable holiday you need to know what to wear.
We've survived a lot of Tassie winters, both in the suburbs and in the great outdoors – so we can speak with experience on the best way to be prepared.
Our biggest tip?
You don't need to go overboard with cold weather gear!
Yes, it can get cold, but it's easy to pack more than you need – not to mention wasting a lot of money.
Layering is the key, bringing enough layers that you can easily put on or take off as the conditions change during the day.
In this guide we break it all down into easy categories:
Essential clothing
Optional clothing
What to wear in Tasmania for every season
Children's clothing
We also show you how to save money on your Tassie wardrobe – keep reading to find out how!
💡 Layering – what is it?
Layering is a simple way to stay warm and dry, no matter what Mother Nature throws at you.
You might be thinking about packing your bulky, heavy jacket to Tasmania to stay warm – but there's a good chance you'll end up constantly putting it on and taking it off because you can't get the temperature 'just right'.
Dressing in multiple, light-weight layers helps your body regulate its temperature.
We find that a 4-layer approach works well in Tasmania (especially in spring, autumn, and winter), whether you are exploring urban attractions or enjoying a hike in the wild.
Base layer – Light-weight and closest to your skin, this layer helps your body regulate its temperature naturally.
Mid-layer – A little bit thicker and normally long-sleeved, this layer stops cool air from reaching your skin and traps any body heat that may have escaped your base layer.
Insulation layer – This layer keeps you warm in cold and/or windy conditions, and should be easy to take off and put on.
Rain layer – Waterproof and 'breathable', this layer will keep you dry if you need to walk around in the rain.
Essential clothing for a Tasmania holiday
No matter the time of year you visit Tasmania, and whatever your style of travel, these items of clothing are what we consider to be essential for your Tassie travels.
Note: Our recommendations here are the bare minimum, and you will probably want to bring multiples of some items so that you don't need to wash your clothes every couple of days. 
There are also other items of clothing you may want to bring that we don't mention here, as they come down to your own fashion sense and style of travel (eg. shorts, dresses, swimsuit singlets etc.). What we describe here is a solid foundation, on top of which you can add as much or as little as you like!
Base-layer top
We recommend bringing one short-sleeve base-layer top (great for summer and shoulder seasons) and/or one long-sleeve (perfect for cold days and nights).
You'll find there are two types of fabric to choose from – synthetic or wool.
Synthetic fabric is normally quick-dry and is a lot cheaper than wool. Unfortunately it won't keep you as warm, and it can get smelly if you wear it a few days in a row.
Merino wool costs a bit more but it is a lot warmer and you can wear it days on end without getting smelly (perfect if you plan on doing a lot of hiking). 
These tops will normally sit underneath your mid-layer, meaning they probably won't ever be seen by anyone – so you don't need to worry about them being fashionable.
My wife and I have a few merino wool base-layer tops from Icebreaker in our wardrobe, and we've found them to be fantastic both in Tasmania and when travelling in Europe.
🌞 What about summer?
If you are visiting in summer then you may not need a base-layer – T-shirts are often often enough during the day. But we think it's best to be prepared anyway, just in case you experience a cold spell or you need extra warmth at night.
Mid-layer top
A light-weight long-sleeved shirt barely takes up any space in your bag, but it can be very effective at trapping your body heat – meaning you can leave your jacket or coat at your accommodation during the day.
Another good thing about long-sleeved shirts is that they also keep the sun off your arms, reducing your UV exposure and risk of skin cancer. 
Waterproof jacket
Hobart might be the second driest capital city in Australia, but head towards the west coast and it's a whole different story!
Rain is always a possibility and you don't want to let it dampen your spirits. A waterproof jacket with good 'breathability' will let you keep exploring – especially out on the trails – no matter how wet it might get.
My Columbia jacket cost less than $200 and has served me well for years now, while my wife loves her bright red Berghaus jacket!
Medium-weight jumper, hoodie or puffer jacket
Tasmania is renowned for its cool climate and you will definitely need to bring a jacket, jumper or hoodie to keep you warm – especially of an evening or during cold snaps.
A down-insulated puffer jacket is the warmest and lightest of these options (perfect for autumn, winter and spring), but it will probably prove to be too warm in summer.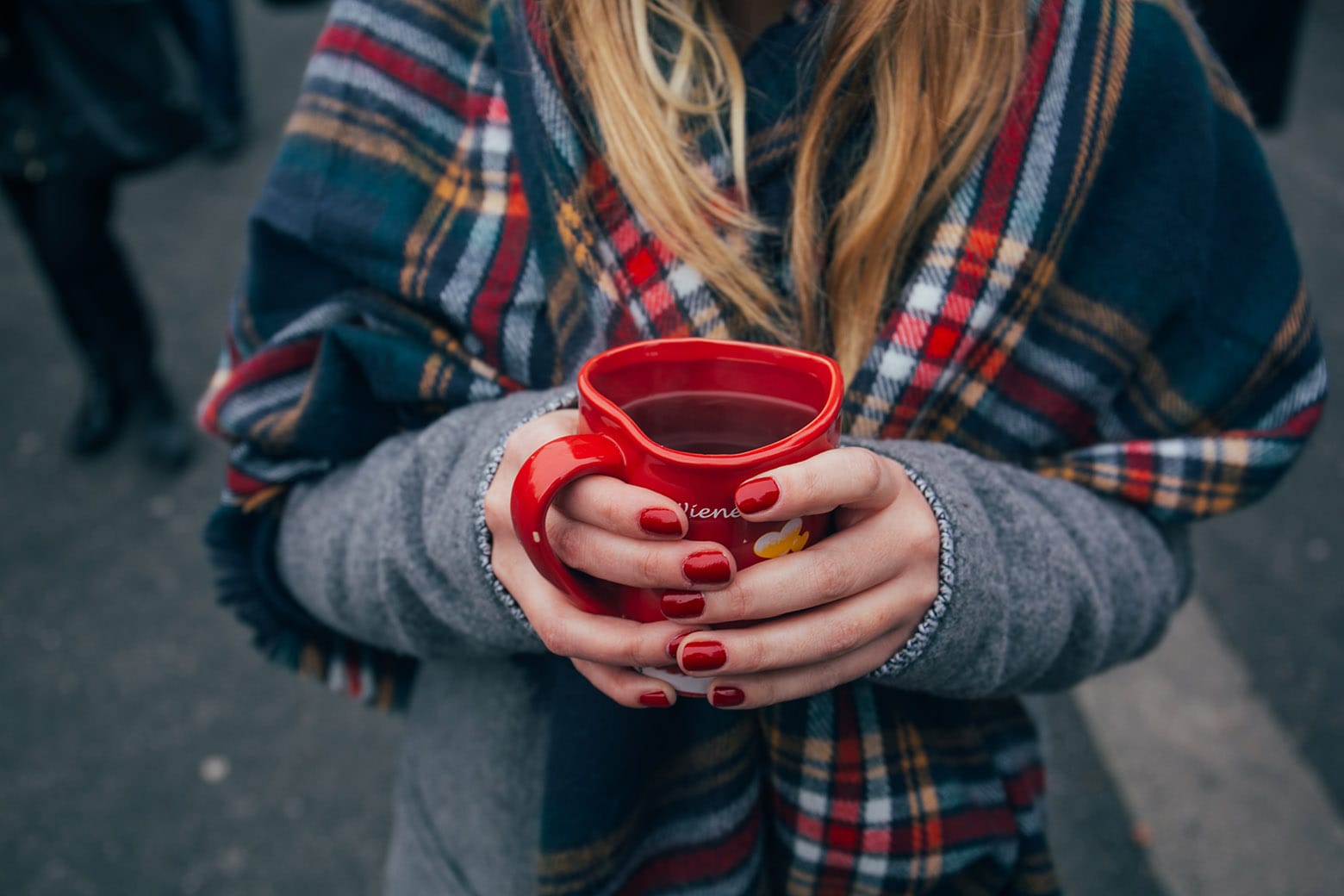 Comfortable walking shoes
You're going to be on your feet all day, so it is important to look after your little tootsies. 
Comfortable street shoes are a must, and we strongly recommend 'breaking them in' before you arrive or you run the risk of blisters.
It isn't essential, but waterproof shoes would be an added bonus.
Wool socks
Good quality socks don't cost a lot but they can make a huge difference to your comfort levels.
You'll find synthetic socks everywhere, but we recommend bringing a few pairs of wool socks instead. They will keep your feet a lot warmer, they don't stink, and they last forever!
There are a lot of brands out there, but two that have never let us down on all our hiking adventures are SmartWool and Darn Tough.
There are some activities or weather conditions in Tasmania where you will need to consider bringing a few extra items.
Hiking shoes/boots
Many people think hiking shoes or boots are essentials for Tasmania. 
Nope!
Tasmania's most popular trails are in extremely good condition, and a good pair of walking shoes is all most visitors will need.
But if you're planning on walking some of the less-visited trails, hiking in the rain, or going rock-scrambling then you should consider investing in a quality pair of waterproof hiking shoes.
"But what about hiking boots?", I hear you ask.
Boots are generally only necessary if you really need the ankle support. 
Hiking shoes are lighter, cheaper, more versatile, and more comfortable than boots, making them the perfect choice for most travellers.
So just to be clear on shoes, from most essential to least essential:
Essential – Comfortable, sturdy walking shoes (waterproof is a bonus)
Nice to Have – Hiking shoes (waterproof)
Only if Necessary – Hiking boots (waterproof)
Fleece thermal base-layer 
Most people find a standard wool/synthetic base-layer (like those we describe above) to be enough. 
But if you get cold easily, or if you are visiting in winter then you'll be interested in the option of a fleece-lined base-layer. 
The fleece lining cranks up the insulation properties of your base-layer to the max! 
Great in late autumn/winter/spring for extra temperature regulation.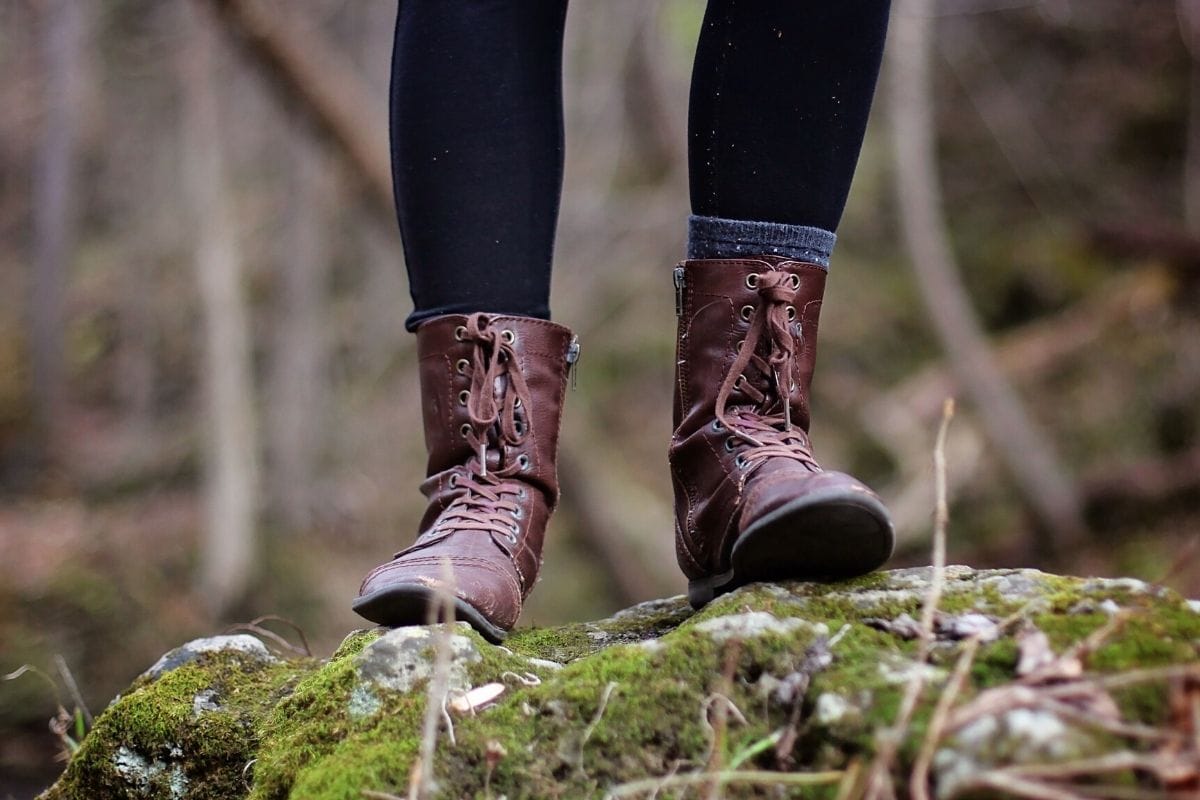 Puffer jacket 
As we mentioned above, the 'Tassie Tuxedo' isn't essential in summer but we strongly recommend bringing one for the chilly days and nights of late autumn/winter/spring. A loft rating of 400 or more is best.
These jackets pack down into a tiny little bag, barely taking up any space in your luggage – but they are amazing at keeping you warm. The only downside is that they aren't waterproof, so make sure you bring a rain jacket as well.
Hiking pants
If you're planning on doing lots of hikes then a pair of lightweight, quick-dry hiking pants are a great idea. 
They will protect you from stray tree limbs, grasses and branches that can scratch your legs, and when combined with a pair of base-layer pants (underneath) you'll be ready to tackle any trail in the depths of winter!
Beanie and scarf 
A beanie and scarf are an excellent light-weight way to keep warm during winter, especially for urban walkabouts where you are stopping/starting a lot and your heart-rate doesn't get high to keep you warm.
Gloves 
If you plan on visiting the snow then a pair of insulated, waterproof gloves is a really good idea.
What to wear in Tasmania for every season
Here are some clothing combinations for a typical day in each of Tasmania's seasons.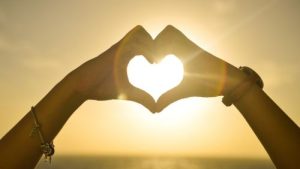 Jeans/pants
T-shirt or short/long-sleeved shirt
Light or medium-weight jumper or jacket
Waterproof jacket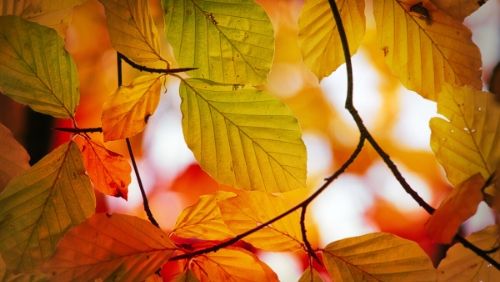 Jeans/pants
Short-sleeved base-layer
T-shirt or short/long-sleeved shirt
Light or medium-weight jumper or jacket
Waterproof jacket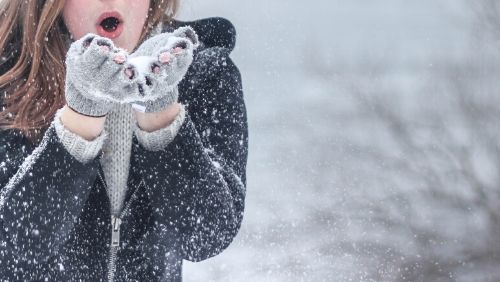 Jeans/pants
Long-sleeved base-layer
Long-sleeved shirt
Puffer jacket or medium-weight jumper/jacket
Waterproof jacket
Scarf
What about clothes for children?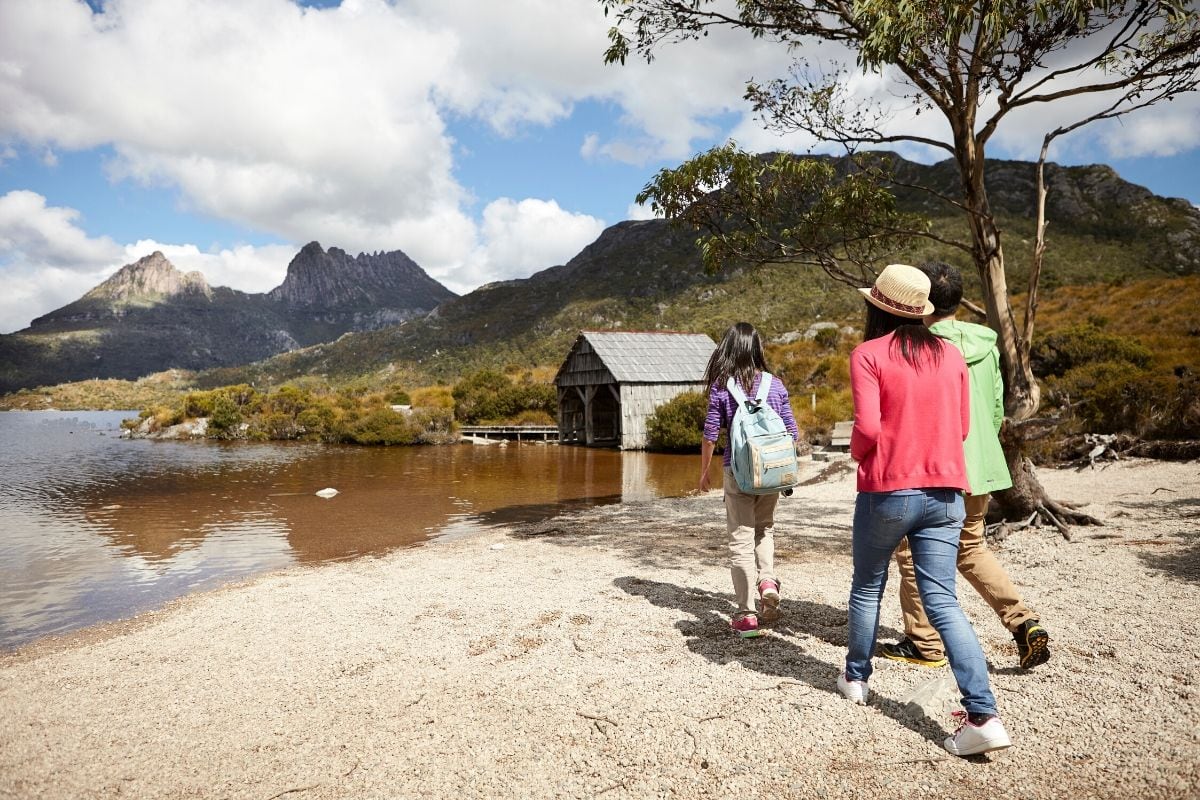 All our recommendations hold just as true for children as they do for adults. 
The only item you probably won't need – unless your children are extreme hikers – are hiking shoes/boots. 
Regular, sturdy walking shoes are generally fine and will save you unnecessary expense.
If your children are going to be spending time in a stroller or pram then you may also want to bring a lightweight blanket.
Speaking with visitors to Tasmania we often hear them say:
"It's really frustrating to have to buy cold-climate clothes when I'm only going to use them once!", and
"If only our children didn't grow up so fast – I could save a fortune in clothing!"
A great tip from our readers is to visit one of the many 'Op Shops' or second-hand clothing stores as soon as you arrive in Tasmania.
You can find some amazing deals on winter clothing, and even camping/hiking gear.
Remember though, this option will only work if you have time for shopping on arrival in Tasmania at the start of your holiday (or you could have a look in your home town – you never know what you might find).
Popular op-shops and second-hand clothing stores around Tasmania include:
St Vincent de Paul (many stores)
Encore Clothing (Youngtown – near Launceston)
Hobart City Mission (Hobart and southern Tasmania)
Lifeline Shops (many stores)
Red Cross (many stores)
Recycled Recreation Tasmania (central Hobart – focus on camping/hiking gear)
Salvation Army Store (many stores)
For new hiking and outdoors gear we've found Anaconda to provide good value in Hobart, Launceston and Devonport.
This map shows you the best options that are close to Hobart, Launceston and the Spirit of Tasmania ferry terminal in Devonport:
Final thoughts, and suggested reading...
We hope you've found this article helpful in deciding what to wear in Tasmania for your holiday.
Are you still a little bit unsure? Or maybe you'd like to bounce some ideas off other travellers or Tassie locals?
We welcome questions over at our Facebook group, so please don't be shy to stop by and say g'day!
We also have plenty more articles like this to help with your planning. Here are some of our most popular ones:
Andrew.
Travel planning resources

Tasmania's remote location means there are internet 'black spots' across the island. 
A paper travel guide or map is the perfect backup, and we love the range from Lonely Planet.