Are you captivated by Tasmania's iconic wilderness? A tour with Par Avion is absolutely unforgettable, creating memories that will last a lifetime!
---
This page contains affiliate links. If you book or buy something through one of these links, we may earn a small commission (at no extra cost to you!). Read our full disclosure policy here.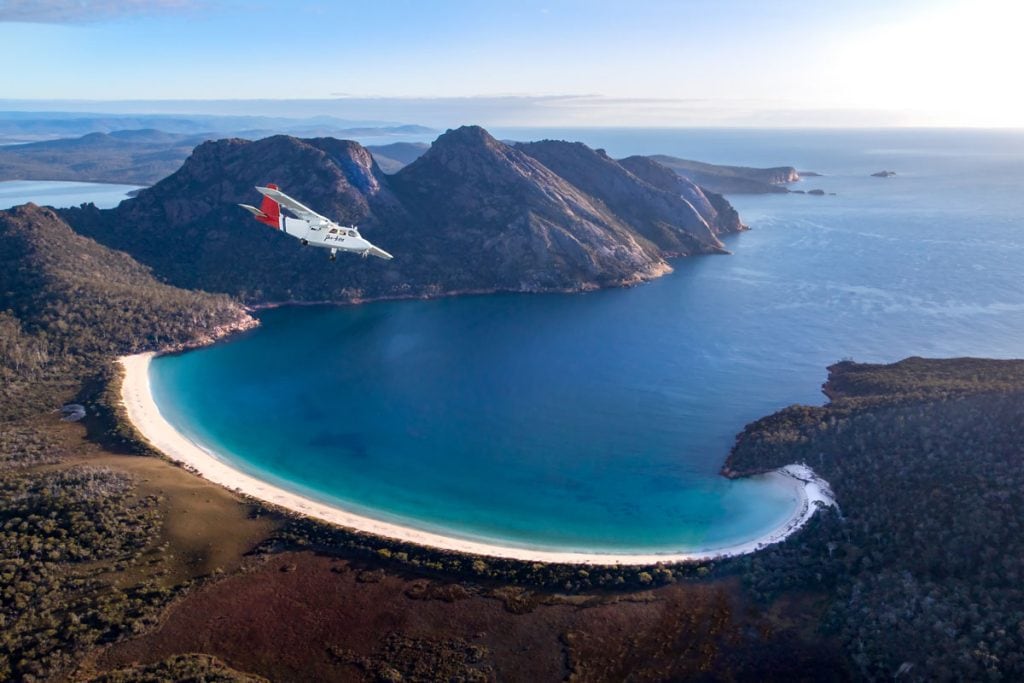 A lot of visitors to Tasmania have the luxury of weeks or even months to slowly make their way around the island, seeing and experiencing as much as possible without any time pressure.
On the other hand, there's a very good chance you only have a few days in Tasmania, and making the most of your time – especially if you want to experience the superb Tasmanian wilderness – is absolutely critical.
Does this sound familiar?
Don't stress, because the wilderness tours provided by Par Avion, departing from Hobart, are designed just for you!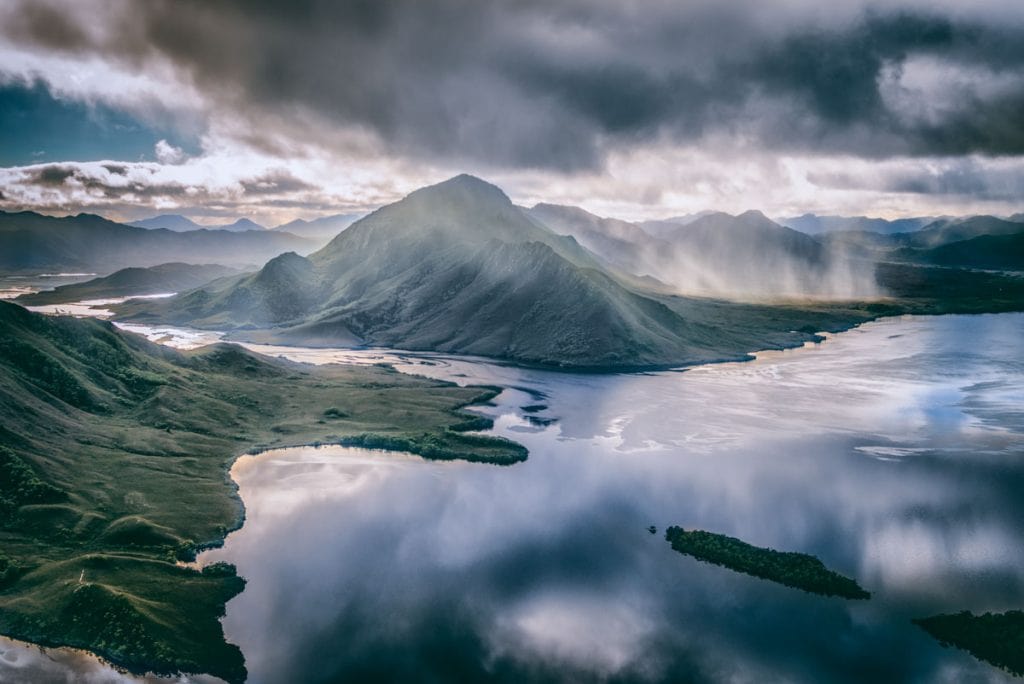 All their tours are very popular – I recommend booking at least 4 weeks ahead if possible – and these are their most popular options, covering south, east and western Tasmania:
Southwest Wilderness Day Tour
Southwest Wilderness Camp
'Wineglass and Wilderness' Day Tour (East Coast)
'Gordon Wild Rivers Explorer' Day Tour (West Coast)
Keep reading to learn more about each of these tours, and to choose the perfect wilderness escape for your Tassie holiday!
*** Don't forget to claim your exclusive 10% discount with my LAPOFTAS code online, or by mentioning the Lap of Tasmania over the phone ***
---
Southwest Wilderness Day Tour
Fly into the heart of Tasmania's magnificent Southwest Wilderness and enjoy a day cruising the mirror-flat waters of Bathurst Harbour, walking to scenic lookouts, and learning about the local history and endangered wildlife.
Duration: 8 hours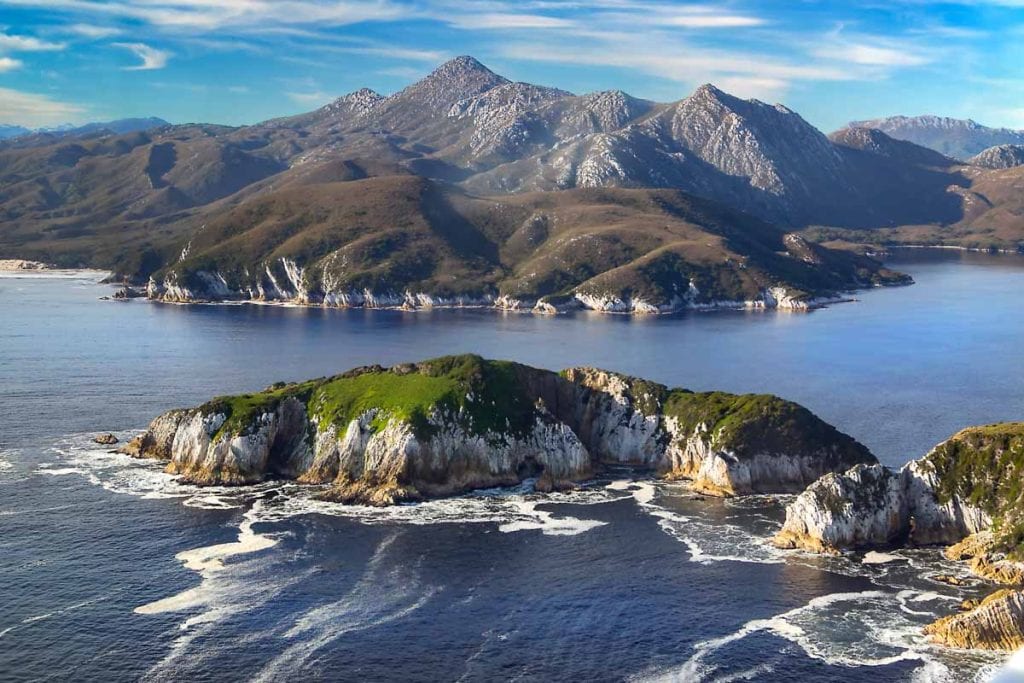 My wife and I celebrated a birthday with this tour, and it would have to rate as one of our all-time most memorable days ever!
The flight to and from Melaleuca has to be seen and experienced to be believed, as you soar past the rugged Eastern and Western Arthurs and over the tannin-stained waters of Bathurst Harbour. My trigger finger was so sore from all the photos I was taking 📸🤣
After landing at remote Melaleuca you hit the mirror-flat waters of Bathurst Harbour by boat, easing your way through its tributaries before zooming your way past the Celery Top Islands with the wind in your hair!
A delicious lunch on a remote and secluded beach is the ideal way to relax (Tassie wine included), before returning to Melaleuca and enjoying a walk through the lush southwest forest.
So much fun, and easily one of my Top 3 Tasmanian experiences* that I recommend to every visitor.
Click here to learn more and make your booking.
10% Discount Code: LAPOFTAS
---
Southwest Wilderness Camp (3 days)
Wilderness glamping at its best – this is the perfect way to experience remote Southwest Tasmania at a relaxing pace and in absolute comfort.
Duration: 3 days / 2 nights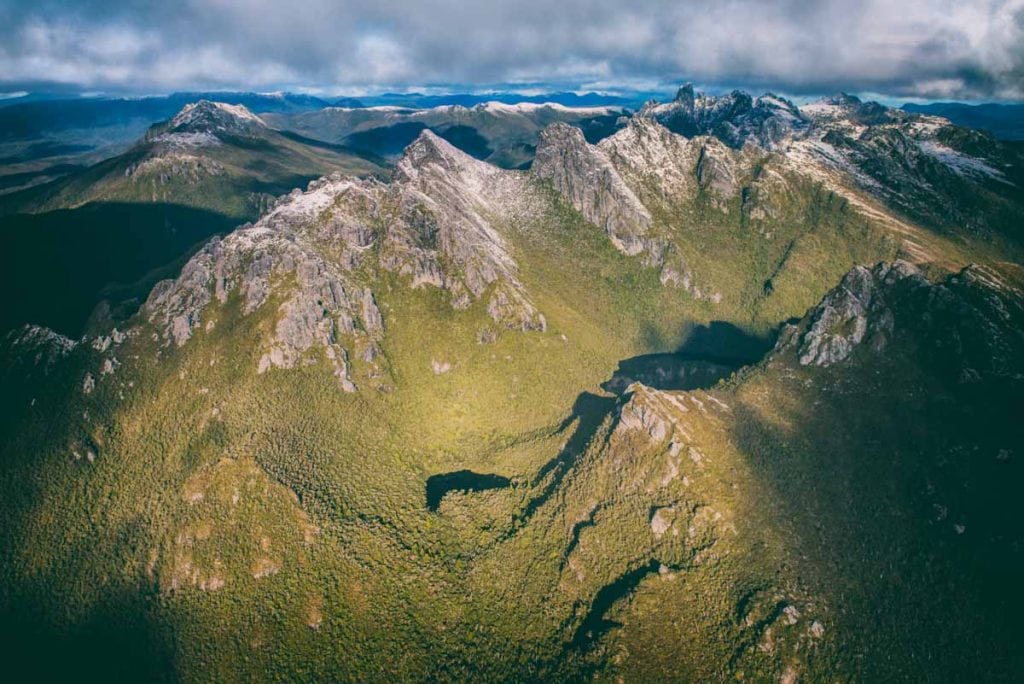 This 3-day Wilderness Camp is anything but 'roughing it'!
Including all the incredible options described above for the 1-day Wilderness tour, an extra couple of days provides you with all the time in the world to explore even deeper into the wilderness. See ancient Huon pines and aboriginal middens, enjoy a spot of bird-watching, or visit the 'Bathurst Narrows' by boat where you might spy brave bushwalkers rowing their way across the waters of Bathurst Harbour.
Your private glamping accommodation has every comfort needed for a restful night's sleep, and all meals are provided for the duration of your stay – including local produce and sensational Tasmanian wines.
Click here to learn more and make your booking.
10% Discount Code: LAPOFTAS
---
'Wineglass and Wilderness' Day Tour (East Coast)
Soar across the russet peaks of Freycinet and see the perfect curves of Wineglass Bay from the skies before continuing on to the natural paradise that is Maria Island – home to friendly wombats, endangered swift parrots and Tassie devils.
Duration: 3 hours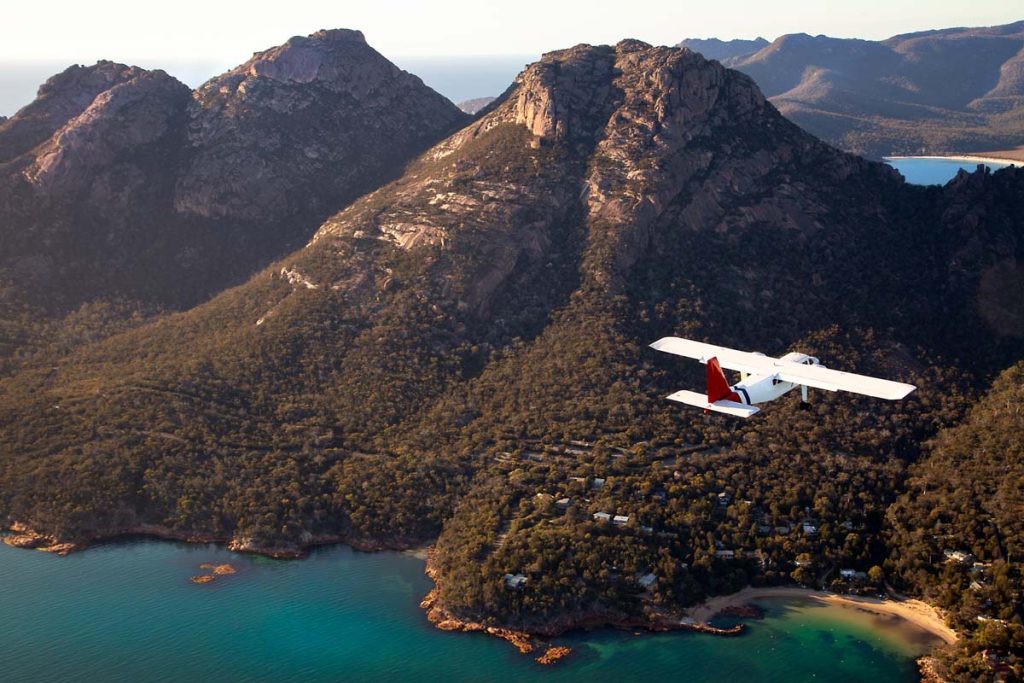 Taking only 3 hours, this tour is brilliant if you are super short on time – perfect for cruise-shippers!
Climbing high above the wineries and rolling fields of the Coal Valley it isn't long before the unmistakeable profile of 'The Hazards' looms on the horizon, and the brilliant white sands and aqua waters of Wineglass Bay catch your eye. Time to get your camera out, because the panorama is something truly special.
Continuing south and slowly flying past the seal colonies of Ile des Phoques you will find yourself landing on the remote coastline of my favourite place in all Tasmania – Maria Island!
This microcosm of Tasmania is an absolute paradise for anyone who loves their wildlife and natural scenery, and what better way to soak it all up than with a ramble along the coastline, cute wombats in every direction, and a picnic lunch with a view to die for?
Click here to learn more and make your booking.
10% Discount Code: LAPOFTAS
---
'Gordon Wild Rivers Explorer' Day Tour (West Coast)
Fly over the picturesque Tassie highlands before landing at Strahan and spending a day cruising across Macquarie harbour and up the awe-inspiring Gordon River, including rainforest walks, gourmet lunch, and convict ruins.
Duration: 9 hours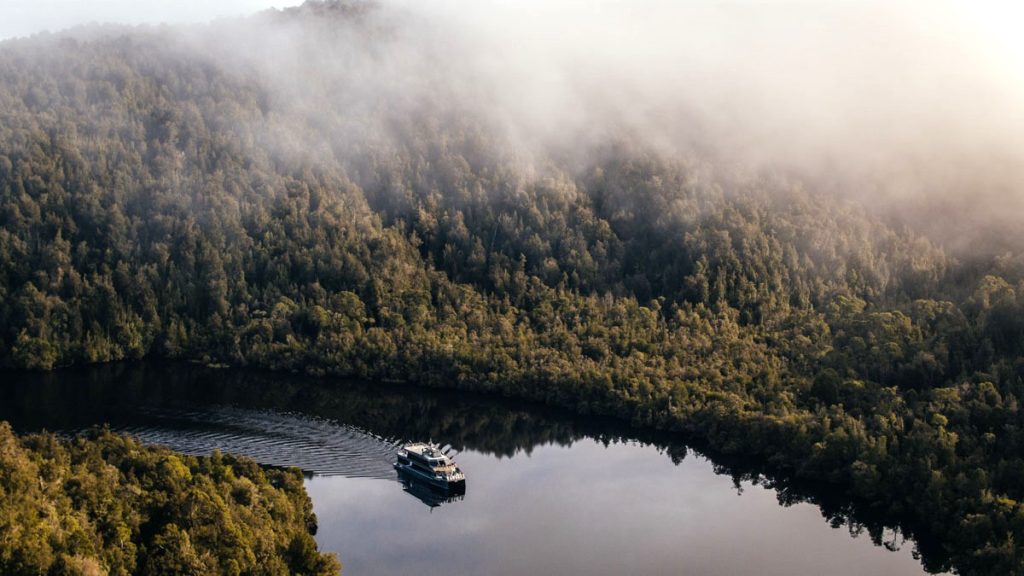 So many visitors assume they need to spend a whole day driving all the way from Hobart to Strahan before they can experience a cruise up the Gordon River.
Nope – not at all!
The 'Gordon Wild Rivers Explorer' tour is ideal if you only have a day available and you want to experience one of the world's premier flat-water cruises.
The flight across the central highlands is a joy, with photo opportunities of iconic Frenchman's Cap along the way before landing at the harbourside village of Strahan.
The cruise is what it's all about though, carving through the icy waters of Macquarie Harbour to the tempestuous Hell's Gates, and gliding your way up the Gordon River, surrounded by pristine and ancient forests.
Stretch your legs and suck up deep, refreshing lungfuls of air with an easy stroll through the rainforest at Heritage Landing, with gourmet buffet lunch to follow onboard the 'Spirit of the Wild'.
Learn about the region's dark convict history with an excursion to Sarah Island, before returning to Strahan with time to explore by foot and your flight back to Hobart.
Phew… what a jam-packed day full of incredible sights and exciting stories!
Click here to learn more and make your booking.
10% Discount Code: LAPOFTAS
---
Why should you choose a tour with Par Avion?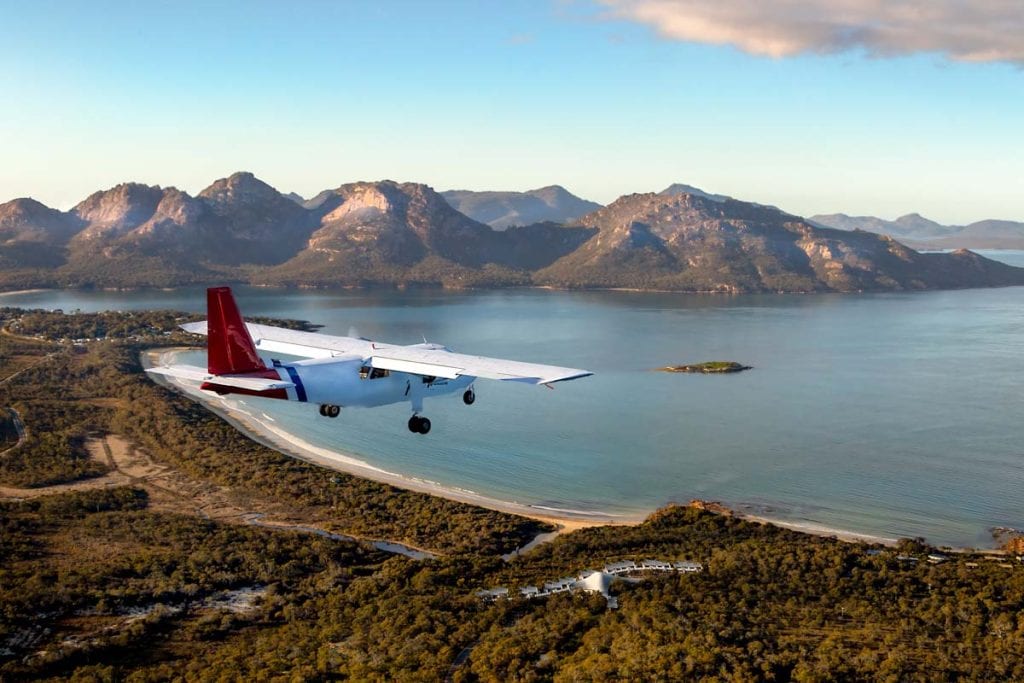 When having a chat with fellow road trippers about the tours provided by Par Avion I often hear them say, "It looks and sounds amazing, but is it worth it?"
We all have different preferences when it comes to travel, and budget is also very important – but the approach taken by Par Avion, and the experiences they provide to travellers are so unique that they would easily be among the top tour providers that I've ever encountered – not just in Tasmania or Australia but all around the world.
For me, these are some of the reasons why:
Access to remote locations – Destinations like the Southwest Wilderness are inaccessible by anything other than plane, boat or foot. Par Avion get you on the ground extremely quickly from Hobart, helping you make the most of your time, creating travel stories and capturing jaw-dropping photographs with a truly unique perspective.
Escape the crowds – The world's most popular travel destinations are only getting busier by the day, and even in little ol' Tasmania you will often find yourself shoulder-to-shoulder with a crowd of other tourists. This is definitely

not

the case with the Southwest Wilderness or Maria Island, and even the cruise up the Gordon River is generally a really relaxing experience on a boat with plenty of room to find your own space. As a bit of an introvert, I love this point of difference!
Max adventure if you are short on time – As much as I love a road trip, sometimes it can be really frustrating on busy, narrow, winding roads – especially when I only have limited time to see as much as possible. With Par Avion this isn't a worry at all. Check-in and boarding is super quick, and there's no peak-hour traffic at 10,000ft 😂
Guided by locals – The guides and pilots you will meet with Par Avion are all friendly, passionate Tasmanians who love helping visitors to learn more about our unique and often colourful history, wildlife, and natural landscapes.
Sound like your kind of tour? Get in touch with them today and add them to your Tassie itinerary!
---
Final thoughts and next steps…
I hope you've found this article helpful in learning more about the tours provided by Par Avion, and why they are such a great addition to your holiday in Tasmania.
If you are looking for more info to help plan your Tassie itinerary, then you will love these articles and guides that I have created. I've lived here for 20 years now and I love a road trip, so you know you are getting solid advice!
Thanks again, and happy travels!
Andrew.
---
* Wondering about my Top 3 Tasmanian 'places to see'? They are:
Maria Island
Melaleuca
Corinna 😊