Are you stressing over the cost of your Tassie holiday?
An Entertainment Membership will help you and your family to keep your budget under control, without stopping you from experiencing the best Tasmania has to offer.
Keep reading to learn more!
---
This page contains affiliate links. If you book or buy something through one of these links, we may earn a small commission (at no extra cost to you!). Read our full disclosure policy here.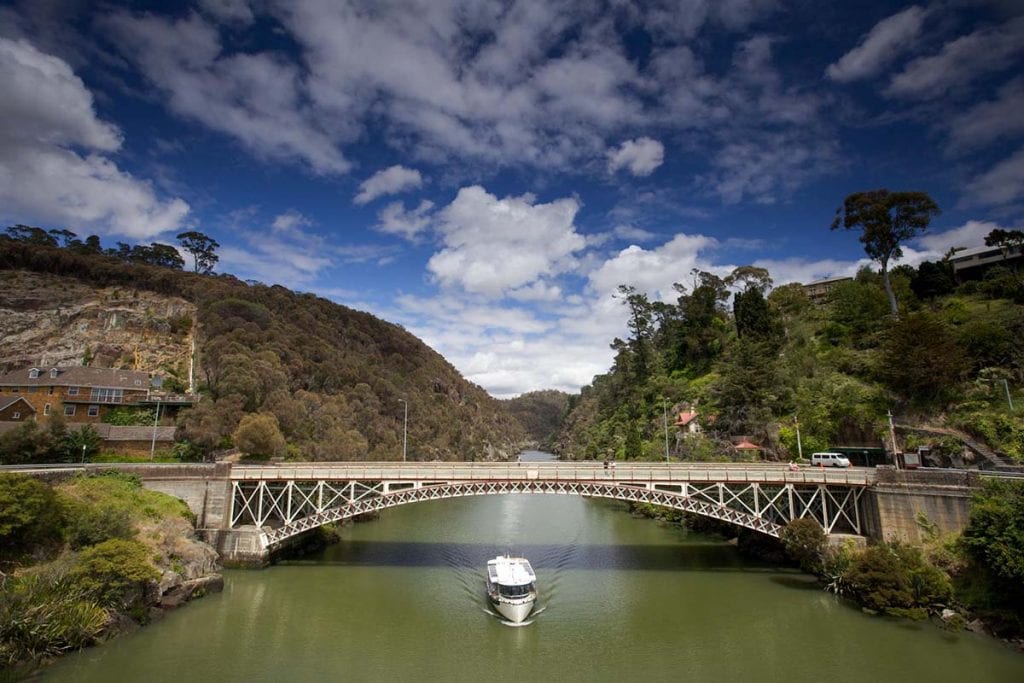 Are you drowning in amazing photos of Tasmania's pristine wilderness?
Feeling inspired by all the travel stories from fellow travellers?
Dreaming of that first morning of your road trip and waking up to a spectacular Tassie sunrise?
The anticipation would have to be one of my favourite things about planning a holiday!
But at the same time there is always a tiny voice whispering in my ear every time I add an exciting tour, an interesting restaurant, or a fun activity to my itinerary…
"Can I afford it?"
All I want to do is enjoy myself and have as many memorable experiences as possible, yet the reality is that, just like you, saving money on my holiday is always a priority.
I've got some good news for you – saving money doesn't mean limiting yourself to free activities!
An Entertainment Membership is a really clever way of experiencing plenty of Tasmania's best attractions while saving hundreds of dollars at the same time.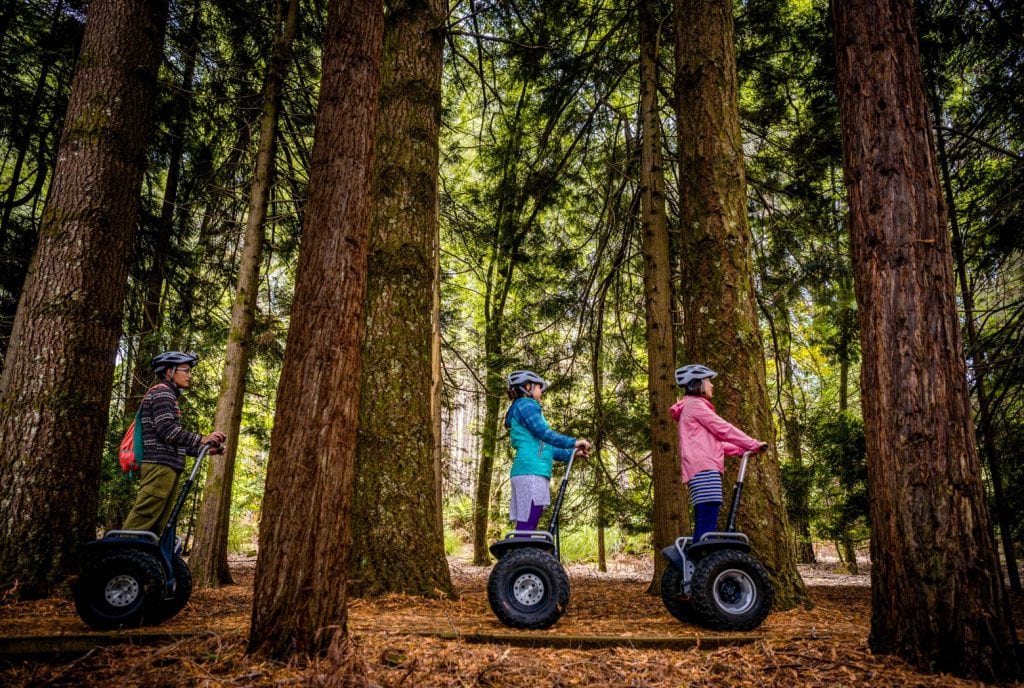 Back in the day it used to be called the 'Entertainment Book', and that's exactly what it was – a book full of vouchers for your city or region that would score you savings across restaurants, hotels, cafes, tours, attractions, and even car servicing and dry-cleaning.
My wife and I bought one religiously every year (until we moved overseas), and found it very useful for keeping our 'foodie' budget under a vague semblance of control. It's a pity it couldn't do the same for our waistlines 😋
In recent years they have gone completely digital, meaning instead of remembering to bring your book with you, all you need to do now is download the app to your phone or tablet and you'll have access to all the offers at your fingertips – very convenient!
There are a few annual membership options available:
Single City – $69.99
Multi City – $119.99
2-year Multi City – $229.99
The Single City version covers one location of your choice. Perfect if you only plan on visiting Hobart or Launceston (not both).
The Multi City option covers all 21 cities and regions across Australia, plus New Zealand and Bali. This is the best option if you are planning on doing a full lap of Tasmania. You can also use this membership when you return home from your holiday and keep saving all year!
Check Prices and Purchase Your Membership
It had been a little while since we last bought a membership, but after buying a Multi City membership and reviewing all the options I can confirm that it still represents amazing value and pays for itself in no time at all.
To help you get a feel for the type of discounts available I have created some example mini-itineraries for Tassie's main tourist regions (offers and prices are correct as of April 2022). As you will see, it takes no effort to save bucket-loads at places you would have had on your itinerary anyway.
The savings will vary depending on what you choose from a cafe menu, or the specific tour you would like to do. So what I show you below is the maximum possible saving for an adult couple. Families and large groups (up to 4 people) can save even more!
Every sale also helps me keep the Lap of Tasmania online and as up to date as possible with oodles of Tassie travel guides and planning info – I really appreciate your ongoing support 🙏🏻
---
Hobart
There are literally dozens of offers available in and around Hobart, and your membership can pay for itself in as little as a single day.
Breakfast – Harbour Lights Cafe – Save $30
Morning Activity – Red Decker Hop-On-Hop-Off Bus – Save $35
Lunch – Flippers 'Punt' – Save $16.50
Afternoon Activity – Hobart Historic Cruises – Save $29.50
Dinner – The Drunken Admiral – Save $45
Extra Activity – Hobart Shuttle Bus (Mt Wellington Tour) – Save $35
Extra Meal – Billy's Burgers – Save $25
---
Richmond
Historic Richmond village and the surrounding Coal River Valley is an excellent day trip option from Hobart.
Breakfast – Ashmore on Bridge Street – Save $30
Morning Activity – Richmond Gaol Tour – Save $12.50
Lunch – Wicked Cheese – Save $25
Afternoon Activity – Puddleduck Winery 'Sit Down Wine Experience' – Save $20
Dinner – Restaurant Tasman (Hobart) – Save $50
---
Strahan (West Coast)
There are limited options on the West Coast, but the play 'The Ship That Never Was' is an absolute must for anyone visiting the West Coast. It is a bucket of fun for the whole family, and you'll learn plenty about Tasmania's colonial history at the same time:
Meal – Molly's Takeaway – Save $25
Afternoon Activity – The Ship That Never Was – Save $12.50
---
Cradle Mountain
Cradle Mountain Village is crazy popular and very remote, meaning your options are limited to start with – and they are expensive – so it is a huge bonus to be able to get a 25% discount off your meal at the Tavern Bar and Bistro!
Lunch – Tavern Bar and Bistro (Peppers Lodge) – Save $40
---
Cradle Coast and Northwest Tasmania
Outside Launceston and Hobart this region has the next highest number of options available to you.
Morning Activity – Mole Creek Caves – Save $23
Afternoon Activity – Wing's Wildlife Park (Gunn's Plains) – Save $14
Dinner – Hursey Seafood (Stanley) – Save $50
Extra Activity – Highfield Historic House (Stanley) – Save $12
Extra Activity – Hellyers Road Distillery Tour (Burnie) – Save $19.50
---
Launceston and Northern Tasmania
As with Hobart, this is just a handful of the many options available, particularly when it comes to dining.
Breakfast – Earthy Eats – Save $25
Morning Activity – Tamar River Cruise – Save $67.50
Lunch – Quamby Estate – Save $40
Dinner – Spice on Charles – Save $25
Extra Activity – Hollybank Wilderness Adventures – Save $125
Extra Activity – James Boag Brewery Tour – Save $16
---
Save on Hotel Accommodation in Tasmania
One aspect I haven't even mentioned yet is the big discounts you can get on accommodation across Tasmania.
When you purchase a membership you also gain access to special Member-only rates for hotels listed on the My Bookings website. The offer provided by each hotel is at least 10% off the best available room or package rate available to the public at the time of booking (subject to availability). But in many cases the Member-only rate can be as much as 50% off the rack rate.
Again, I've done a quick scan of the various hotels on offer (there are plenty across all budgets) and the discounts can be significant.
Click Here to Check Prices and Purchase Your Entertainment Membership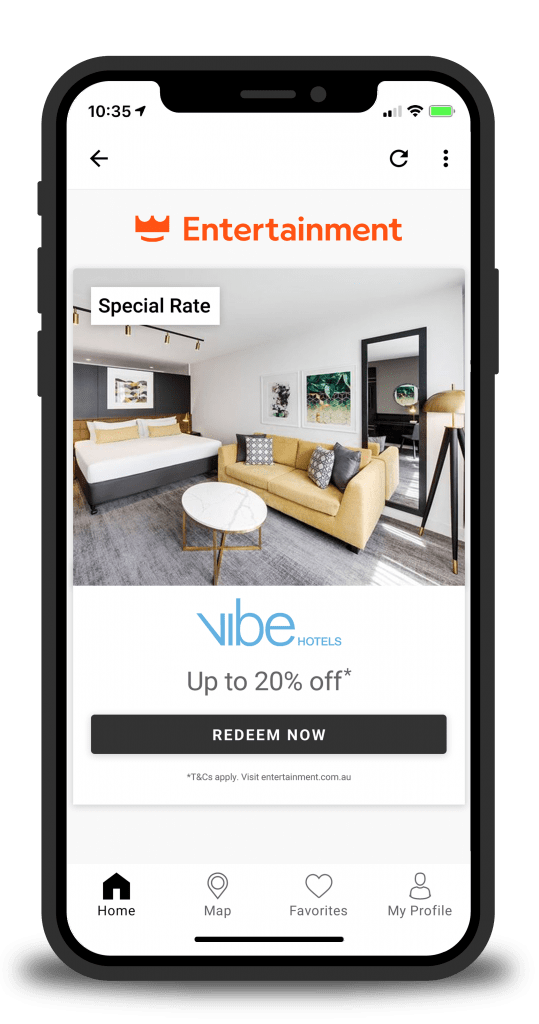 ---
How does your Entertainment Membership work?
Activating your Entertainment Membership is easy.
Purchase your membership here
Read the instructions that they email to you (it's all very simple)
Verify your mobile device and download the app
Activate your account and log in
Once you have the app on your phone it is even easier to claim offers and save money.
Use the app to find an offer you would like to claim (you can search by name, but I find using the map to be the easiest way to find good offers)
Before requesting the bill (or at check-in for hotels), show the staff member the offer you would like to redeem
While they are watching click on the 'Redeem Now' button
They will then reduce your bill to reflect the offer – happy days! 😁
You'll be very pleased to hear that you can share your membership across as many as 5 different mobile devices in your family as well.
---
Final thoughts on an Entertainment Membership
I hope you've found this article useful in explaining what an Entertainment Membership is, and how it works. I don't know about you, but I think an Entertainment Membership is the perfect companion for a road trip around Tasmania – and even back home once your holiday is over.
I couldn't believe how quickly the savings started stacking up with a meal here and a tour there. I'm guessing that on a 7-day holiday you could easily save at least $300 – and plenty more if you're travelling with your family or a group of friends.
Sound good to you? Lock it in Eddie!
Check Prices and Purchase Your Membership
If you have any questions at all about the membership please don't hesitate to get in touch with me over at our Lap of Tasmania Facebook Group or by email – I'm only too happy to help.
Happy road tripping!
Andrew.