A Hobart wine tour is the perfect way to explore this booming boutique wine region in southern Tasmania. There are plenty of options, and we show you the very best!
This page contains affiliate links. If you book or buy something through one of these links, we may earn a small commission (at no extra cost to you!). Read our full disclosure policy here.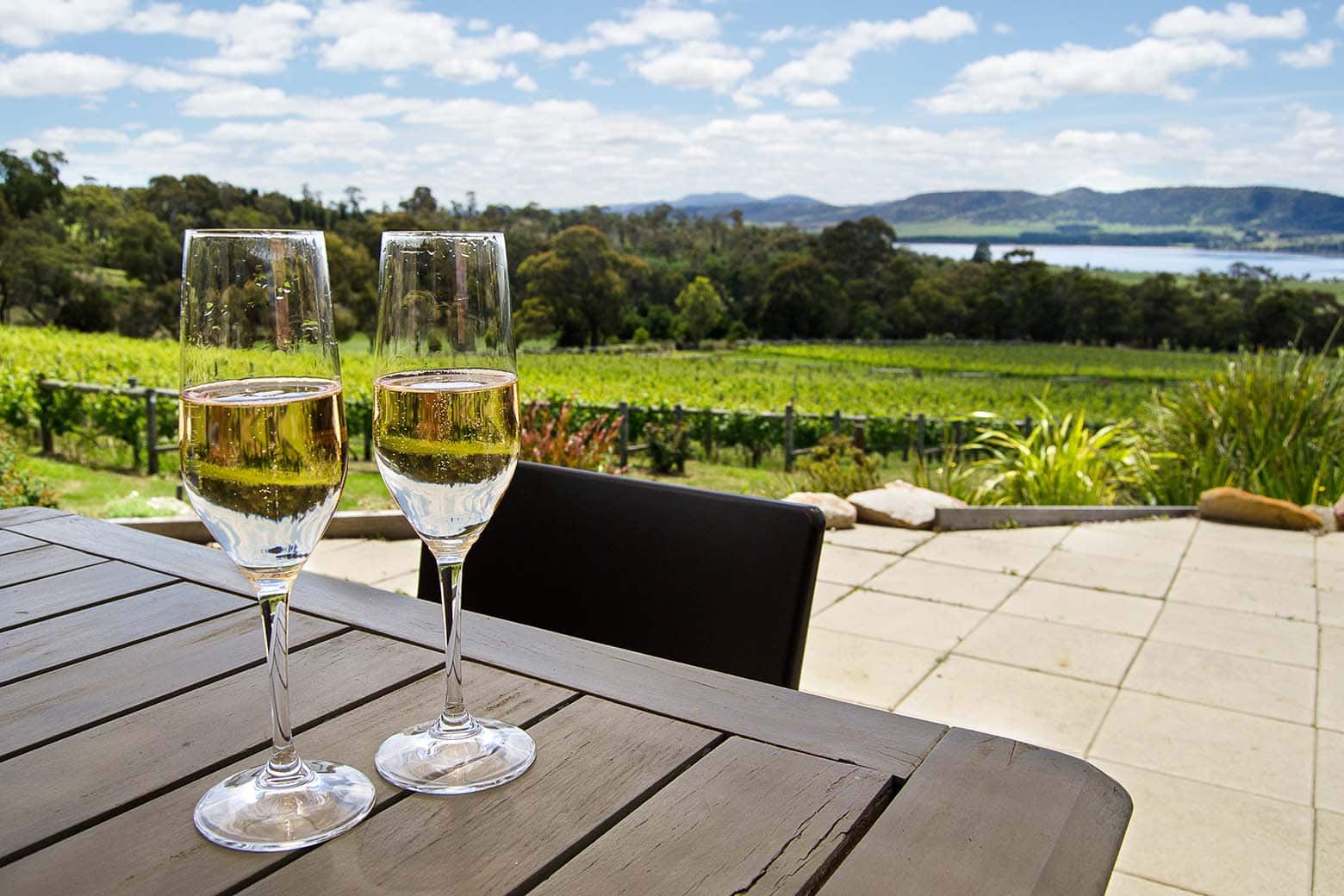 If you love your wine tours, Hobart is the place to be! 
In only 30 minutes you can find yourself kicking back with a world-class cool-climate pinot or riesling in hand, log fire at your back, soaking up Tasmania's epic scenery.
And don't forget, when you choose a wine tour no one needs to be the designated driver, meaning everyone will enjoy a fun day out 👍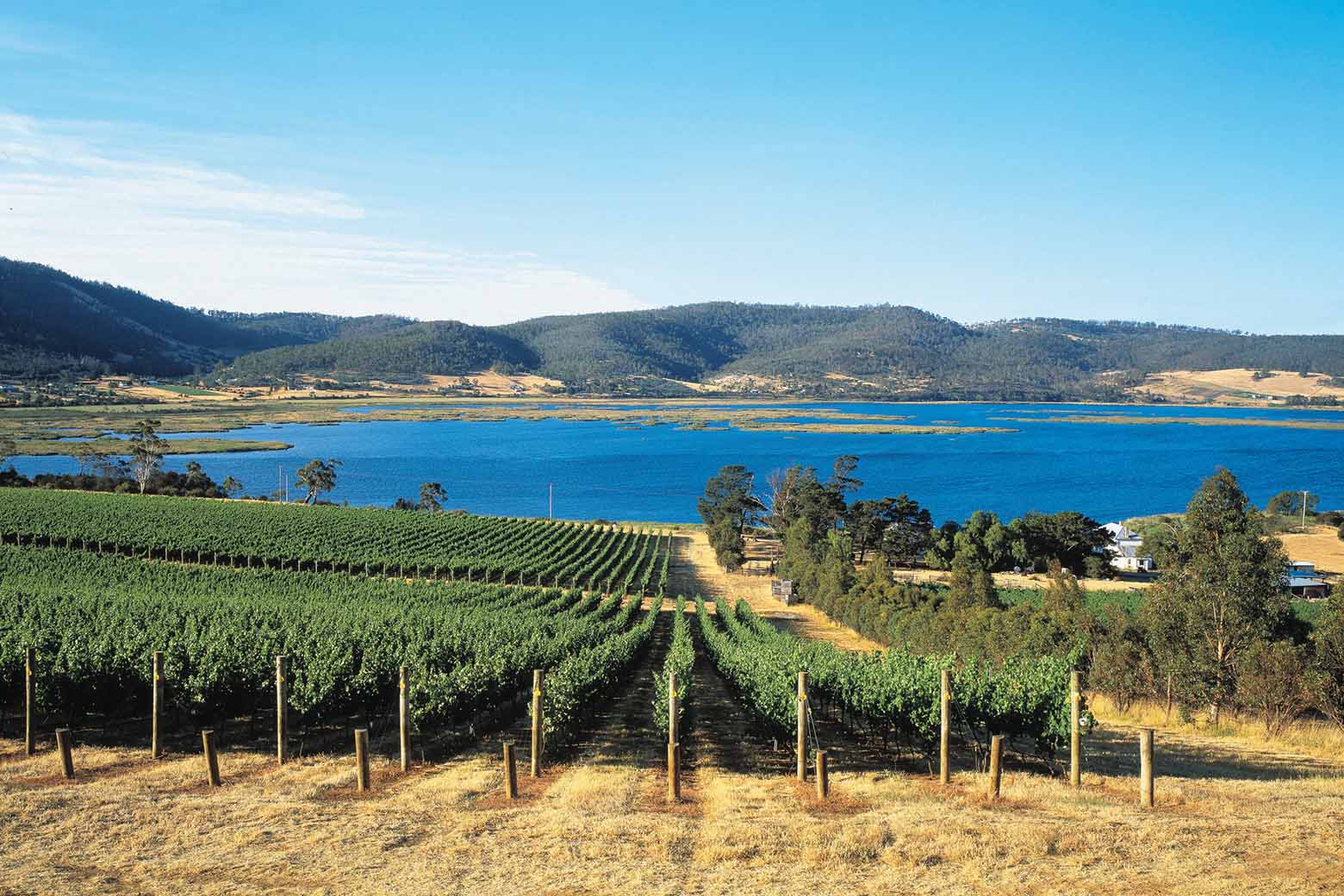 The last fifteen years have seen many new wineries pop up across southern Tasmania, and it is exciting to see wine-makers not only smashing out some cracking traditional reds and whites, but also introducing us to some obscure varieties that thrive in Tasmania's unique terroir and climate.
It's not just the wines either. Foodies have been raving about Tasmania's gourmet produce for years now, and on nearly every tour you will experience either a delicious spread of gourmet Tassie food for lunch, or at the very least a cheese or chocolate tasting!
Are your taste buds singing? Are you pining for a wining? Are you on the stalk for cork?
We've got quick links in the table below, or you can keep reading to find the perfect Hobart wine tour for your Tassie road trip.
| Company | Tour | Style | Days | Price | Book |
| --- | --- | --- | --- | --- | --- |
| StelaVino | StelaVino Wine Tour | Full | Daily | $198 | |
| Terroir Wine Tours | Sommelier Tour - Coal River Valley | Half | Thursdays | $149 | |
| Terroir Wine Tours | Sommelier Tour - Derwent Valley | Half | Saturdays | $149 | |
| Terroir Wine Tours | Sommelier Tour - CRV + DV | Half | Sundays | $149 | |
| Ageing Barrel Tours | Valleys of Vino - CRV + DV | Full | Thursdays | $159 | |
| Boutique Wine Tours | MONA and Wine | Full | M/W/Th/F/Sa | $180 | |
| Boutique Wine Tours | Richmond and Wine | Full | M/F | $130 | |
| Boutique Wine Tours | Richmond and Wine at the Weekend | Half | Saturdays | $110 | |
| Tasmania Gourmet Food Tours | East Coast Splendour | Full | Daily | $260 | |
There are five wine regions within easy reach of Hobart, and one that lies further afield.
Coal River Valley – 20 minutes north of Hobart. Sunny and dry. Pinots, chardonnays, rieslings. One of the best foodie destinations in Tasmania and lots of colonial history.
Derwent Valley – 20 minutes north of Hobart. Warm and sunny. Pinots, chardonnays and excellent sparkling whites. Beautiful views, especially in autumn. Emerging foodie hotspot.
Huon Valley – 30 minutes south of Hobart. Cool and wet. Pinots and chardonnays. Gorgeous valley, and a mecca for cider lovers.
D'Entrecasteaux Channel – 30 minutes south of Hobart. Cool and temperate maritime environment. Pinots. Beautiful coastal scenery. Delicious artisanal food.
Moorilla Estate – Northern suburbs of Hobart. Pinots and syrahs. One of Tasmania's earliest vineyards. Home of the MONA museum and MOO Brew beers.
Freycinet – 2 hours north east of Hobart. Pinots, sauvignon blancs, chardonnays. Breathtaking scenery. Excellent winery lunch options.
Choose your Hobart wine tour
There are more than half a dozen wine tour companies that offer wine tours in Hobart, each offering one or more wine tour options.
There are also many generic tour companies that offer wine experiences, but in this guide we want to tell you about the tours that specialise in wine – you want the best experience and that is exactly what these companies provide!
But who to choose?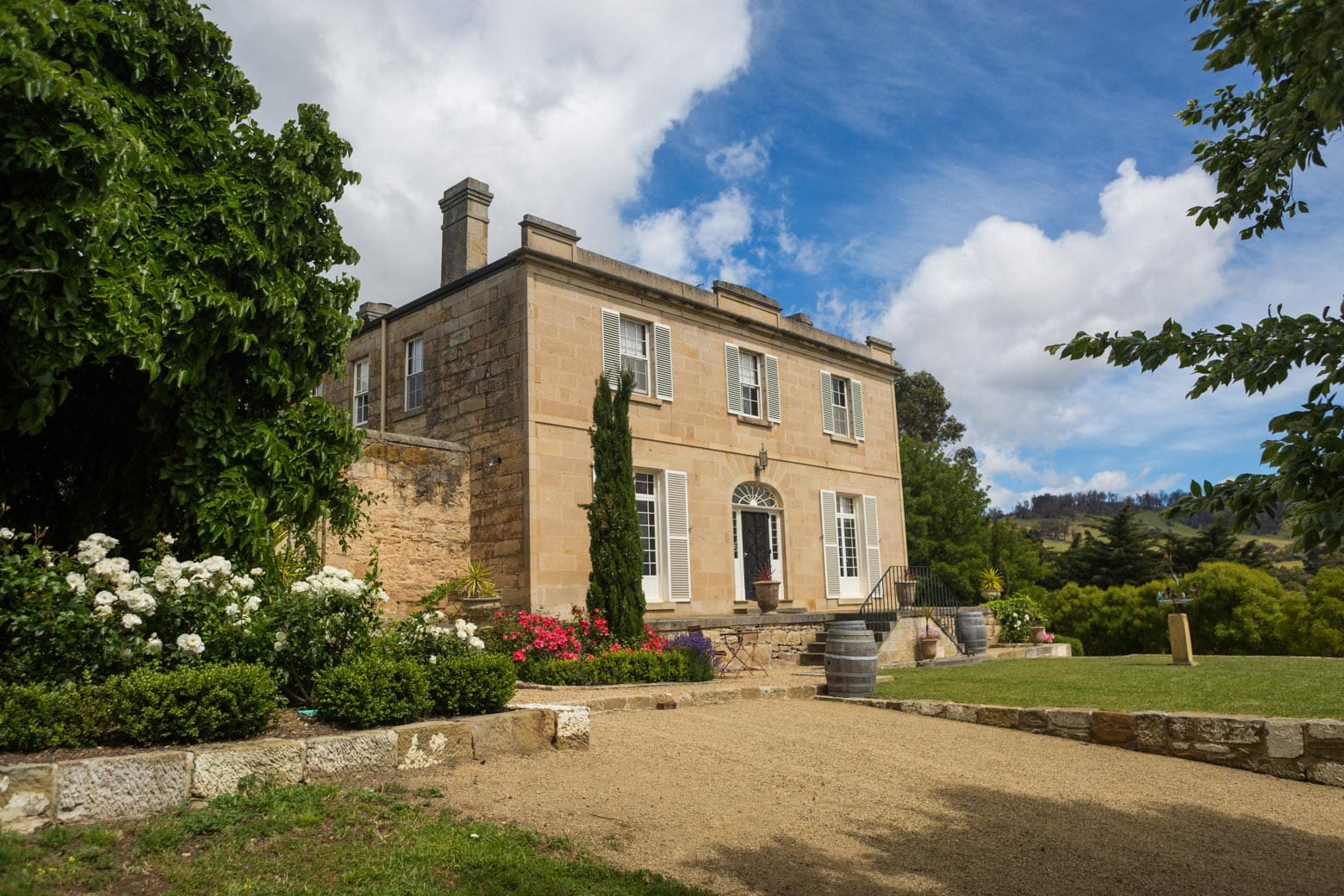 While reviewing all the companies it became clear to us that each one targets a slightly different type of traveller and wine lover.
Some offer a fun day out close to Hobart, while others travel as far afield as Freycinet on the East Coast. Some focus on luxury and comfort, while others are targeted at hardcore 'winos'.
Keep reading for an overview of each, and book the one that suits you best!
StelaVino Guided Wine Tours
A fun, relaxing day tasting and learning about Tasmanian wines – no wine snobs!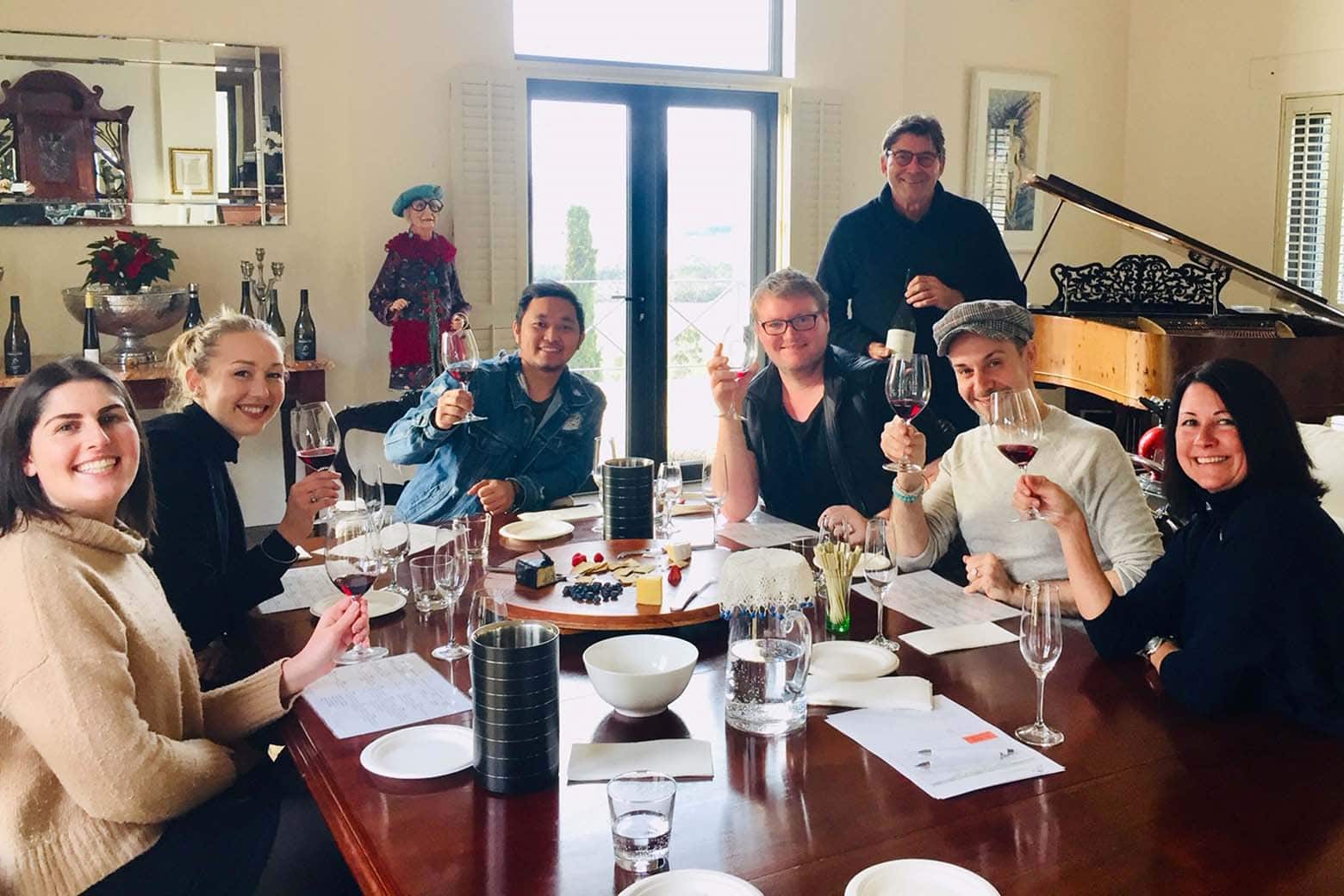 StelaVino is a little bit different to most companies. 
Unlike the others, they pick the wineries  based on seasonality and daily operations of the vineyards.
This means you won't know  the exact itinerary until the day before your tour, but the upside is that StelaVino is the only company to operate across the four big regions close to Hobart – so you know it's going to be the best of the best!
Your tour guide, Stel, is a veteran of the wine industry, and he promises…
"StelaVino wine tours will leave you smiling and satisfied after a day among the vines…and will have you looking like a wine expert at your next get together with your wine loving friends."
This tour lasts a full day and will take you to 5 wineries. Lunch is included and you also have the chance to do a cheese tasting as well.
Regions: Coal River Valley | Derwent Valley | Huon Valley | D'Entrecasteaux Channel
Length: Full-day tour
When: Daily
TripAdvisor: ★★★★★
Cost: $198pp
Terroir Wine Tours Tasmania
Discover local wine secrets under the expert guidance of one of the Tasmania's most knowledgeable and friendly sommeliers.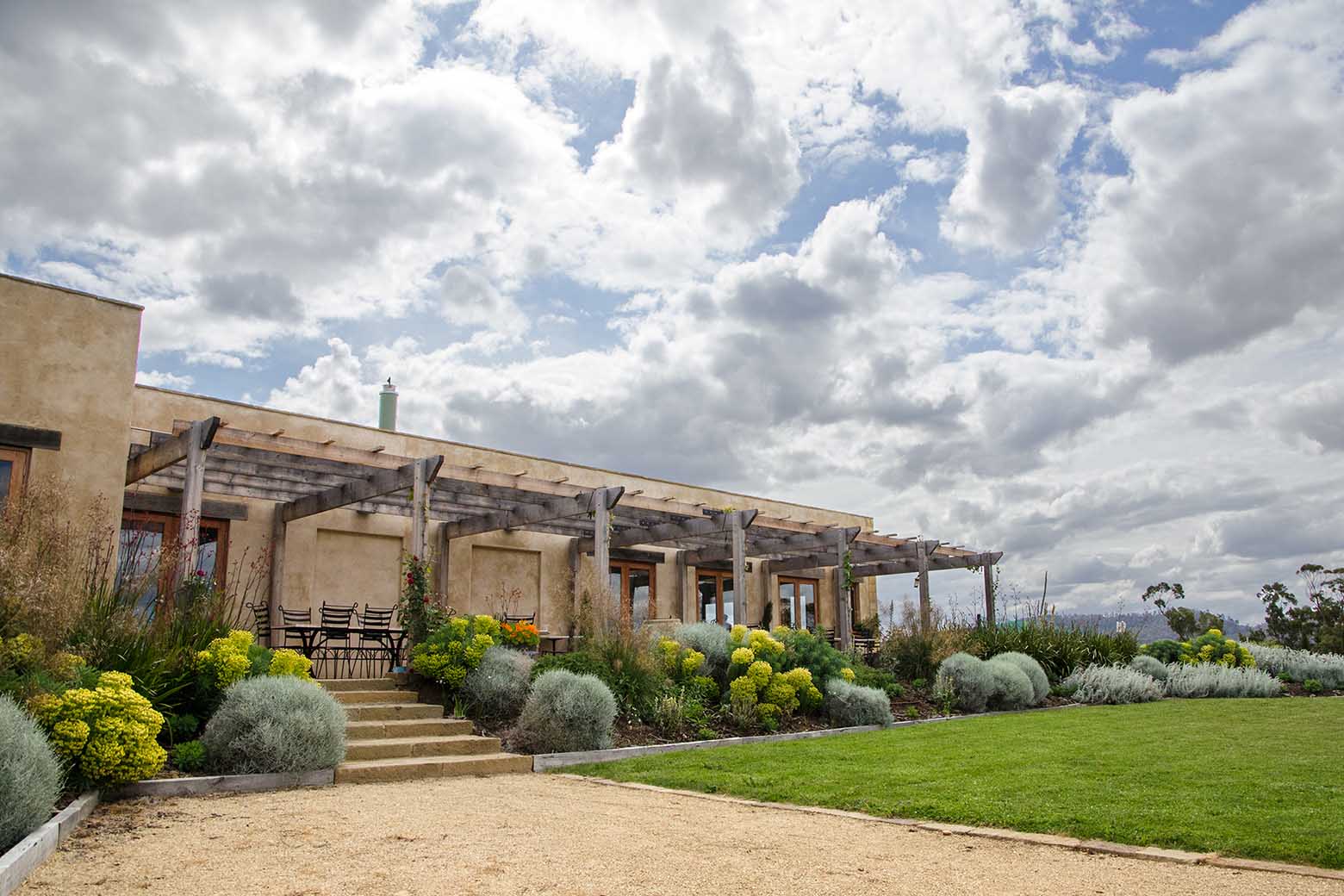 Terroir Wine Tours Tasmania offer a truly unique experience – the chance to explore and taste Tasmanian wines with wine expert and sommelier Damien Byrne.
Damien has represented Tasmania's wine industry on the world stage and knows Tassie wines inside out and back to front – you may even visit some of the vines he planted himself!
Best of all, he's more than happy to share his inside knowledge to help you gain a true appreciation of Tasmania's finest wines.
"We are homegrown Hobart & Tasmanian locals…we know the Tasmanian back trails, and unique wine & beverage stories that are a local's secret…"
There are three tour options available to you, covering popular and lesser-known wineries of the Coal River Valley, Derwent Valley, or both. Depending which tour you choose you also have the chance to taste some of Tassie's best cheese, gin or beer.
All tours take a half-day and are scheduled for the afternoon, so feel free to sleep in or check out Salamanca Market in the morning!
Enjoy the finer things in life and relax in luxury as you taste your way between the delightful wineries of southern Tasmania.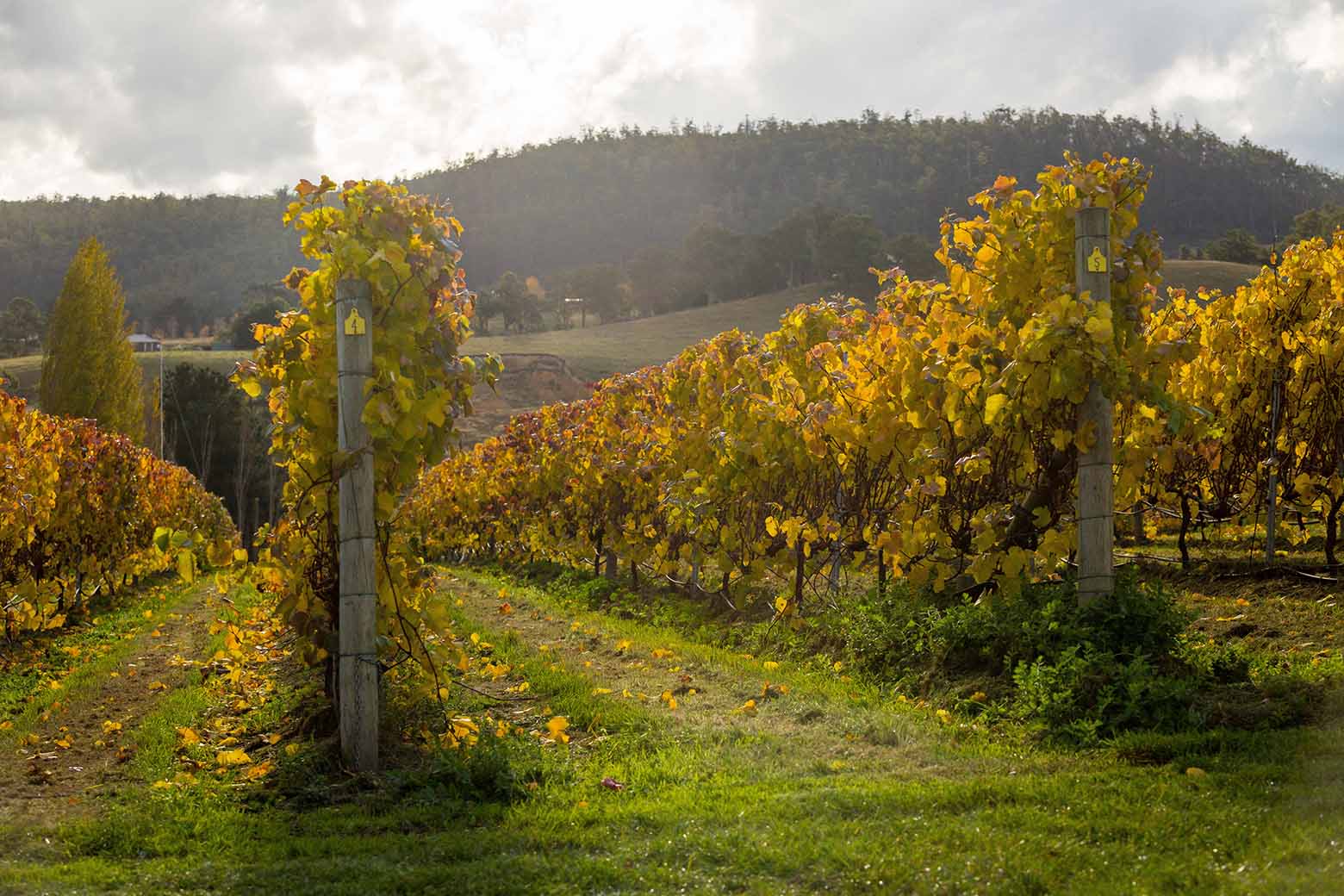 There's absolutely no pressure at all on a day among the vines with Ageing Barrel Tours. 
These tours are all about fun, conversation and enjoying life to the fullest among friends or friends-to-be.
If you enjoy your little luxuries you'll also be pleased to hear that their vehicles are among the most opulent and comfortable you'll find on a tour in Tasmania.
"We don't do tours – we deliver experiences to remember; premier wines, local people & their stories, local produce and all amongst the backdrop of Southern Tassie's amazing scenery."
There are 4 full-day tours available of the various wine regions – we love the Valleys of Vino tour that covers both the Coal River Valley and Derwent Valley.
If you're keen to splash out they also offer a Wine Indulgence Private Tour.
Regions: Coal River Valley | Derwent Valley | Huon Valley | Freycinet
Length: Full-day tours
When: Valleys of Vino (CRV+DV – Thurs) | Coal River Valley (Fri/Sun) | Huon Valley (Sat)
TripAdvisor: ★★★★★
Cost: From $159pp
Boutique Wine Tours Tasmania
Tight for time? These fantastic tours let you spend half your day wine tasting, and the other half exploring southern Tasmania's best attractions.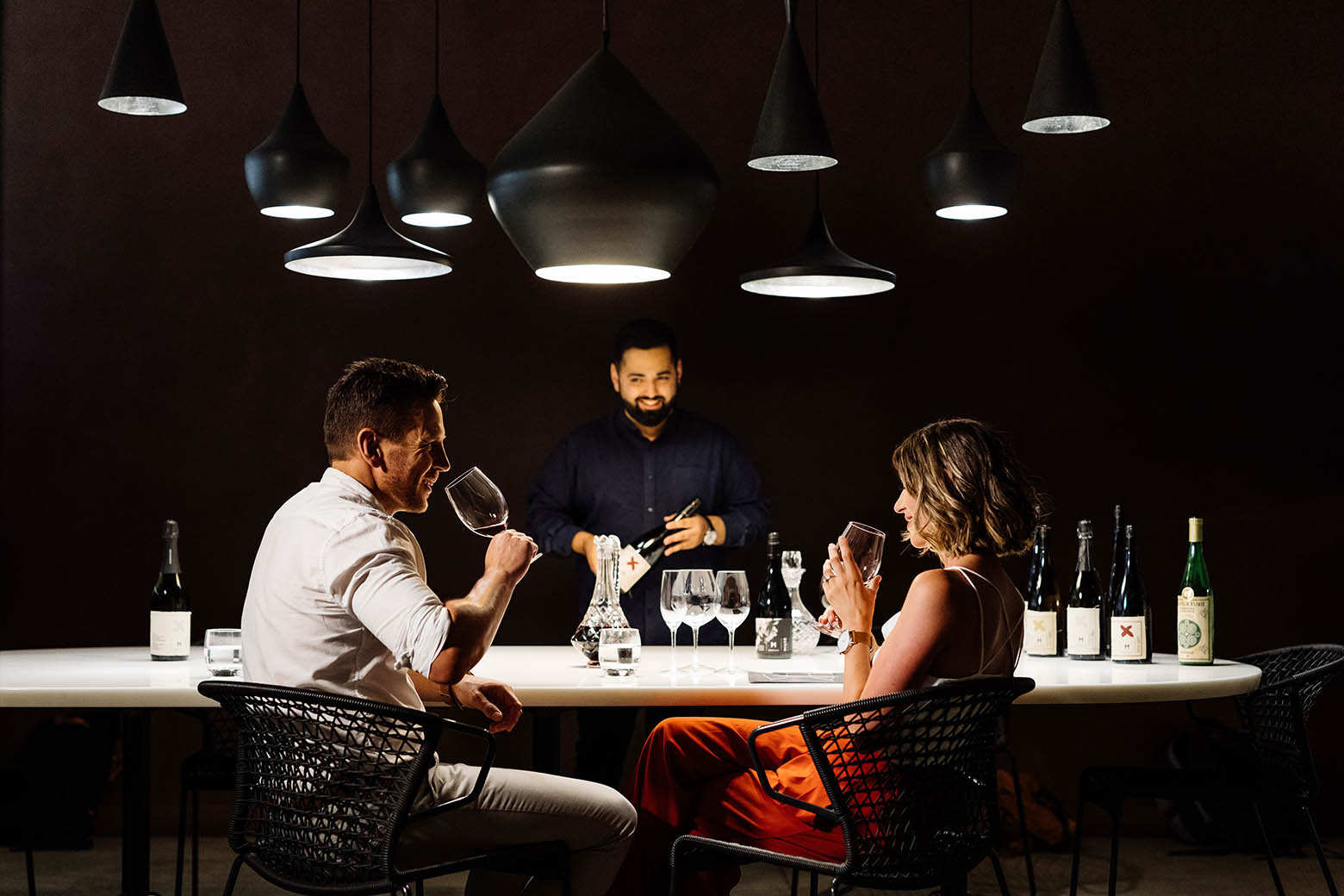 If you like the idea of a wine tour but feel that a full day is too much, then you'll love the three options from Boutique Wine Tours Tasmania.
The Coal River Valley wine region lies at the heart of all their tours, and you're guaranteed to have a fun time tasting your way around 3 of the best wineries, plus a bonus stop at Wicked Cheese. 
The good thing is that you can also choose to spend time exploring either:
Historic Richmond Village; or
MONA Museum
If you only have limited time in Hobart then these tours are the perfect way to get the best of both worlds!
"What sets us apart, is the great relationships we have developed with cellar door staff (and) the vineyard owners…we love what we do, and so do the people you meet on tour."
All three tours are fantastic, but we really like the idea behind their MONA and Wine Experience.
This eclectic museum is a crazy, surreal, thought-provoking and downright bizarre experience – and that's before you add a morning full of wine tasting 😀 – and it's a must for any visitor to Tasmania!
Tasmania Gourmet Food Tours
Sip on delicious Tasmanian wines, just a short drive from iconic Freycinet National Park.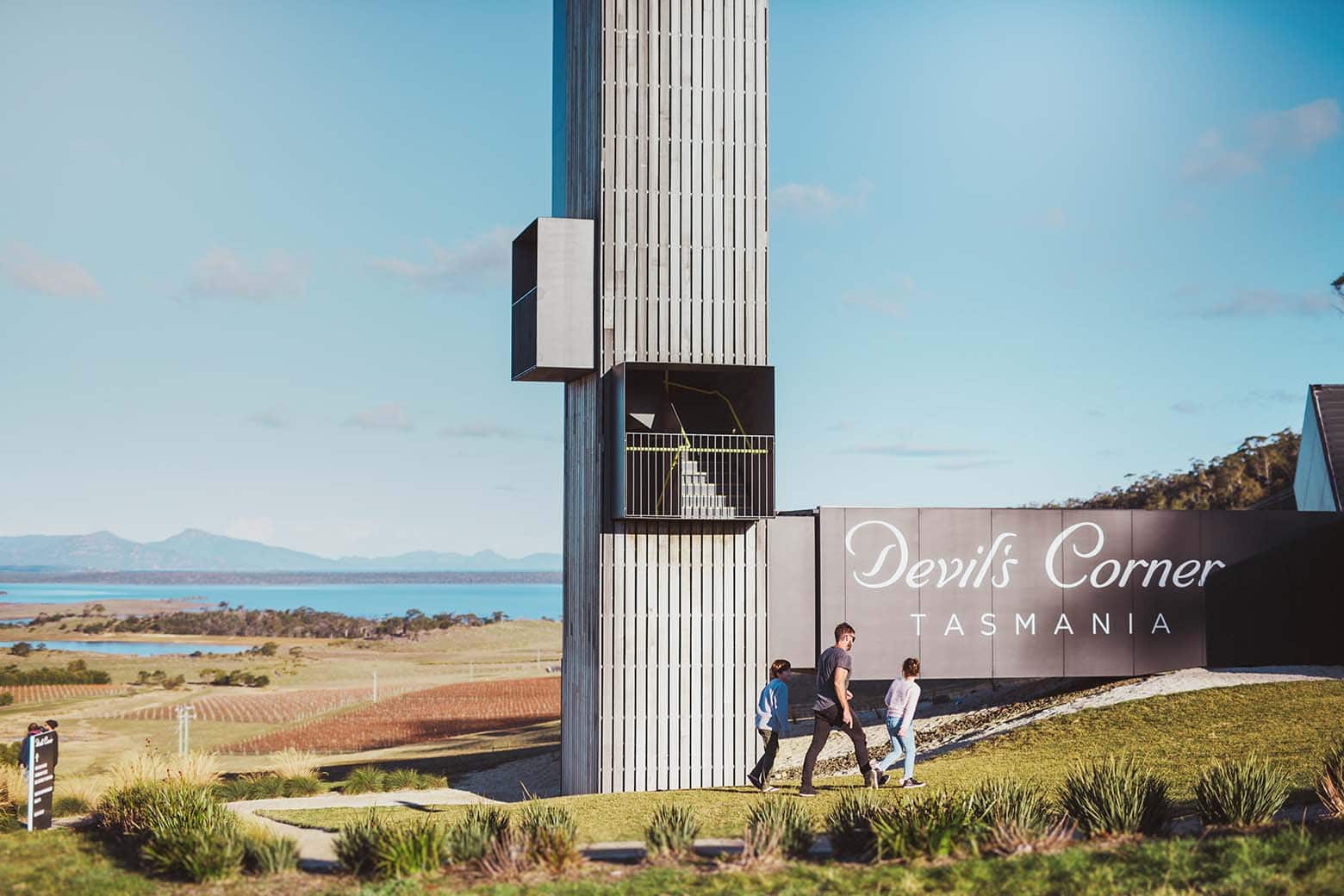 The East Coast Splendour Gourmet Food Tour might sound like it only focuses on food, but it's actually a nicely balanced food and wine tour – and also happens to be one of the best ways of soaking up the sweeping landscapes of Freycinet with a glass of your favourite red or white in hand!
The East Coast of Tasmania has received a lot of attention from both investors and wine-lovers in recent years. The climate and terroir results in some sensational wines and you couldn't ask for a better view on this tour as you slowly taste your way through 3 wineries and a few local foodie options.
"Tasmania Gourmet Food Tours takes you on the ultimate exclusive small group dining experience."
This tour is run daily and you'll love the fact that numbers are capped at only 7, so you know it's going to be a personalised experience.
Wineries you will visit include Milton, Springvale and Devil's Corner – while the foodie experiences include morning tea at Kate's Berry Farm, a long gourmet lunch at Devil's Corner winery, and scallop pies from Mures on the Hobart waterfront.
Regions: Freycinet
Length: Full-day tour
When: Daily
TripAdvisor: ★★★★★
Cost: $260pp
Other wine tours in Hobart
Other good companies offering wine tours in Hobart include:
Drink Tasmania – A variety of tours – including whisky and beer options – that tick all the boxes
Tassie Trails – A fun approach to wine tasting, targeted at a younger audience
Apple Isle Wine Tours – Good wines and the best lunch venue (Frogmore Creek)
To help with your planning we've also reviewed all the hotels, apartment and caravan park options in and around Hobart.
All our recommendations (except Prospect House) are within easy walking distance of Brooke Street Pier, where many companies start their wine tours.
Luxury
Award-winning MACq 01 is right on the waterfront and is the best inner-city luxury option.
Or if you'd prefer to be relaxing on a country estate right next to acclaimed Pooley Wines – you'll love Prospect House Private Hotel (SAVE 15% with our LAPOFTAS promo code).
Mid-Range
For a great all-rounder suiting couples and families, you can't beat the RACT/RACV Apartment Hotel near Salamanca. It's just minutes from the Salamanca Markets!
Budget
For a cute and quirky budget option have a look at the Alabama Hotel in central Hobart. These guys make a mean cocktail at their awesome little balcony bar.
Our final thoughts on Hobart wine tours
We hope you like this overview of all the wine tour options in Hobart, and have found a tour that suits your style of travel.
If you can't tell already, we love our wines here at the Lap of Tasmania, and I only wish that we could try all the tours on offer 😂
We love getting feedback, so if you do happen to experience one of these tours we'd love to hear from you over at our Lap of Tasmania Facebook Group!
Happy travels,
Andrew. 
Travel planning resources
Tasmania's remote location means there are internet 'black spots' across the island. 
A hard copy travel guide or map is the perfect backup, and we love the range from Lonely Planet.