Have you ever wondered what it would be like to experience a road trip around Tasmania in style? Maybe a little bit of luxury, or a sporty convertible?
Keep reading to learn more about Overdrive and how you can make your Tassie road trip truly memorable!
---
We partnered with Overdrive in 2020 because they are the best in Tasmania for sports and luxury vehicle rentals. We are very grateful for their generosity in waiving the daily rental rate for the BMW we show you in this article. All other vehicle costs such as excess reduction and fuel were paid by us in full.

This page contains affiliate links. If you book or buy something through one of these links, we may earn a small commission (at no extra cost to you!). Read our full disclosure policy here.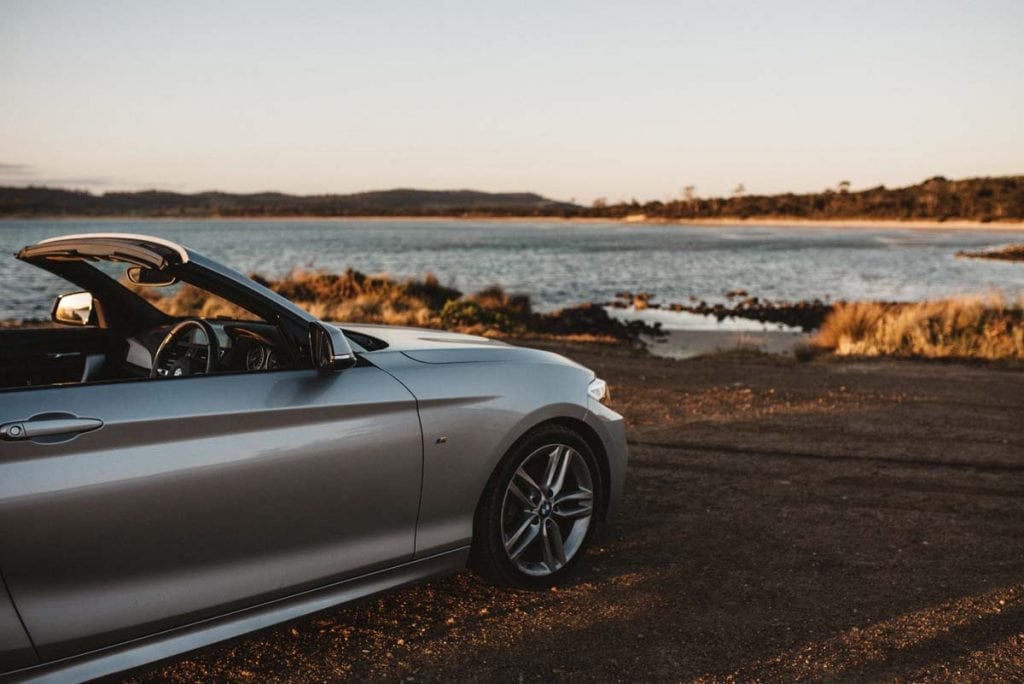 My wife and I have enjoyed some pretty incredible road trips at home and abroad over the years.
Two weeks exploring the snow-dusted glens, lochs and munros of Scotland's North Coast 500 in a trusty Vauxhall. Three weeks trundling up and down the scorching west coast of Australia in a family-friendly Hyundai. And three whole months criss-crossing Cyprus in a banged up Suzuki hatch.
So much fun!
But there's something we've always wondered… what would it be like to step up from a standard 4-door and do a road trip in proper style? A bit more 'kick' under the bonnet? Perhaps even a convertible?!
Would it be that much different? Would it be worth it? Could it be an option for visitors wanting to experience their own Lap of Tasmania road trip?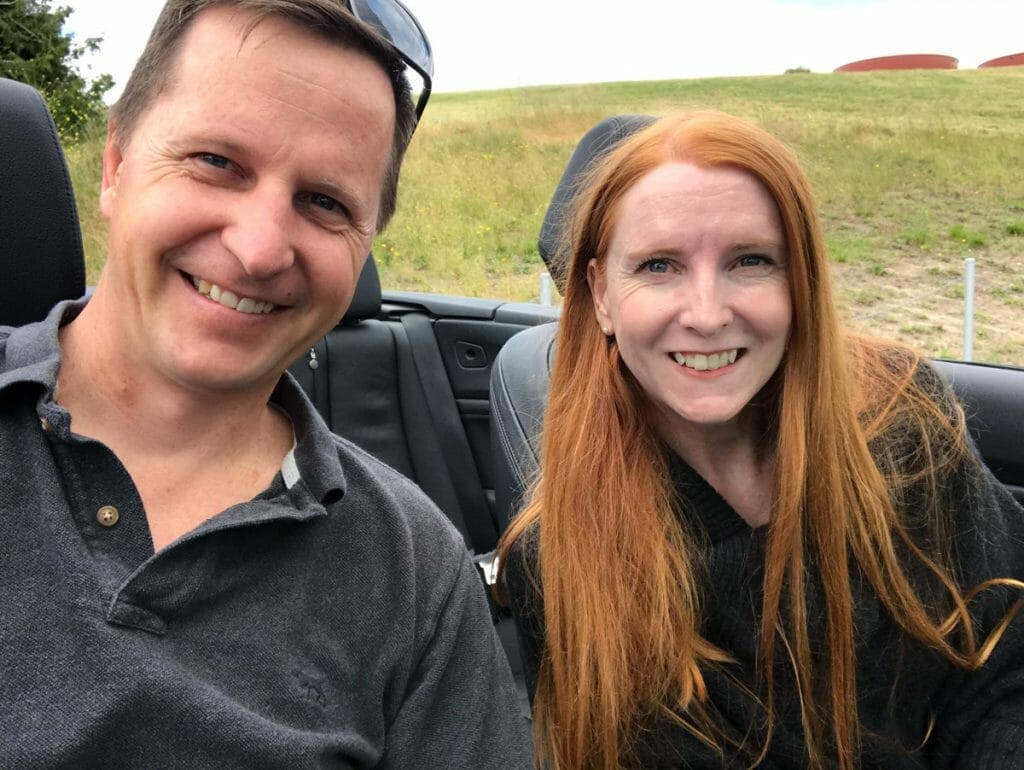 Looking back at our weekend exploring Tasmania's far-south in a 2-Series BMW convertible from Overdrive Car Hire I can categorically tell you…
Big time! Definitely! You betcha!
In fact, we might never go back to a regular rental ever again 😂
If you are like me and always thought a sports or luxury car rental in Tasmania was out of reach, keep reading, because I've got a few surprises for you.
---
Why upgrade?
Chatting with other road trippers it is clear that there are some really good reasons why you might want to spice up your self-drive holiday in Tasmania.
My wife and I were keen to experience something new and a bit different. But plenty of visitors to Tasmania also see a luxury or sports rental as the perfect excuse to treat themselves while celebrating a special milestone and exploring Tasmania at the same time.
Birthdays, anniversaries and job promotions are really popular, but the thing that really surprised me was how many couples decide to elope to Tasmania and go on a road trip!
It makes a lot of sense though, as it is the perfect place to escape the hustle and bustle of the 'big smoke' and relax in Tasmania's beautiful countryside.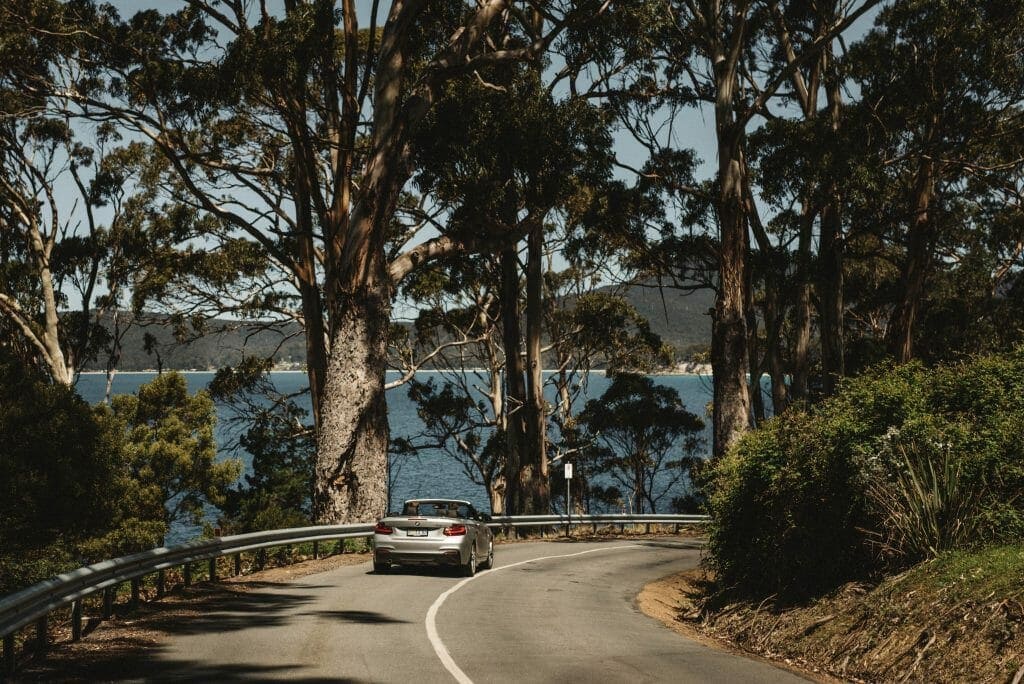 Another big reason for choosing a performance touring vehicle is the 'fun' factor.
A standard rental car will do the job just fine, but if you're going to spend a couple of hours in the car each day it makes a lot of sense to really enjoy your time behind the wheel.
With a nod to my engineering background, I love the feeling of a perfectly balanced piece of machinery at my fingertips. And when you throw Tassie's stunning roads into the mix it is the recipe for an exciting, exhilarating drive (check out the '99 Bends' to see what is waiting for you!).
On the other hand, many road trippers really enjoy the little luxuries such as comfy leather seats, putting the top down and feeling the wind rushing by, or a next-level audio entertainment system for the perfect road trip soundtrack.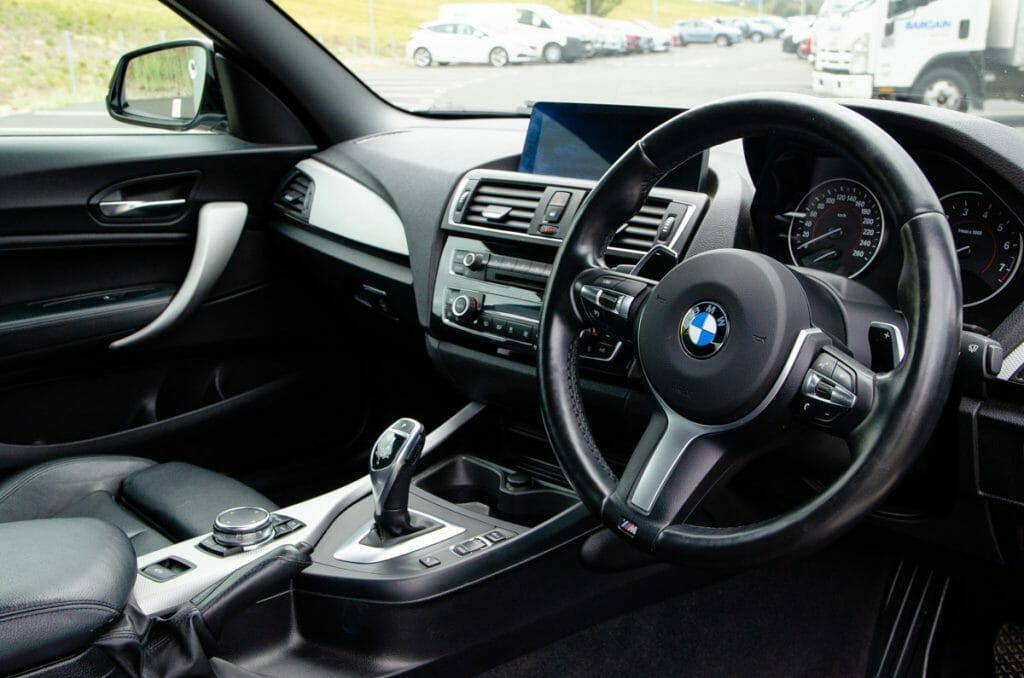 Now all these creature comforts sound wonderful, but here's something you may not have considered…
Did you know that a luxury or sports rental can be nearly the same price as a regular vanilla rental? It's true!
I was really surprised when I was researching prices to find that at some times of the year it can take as little as $30 per day to step up to a vehicle from Overdrive. Add my LAPOFTAS promo code into the mix and you'll save even more with a 5% discount.
Part of the reason for this is that Overdrive prefers to present their customers with simplicity in pricing – in other words, no volatile changes from week to week. This also means that their pricing structure barely changes throughout the year – unlike a lot of other companies that massively jack their prices up in the summer to second-mortgage levels.
A good example was earlier this summer (2020-21) when the borders opened up post-COVID and demand for rental cars went through the roof. It actually made it cheaper to rent a performance luxury vehicle from Overdrive than to go with a bland sedan from Hertz or Thrifty!
I guess the message I'd love you to take away is:
"Don't assume luxury car hire Tasmania is going to be crazy expensive, because it often isn't!".
Check the vehicles on their website, plug your dates in (and our LAPOFTAS code for 5% discount) and have a look. You might be pleasantly surprised!
>> Check prices at Overdrive <<
---
The Overdrive Tasmania road trip experience
So what's it really like? Is a convertible car hire in Tasmania worth the hype?
My wife and I hadn't had a proper holiday all year, so we decided to take a Friday off and have ourselves a long weekend exploring far south Tasmania.
Normally we would take our trusty Mazda, but this time around I thought I might have a chat with our friends at Overdrive to see if we could join forces to show you the Overdrive Tasmania experience from a traveller's perspective.
Anna loved the idea and you can imagine how happy we were when she generously offered for us to take their BMW 220i convertible for a spin!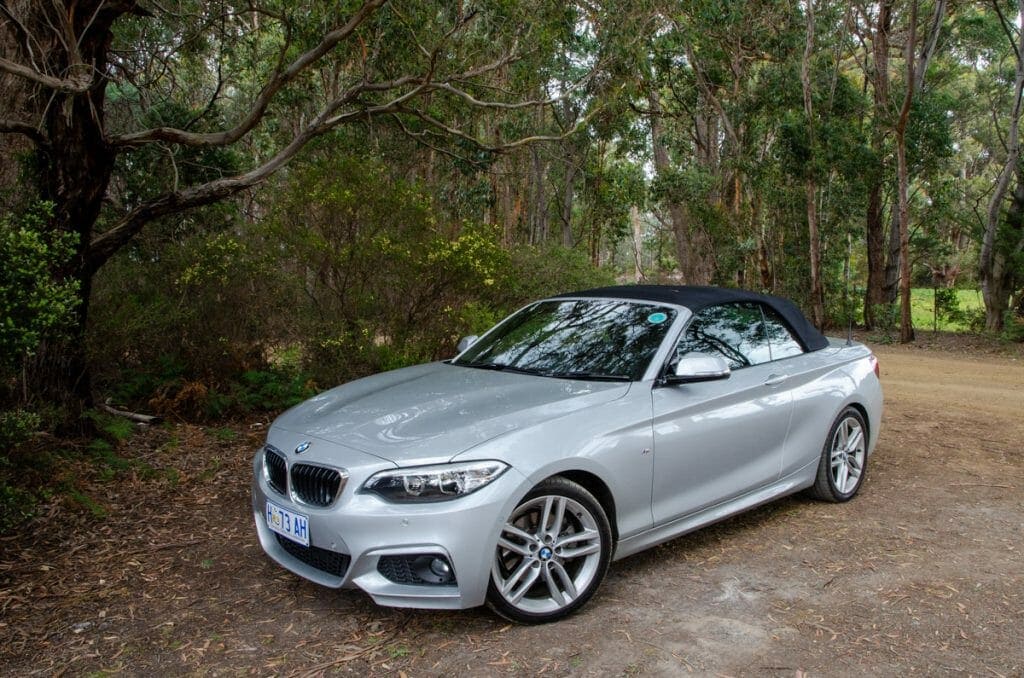 I take you through the pick-up process in more detail further down, but I thought it worth mentioning that we deliberately asked to collect the vehicle from Hobart Airport so we could go through the same process you would experience on arrival in Tasmania. Suffice to say it all went extremely smoothly and we were on the road in no time.
The BMW was an absolute dream, especially once we got out of the city and started cruising through the orchards and lush fields of the Huon Valley.
You'd think in a little sports car like this that you might want to put the foot down, but I felt the exact opposite. It was so nicely balanced, and the soundproofing was astonishingly good, it felt like we were in our own little bubble of bliss – and a lead foot would only distract from our beautiful surrounds.
In typical Tassie fashion we had a few light showers along the way, but after a fantastic lunch in the riverside town of Franklin the clouds parted and the sun shone down at last.
Time to put the roof down!!
One press of a button was all it took, and 10 seconds later we were off.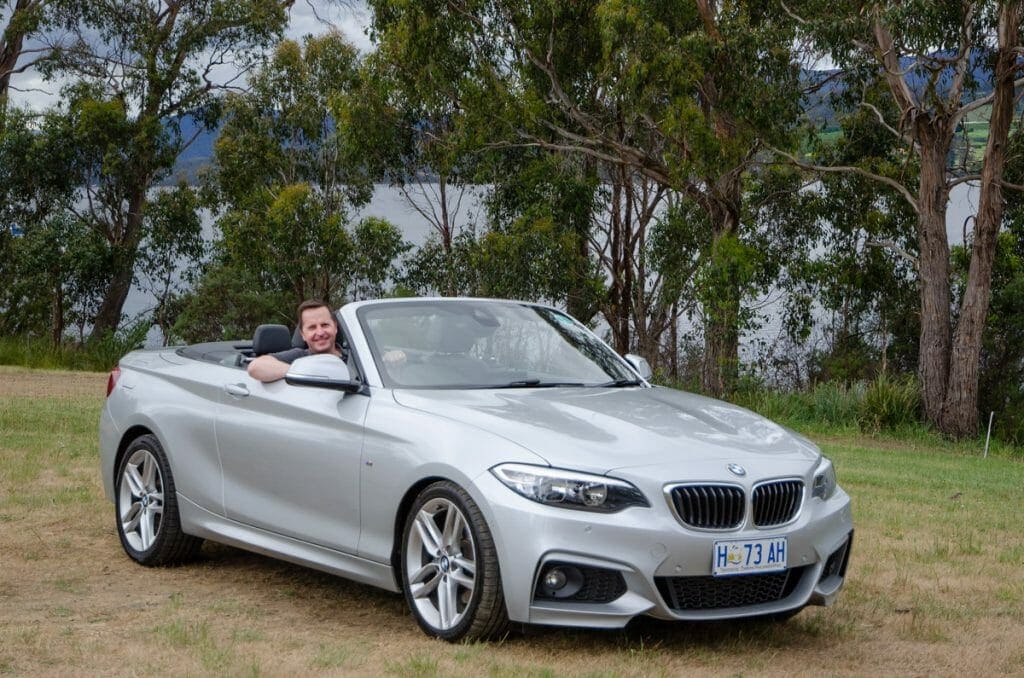 If – like us – you've never driven a convertible before then it is striking how different it is to a regular car. Some obvious, others more subtle.
First off is the obvious – the wind. We were expecting to be blown away, but the stylings of the BMW were so good that all we noticed was a bit of a breeze mussing our hair up (Karen had thought ahead and wisely brought a hair-tie to keep things tidy). Above 80km/hr it started to get a bit too strong, but as I mentioned, we were on holiday time and in no rush to be anywhere.
The second thing we noticed was the sun. We didn't get a lot of it on our weekend away, but when the clouds opened up it was like a warm electric blanket draped across our neck and shoulders. So strange compared to a drive in a regular car, but it felt amazing! Don't forget to slap on the sunscreen though ☀️
The other two things we noticed didn't emerge until our second day – but they were absolute game-changers.
We had stayed the night in the beachside shack town of Southport, and one of the best things about this town is that it is very close to the wonderful Hastings Caves.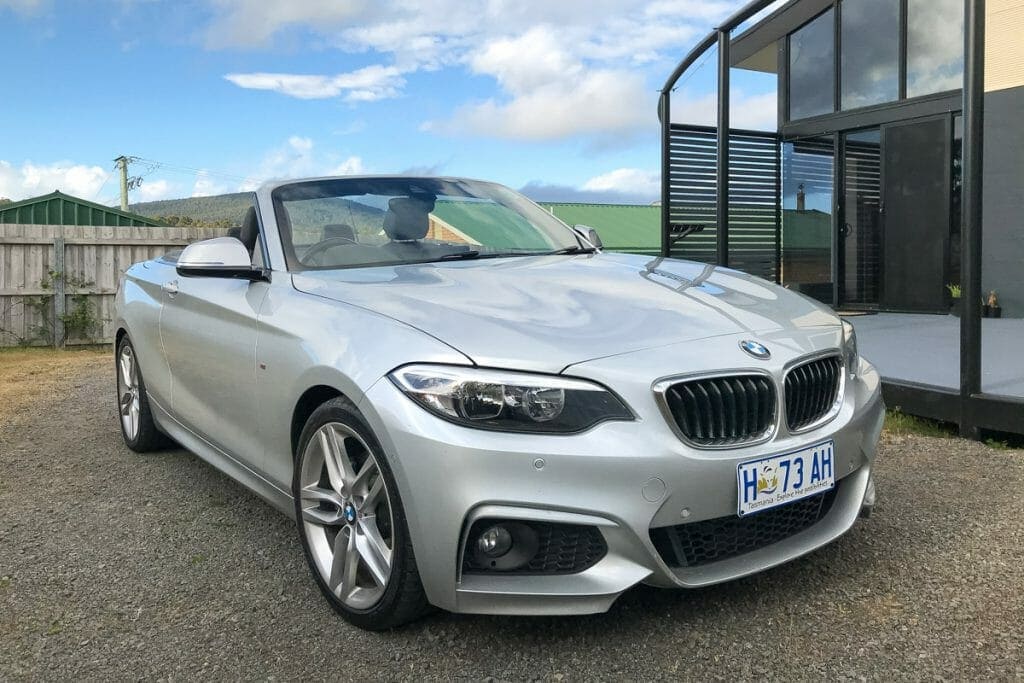 We spent a great morning seeing the towering stalagmites and stalactites, and on our return from the caves we again put the roof down.
It was the perfect road for a cruise. Virtually zero traffic, plenty of room, gentle curves and great asphalt.
But what took my breath away were the sounds and smells of the Tasmanian rainforest.
Who knew it would take a drive in a convertible to make us realise that this was even possible?
There's something about that unique smell that softly screams 'Tasmania' and I've never encountered it anywhere else in the world. Cool, damp, earthy, with tones of stringy bark, fern and moss. And with every breath on our drive we were sucking up huge lungfuls of this sweet rainforest-fresh air.
Have a look to see what I mean (make sure you set the video quality to 1080p for the full effect)…
And then there were the sounds of the wilderness.
Just like the smell of the soil, the distinct throaty warbles of the black currawong transport you instantly to the Tasmanian forest. I can't say I've ever noticed them while driving in a regular car, but all it took was to put the roof down and let the sounds in and we instantly felt closer to the towering trees, bubbling streams, and lush ferns of the surrounding forest.
It was such an unexpected sensory surprise, and it has changed the way I look at road trips forever. It might cost a little bit extra, but that experience for me was absolutely priceless and I'll never forget it as long as I live.
---
👍 Luggage space in the BMW

We were pleasantly surprised at how much space there is in the BMW boot (or 'trunk' for our US friends).

As we were only away for two nights we had a couple of carry-on sized bags and small backpacks for bushwalking, and they all fit in the boot – no problems whatsoever.

If you are planning a longer trip then I am confident you would fit a full-sized 'checked' luggage bag in the boot plus one or two smaller bags. You can also store a full size bag and a few smaller ones on the back seat if needed (with the roof on of course).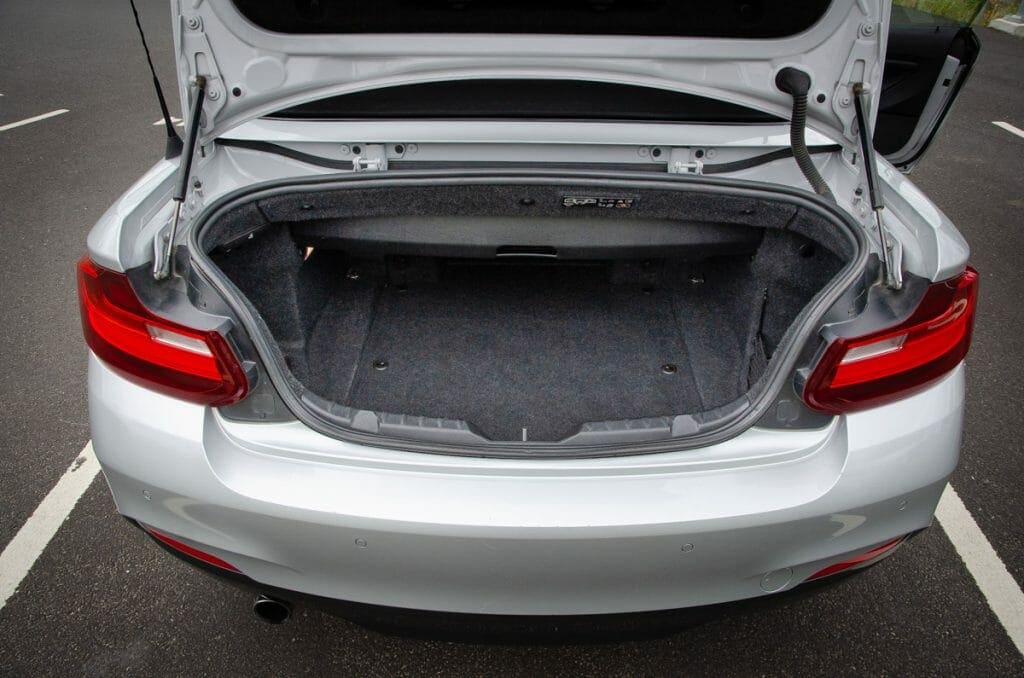 ---
How does the rental process work?
From start to finish we found the whole booking, collection and drop-off process very quick, simple, and easy to understand.
Here's how it works…
Choosing your vehicle
There are plenty of vehicle options for every style of road trip at Overdrive.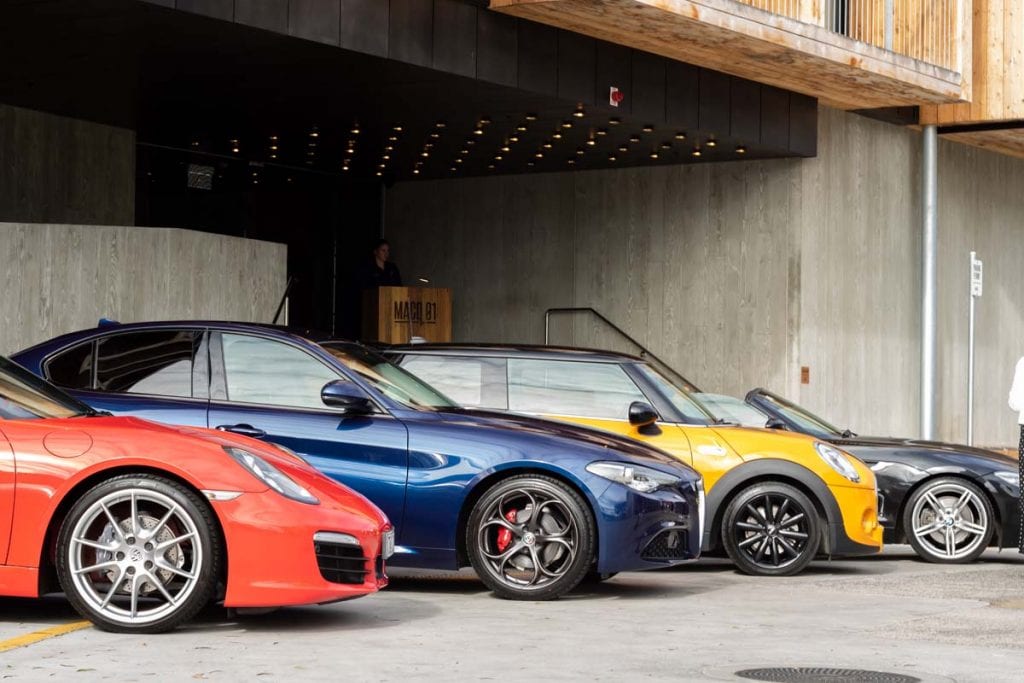 From the iconic Brit-stylings of the Mini Cooper-S, to the sexy curves of an Alfa Romeo Giulia, to the world's best SUV – the Porsche Cayenne AWD – there is something for everyone.
I also really like the way they make it easy on their website (here) to compare availability and rental rates across the full range of vehicles.
All you need to do is select your dates and it presents all the vehicles at once. A lot of other rental companies force you to choose your vehicle first before searching to see if your dates are available – something I find really frustrating when I'd like to keep my vehicle options open and I don't want to spend all day doing repetitive searches.
---
Making your booking
I found the online booking process (here) to be very smooth. But if you prefer to speak with someone face-to-face then that won't be a problem either as bookings can also be arranged over the phone with their Tassie-based customer service team.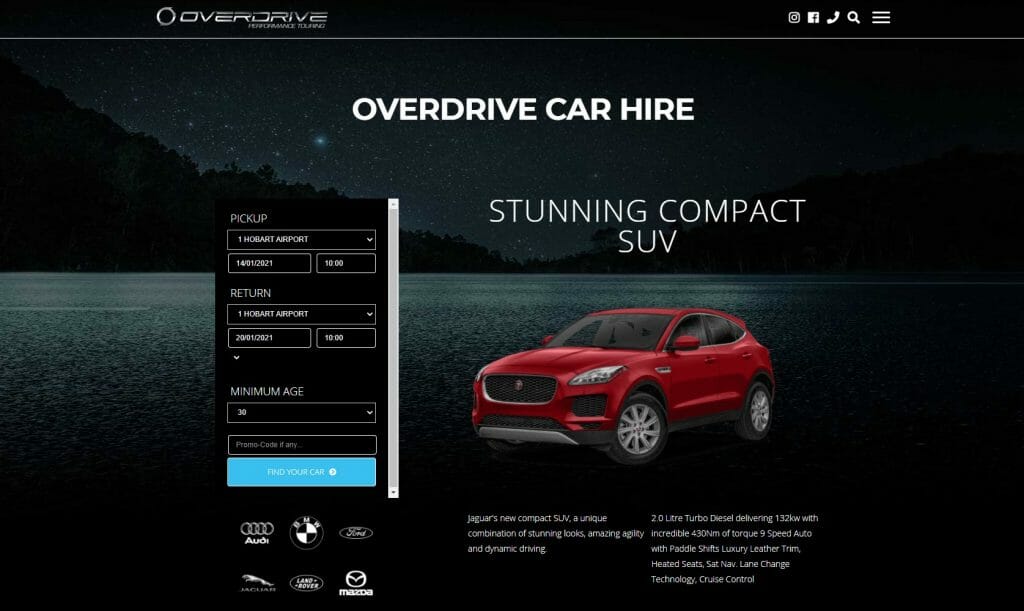 After choosing your dates and vehicle you are then presented with a range of optional extras, and some excess reduction options. It's all very straight forward. We always go for maximum excess reduction but it's totally up to you if you think this is necessary.
You will then receive a confirmation email summarising your booking details, and also a link to complete your online 'Express Check-in'.
I talk more about 'Express Check-in' in the next section, but put simply Overdrive are different to the other rental companies because they let you pick up your vehicle as soon as you arrive at Hobart Airport, without needing to meet anyone at the desk or in the car park. To do this, you need to have completed your 'Express check-in' which is simply an online form to register your details and credit card number.
After you've completed the check-in process you then receive a copy of your rental agreement and provide a quick digital signature. There's nothing unusual in the agreement, but it's definitely worth having a read so there are no surprises during or after your holiday.
---
Picking up your vehicle
This is where Overdrive really make things easy!
I don't know about you, but the last thing I need after a long flight is to spend an hour in a queue waiting for a dozen other travellers to pick up their rental cars or minivans.
Overdrive cut through all that hassle and save you a lot of time by providing you with a PIN number after you've finished making your online booking. Then, all you need to do on arrival at Hobart Airport is follow these simple steps…
Step 1 – Walk to the rental car pickup area (on the right hand side as you exit the arrivals hall).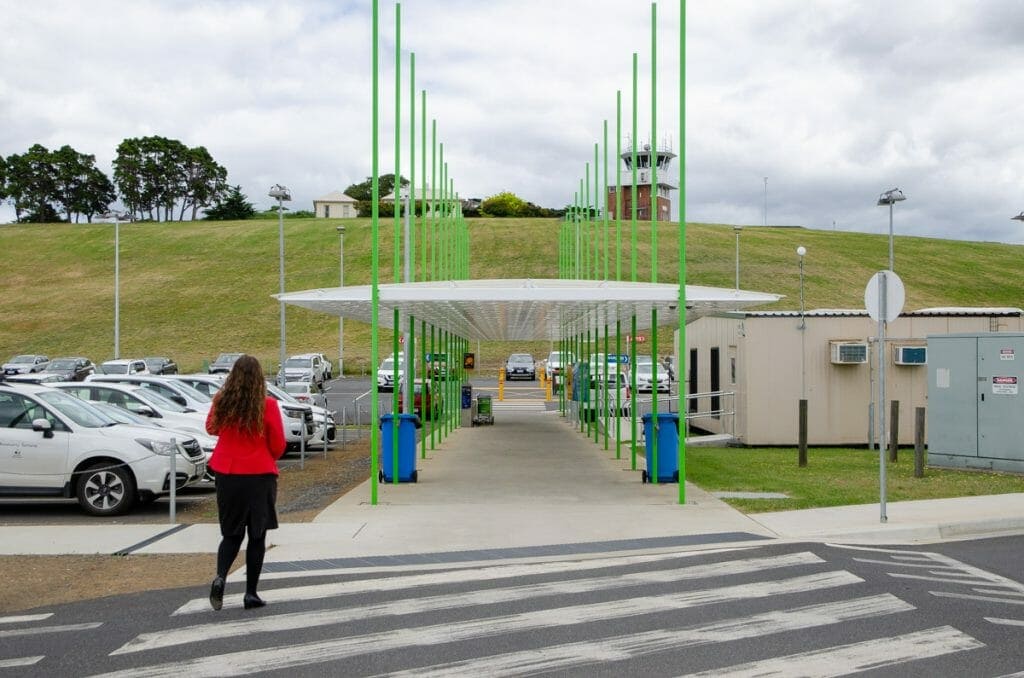 Step 2 – Go to the Overdrive section of the car park and find the key safe.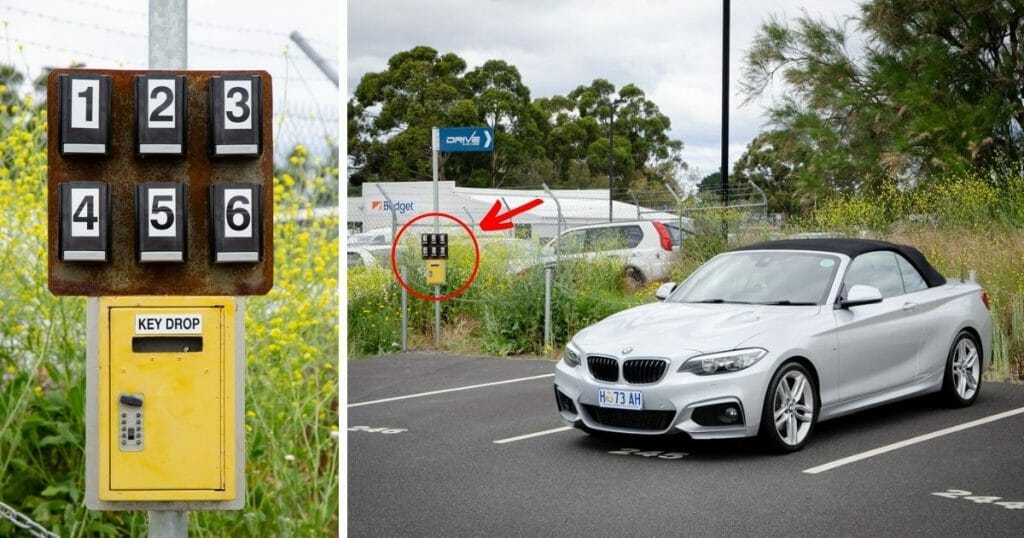 Step 3 – Enter your PIN and collect your keys.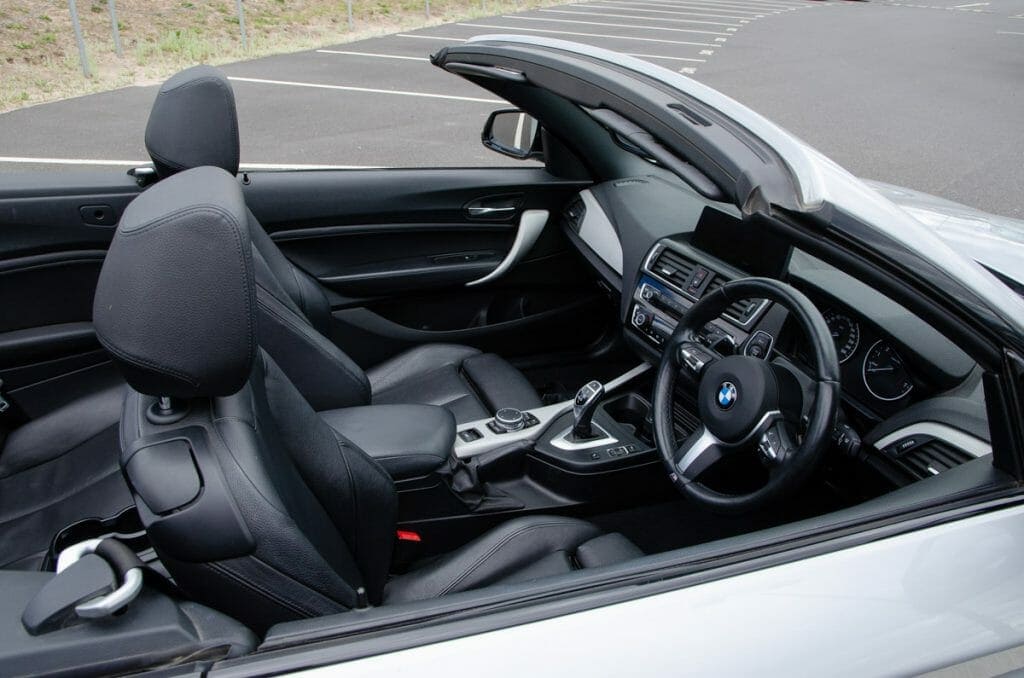 Step 4 – Take a few photos of the interior and exterior of the vehicle.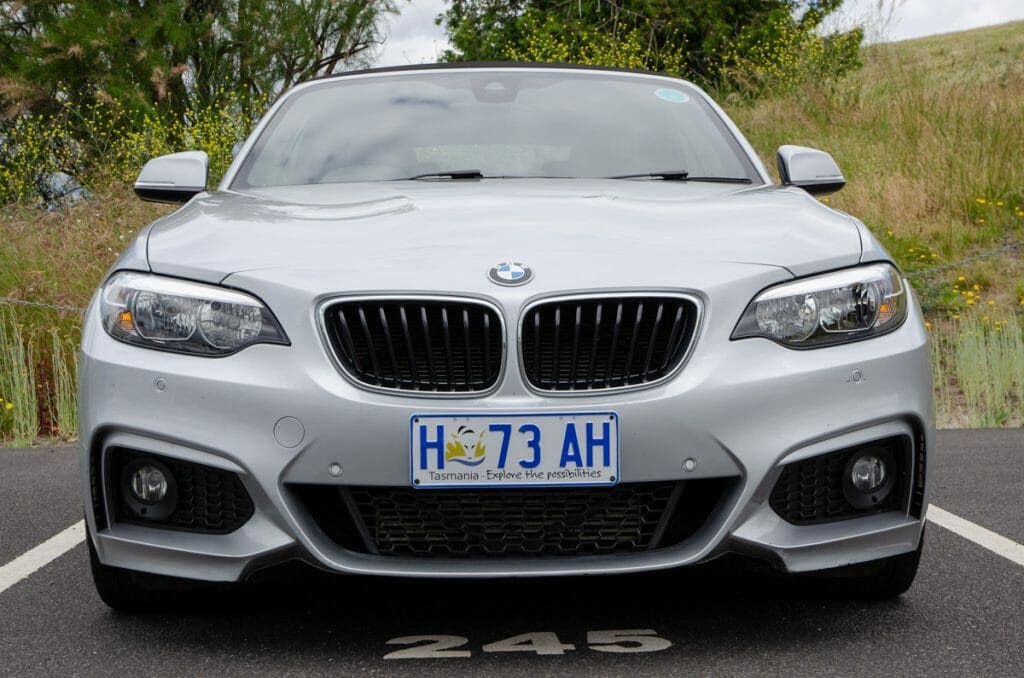 Step 5 – Check the condition report that you will find in the car.
Step 6 – Load your bags and off you go!
All these instructions – including a fantastic map of the airport and easy to follow directions to the Overdrive section – are provided to you by email after finishing the booking process.
Honestly, it took less than 10 minutes for my wife and I to start our weekend road trip.
Again, if you prefer the traditional approach then that isn't a problem either. Simply let the staff at Overdrive know your preference and they will ensure they meet you at the airport on arrival.
At Launceston Airport, pick up involves a very short shuttle ride – but with all the paperwork done in advance you will still be on the road in a jiffy!
---
Dropping off your vehicle
Dropping your car off is even easier.
All you need to do is top up the fuel tank, park it in the same area where you picked it up, take a few more interior/exterior photos, make sure the windows and roof are up, lock the doors, and then return the key to the lock box.
Simple!
---
👍 Common Questions

Unsealed Roads – Overdrive allow you to drive all their vehicles on class A, B, and C roads (eg. C636 is the gravel road from Southport to Cockle Creek). On unsealed 'C' roads convertibles need to have their roof on and the windows up (to stop the dust from causing long term issues). However liability reduction is not available if you have an accident on an unsealed 'C' road.

Alpine Regions – Just like nearly all regular rental companies, you can take Overdrive vehicles into alpine regions like Cradle Mountain, but you can't drive them in the snow.

Daily Kilometres – All Overdrive vehicles come with a 200km free daily driving allowance. This is averaged across your rental period though, so it is ok if you do a little bit more one day, and then less the next, as it all balances out. Depending on the vehicle, excess kilometres are charged at $0.50-$1/km.

Fuel – The vehicles from Overdrive are a cut above the rest, and need 'Premium' RON95 fuel as a minimum. A few ultra-performance options require RON98, and others diesel. This is all made really clear before you pick up the car though.
---
Final thoughts on the Overdrive experience…
As you can probably tell, my wife and I had an absolute blast!
Regular rental cars will still be a big part of our future travels, but I have no doubt at all that the next time we are celebrating something special we are going to be seriously thinking about choosing another amazing vehicle from the Overdrive range.
How about you? Are you ready to be blown away by the Overdrive experence?
Treat yourself, and create your own special road trip memories!
Happy travels,
Andrew.